Financial literacy is an important life-long skill that anyone participating in modern society can benefit from. Simple interest is a type of interest that is used in loans and specific investments. Teaching your students how simple interest works can enhance their math skills and better prepare them for the real world of managing money. Here are 20 stimulating simple interest activities suitable for middle school students.
1. Puzzle Activity
This fun puzzle activity can be an engaging way to get your students to use the simple interest formula. Students can arrange the loan amount, time, and rate puzzle pieces into the corresponding interest amount.
Learn More: Teachers Pay Teachers
2. Bingo
Have you ever played a math-style Bingo game? If not, here's your chance! You can set up Bingo cards for your students with varying number values provided by the website below. Then, investment questions will be asked with answers corresponding to the Bingo cards.
Learn More: Interactive Maths
3. Doodle Math
I love mixing art and math! Here's an awesome doodling and coloring activity for your students to practice their simple interest calculations. Your students can solve the review questions to determine the correct doodle patterns for the hedgehog. They can add some colors to complete it!
Learn More: Congruent Math
4. Digital Mystery Puzzle Picture
This pre-made digital activity is a mysterious picture puzzle. After finding the correct answers to simple interest rate questions, students will learn the correct placement of the puzzle pieces. Consider using this self-checking digital activity as a homework assignment.
Learn More: Sped Dreams
5. Winter Mystery Pixel Art
This digital activity is similar to the last one, but instead of your students have to drag and drop the puzzle pieces, the parts of this digital art piece will be revealed automatically with the correct answers. The final image is of a cute hockey-playing penguin!
Learn More: Teachers Pay Teachers
6. Escape Room
Escape rooms are always a class favorite- regardless of the learning topic. Your students can solve the simple interest puzzles to "break out" of the classroom that they have been "locked" into. You can prepare this escape room in its printable or digital form.
Learn More: Teachers Pay Teachers
7. Simple Interest & Balance Game
Here's a fun car-buying, simple interest-rate activity. Your students can calculate the correct simple interest amounts and total balances. Maybe one day they can use this knowledge to buy their first car!
Learn More: Math in Demand
8. Simple Interest Matching Game
This online game is made by the same creators as the last one, but with no car-buying theme. Your students can calculate the interest values using the simple interest equation and then match the answer to the principal, time, and rate options.
Learn More: Math In Demand
9. Candy Interest
Classroom activities with candy? Yes, please! You can make candy savings account for your class. They can then deposit their candy into the "bank" and learn that if they wait and let the candy sit, they can gain interest in the principal amount.
Learn More: Arvest
10. Financial Vocabulary
Teaching interest-related vocabulary beyond what is included in the simple interest formula can be an important financial literacy activity. The words can include loan, borrower, lender, return on investment, and more.
Learn More: Kid's Money
11. Simple Interest Notes & Activity Pack
Where does Dracula keep his money? Your students can answer this riddle using the guided notes and simple interest formula. This package also includes a partner dice activity for additional practice.
Learn More: Amped Up Learning
12. Calculating Simple Interest Worksheet
This worksheet can walk your students through the simple steps for using the simple interest formula and provides examples of using simple interest in a real-world context. There is also a list of sample questions for students to practice.
Learn More: Twinkl
13. Practice Test
You can use this pre-made practice test as a simple interest assessment tool. You can print out paper copies of the 17-question test to gain a better idea of your student's learning progress. The website also provides the correct answer choices!
Learn More: Math-Only-Math
14. Compare Simple vs. Compound Interest
The other major type of interest is compound interest. This type adds interest to the principal amount over the course of the loan period. After teaching an engaging lesson on both types of interest, your students can compare the two in a Venn diagram.
Learn More: Read Write Think
15. Simple & Compound Interest Maze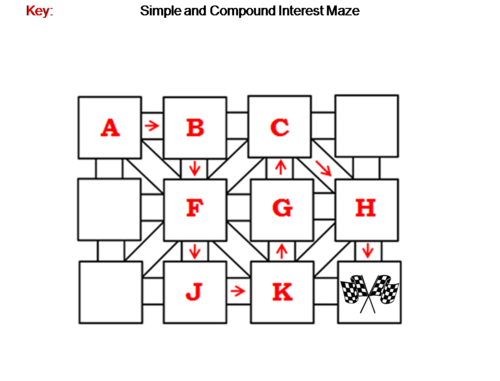 This maze puzzle activity sheet can get your students to practice both simple and compound interest formula calculations. If they choose the correct option from the range of answers, they can make it to the finish square!
Learn More: TES
16. Car Loan Application Activity
Here's another car-buying activity that involves both simple and compound interest calculations. With this worksheet, students can calculate and compare the financing options for a car loan. They'll also discover much needs to be repaid for the various loan options.
Learn More: Teachers Pay Teachers
17. Shopping Spree Game
Shopping can be a great theme for interest rate activities. In this fun activity, your students can select items to "buy" on the classroom credit card. They will then will be asked about the simple or compound interest amounts with additional questions about the total cost owed.
Learn More: Dr. Ragatz
18. Watch "What is Simple Interest?"
Videos are another engaging, no-prep activity option that you can bring into the classroom. This short video provides a brief explanation of simple interest in the context of gaining interest in a savings account.
Learn More: Infinity Learn Class 9&10
19. Watch "How to Calculate Simple Interest"
This video has a more in-depth explanation of the simple interest formula and teaches students how to use and manipulate it. It teaches learners how to use the formula in the context of a simple interest loan.
Learn More: Cognito
20. Watch "Comparing Simple and Compound Interest"
Here's a video that explains the difference between simple and compound interest, and includes sample questions for additional practice. These educational videos can be great reviews post-lesson. Your students can pause and repeat the video as many times as they need to nail down the concepts.
Learn More: Mrs. Casias Math