Fractions can often be a difficult learning area, but being creative and hands-on in your teaching methods may help students grasp the concepts more readily! As students begin to understand more about simplifying fractions, you can offer many ways for them to practice and improve their fraction skills. Offer plenty of fraction games and fun activities that help them focus on key skills for such a complicated process. Check out our top 20 ideas!
1. Simplifying Fractions QR Code Cards
This activity is ideal for prompting students to independently practice simplifying fractions. These task cards provide a fraction for students to simplify. There is also a QR code with the answer key so students can check their work!
Learn More: Teachers Pay Teachers
2. Simplifying Fractions Battle Ship Game
The classic game of Battleship has been revamped to incorporate working with fractions! It's a great way to let students practice simplifying fractions with a partner. Students can use paper game boards to plot their ships and as they simplify fractions, they have the chance to target their opponent's ships.
Learn More: Teachers Pay Teachers
3. Task Cards
These cards are ideal for busy teachers! Simply print and laminate them for repeated use. Each task card has different questions that require students to reduce the fraction, find the largest factor, or identify the correct simplified fraction.
Learn More: Teachers Pay Teachers
4. Simplifying Fractions BINGO
Students love to play BINGO! You can simply call out the simplified fraction and students will then cover an equivalent fraction on their boards. The first one to cover four in a row wins!
Learn More: Pinterest
5. Interactive Fraction Games
Prompting students to use their computers or tablets for morning work is a great way to get in some additional practice with simplifying fractions. This game is interactive and has two modes: one with a simplified visual and a more challenging one with only fractions.
Learn More: Shepherd Software
6. Fraction Models
Students can simplify fractions in many ways. Using visual models is an important and useful way to do this. Use models to draw visual representations and have students explore simplifying fractions and having the visual aid to see it as they process it.
Learn More: K5 Math
7. Simplifying Candy Fractions
Students will make fractions using their favorite candies. They can use a recording sheet and will have the opportunity to simplify the fractions they build. When they finish, they can enjoy a sweet treat!
Learn More: Auldlearn Primary Six
8. Task Cards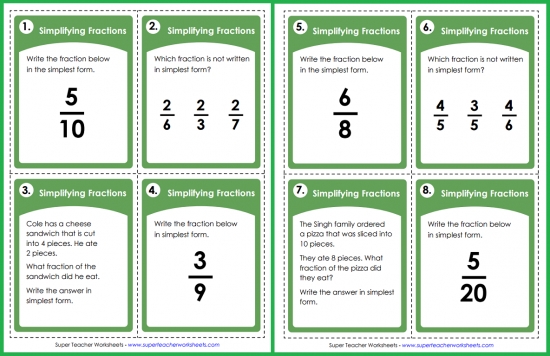 These simple task cards provide a variety of ways for students to practice simplifying fractions. Some cards prompt students to write a fraction in its simplest form. Other cards provide a word problem or multiple-choice problem for students to simplify and solve.
Learn More: Super Teacher Worksheets
9. Simplifying Fractions Solve and Match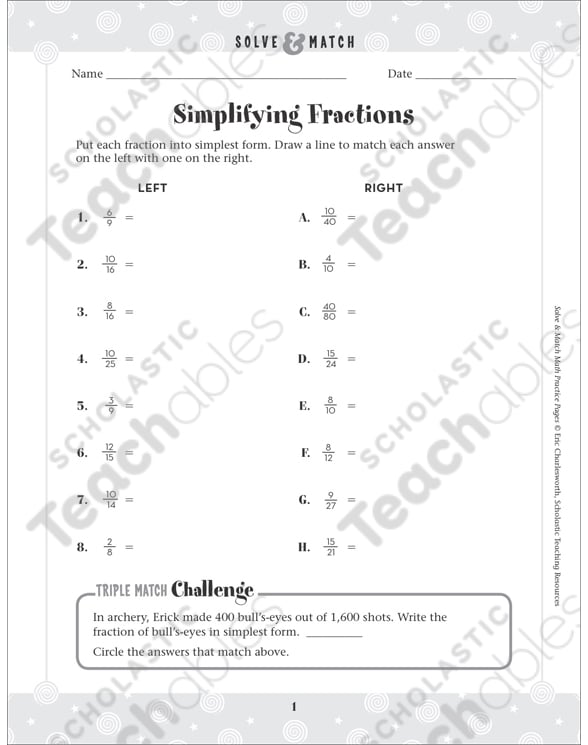 This is a simple print-and-go activity. Students will simplify all fractions and then match the left side to its simplest form on the right side.
Learn More: Scholastic Teachables
10. Simplifying Spinning Fractions
This activity will require a little prep work. You can laminate these fraction spinning cards and use a paper clip or brass brad to create a spinner. Students will then spin the wheels and form fractions. Then, they will reduce these fractions and write them in their simplest form.
Learn More: My Math Imagination
11. Go Fish Simplify Fractions Game
Students are given a fraction and they must choose the simplified version of it from the three given choices. This game is great for students who enjoy games and technology.
Learn More: Kids Math TV
12. Roll It, Simplify It
Students will need number cubes or dice for this activity. They will roll twice and create a fraction from the numbers they've rolled. They can write it on the left side. Then, they will need to determine if it is already simplified or if it needs to be reduced. If so, they will need to reduce and write it on the right side in its simplest form.
Learn More: Pinterest
13. Digital Escape Room
Digital escape rooms are becoming very popular in classrooms across all content areas. This one is based on simplifying fractions. As students reduce the fractions and find their simplest form, they will earn more clues and can use the information to free themselves from the digital escape room.
Learn More: Scaffolded Math
14. Simplify and Snap Game
This is a fun game that can be easily printed and kept for repeated use. It would be ideal for math centers or partner practice. Students will need to work in pairs or small groups to play. As they simplify the fractions, they'll earn and collect snapping cubes or blocks as they answer them correctly.
Learn More: Laura Candler's Teaching Resources
15. Simplifying Fractions Dominoes
This activity is super simple and is ideal for a math center or morning work. Learners can use these dominoes to form and write out fractions. Once they've written the fractions, have them simplify them and show they are working out.
Learn More: Runde's Room
16. Pirate Game
This is a fun math game that will help students practice reducing or simplifying fractions. Students will get lots of practice simplifying fractions because they will have to work out each fraction to find its simplified version.
Learn More: 123 Homeschool For Me
17. Interactive Notebook Pages
This is a great way to introduce simplifying fractions to your students. Have them glue this resource into their interactive notebooks. This will help them think through the process involved in simplifying fractions.
Learn More: Primary Theme Park
18. Simplify Fractions Zap Game
Print everything on cardstock so it holds up for repeated use. As students choose paper strips and simplify the fraction, they must try not to draw the Zap cards.
Learn More: Pinterest
19. Break Down the Factors
Help students understand the process of simplifying fractions by helping them list out the factors and find the common factor. Letting students list out the factors and seeing them written down will help students determine which factor is the common factor.
Learn More: Teaching in Room 6
20. Playing Card Fractions
Using only a deck of cards and a way to record, students can flip two cards to form a fraction. Then, they can simplify the fraction and write in the reduced and equivalent fractions. This will provide a challenge as some fractions may end up being improper fractions that need to be simplified.
Learn More: Education.com