Sleepovers are a long-standing tradition for kids around the world; a time for your kids to play silly games and connect with their friends. Don't let video games rule your kids' next sleepover. Instead, choose a few new exciting ideas from our list of creative sleepover games! Some will require a trip to the dollar store to set up, while others require the use of things that can be found around the house. Read on to discover 35 amazing sleepover games and pick a few out to take your kids' sleepovers to the next level!
1. Shaving Cream Balloons
Ditch the water and let your kids fill their balloons with shaving cream! By attaching the end of the water balloon to the spout of a shaving cream bottle, they can easily fill these squishy balloons. Make sure they take this messy activity outside; although they'll easily be able to clean up the area with a hose after some playful backyard fun!
Learn More: Totally the Bomb
2. Tiny Bow and Arrows
This tiny bow and arrow is guaranteed to provide plenty of fun at your kids' next slumber party. Cut some notches into a popsicle stick, add dental floss, and then let them load up on Q-tip ammo! These are a great alternative for Nerf Gun fights, and they hurt less too!
Learn More: Everything I Do is All for the Boys
3. Duct Tape Swords and Shields
With just some cardboard and duct tape, your kiddos' next sleepover can be transformed into medieval play! Have them cut the cardboard into the shape of a sword and shield, and then cover them with silver duct tape to add a more realistic effect. They'll have hours of fun as the drama unfolds in their duels!
Learn More: 30 Minute Crafts
4. Glow in the Dark Bowling
We've found the perfect activity for when the sun goes down at your children's next sleepover! Glow in the dark bowling requires 10 water-filled bottles each with a glow stick inside and a soccer ball. Let them take turns rolling the soccer ball to knock over the luminous pins, getting two chances before switching players!
Learn More: Kix Cereal
5. Spinning Nerf Targets
If your kiddies already own Nerf Dart Guns, this is a great game they can build to try out a new way of play! They'll need some PVC pipes, string, straws, craft sticks, and thick paper to build this spinning Nerf target. Once constructed, they'll enjoy competing with their friends to shoot the targets until they spin! Bullseye!
Learn More: Frugal Fun for Boys and Girls
6. Football Tarp Game
How much fun is this carnival-style game?! You and your little ones can build this football game by cutting out goals on a tarp. Then, they can decide how many points each empty goal will be worth. At their next sleepover, they can practice throwing a football through the hanging goals and see who can score the most points!
Learn More: The Red-Headed Hostess
7. Nail Polish "Spin the Bottle"
Here's a new kid-friendly take on the game Spin the Bottle! Start by printing out the template and placing a spinner in the center. Next, you'll get 8 bottles of nail polish and put one in each section. Your kiddos are ready to spin! Whichever polish bottle they land on, is what they paint each nail with!
Learn More: One Creative Mommy
8. Pillow Fight
You can't have a slumber party without a PILLOW FIGHT! You can set out some cute pillows, or have your kids design their own pillowcases with fabric markers during their sleepover. Set the safety rules, and let the battle commence!
Learn More: Hostess with the Mostess
9. Bigfoot Game
These Bigfoot-themed ideas bring fresh ideas to your kiddies'' next sleepover. With a little bit of prep, they can play a handful of hilarious games. For example, let them see who can walk furthest with these giant DIY Bigfoot feet without dropping any of the balls! There are hours of fun to be had!
Learn More: Get Your Holiday
10. Sour Patch Kid Game
Who doesn't love Sour Patch Kids? Your kiddos will be excited to see a bowl of this delicious candy sitting out at their next sleepover, but depending on which color they take, there's a surprise question or task assigned to them! You could also use a bowl of Skittles or M&M's if that's what they'd prefer!
Learn More: Olive the Pickle
11. Scavenger Hunt
Photo scavenger hunts are an adventurous way to keep your kids busy during their next sleepover! They'll be given a list of things to capture on their camera phones, like a photo of a team pyramid, or a photo of everyone sitting under a table. The fact they'll only have an hour to snap all their pictures only adds to the excitement!
Learn More: Mom of 6
12. M.A.S.H.
Talk about a classic slumber party game!- M.A.S.H. is a favorite, as your kids have fun determining their future house, partner, careers, pets, and more. You'll have a room full of giggles as they eliminate their choices and reveal their future lives!
Learn More: A Girl and A Glue Gun
13. Musical Sleeping Bags
Why not explore this new take on a classic party game? Musical sleeping bags require your kids to walk around the sleeping bags while the music plays. Once the music stops, they must jump into a sleeping bag before there are none left! The person who doesn't find a bag has to sit out until the next round of the game.
Learn More: Ultimate Camp Resource
14. Tin Foil and Toilet Paper Fashion Show
Get the catwalk ready! Give your kiddos some tin foil and toilet paper and let them create new outfit designs for their friends. What makes this game exciting is that kids can be as creative as they like! You may just have a few future fashion designers in the group!
Learn More: Come Together Kids
15. Funniest Photo
Say cheese! Photo booths have been all the rage lately, so kids have a lot of practice doing this. See who can take the funniest picture, using these photo props. Just print, and laminate, and your kids are ready to snap some crazy photos!
Learn More: Oh Happy Day
16. Sardines
We love this twist on this classic kids' game of hide-and-seek! To play a game of sardines, have one child hide and then let everyone else search for them. As each kid discovers their covert friend, they have to hide with them until there's just one kid left seeking! One thing you won't need to search for in this game is the fun!
Learn More: Group Games
17. This or That
All you need is a piece of paper for your kids to partake in this next game. Just print out the "This or That" questions and your kids will laugh their way through each answer. They'll love to take turns asking each other their preferences and there are sure to be some heated debates! What a fun way to get to know their friends!
Learn More: Hobby Lark
18. Exquisite Corpse
For this drawing activity, you'll need to get your kiddos into teams of three! The first team member draws a head and then folds the paper down so it can't be seen. Then, the second kid draws the upper body, again folding the paper, and the third draws the legs. Finally, they'll open up the paper to reveal their ridiculous drawings!
Learn More: MSLK
19. Post-it Game
Be sure to pick up a few packs of sticky notes for your kids' next sleepover so they can give this game a try! Task one kiddo to cover their friend's body with post-it notes. Then, reverse roles so both kids are covered. Once they're ready they'll race to see which kid can shake off the Post-it notes, without using their hands!
Learn More: YouTube
20. Escape the Room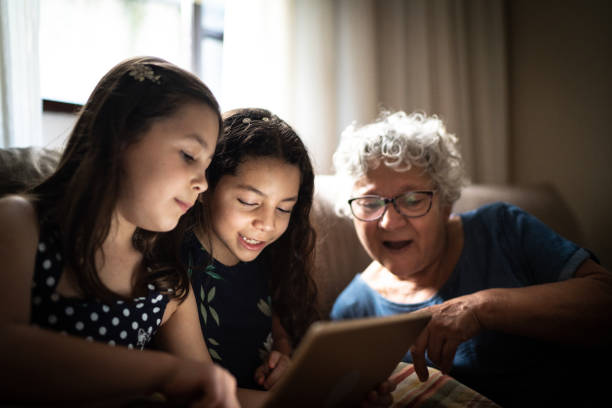 Here's an enjoyable group game to let your kiddies play at their next sleepover! They can pick which escape room they like the most and print it out for free! All they need are the papers and a phone to complete the challenging task.
Learn More: Escape Team
21. Toss and Talk Game
The conversation will never run dry with this super game! You or your kiddos can write some questions on a beach ball for them to toss around. When they catch it, they must answer the question under their left index finger. Remind them to only ask questions everyone is happy to answer!
Learn More: More than Elementary
22. Spy Training
This is a cool slumber party game for younger kids. You can use tape or crepe paper streamers to create lasers and let them figure out how to get through the difficult maze without being caught! Why not up the ante and time them to see who can navigate the obstacles the fastest?
Learn More: Everything I Do is All for the Boys
23. Blind Make-over Game
A blind makeover will surely get your little ones looking…interesting. Place a blindfold on one of your kids who'll then have to put makeup on their friend's face the best they can! Make sure the child has their eyes and mouth closed as the other one applies it! Once the blindfold is taken off, there will certainly be fits of laughter as they take in their…unique work!
Learn More: YouTube
24. Flashlight Scavenger Hunt
Here's another fun take on a scavenger hunt that your young ones can play in the dark with flashlights. Each child will need a clipboard with a list of the items they need to hunt for, as well as a flashlight. They'll head outside and shine their lights on different bugs, leaves, and other listed items until they check them all off!
Learn More: Life is Sweeter by Design
25. Balloon Charades
This game of charades is sure to go off with a BANG! Write some ideas on paper and put each one inside a balloon. Once they're blown up, your kiddies have to pop one balloon at a time to find out what they have to act out. Popping the balloons is sure to dial up the fun of this classic game!
Learn More: Ultimate Camp Resource
26. Memory Challenge
Here's a great memory game that doesn't require a deck of cards. You can begin by placing various items on a tray and let your kids memorize them for one minute. Then, cover the tray and task each kid to write a list of all of the items they can remember. Whoever remembers the most wins!
Learn More: Growing Play
27. Human Knot Game
Your kiddies will be tying themselves in knots playing this hilarious game! They'll reach out and grasp the hands of two different people, continuing to link up until they've created a large human tangle! The challenge? They must unravel the knot without breaking their grip. It's a test of teamwork, communication, and strategy, ensuring heaps of laughter and bonding for a perfect slumber party.
Learn More: wikiHow
28. Candy Dice Game
A game that involves candy? We're in! For this exciting game, your kiddos will roll a dice and either take or pass pieces of candy depending on what number they roll. At the end of the game the player with the most pieces of candy wins.
Learn More: Pinterest
29. Truth or Dare Jenga
Regular Jenga, but with a twist! Each block has a truth or a dare written on it, so your kids don't even have to come up with their own list of questions! When a player pulls out a block, they must perform the task written down. It's an exciting twist on a classic game for some perfect sleepover party fun!
Learn More: Amazon
30. Story Chain Game
This creative activity requires no prep and is sure to get lots of giggles from your young ones! Have one player start a story with a sentence, before passing it onto the next person to continue with a sentence of their own. Each player adds a sentence, making the story funnier and weirder as it goes. What crazy tales will your kiddos come up with?
Learn More: Ludozofi
31. Freeze Dance
Here's a fast-paced game to get your kids' energy out before bed! Play some music and let them dance around crazily before freezing stalk-still when the music stops. Anyone who doesn't freeze or who falls over is out. The last person standing is the winner!
Learn More: Playworks
32. Whisper Challenge
We think your kids will get a kick out of this next game! Have one child wear headphones and listen to loud music while another has to say something out loud to them. The person with the headphones then has to try to figure out what they're being told by lip reading! Their hilarious misinterpretations are sure to get huge laughs from everyone involved!
Learn More: Little Halo J
33. Mirror Mime
This is a fun one! In pairs, one of your kids acts as the 'mirror' and must mimic everything their partner does. This sleepover game aims to sync movements perfectly; leading to concentration, laughs, and some pretty unique dance moves.
Learn More: Beat by Beat
34. Pictionary with a Twist
This fun activity is just like Pictionary, except the person drawing is blindfolded! As they draw, the other sleepover guests will guess what they're trying to show them before the time runs out. That's if they can stop laughing at the wacky drawing attempts!
Learn More: YouTube
35. DIY Mask Making
Turn your sleepover into a masquerade ball!! Mask-making will let your kiddos create first and play second. Give them lots of materials like feathers, glitter, stickers, and markers, then let them design their own masks and attach them to craft sticks. Once everyone is done, they can dance the night away, showing off their creations as they go!
Learn More: First Palette