Students love to do puzzles! And, as we are forever progressing on the digital front, it is important that our students are well aware of the new terms and jargon that are associated with varying forms of technology. We've gathered 11 useful word search activities linked to social media and digital marketing to develop your vocabulary and understanding even further!
1. Interactive Wordsearch
This activity is a great way to engage all students. Educators can group students into small teams and call out the words within the word search. Create a race against time to find the words linked to social media.
Learn More: iSLCOLLECTIVE
2. Printable Creative
This useful app, pre-programs in keywords for you to use and create your very own digital word searches. You can add in more or fewer words depending on the abilities of your learners.
Learn More: PrintableCreative
3. Free Printables
A great educational website, with good examples of social media word searches that students will enjoy. These printables will develop better vocabulary skills and provide a good starting point when discussing social media and marketing language.
Learn More: Worksheetplace.com
4. Timed Online Example
Using thumbnail pictures to depict words in a visual format, provides an extra level of engagement to participants of this quiz! They will have to work out the correct social media platform and then find the word in the word search, all whilst racing against the clock!
Learn More: Wordwall
5. Marketing Terms
Marketing is a key part of all social media platforms, but what does that mean? Introduce the key terms with this handy word search and develop the students learning around pre- and misconceptions!
Learn More: Puzzles To Print
6. Ideas from Pinterest
Always a firm favorite, Pinterest has some excellent ideas for inspiring and creative word searches and puzzles to suit a range of learners. With bright colors and images, these will surely spark some curiosity!
Learn More: Pinterest
7. All That Jargon
The language of the media can sometimes confuse us all! What is the Twitterati? Why do we use memes? Explore these concepts with your students using this word search puzzle as a hook into the topic. Students could then also create their own word search using the different jargon that they know.
Learn More: EnglishBix
8. One For the Older Students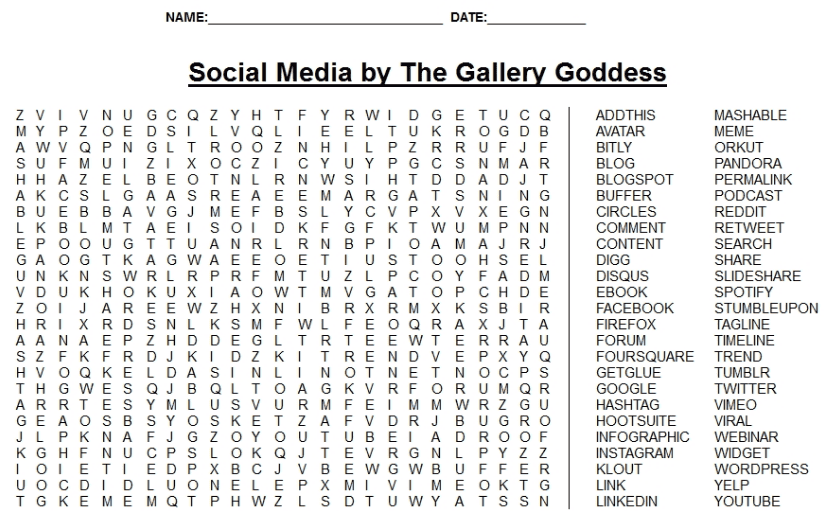 This awesome word search has a collection of new and old social media platforms, key vocabulary, and terms that will inspire your students to want to research more. This would be a great consolidation activity for checking basic understanding or any misconceptions about language.
Learn More:The Gallery Goddess
9. Up the Ante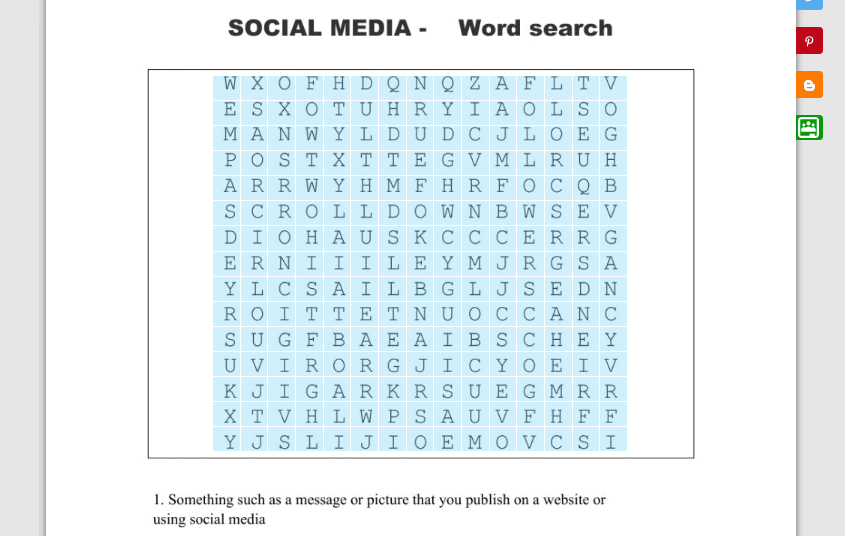 In this word search, students are required to read the clue to discover the word that is hidden in the grid. This challenging word search is perfect for older learners or to create some competition between classmates!
Learn More: LiveWorksheets
10. Learn With Puzzles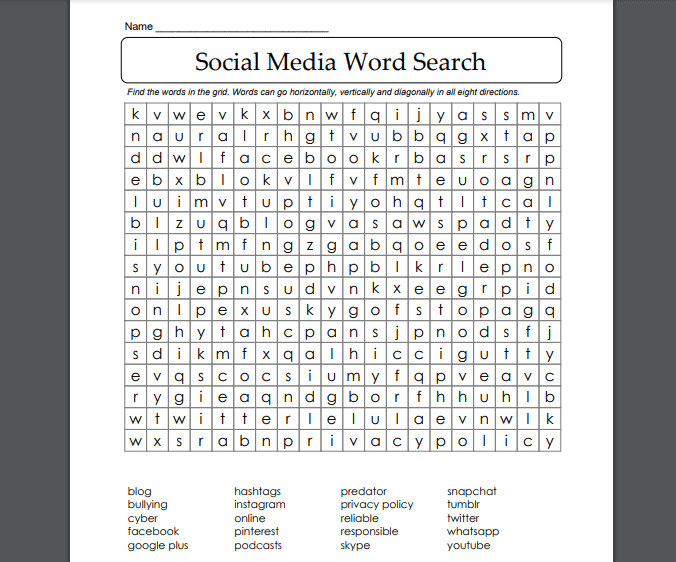 This set of vocabulary puzzles would be useful in activating prior or current knowledge about social media. It also incorporates some of the potential consequences of social media which could lead to a thought-provoking classroom debate!
Learn More: Learn With Puzzles
11. Interactive Online Word Search
We all want to save paper so why not complete some online word search puzzles with your students? Simply give students the link and they can complete the word search independently at home. Similarly, you could display it on an interactive whiteboard and complete it all together in class!
Learn More: The Word Search