Do you have big plans for your classroom this St. Patrick's Day? Well, we've come prepared with 32 funny jokes that can easily be turned into a pocket joke book for your students. These fun jokes stem from funny leprechaun jokes to knock-knock jokes and even some shamrock jokes.
Humor in the classroom will help keep your students engaged and laughing even if they aren't Irish people. St. Patrick's Day is the perfect time to start a popular holiday pocket joke book with these printable jokes. Even the smartest person will be excited to share their jokes! Have some fun with it by letting them create their own bonus jokes!
1. What baseball position do Leprechauns usually play? 
2. What would you get if you crossed a leprechaun and a yellow vegetable?
3. How did the leprechaun get to the moon? 
4. Why do frogs like St Patrick's Day?
Because they're always green.
5. Why should you never iron a four-leaf clover? 
Because you should never PRESS your luck.
6. Knock Knock
    Who's There?
     Warren.
     Warren Who?
Warren anything green today?
7. How can you spot a jealous shamrock? 
It will be green with envy.
8. Why did the leprechaun turn down a bowl of soup?
Because he already had a pot of gold.
9. What do you call a fake stone in Ireland? 
10. Why do people wear shamrocks on St. Patty's Day?
Because real rocks are too heavy.
11. Why do leprechauns hate running?
They'd rather jig than jog.
12. Why can't you borrow money from a leprechaun? 
They're always a little too Short.
13. What kind of bow can't be tied? 
14. When is an Irish potato not an Irish potato?
15. What do you get when two leprechauns have a conversation?
16. What's Irish and stays out all night? 
17. How can you tell if an Irishman is having a good time?
He's Dublin over with laughter.
18. What does a leprechaun call a happy man wearing green? 
19. Knock Knock.
      Who's there? 
       Irish. 
       Irish who?
I wish you a happy St. Patrick's Day!
20. Who was St. Patrick's favorite superhero?
21.  Why are so many leprechauns florists? 
22. What did the Irish referee say when the soccer match ended?
23. When does a leprechaun cross the road?
24. What do you call a big Irish spider? 
25. What's an Irish jig at MacDonald's called? 
26. What's a leprechaun's favorite cereal?
27. Where can you always find gold?
28. What did one Irish ghost say to the other?
29. What did the naughty leprechaun get for Christmas?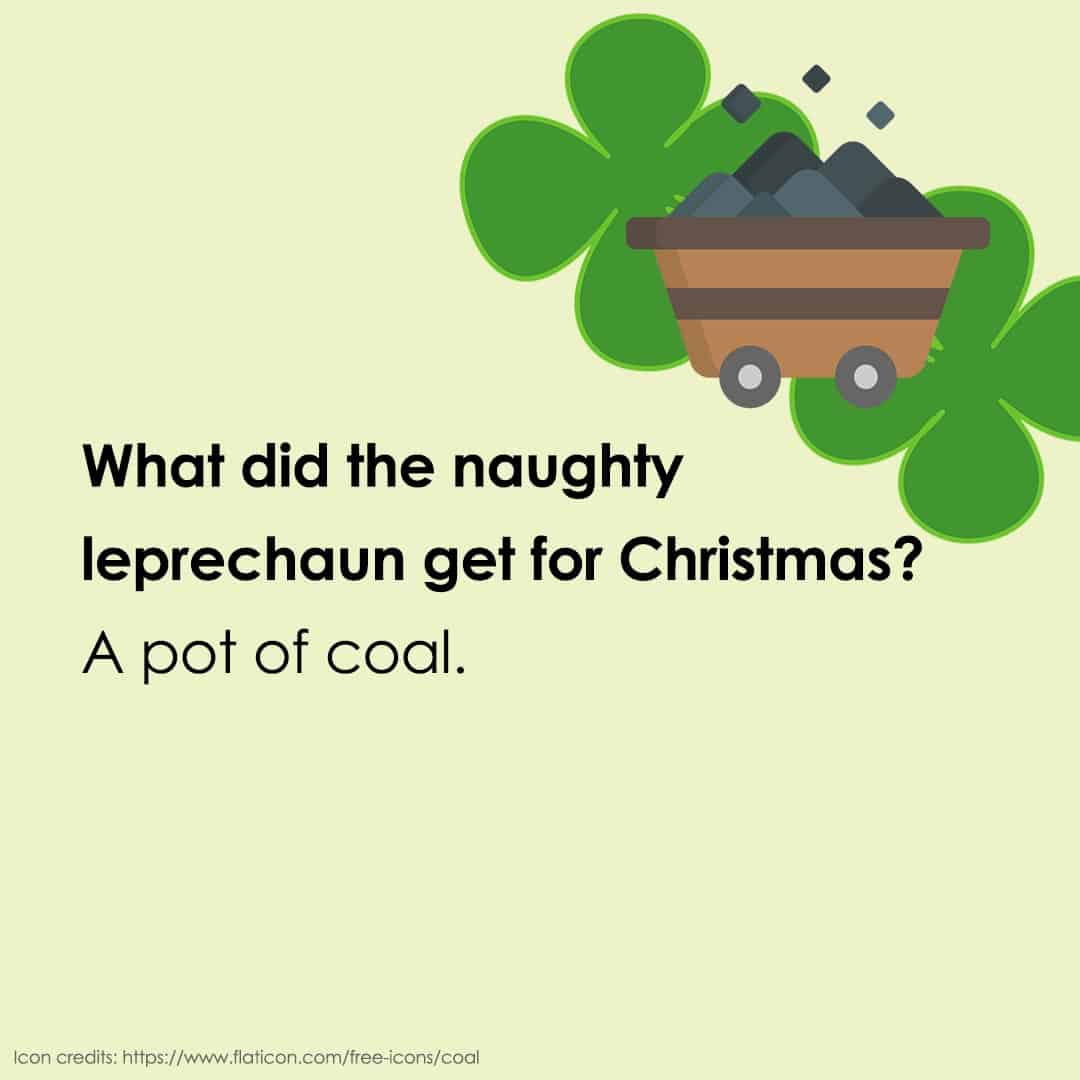 30. What mutant is green and considered lucky? 
31. What was St. Patrick's favorite kind of music?
32. Where do leprechauns sit to relax?