If there's a kid in your house who always seems to ask "why?" you might want to try one of our top STEM books.
STEM books offer science, technology, engineering, and mathematics solutions to everyday problems. But if you think we are talking about books with boring facts or concepts, then think again.
The National Science Teachers Association Committee suggests that STEM books do not need to be solely related to science, technology, and math. Still, they can also be fictional or even historical.
However, to be considered STEM-based, they should demonstrate basic concepts such as:
Offer Real-world situations (either as fiction or non-fiction).
Show the advantages of teamwork,
Demonstrate creativity and cooperation.
These 19 STEM-based books help kids get interested in Science, Technology, and Math through real-world applications. These STEM-based books help kids get interested in Science, Technology, and Math through real-world applications.
Books for Kids: 4 to 8 years old
1. If I Built a Car
An adorable picture book that helps young learners start to read, and the energetic rhyme is a joy for both kids and parents. The author's rhyme and critical thinking skills combine nicely with gorgeous illustrations to help kids create and think about their inventions. It is a book to fuel the imagination of all young inventors. In this story, Jack designs a fantastic fantasy car. His inspiration comes from trains, zeppelins, old planes, lots of colors, and shiny chrome. His imagination goes wild, and his fantasy car has just about everything you could imagine.
Learn More: Amazon
2. Human Body Activity Book for Kids
Parents and teachers can teach biology and science to kids by showing them how their bodies work. Children are always curious about their bodies. The Human Body activity book shows kids everything they want to discover about their body, from ears to skin and bones. This book offers fantastic activities that help young learners understand how their body works. The author simplifies human anatomy and offers illustrated and informative chapters based on our body systems.
Learn More: Amazon
3. Night Becomes Day: Changes in Nature
A book from STEM about cycles. Whether it is about plant cycles, canyons developing or trees blooming, Night Becomes Day explains a ton of natural phenomenon and how it transforms. It is easy to understand because the author has structured the content according to cycles and opposites. The photos depict natural phenomena throughout the world.
Learn More: Amazon
4. Battle of the Butts: The Science Behind Animal Behinds
Do your kids love those horrible jokes? They will adore the Battle of the Butts book. Here, the author takes the funny fart to a whole other level. Animals use butts for many different things, from breathing to talking and even killing their prey. Here the author focuses on ten interesting animals and their butts, offering facts, habitat, and the "power of the butt." It is a super funny book that will have everyone rolling with laughter, and kids will want to know which animal has the coolest butt power.
Learn More: Amazon
5. Ninja Life Hacks Growth Mindset

Teach kids about resilience. This book teaches emotional intelligence and was created to help children learn important social and emotional skills. The characters are comic book-like and enjoyed by all ages. It is easy enough for young learners to read but interesting enough to keep adults entertained. Teachers and parents can use the techniques in the book to teach children about emotions.
Learn More: Amazon
6. StoryTime STEM: Folk & Fairy Tales: 10 Favorite Stories With Hands-On Investigations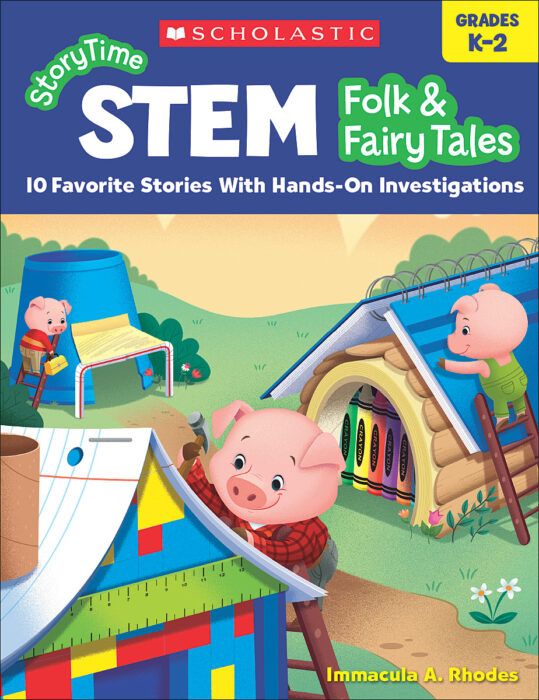 Folk and fairy tales like you have never seen. These stories are the perfect way to introduce kids to STEM concepts. Explore ways to help the Gingerbread man, or how to make the three little pigs home sturdier, maybe even build a wolf-proof fence for Little Red Riding Hood. They are all stories to help children develop critical thinking skills and each tale has three activities teachers or parents can use.
Learn More: Amazon
Middle Grade: Children 7 to 10 Years Old
7. The Crayon Man: The True Story of the Invention of Crayola Crayons
An award-winning book that is a STEM true story. It is the biography of Edwin Binney, the man who invented the crayon. It is the true story of Binney, a man who loved nature's colors so much that he found a way to bring them to children. It is an invention that has endured and empowers children to be inspired and to create to their heart's content.
Learn More: Amazon
8. Ada Twist, Scientist
Here is one of those math books that inspire women and girl mathematicians. The author takes her inspiration from the life of Ada Lovelace, an English Mathematician of the 1800s, and Marie Curie, the first woman to win a Nobel Peace Prize. It is a page-turner and a bestseller STEM book showing girl power and celebrating women scientists. In this story, Ada Twist is celebrated for her constant curiosity and her questioning of "Why?"
Learn More: Amazon
9. Big Questions from Kids Around the World!
Want to know why things work? Professor Robert Winston writes the scientific method and answers many of the questions kids have about science. It is perfect for the elementary school learner who wants to know why things happen. The book is filled with real questions children wrote to ask him. They cover topics from chemistry to the Earth, daily life, and space. They are funny, engaging, and sometimes even weird.
Learn More: Amazon
Young Teen: Ages 9 to 12
10. Emmet's Storm
An award-winning gorgeous book for kids that think they don't like science. The story centers around Emmet Roche, the oddball kid who is also a genius. Unfortunately, nobody knows it. His antics cause him to be shipped to a country school where no one understands him. In 1888 when a terrible blizzard hits and it starts snowing sideways, Emmet knows something is wrong. No one wants to hear about the strange color flame in the stove or how it is causing dizziness and headaches in the kids. Will they listen?
Learn More: Amazon
11. The Unteachables
A funny book about bad students and bad teachers. What happens when you put all the smart but terrible kids in the same classroom as the worst teacher. It's a classic scenario of misfit kids with a teacher who no longer cares. Parker can't read, Kiana doesn't belong anywhere, Aldo is angry, and Elaine is always a pain. The teacher Mr. Zachary Kermit is burned out. The unteachable students never thought they would find a teacher who had a worse attitude than they did, but they did, and it is hilarious. A journey of living and learning, sadness and joy.
Learn More: Amazon
12. The Science of Breakable Things
A paperback book about emotional issues and how to deal with them. Natalie's mom suffers from depression. Thankfully, Natalie's teacher has given her an idea. Enter the Egg Drop contest, win the prize money and take her mom to see the miraculous Cobalt Blue Orchids. These magical flowers are extremely rare and have survived against all odds. It will be an inspiration for her mom, who is a botanist. But Natalie needs the help of her friends to accomplish her mission. It is a book that shows older children how to deal with emotional issues and how talking about these problems is like taking a plant out of a dark cupboard and giving it life. It is an incredible story of love and hope.
Learn More: Amazon
13. The Miscalculations of Lightning Girl
A lightning strike hits Lucy Callahan, and suddenly, her life is changed forever. The zap gave her genius-level math skills. She has been homeschooled ever since. Now at 12, she is ready to take on college, but she has to pass one more test, middle school. This is a cool book series that is bound to have young teens enthralled with science and being smart.
Learn More: Amazon
14. Kate the Chemist: The Big Book of Experiments
A STEM activities book for science kids up to age 12. If you've ever wondered how volcanoes are formed, why they explode or why dropping dry ice in soap bubbles creates neon brains, this is the book for you. Here are 25 kid-friendly experiments to try, all of them explained by Kate, the scientist. They use everyday life materials and things to help kids understand science and mathematical concepts.
Learn More: Amazon
STEM books for High School Students: Age 14 and Above
15. Light at the Edge of the World: A Journey Through the Realm of Vanishing Cultures
This book is a part of an amazing book series by renowned anthropologist Wade Davis. Here he teaches us about sacred plants, traditional cultures, and indigenous populations in remote areas of North Africa, Borneo, Tibet, Haiti, and Brazil. In this book, Davis explores different cultures and their views of life. He teaches young adults how to live, think and respect other societies.
Learn More: Amazon
16. The Electric War: Edison, Tesla, Westinghouse, and the Race to Light the World
Learn about the invention of electricity and the competition among burgeoning scientists of the time. It's the story of Thomas Alva Edison, the inventor of direct current (DC), Nikola Tesla, and George Westinghouse, inventors of alternating current (AC). There was no friendly competition, only a single winner who would have a world monopoly on electric current.
Learn More: Amazon
17. Elon Musk: A Mission to Save the World
An awesome biography on Elon Musk, a boy once bullied at school. He is now an iconic visionary and possibly the most important entrepreneur in the world. Elon Musk, the young man who worked his way through university by organizing Raves. The current business entrepreneur who has designed important improvements in transportation, solar energy, and Internet connections is an inspiration for young adults.
Learn More: Amazon
18. The Martian
A fictional work by author Andy Weir. Readers join Mark on an incredible trip to Mars, where he faces a horrible dust storm and survives. Unfortunately, he has no way of signaling to Earth that he is alive. The unforgiving environment, damaged ship, and human error will kill him unless he uses his engineering skills to find solutions. It is an enthralling read that will have young adults glued to their seats, amazed at Mark's resilience and refusal to quit as he confronts one insurmountable obstacle after another.
Learn More: Amazon
19. Bomb: The Race to Build–and Steal–the World's Most Dangerous Weapon
In 1938, a brilliant scientist, a German chemist learned that Uranium could split in two when placed next to radioactive material. The discovery led to a heated race spanning three continents to create the atomic bomb. Spies worked their way into the scientific communities to learn what they could about this powerful weapon. Commando forces slipped behind German lines and attacked bomb manufacturing plants. One group of scientists, hidden away at Los Alamos, worked incessantly to create the atomic bomb.
Learn More: Amazon