Grammar is not a popular subject among students or teachers! If teaching suffixes makes you suffer from anxiety, we've got just the cure! Best of all, these activities are low prep and free! Online games, arts and crafts, and storytelling are just some of the ways you can take the suffering out of learning suffixes. Here are 24 awesome ideas to get students excited and motivated to learn about suffixes!
1. Suffix Puzzles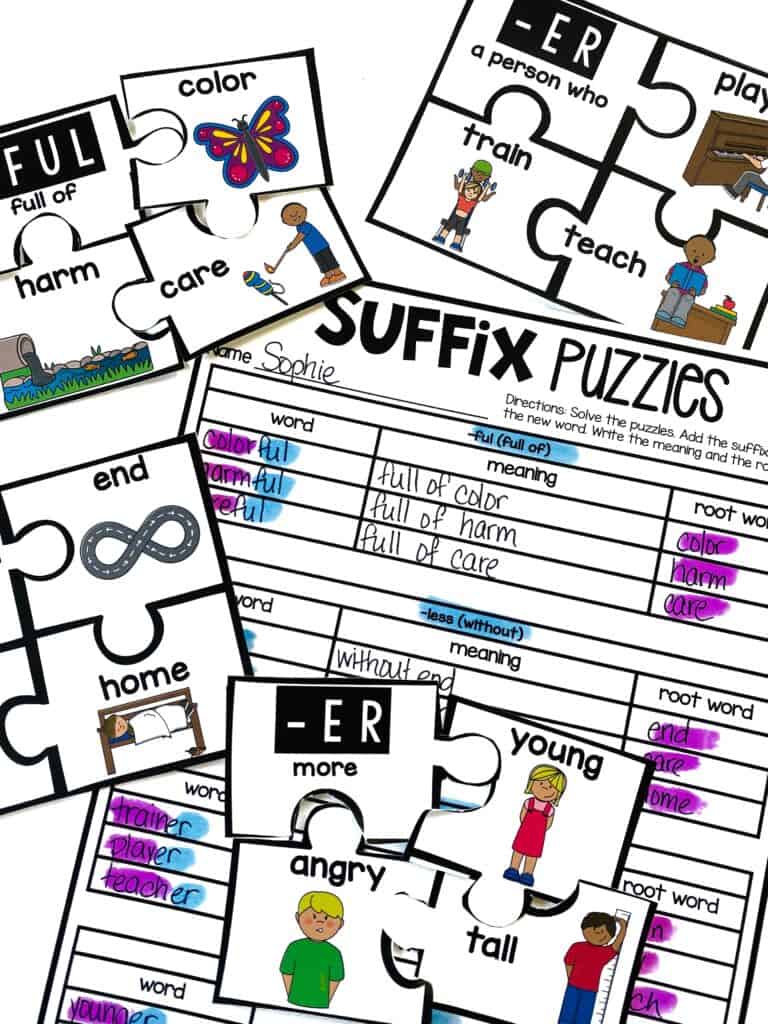 This is a fun matching game that can be tailored for all grades. With blank puzzle templates, you can create word and suffix matches to help students remember what they have learned. For added fun, have students make suffix puzzles!
Learn More: Teacher Fiera
2. Roll a Suffix
Turn suffix learning into a game with this fun and free gameboard. Roll the dice and see what suffix it lands on and then have your students make a word using that suffix. Challenge students by asking them to use the word in a sentence.
Learn More: Teachers Pay Teachers
3. Suffix Flower
Art and grammar take root with this fun suffix activity. Students create flowers by putting a suffix in the middle, and the petals display words using that suffix. Students can write sentences using their newly bloomed words.
Learn More: Sandy's Learning Reef
4. Suffix Scoops
What flavor suffix would you like? This is a cute way to get students motivated to learn about suffixes; by using ice cream scoops. Suffixes can be either the ice cream scoop or the cone. Students can then serve their words and try to use them in a sentence!
Learn More: 123 Homeschool 4 Me
5. Suffix Scavenger Hunt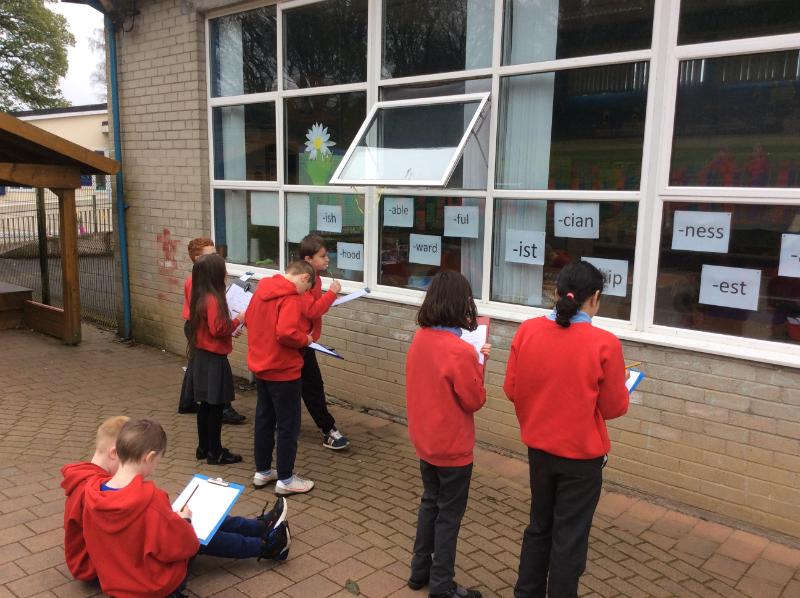 Learning is better when you can move around. Scavenger hunts are an active way to get students motivated to learn. In this variation, students search for main words in the class or outdoors, and then return to a central location to decide which suffix goes with the words they have found.
Learn More: Donemana Primary School
6. Suffix Task Cards
Students will actively learn about suffixes with these 24 fun task cards. Students will show you that they can identify the correct base word and suffix and explain the meaning of words with prefixes and suffixes by completing a series of tasks. These are great for scavenger hunts too!
Learn More: Teachers Pay Teachers
7. Suffix Search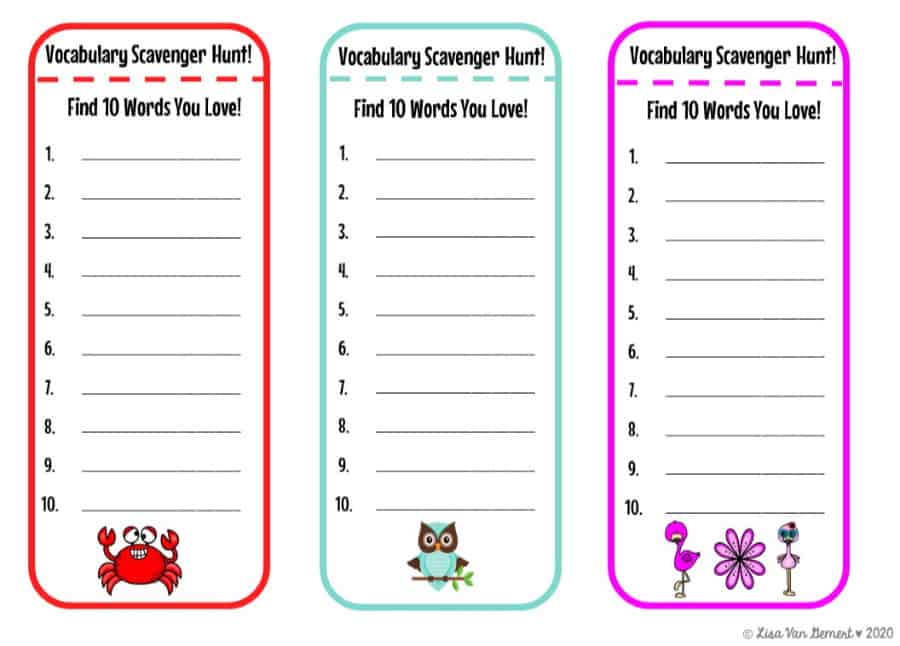 Reading materials become an interactive way to get students to identify suffixes. You can use anything from newspapers to food labels. Students will skim and scan the text to find words that contain the suffixes you want them to find. Create colorful templates that students can use to write the words on.
Learn More: Vocabulary Luau
8. Suffix Bingo- Ready-Made Templates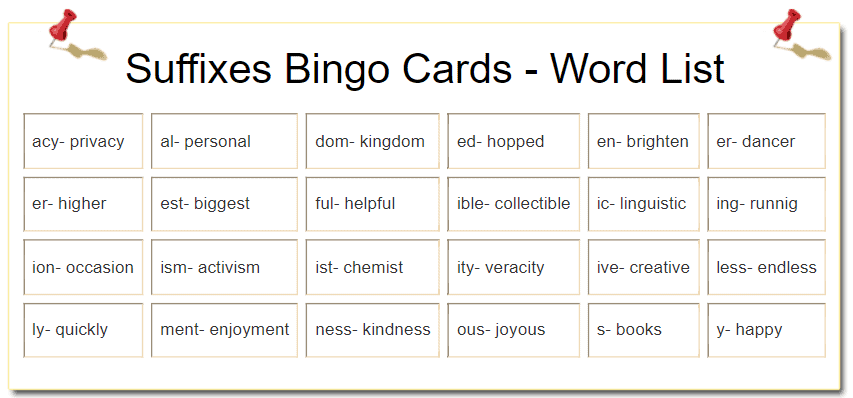 These ready-made suffix bingo cards are perfect for busy educators! Print and use for a fun-filled lesson about suffixes. These are great for reviewing suffixes too!
Learn More: The Bingo Maker
9. Suffix Bingo Creator
If you prefer to make your own suffix bingo cards, you can with this free and simple-to-use app. This is a fantastic way to review previously taught content or to reinforce what students have learned. Gamifying learning makes students smile and remember!
Learn More: My Free Bingo Cards
10. Catch a Suffix
Bring the beach to the classroom with this fun activity. Write suffixes on a beach ball. Students must then toss the ball to a classmate. The catcher looks where their left or right thumb lands after catching the ball. The catcher has to then say a word that would utilize the suffix they landed on.
Learn More: Teaching With Simplicity
11. Base Word Blaster- Online Suffix Game

Kids love video games and now they can play a game that teaches them how to recognize where to separate a suffix from the main word. This game is perfect as a teaching tool for visual learners and can be used as a post-lesson review.
Learn More: Room Recess
12. Online Suffix Games
Are you looking for educational online games? This free website offers a variety of fun games about suffixes. Whack-a-mole, game shows, and matching tasks are just some of the games you'll find to entertain and educate your students!
Learn More: Word Wall
13. Suffix Factory
Learning the rules for suffixes can be boring, but at the suffix factory, students will learn the rules in a fun gamified way. Students often have different learning styles and this is a great game for visual learners!
Learn More: Phonics Bloom
14. Suffix Worksheets

It's important to help students remember what they learned. These free and ready-made worksheets are perfect for the controlled practice of suffixes.
Learn More: Easy Teacher Worksheets
15. Suffix Worksheets Grades 1-8
Save time with these free and downloadable worksheets. Choose worksheets for grades 1-8 for review or practice. Educators, parents, and students will appreciate the variety of tasks presented on the worksheets to learn about suffixes.
Learn More: Education.com
16. Suffix Teaching Treasures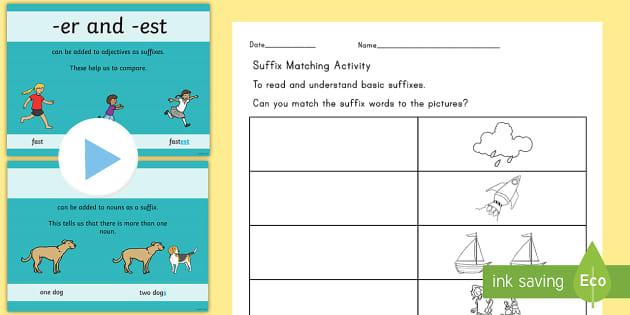 Check out this website for amazing suffixes resources! You'll be amazed at the variety of PowerPoints and worksheets you can download for free! Explore and get excited to teach suffixes.
Learn More: Twinkl
17. Suffixes "ful, less, ly, able"- Grade 2
It's not easy teaching grammar to young kids. This fun, animated video about suffixes is perfect for younger elementary students. Chris the Word Whiz will explain suffixes in easy-to-understand terms and pair their explanations with fun visuals.
Learn More: Kids Academy
18. Suffix Tutorial
Students will appreciate this easy-to-understand and entertaining video about suffixes. They can learn about suffixes and how they can change the meaning of words with an animated tutor.
Learn More: Mind Blooming
19. Suffix Posters
It is important to help students remember what they learned. These colorful suffix posters are great for decorating the class but also help students recall information. Students can reference posters for a quick reminder if they forget the concept. Visit the website and download these free posters today!
Learn More: Simple Living Creative Learning
20. Super Suffixes Game
This matching game provides an interactive way to improve students' vocabulary and help them deduce the meaning of words with suffixes. Add an element of writing or storytelling by having students create a story around the words they are able to match.  
Learn More: Deceptively Educational
21. Teaching Suffixes in a Fun Way
How do you teach suffixes? This website offers clear step-by-step tips, ideas, and a printable lesson plan to help teachers and parents teach suffixes effectively and in a way that empowers students to learn on their own.
Learn More: Use My Mind Save Your Time
22. Teaching Suffixes Activities
This is a treasure chest of resources for teaching suffixes. Looking for PowerPoints, Google Slides, videos, and anchor charts? Look no further than right here! You'll also find ideas on how to present and explain suffixes to students to maximize their learning experience.
Learn More: Book Units Teacher
23. Teaching Suffix Spelling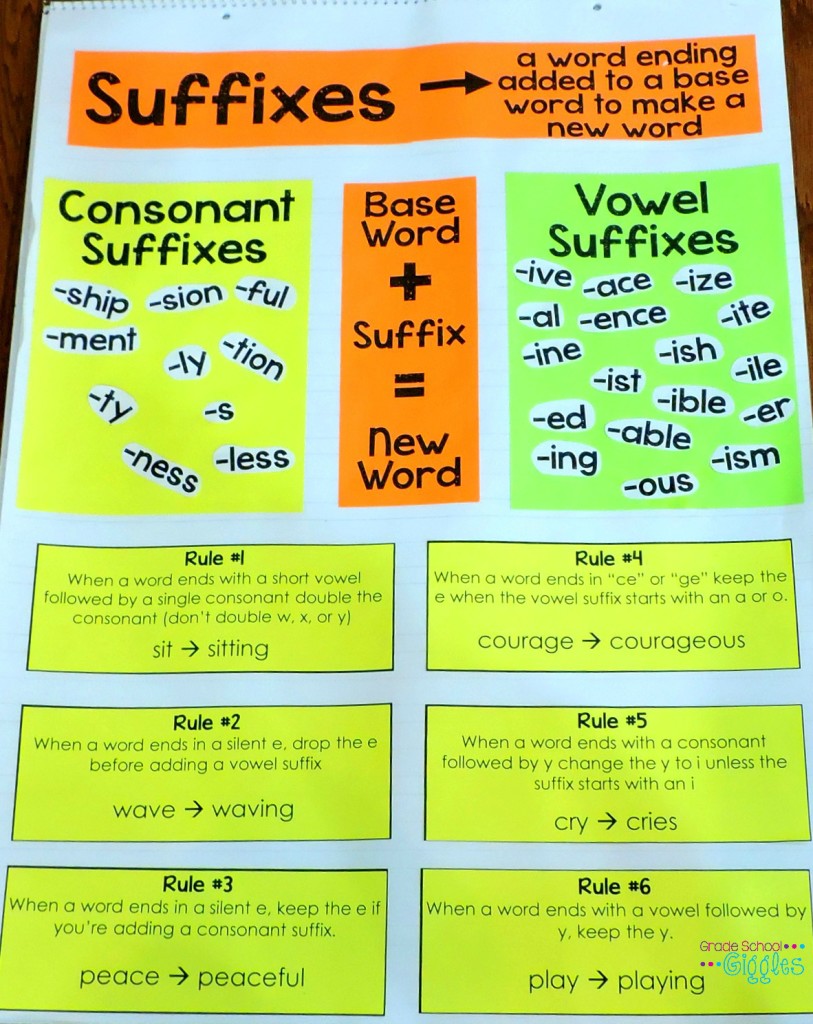 Suffixes are endings that are added to words. However, there are always exceptions to the rule because some suffixes change the spelling of a word. This website offers awesome ideas to help students with their suffix spelling.
Learn More: Grade School Giggles
24. Suffix Slider
Here's a fun way to get students to study suffixes. Have them make their own study materials! Suffix sliders are a tactile way to review or learn suffixes. The materials are free and downloadable and allow your students to easily slide into their learning!
Learn More: Teach It