Calendars are a great idea for implementing Summer fun because they provide structure and organization, encourage variety, promote family bonding and help create memorable experiences. This collection of 23 Summer calendars is packed with creative ideas and engaging activities, such as play-based learning, outdoor explorations, indoor crafts, and family outings. There are classic activities such as drawing with sidewalk chalk and playing with pool noodles, but our collection also includes inventive games and challenging scavenger hunts. Say goodbye to boredom and embrace the joys and wonders of Summer!
1. Summer Calendar For Kids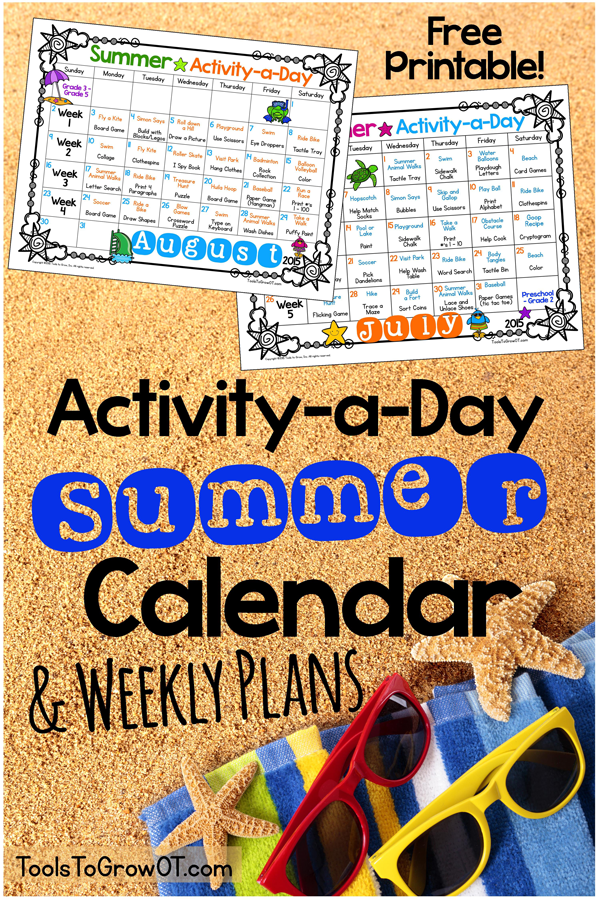 This free, printable calendar includes over 100 activities to help children practice academic skills while staying active all Summer long. It consists of daily fine and gross motor tasks such as bike rides, tree climbing, and fort building to keep kids entertained for hours!
Learn More: Tools To Grow OT
2. Summer Activity Calendar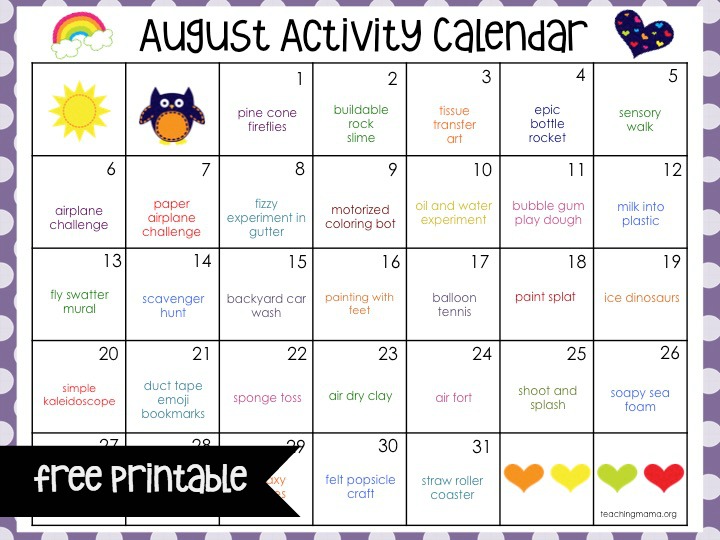 This Summer calendar encourages curiosity about the natural world as well as creative problem-solving. It includes a wide variety of creative tasks, sensory play, fine and gross motor skill exercises, and science experiments, such as sensory walks, making slime, and constructing dinosaurs out of ice.
Learn More: Teaching Mama
3. Activity Calendar For Summer Fun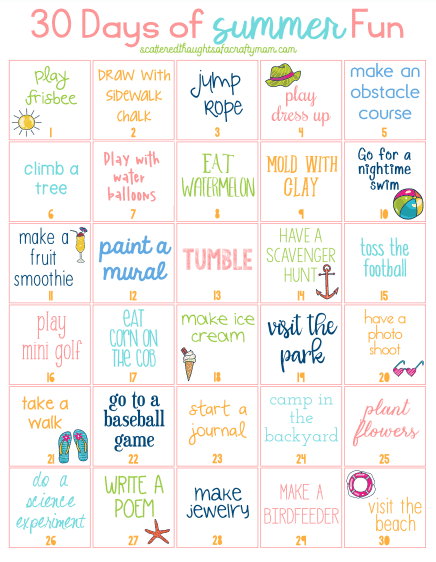 This calendar features fun, play based-activities such as playing frisbee, drawing on the sidewalk with chalk, building with playdoh, and having a scavenger hunt. All the activities are designed to encourage kids to be active and creative while creating lasting family memories.
Learn More: Scattered Thoughts of a Crafty Mom
4. Summer Fun Ideas
This flexible calendar includes fun celebrations such as National Ice Cream Month as well as classic Summer activities such as swimming, painting with water, baking cookies, building forts, and making flavored popsicles.
Learn More: Natural Beach Living
5. Summer Printable Schedule
This jam-packed calendar features twelve weekly themes such as pirates, dinosaurs, and beach fun. Each week is thoughtfully curated to keep preschoolers learning and having a blast all Summer long!
Learn More: Look We're Learning
6. Summer Schedule With Clickable Links
This calendar features clickable links leading to detailed instructions, and lists of materials. With 68 diverse activities, such as literacy, math, art, sensory, and science, the calendar is sure to keep children entertained while offering parents an easy-to-use and adaptable resource.
Learn More: Powerful Mothering
7. Family-Friendly Summer Activity Calendar
This fun-packed calendar includes classic summer activities such as going for a walk, reading at the library, camping in the woods, and visiting the zoo. It provides plenty of inspiration to take field trips, stay active and embrace the messiness of summer fun!
Learn More: The Benson Street
8. Fine Motor Focused Summer Calendar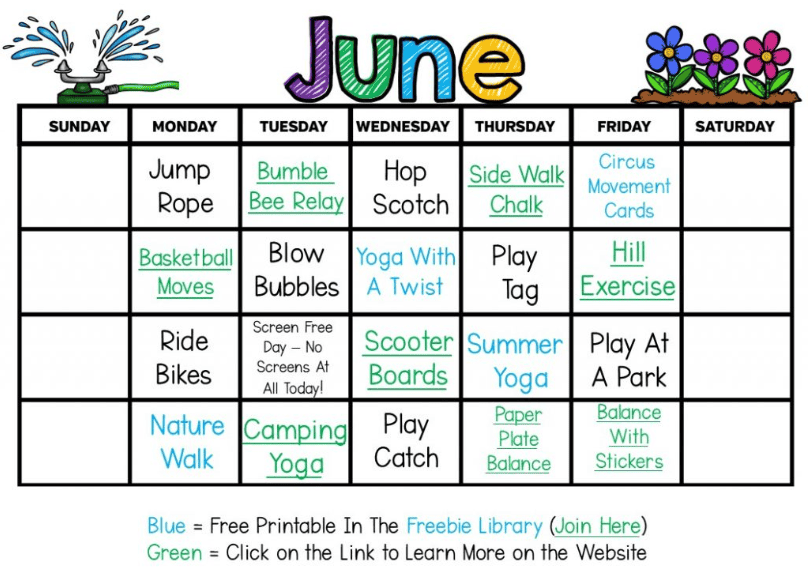 This movement-focused calendar is designed to reduce screen time and encourage physical activity and outdoor play. It can also be used by physical and occupational therapists to encourage the early development of a daily exercise routine.
Learn More: Pink Oatmeal
9. Kindergarten Summer Calendar
This calendar encourages kindergarteners to spend time with loved ones and play outside rather than staying cooped up inside. Striking a balance between healthy movement and academic practice helps prepare kids for the next school year without sacrificing fun.
Learn More: Happy Little Kindergarten
10. Family-Focused Summer Calendar
This schedule includes a Summer bucket list and activities organized, supporting caregivers in creating a fun-packed and balanced summer break. It includes simple ideas such as getting ice cream as well as crafts, arts, and local park visits.
Learn More: The Happy Flammily
11. Balanced Summer Activity Calendar With Template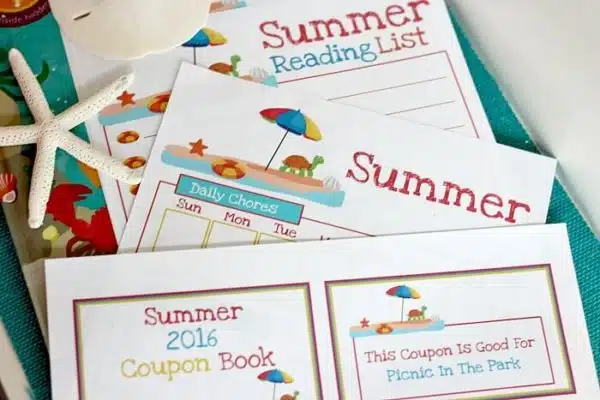 This activity planner combines household tasks with artistic activities, helping to strike a healthy balance between work and play. It encourages better time management and productivity skills while keeping young learners entertained and engaged!
Learn More: Moritz Fine Designs
12. Complete Summer Activity Planner Kit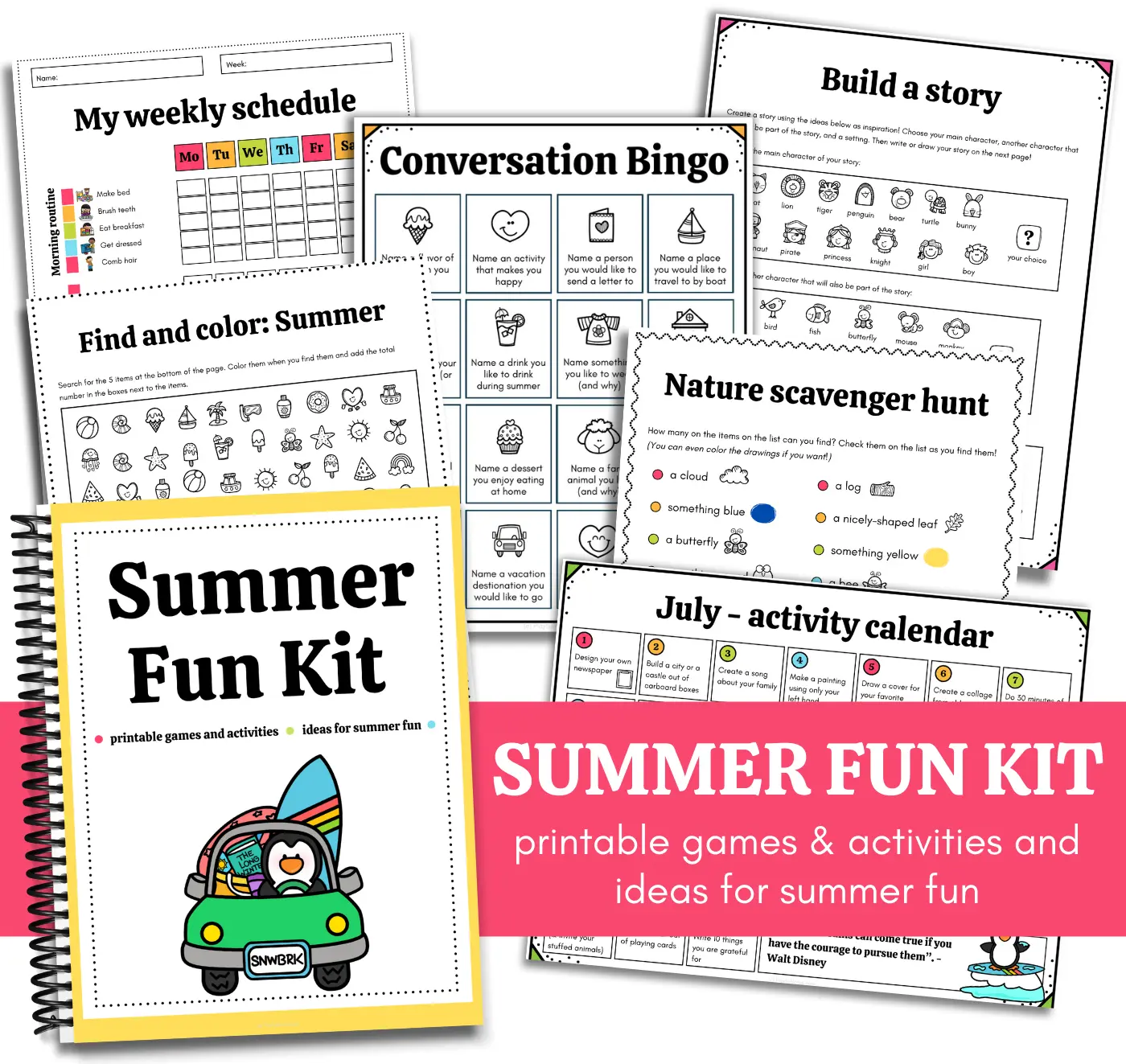 This printable Summer planning kit includes scavenger hunts, conversation bingo, and outdoor obstacle course challenges. These simple and stress-free activities encourage family bonding, creativity, and reading in a playful way.
Learn More: Playful Notes
13. Physical Activity-Based Summer Calendar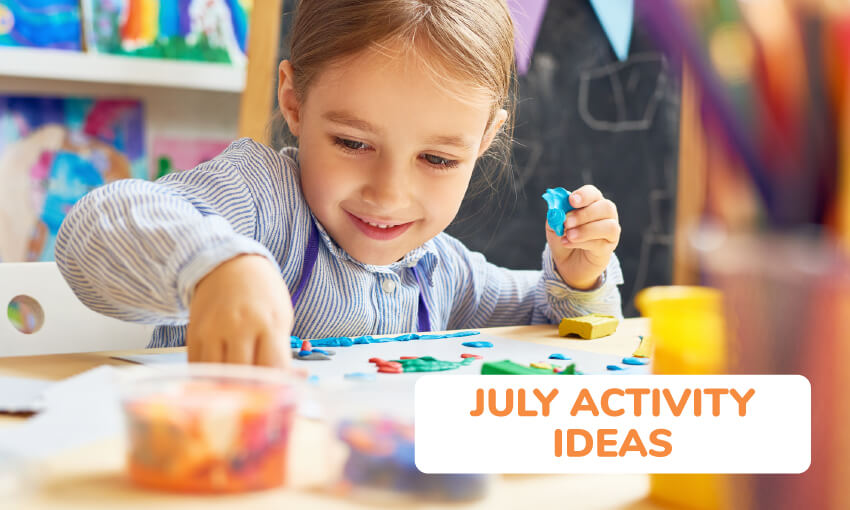 July is filled with celebrations such as Anti-Boredom Month, National Blueberry Month, and National Ice Cream Month. By recognizing these special days, kids can have a great time while learning about the history of different traditions. Finding unique ways to celebrate makes for a great creative outlet and family bonding experience!
Learn More: Kid Activities
14. Summer Bucket List Calendar
This calendar is suitable for preschoolers to 4th graders and takes the stress out of planning daily Summer entertainment. It provides a list of inventive activities such as making lava lamps, homemade bubble solutions, and creative crafts.
Learn More: 123 Homeschool 4 Me
15. Book-Based Summer Calendar
This reading-based calendar features book suggestions, making it ideal for librarians and teachers as well as families. Each week introduces a different themed picture book and is accompanied by five simple activities across literacy, math, art, science, and social-emotional learning.
Learn More: Growing Book By Book
16. Summer Fun Weekly Activities Calendar
This themed activity calendar offers unique activities such as origami making, fruit picking, and tree planting. Caregivers can print and place the calendar in a plastic sleeve, and hang it on the fridge to use with a dry-erase marker; helping to keep themselves organized all Summer long.
Learn More: Jenny Free Style
17. Low Prep Preschool Summer Calendar
This Summer calendar is organized into different weekly themes such as underwater creatures and process art. Some standout activities include nature art, body part painting, fishing, ocean sensory bags, and lemon sensory play.
Learn More: Fantastic Fun and Learning
18. Social Emotional Learning-Based Calendar
This social-emotional learning-based calendar includes activities such as yoga, meditation, and self-care and is designed to bust boredom while providing room for tailoring activities to children's interests and abilities.
Learn More: Homeschool Giveaways
19. Physical Activity-Based Summer Calendar
This play-based calendar includes themes such as learning about bicycle safety, studying light and shadows in the sun, and plenty of pool-based games. In addition to encouraging creativity and exploration, these activities can help develop essential skills like problem-solving and critical thinking.
Learn More: The Preschool Toolbox
20. Kindness-Based Summer Calendar
This SEL-based calendar promotes acts of kindness, helping to reinforce the importance of this lifelong virtue. Focusing on character encourages problem-solving while helping to foster wellness for the whole family.
Learn More: Coffee Cups and Crayons
21. Field Trip-Based Summer Activity Calendar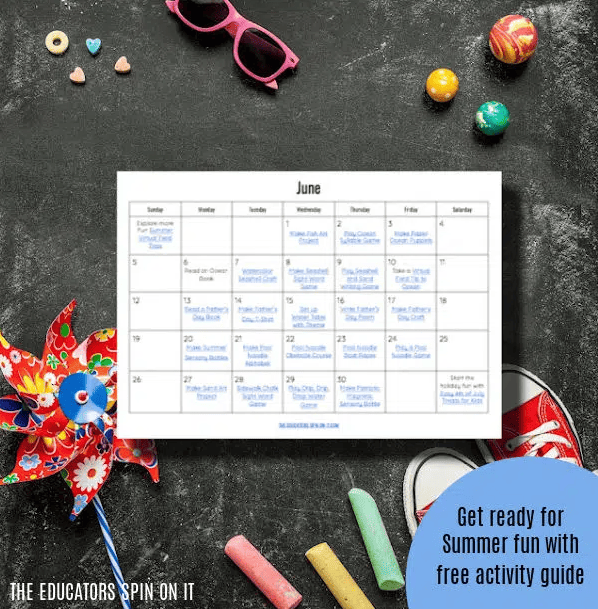 This calendar offers a variety of summer activities including ocean-based learning, seashell crafts, STEM experiments, Father's Day crafts, and outdoor explorations. The calendar aims to prevent boredom and encourage creativity while creating special Summer memories.
Learn More: The Educators Spin On It
22. Outdoor Activity-Based Calendar
This action-packed calendar helps families plan outdoor adventures, focusing on nature and promoting quality family time. It includes various activities such as nature crafts, hiking, water activities, and family-focused playdays.
Learn More: Take Them Outside
23. Play-Based Summer Activity Calendar
You'll find it easy to plan a fun and intentional summer with this play-based calendar. Try activities such as camping in the living room or playing classic card games. Make it a goal to embrace quality time while learning to accept the messy aspects of Summer fun.
Learn More: Renae Fieck