With the Summer Olympics just around the corner, there's so much to look forward to in the world of sports! The Olympic events draw participants and spectators from all over the world, and they always present so many inspiring stories. Plus, the Olympic Games represent the goals of peace and cooperation between people all over the world. But how can you get your elementary school students interested in this important international competition?
Here are thirty of our favorite activities for the Summer Olympics that your elementary schoolers will be sure to love!
1. Olympic Rings Printable Coloring Pages
The Olympic Rings are one of the most important symbols of the Olympic Games. These rings represent the values that the athletes and participants strive for, and each color has a special significance. This coloring page can help kids learn about the core values of the Olympics.
Learn more: Coloring Home
2. Summer Sports Bingo
This is a twist on the classic game. This version focuses on the sports and vocabulary of the Summer Olympic Games. Kids will learn all about the minority sports and keywords that they need to know in order to fully understand and enjoy the sporting events, and at the same time, they'll have loads of fun playing bingo!
Learn more: Twinkl
3. Gold Medals Math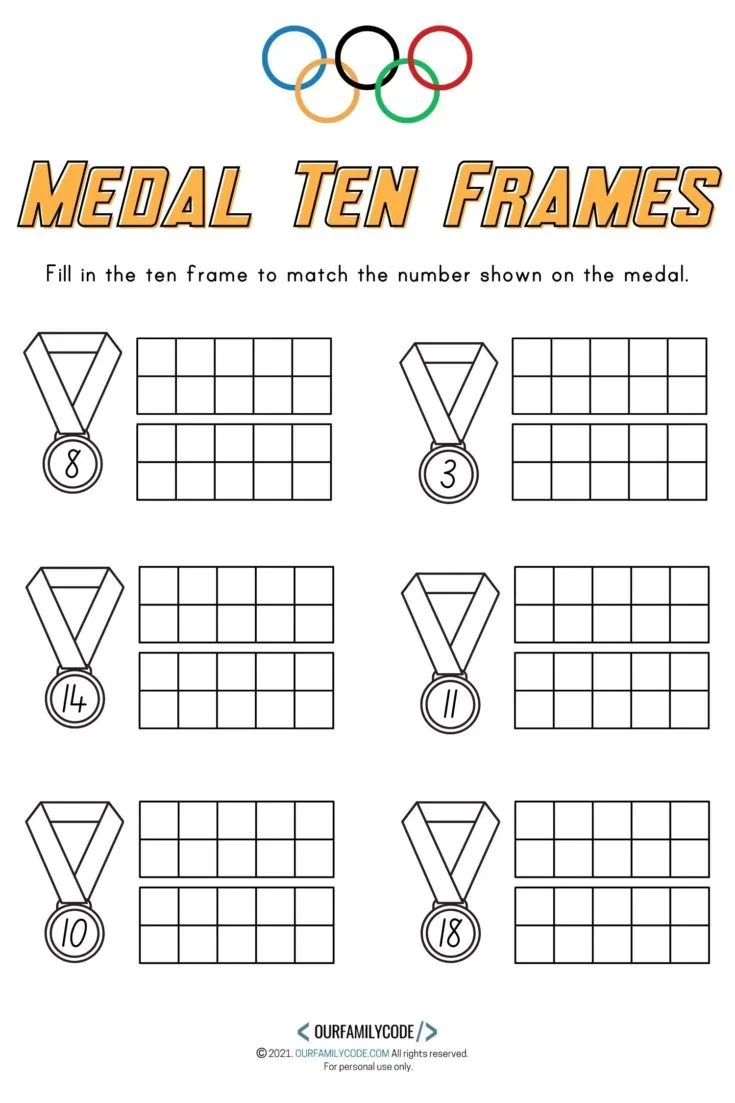 This math worksheet is best for older elementary school students. It helps students track and calculate the number of medals that the top countries are earning in different events throughout the Olympics. Then, they can work with the numbers to practice their math skills.
Learn more: Our Family Code
4. Olympic Rings Craft
This is an easy painting craft that uses the ring shape and the Olympic colors to make a fun abstract painting. It's perfect for younger elementary students, and the end result is attractive without being difficult to make.
Learn more: Happy Hooligans
5. Hula Hoop Olympic Games
Here is a series of games that you can use to host your very own Summer Olympics at school or in the neighborhood. Kids will compete in a series of hula hoop games and win first, second, and third prizes throughout the competitions. It's a whole day of fun with hula hoops!
Learn more: Jodie Fitz
6. Host an Olympics Party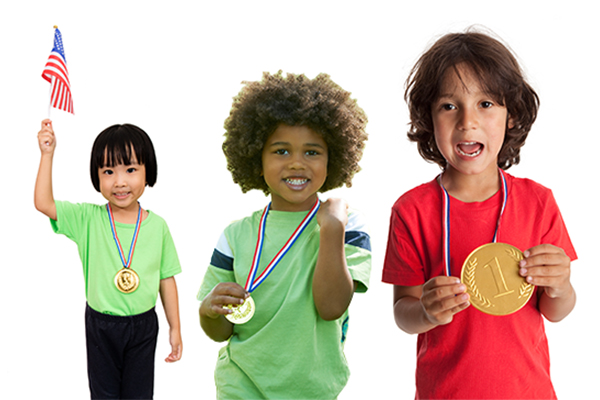 You can have lots of little ones over to your house, or turn your classroom into a party centre for the Summer Olympics. With these tips and tricks, you can have a great Olympics party with games, food, and an atmosphere that your students and their families will all enjoy.
Learn more: San Diego Family
7. Olympic Torch Relay Game
This game is based on the real Olympic Torch Relay that kicks off the Summer Olympics. Kids will run and have fun while learning about the importance of cooperation. Plus, it's a great way to keep the kids active outdoors in the middle of the school day!
Learn more: Teach Mama
8. Olympic Pool Math Worksheet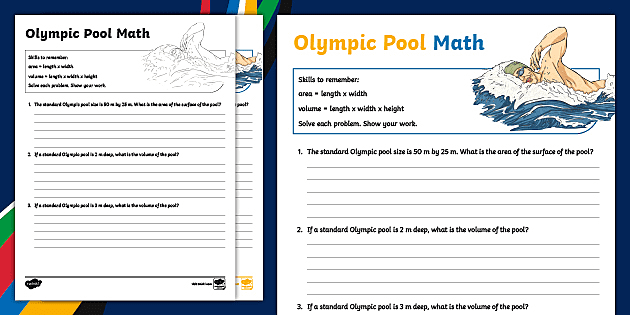 This worksheet is designed to help older elementary school kids practice their skills in calculating area and volume. It looks at the standard sizes of pools for the Olympic water events. It's especially great for kids who are interested in the pool events at the Summer Olympics.
Learn more: Twinkl
9. Synchronized Swimming/ Mirroring Game
To help students understand the concept of synchronized swimming, have two kids stand facing each other. Then, have each pair choose one leader. The other kid should mirror everything that the leaders do and after some time, the roles switch. The goal is to stay in sync no matter what!
Learn more: Laughter For A Change
10. Summer Olympics Family Calendar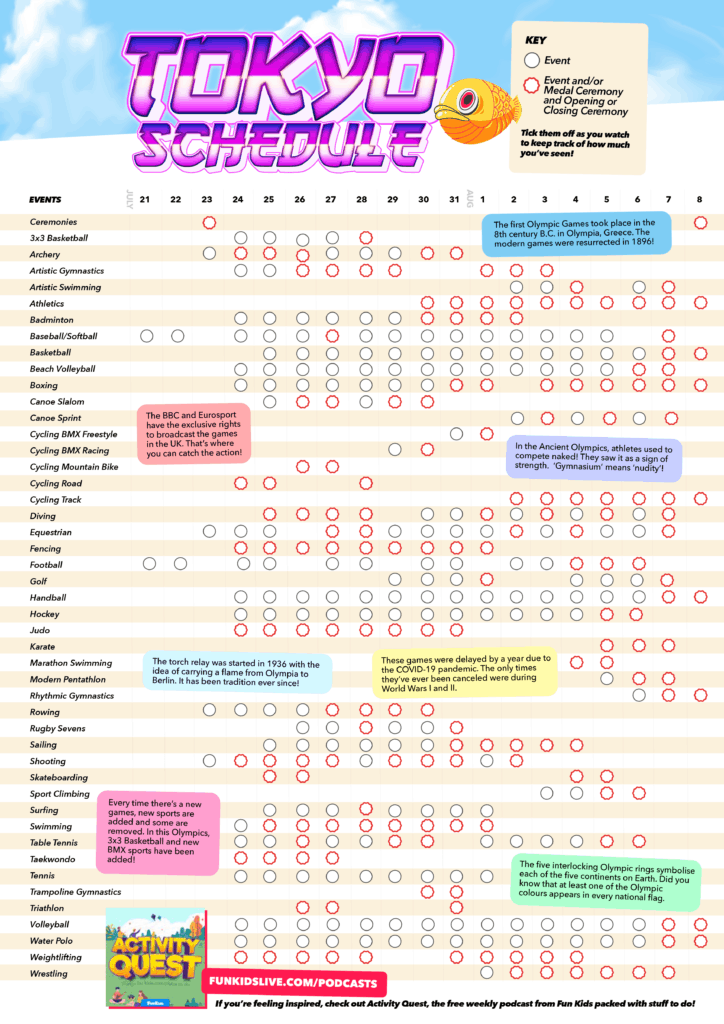 This activity is great for middle grades since it helps them learn more about time management while also keeping track of the dates of events throughout the Games. With their families, kids can make a calendar that includes their favorite events and their plans to watch the matches.
Learn more: Fun Kids
11. Olympic Laurel Wreath Crown Craft
With this fun and easy craft, you can help your child learn all about the history of the Olympics transporting them all the way back to ancient Greece. It can also help you teach and explain the goals of peace and cooperation that the Olympics represents. Plus, they'll get to feel like a hero with their laurel wreath crown at the end of the day!
Learn more: Pinterest
12. Olympics Word Search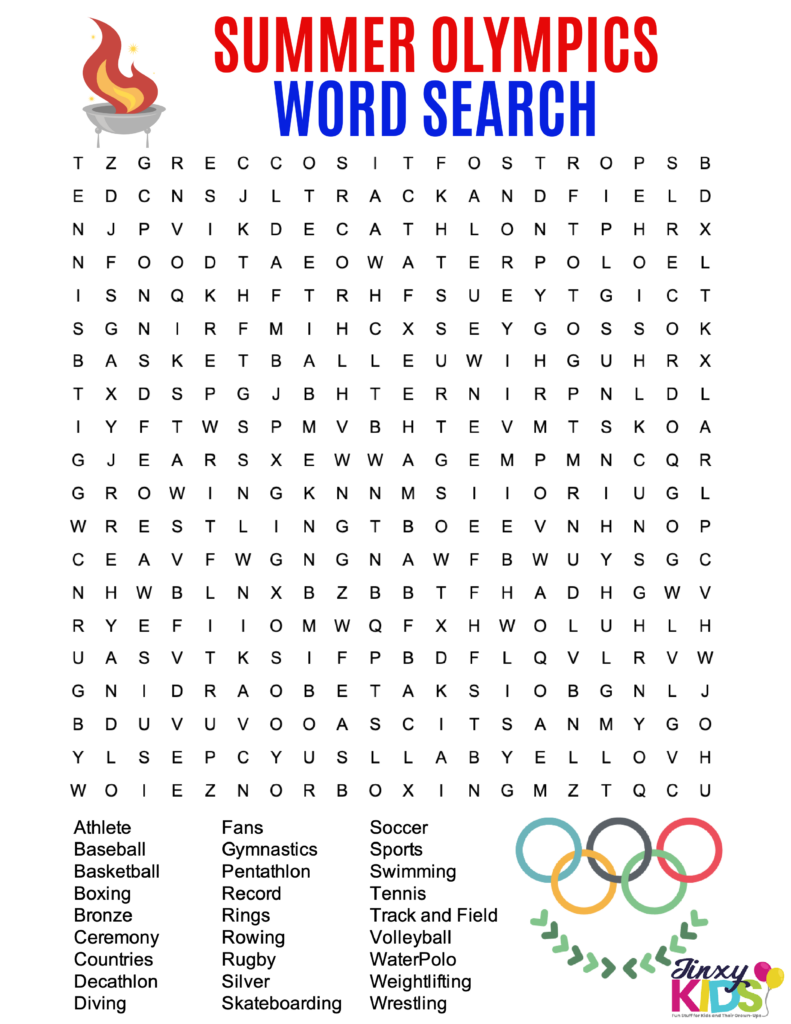 This printable activity is great for third graders and up. It features all of the important vocabulary words that students need when they are talking about the Olympics. It's a great way to introduce the vocab and concepts for your unit about the Olympic Games.
Learn more: Super Teacher Worksheets
13. Olympics Reading Comprehension Worksheet
This worksheet gives students the chance to read about the Olympics, and then test their reading skills. The article and questions are great for third to fifth grade, and the topic covers the history and importance of the Olympics through the ages.
Learn more: https://www.allthingstopics.com/uploads/2/3/2/9/23290220/lesson-olympics-history1.pdf
14. History of the Game of Basketball
This video is great for history class since it touches on some key points in the history of basketball. It's also presented in a way that is engaging for elementary schoolers, and it features plenty of interesting facts and fun visuals.
Learn more: Kid Explorer
15. Olympics Differentiated Reading Comprehension Pack
This packet of reading comprehension materials includes different levels of the same activities. That way, all of your students can work with reading materials and questions that fit their specific needs. What's best of all is that it's already differentiated for you saving you, as the teacher, tons of work time and stress!
Learn more: Twinkl
16. Summer Olympics Pack for Younger Grades
This packet of activities is perfect for kindergarten and first-grade students. It includes everything from coloring activities to counting activities, and it always keeps the Summer Olympics at the fore of attention. It's an easy printable that is already ready to use in class or at home!
Learn more: 3 Dinosaurs
17. Soccer Ball Poem
This reading comprehension activity tells the story of a big soccer match from the perspective of the ball! It's a great way to teach point of view and perspective to young readers, and the activity includes both the text and related comprehension questions. This activity is well-suited for second to fourth-grade students.
Learn more: Super Teacher Worksheets
18. Magic Tree House: The Hour of the Olympics
This is the perfect chapter book for second to fifth-grade students. It's part of the famous Magic Tree House series, and it follows the story of two contemporary kids who are whisked back in time to the Olympic Games in ancient Greece. They have some fun adventures while learning all about the history of the Olympics.
Learn more: Amazon
19. Ancient Greece and the Olympics: A Nonfiction Companion to Magic Tree House
This book is designed to go hand in hand with Magic Tree House: The Hour of the Olympics. It contains all of the historical facts and figures that are included in the chapter book and it also gives more insight and information along the way.
Learn more: Amazon
20. Intro to the Game of Soccer
Soccer is an awesome game. In fact, it's the most popular sport in the whole world! This video introduces elementary school kids to the game of soccer and teaches them about the basic rules and regulations of the sport.
Learn more: South Florida PBS
21. Summer Olympics Writing Prompts
This series of writing prompts is geared toward the younger grades. They will get kids thinking and writing about the Summer Olympics and what the Games mean to each student. The prompts also include places to draw and color, which is perfect for kids who may be hesitant to write at first.
Learn more: 3 Dinosaurs
22. Olympic Torch Craft
This is a super easy craft idea that uses materials that you probably have lying around your house. It's perfect for kids of all ages, and you can use your torch to hold relays around the school, classroom, home, or neighborhood. It's also a great lesson in working together to accomplish a goal.
Learn more: The Spruce Crafts
23. Read Aloud
This is a cute picture book about a pig who competes in the Animal Olympics. Even while he's losing every single event, he still keeps his positive attitude and never gives up. His adventure is hilarious and heartwarming, and sends a great message to kids to never give up!
Learn more: Amazon
24. Olympic Trophies Craft
This craft is a great way to encourage your kids to celebrate their own achievements and the achievements of their friends and family members. It's a great way to help them understand the importance of encouragement when it comes to accomplishing our goals.
Learn more: Frugal Family
25. History of the Olympic Games
This video takes kids all the way back to the ancient roots of the modern Olympic Games. It also features some excellent historical footage, and the level of instruction is engaging and age-appropriate for elementary school kids. They'll want to watch it again and again!
Learn more: Learn Bright
26. Salt Dough Olympic Rings
This is a fun activity for the Kitchen! Your kids can help you make a basic salt dough in the different colors of the Olympic Rings. Then, they'll find different ways to make the rings. They can either roll out the dough, use cookie cutters, or get creative with new ways to make the shapes. I
Learn more: The Imagination Tree
27. Map the Olympics with Flags
Toothpicks and tiny flags are all you need to turn your paper map into a history of the modern Olympic Games. It's a great way to review geography, and you can use it as a segue to talk about culture, language, and tradition, too. Plus, the end result is a fun, interactive map that you can display in your classroom or home.
Learn more: Teach Beside Me
28. Olympic Rings Graphing Craft
With some graph paper and coloring materials, you can complete this fun STEM graphing activity. The end result is a cool rendition of the Olympic Rings. You can use this activity to talk about what each color and ring represents and how these values can be translated into math and science as well.
Learn more: Teach Beside Me
29. Read Aloud: G is for Gold Medal
This kids' picture book takes the readers through the whole alphabet. There is a different element of the Olympics for each letter, and each page gives more details and gorgeous illustrations. It's a great tool for introducing the different Olympic sports and talking about the basic vocab for the Olympics.
Learn more: Amazon
30. The Olympics Through the Ages
Here is a video that uses kids as the main characters. They show and explain how the history of the Olympics actually stretches back thousands of years. They also talk about the goals and importance of the modern Olympic Games, and how they relate to its long and storied past.
Learn more: Behind the News