Sun crafts are a wonderful way to bring out your child's imagination while providing opportunities to develop their artistic and creative skills. This collection of 24 fun and easy, sunshine-inspired crafts includes painting, cutting, weaving, and beading and is designed to promote sensory development, fine motor skills, and hand-eye coordination. As children craft and engage in these hands-on projects, they'll learn about the sun and its importance in our daily lives. With so many exciting ideas to choose from, littles are sure to have a blast creating their own sunshine-inspired masterpieces!
1. Suncatcher Craft
This suncatcher craft is a delightful activity that brings brightness to any room. First, place the circle pattern on a piece of contact paper before arranging the triangle patterns around the circle to resemble a sun. Next, have kids add squares of orange and yellow tissue paper to the sun shape before putting it up for display.
Learn More: Lessons for Little Ones
2. 3D Sun Craft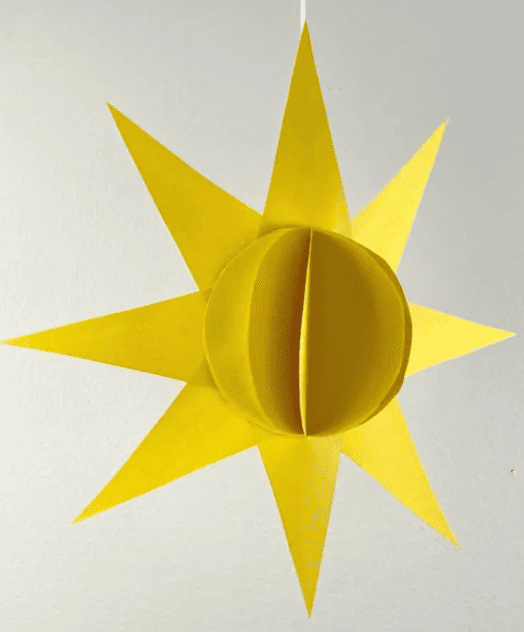 To make this stunning 3D sun craft, begin by folding construction paper sheets in half, tracing a circle on one side, and drawing a triangle on the other side. Cut out the shapes and fold the circles in half before gluing them together and adding triangles between them. Attach a string for hanging, and then fan out the sun before displaying it.
Learn More: Twichetts
3. Handprint Sun Craft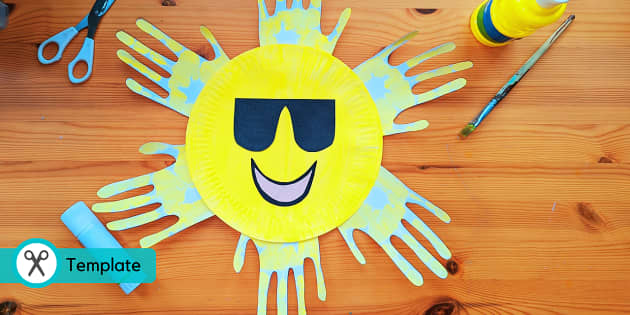 This handprint sun craft involves transforming a paper plate into a smiling sun with rays made from kids' painted handprints. Have kids paint the sun's face yellow before adorning it with sunglasses and a bright smile!
Learn More: Twinkl
4. Macramé Craft for Kids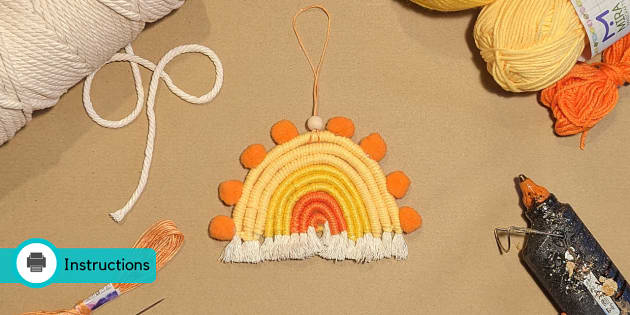 This macramé sun craft is a beginner-friendly project that involves wrapping colorful yellow and orange wool around a thick rope to create a half-sun decoration. This versatile craft can be used as jewelry, a hanging mobile, or as wall decoration.
Learn More: Twinkl
5. Paper Plate Sun Craft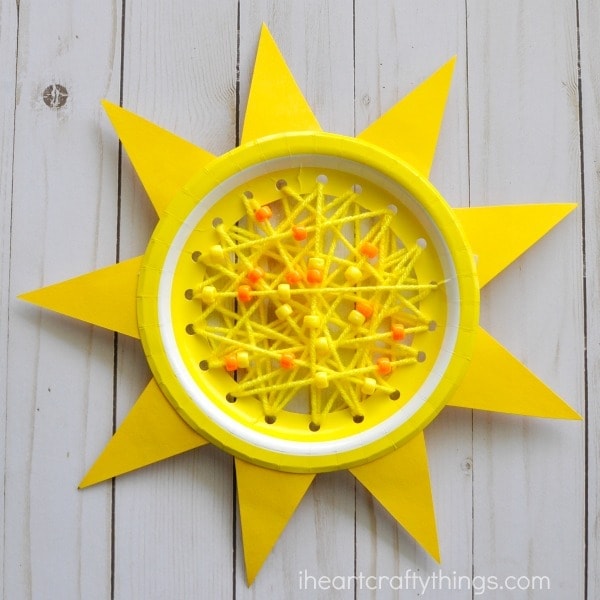 For this intricate woven design, have kids begin by drawing a circle and cutting it out from the paper plate before punching holes around its perimeter. Then, have them sew through the holes in the plate before adding bright beads to each stitch, giving the craft a colorful and textured appearance. Finally, have them cut yellow triangles out of construction paper to create sun rays before gluing them onto the back of the plate.
Learn More: I Heart Crafty Things
6. Paper Sun Craft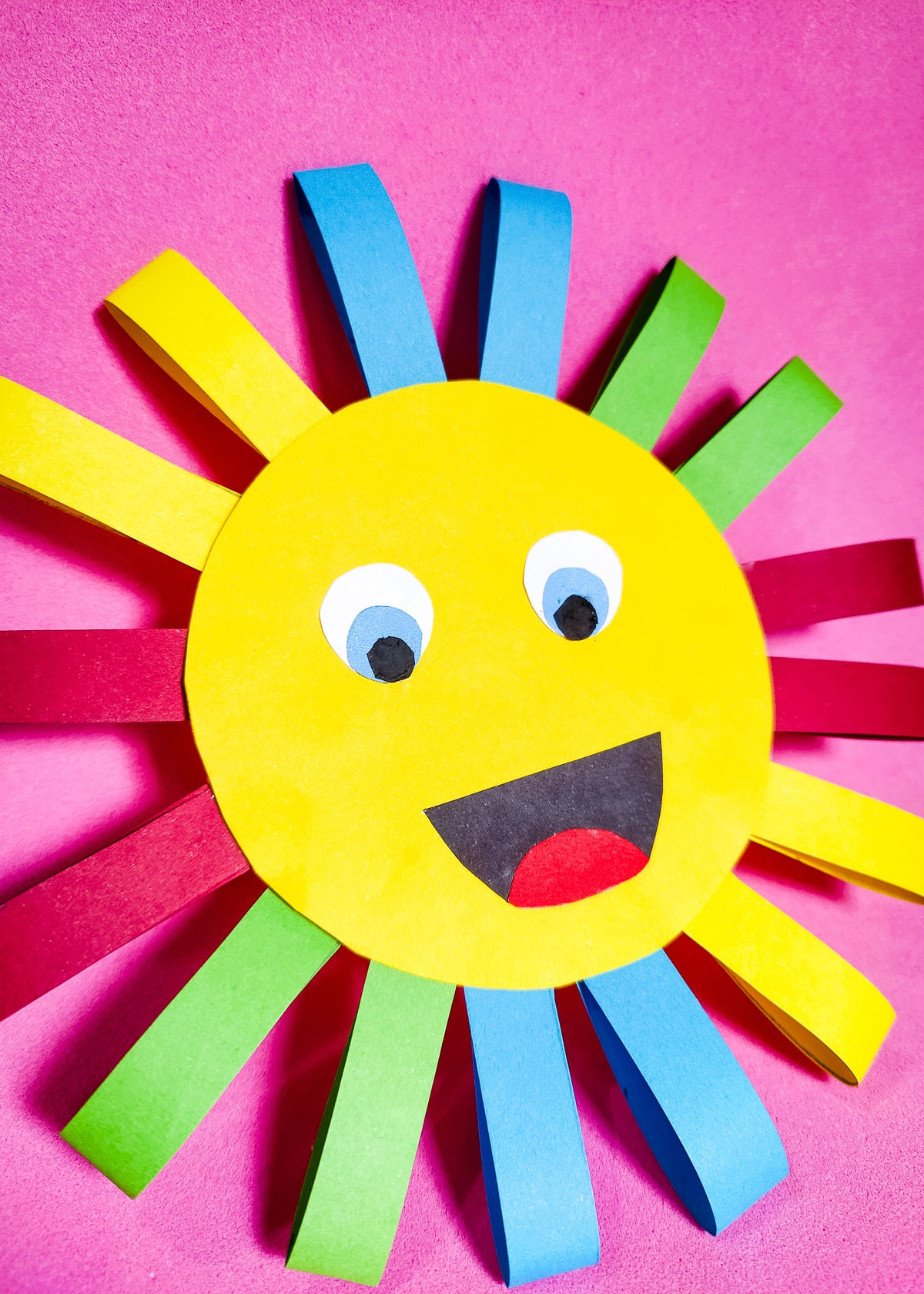 To create this beautiful rainbow craft, have kids pick three colors of paper and cut four strips of each color to form the sun's rays as well a large yellow circle for the sun's face. After gluing the paper strips in pairs to the back of the sun, they create loops by folding them over and gluing down the other end. Finish off with a construction paper face of their choice!
Learn More: Kids Activity Zone
7. Fork-Painted Craft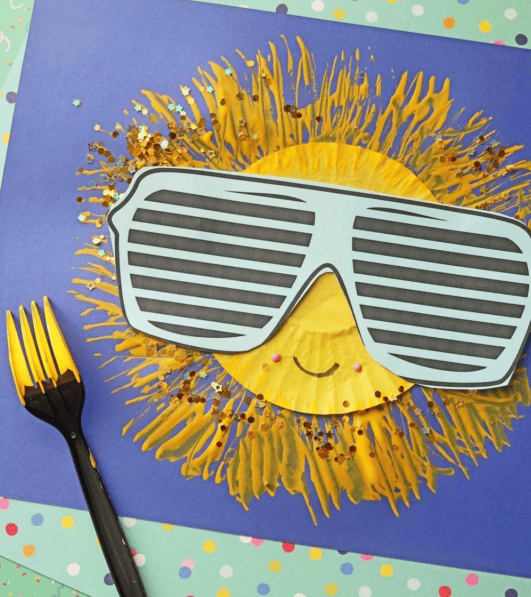 To create this textured sunshine effect, flatten a yellow cupcake liner and glue it onto a sheet of dark blue cardstock paper. Dip a plastic fork into yellow paint and use it as a brush to create rays of sunshine radiating out from the cupcake liner. Don't forget to finish off the look with a pair of construction paper shades!
Learn More: Glued To My Crafts Blog
8. Clothespin Sun Craft
To make this simple sun craft, have kids color the mini clothespins with an orange marker or paint. Then, have them paint the plate yellow before attaching the orange clothespins around the plate to represent the sun's rays.
Learn More: The Resourceful Mama
9. Coffee Filter Sun Craft
To make this striking coffee filter craft, have kids flatten the coffee filter on a surface. Then, invite them to mix paint colors and get creative with painting the filters with various patterns. Once it's dry, they can cut every other fold to form sun rays.
Learn More: Busy Mommy Media
10. Bright Sun Craft
Begin this textured sun craft by having kids draw a large circle and adding paint before placing clear plastic wrap on top. After pressing the wet sun onto large black construction paper, have them paint rays around the perimeter, creating a dynamic and fiery effect.
Learn More: Mrs. Karen's Class
11. Fun Summer Craft
Begin by having kids paint the plate yellow and cut out strips from the colored paper for the sun's rays. Next, have them glue the paper rays to the plate edges and add paper confetti. Next, have them trace and cut out a circle around the baby photo using a circular plate before adding the photo to the center of the plate.
Learn More: Emma Quay
12. Pasta Sun Craft
This easy pasta sun creation makes for a perfect summer project. Have kids begin by painting eight macaroni pieces yellow before drawing a circle, coloring it yellow, and adding googly eyes. Finish it off by gluing the painted spirals around the circle head.
Learn More: Easy Peasy and Fun
13. Wreath Craft
To make this unique creation, have kids paint sheets of recycled cardboard in sunset colors before cutting them into strips to create rays using scissors. Next, have them cut the center out of the paper plate, leaving the outside rim as the sun shape and gluing the painted strips to the paper plate rim with hot glue.
Learn More: Hand-Made Charlotte
14. Paper Plate Sun
To make this adorable paper plate sun and rainbow craft, have kids paint the plate yellow before folding it in half and cutting along the fold to create two half circles before adding construction paper triangles for rays and colorful tissue paper to create the rainbow.
Learn More: Easy Peasy and Fun
15. Mosaic Sun Craft
To create this textured mosaic craft, have kids cut the colored paper into small quarter-inch pieces before gluing them onto the black construction paper. This craft is a fantastic way for them to explore their creativity while learning about the history behind the tiles.
Learn More: E How
16. Popsicle Stick Sun Craft
This mixed-media craft perfectly captures the essence of spring and the warmth of summer. After having kids cut out and glue the cloud onto the blue cardstock, have them paint several popsicle sticks yellow before gluing them to the sun and attaching wiggly eyes, and drawing a smiley face.
Learn More: Glued to My Crafts Blog
17. Marionette Craft for Kids
Children can paint the plate yellow, cut it into a sun shape, and attach facial features such as googly eyes, nose, and mouth. Then, they can create hands and shoes for the sun, punch holes in the appropriate places, and attach them using straws and string. This dancing puppet makes a great addition to theatrical playtime!
Learn More: Crafts By Ria
18. Sun Craft for Kids
This craft features a ready-made template that can be printed on paper or cardstock before inviting students to trace, cut and assemble their crafts. The included writing prompts are a great way to encourage creative thinking while developing cross-curricular connections between artistic and written self-expression.
Learn More: TES
19. Sun Crown Craft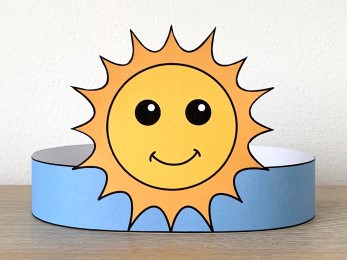 This adorable sun paper crown template can be printed on regular or cardstock paper before having kids cut out the pieces, and gluing the ends of the crown together using tape or glue. Why not Invite young artists to add their own artistic twist, with glitter, stickers, or designs of their choice?
Learn More: Happy Paper Time
20. Sun Collage Craft
To create this beautiful recycled craft, kids can begin by painting a cardboard box base, finding yellow items for the collage, and gluing them onto the sun shape. This is a great way to promote sustainability by discussing the value of repurposing different materials.
Learn More: DIY Thought
21. Cereal Sun Craft
For this breakfast-inspired craft, have kids string O-shaped cereal through pipe cleaners to create a sun shape. Then, have them glue the sun onto a colorful piece of paper and decorated it with more O-shaped cereal for eyes and a marker for a sunny smile!
Learn More: Our Kid Things
22. Popsicle Stick and Beads Sun Craft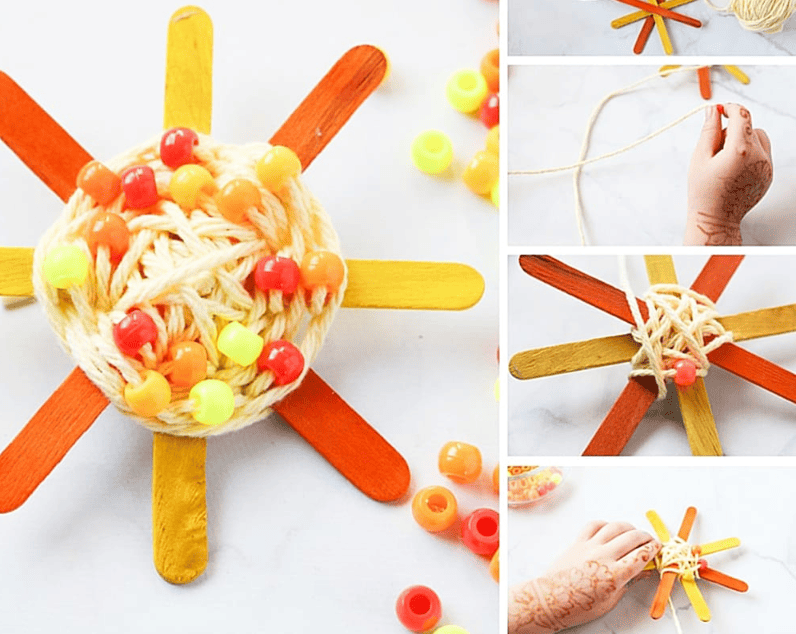 To make the sun craft, have kids arrange popsicle sticks in a cross shape before having them weave the yarn over the center of the frame and add beads. Children can experiment with different patterns and colors, making this a wonderful outlet for creative expression.
Learn More: The Kindergarten Connection
23. Origami Sun Craft
This engaging and simple-to-follow instructional video guides students through a few folds they will need to create this stunning sun craft. Working with origami is a great way to develop focus and patience while providing plenty of fine motor practice.
Learn More: YouTube
24. Self-Confidence Sun Craft
Have kids begin this SEL-based craft by cutting out a circle shape and painting it yellow. Have them write 'I am' in the center before attaching orange-painted clothespins featuring words that reflect their strengths.
Learn More: Mom Buns and Mayhem