Symmetry means one half of an object or image is the mirror image of the other half. Symmetry is all around us. Art, nature, architecture, and even technology incorporate it! One goal when teaching symmetry is to help students see symmetry in real-world settings.
Ease students' anxiety about math and symmetry by making the concepts relevant to everyday life and including creative expression. Here are 27 simple, smart, and stimulating ways to get students started with learning about symmetry!
1. Teaching Points of Symmetry
This resource provides an easy-to-understand tutorial video and a quiz to explain points of symmetry. This lesson is ideal for older students and terrific for visual learners. Teachers and parents can easily build a lesson around the ideas presented in this resource.
Learn More: Study.com
2. Teaching Line Symmetry
Line symmetry is about reflections. There are many types of lines and this resource does an excellent job of explaining the different types of line symmetry. Educators will appreciate the simple descriptions and examples to build an interesting lesson around line symmetry.
Learn More: Cuemath
3. Symmetry Worksheets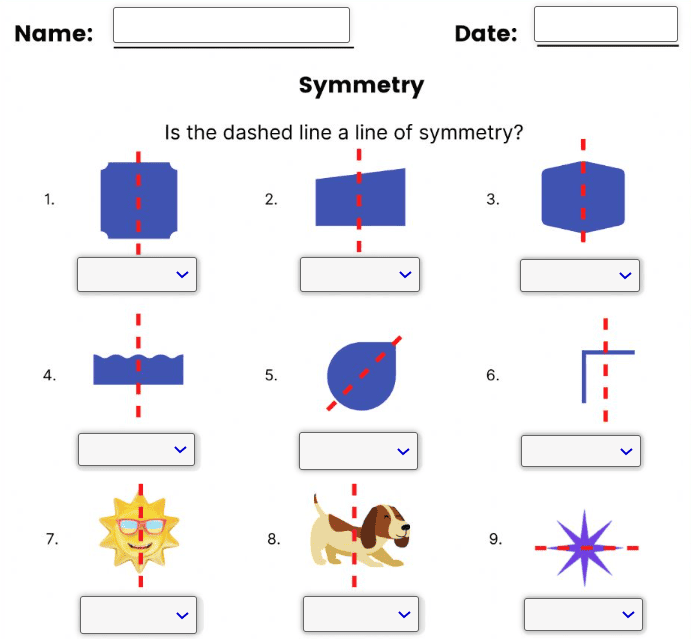 Here's a super helpful and time-saving resource for teachers and parents. Symmetry worksheets for grades 1-8 in one easy location. Find a worksheet to review what was taught or provide more controlled practice before moving on to activities.
Learn More: Live Worksheets
4. Lines of Symmetry Worksheets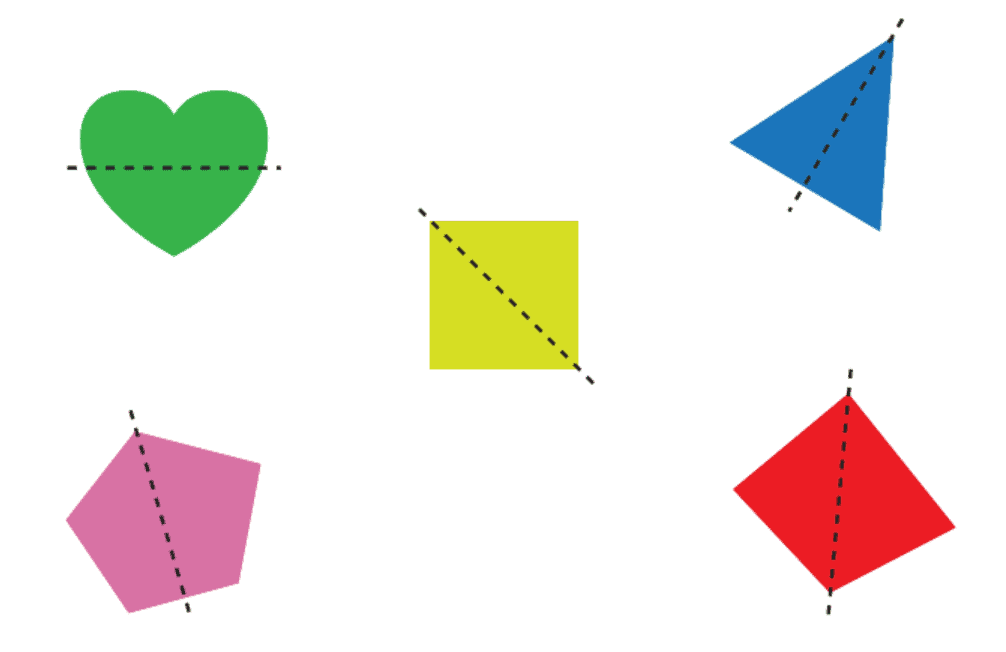 Do all objects have the same line of symmetry? These fun worksheets help kids understand that a line dividing an object is called a line of symmetry. The worksheets provide additional practice to reinforce learning.
Learn More: Math Fun Worksheets
5. Finish the Drawing
After learning about symmetry, the best way to understand the concept is to put it to practical use. This activity applies the concept of symmetry by having students draw the other half of a drawing prompt. What a fun way to explore symmetry!
Learn More: Kitchen Table Classroom
6. Self-Portrait Symmetry
Kids of all ages will have a blast applying the concepts of line symmetry and creative expression to this self-portrait activity. Take a portrait, cut it in half, and have students complete the other half of their photo by drawing in the details.
Learn More: The Art of Math
7. Symmetry in Fruits and Vegetables
Do your kids like to eat fruits and vegetables? They'll be asking for more fruits and veggies with this fun activity that teaches symmetry. Cut fruits and vegetables in half and see if kids can find the line of symmetry. Applying what they learned to the real world makes learning more engaging and meaningful!
Learn More: Kid Minds
8. Symmetry in Nature
Learning can take place anywhere- even outdoors. Symmetry is all around us in nature. Can your students identify symmetrical objects found outdoors? Let's go for a walk and collect things in nature like leaves, rocks, or twigs. Then, have students analyze the lines of symmetry.
Learn More: Math Curious
9. Vegetable Printing
Vegetables are not only healthy for you, but they're also excellent teachers of symmetry! Kids will learn to love their vegetables with this fun symmetry activity. Cut vegetables in half and have kids create prints on paper using paint to create identical prints on both sides.
Learn More: Number Dyslexia
10. 2-D Shape Cut-Outs For A Symmetry Hunt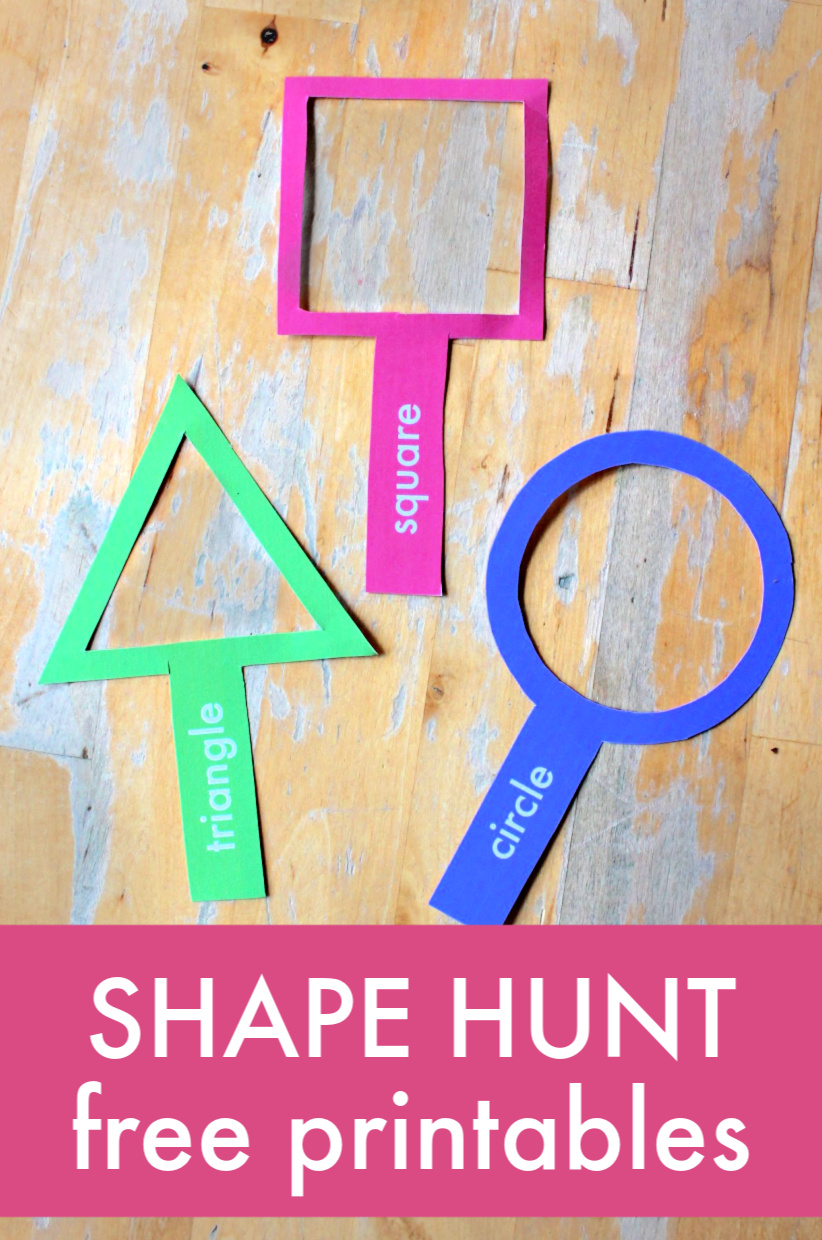 Kids will be able to recognize a line of symmetry for 2-dimensional figures with these shape cut-outs. This resource is free and provides downloadable templates that kids can cut and fold. For a real-world application, see if they can match the shapes to something in their surroundings.
Learn More: Teachers Pay Teachers
11. Radial Paper Relief Sculptures
Students will create beautiful paper sculptures by folding colored squares of paper. The concept of radial symmetry is applied as students fold the paper to create the design. The results are stunning and your students will be proud to show them off!
Learn More: Art with Mrs.Nguyen
12. Flower Symmetry
Symmetry and art come together beautifully with this creative activity. Students will learn about vertical and horizontal symmetry by observing the shape of flowers and recreating their other half. These templates are free and ready to download.
Learn More: The Stem Laboratory
13. Lines in 3-D Symmetry
Hands-on learning is a useful way to get students to understand the concept of symmetry in the real world. You can use blocks or objects found in the home for this activity. Students will use rubber bands to identify various lines of symmetry.
Learn More: Gift of Curiosity
14. Simply Symmetry
It's never too young to learn about symmetry. These easy-to-apply lessons are perfect for little ones looking to understand the concept of symmetry. Young learners will cut out shapes, fold them, and observe their surroundings to learn about symmetry.
Learn More: Early Math Counts
15. Symmetry Painting For Gift Cards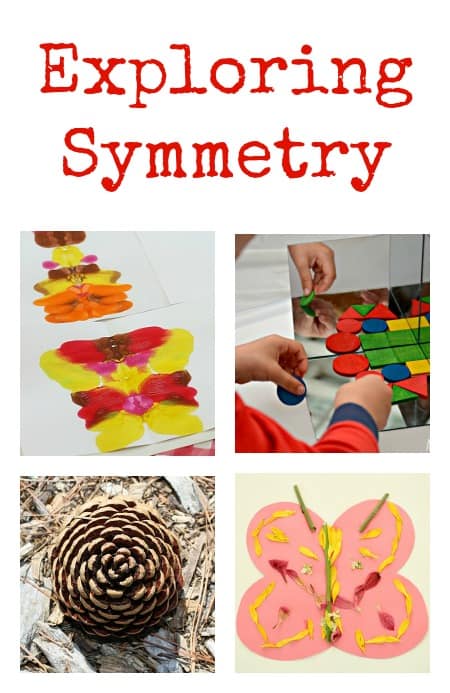 Need ideas to get inspired to teach symmetry? Arts and crafts are an excellent way to get your students excited about symmetry. Students can get creative with lines of symmetry while creating paintings that can later be used as gift tags or greeting cards.
Learn More: Nurture Store
16. How to Teach Lines of Symmetry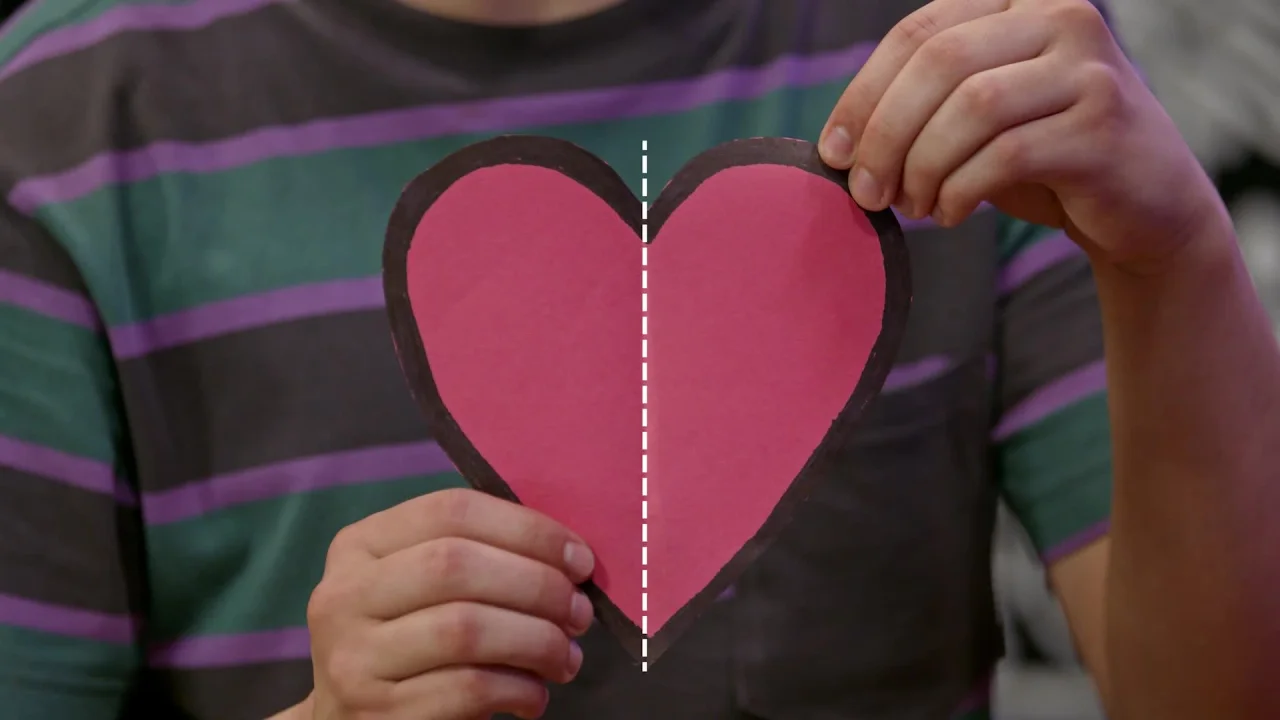 Do your kids like watching videos? Show them this cool video that teaches them about lines of symmetry. This video-based lesson comes complete with discussion questions, vocabulary, and reading materials. This all-inclusive lesson is perfect for busy teachers and parents and is excellent for students!
Learn More: Generation Genius
17. Exploring Symmetry with Shapes
Young learners love exploring their surroundings, matching, and sorting. This symmetry activity is ideal for teaching young minds the concept of symmetry using tactile learning of colorful shapes. You'll need self-adhesive foam shapes and paper. Kids will match shapes while identifying the lines of symmetry on the shape.
Learn More: No Time For Flash Cards
18. Symmetry Task Cards
Symmetry is all around us. This free symmetry printable will help students identify whether the shape is symmetrical and identify lines of symmetry using fun tasks. Students will be tasked with observing their surroundings or the objects on the task card and answering questions about symmetry.
Learn More: Fun With Mama
19. Symmetry Puzzles
Challenge students with these fun symmetry puzzles! There are three puzzles available: vertical symmetry, horizontal symmetry, and diagonal symmetry. Students will use logic and problem-solving skills to take symmetry to the next level as they complete the puzzles.
Learn More: Math Counts
20. Rotational Symmetry
Students will learn about rotational symmetry with this impressive art activity. Students create a simple drawing on 1/8 of their circle. Then, they "transfer" their drawing into all 8 parts of a circle. A challenging but rewarding and educational symmetry activity!
Learn More: Splish Splash Splatter Art
21. Online Symmetry Game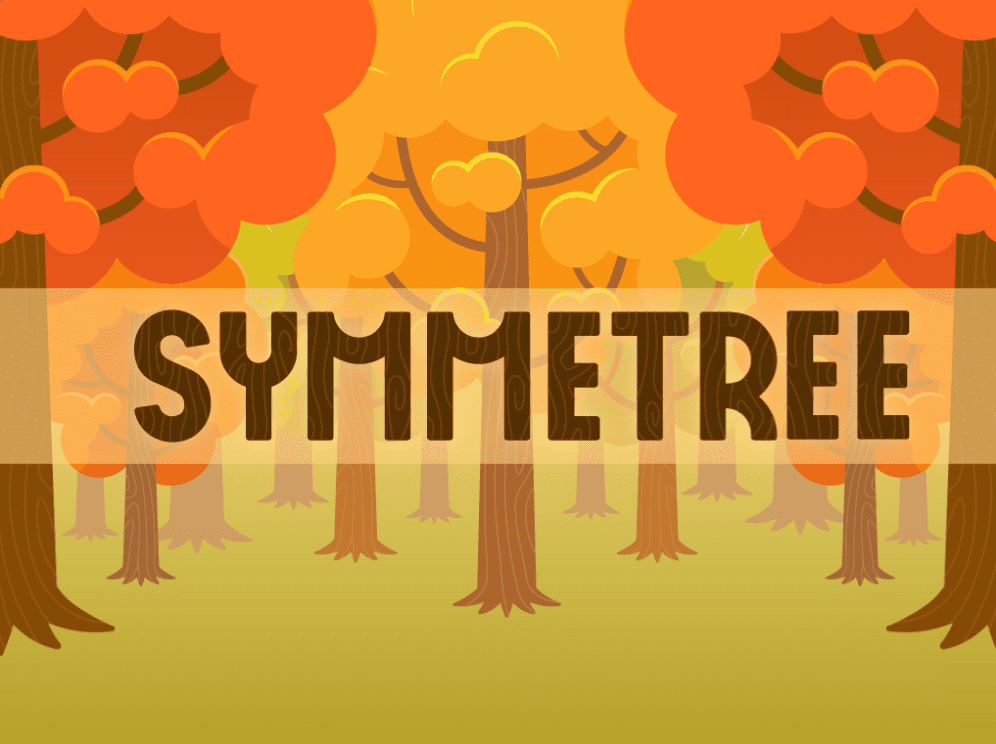 Follow Lumberjack Sammy Tree as he tests your student's knowledge of symmetry and rotational symmetry with this fun online game. The video offers a review and application of symmetry using visuals, drag and drop, and other features.
Learn More: ABCya.com
22. Symmetry Painter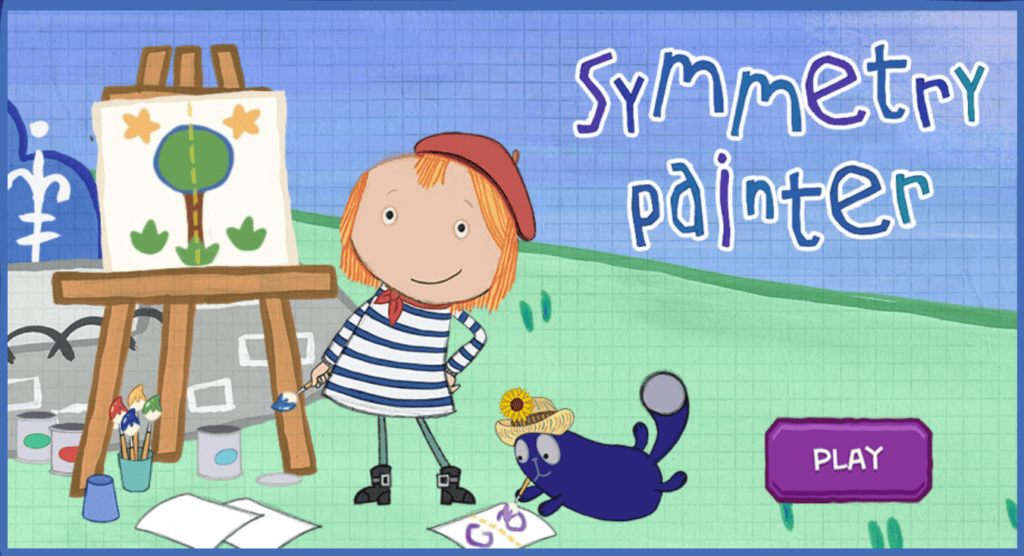 Kids can create an online painting using a paintbrush, stamps, and stickers. The best part is that the drawing becomes the teaching tool as Peg explains the concept of symmetry. Kids of all ages will enjoy this interactive app to learn about symmetry!
Learn More: PBS Kids
23. Symmetry Art Games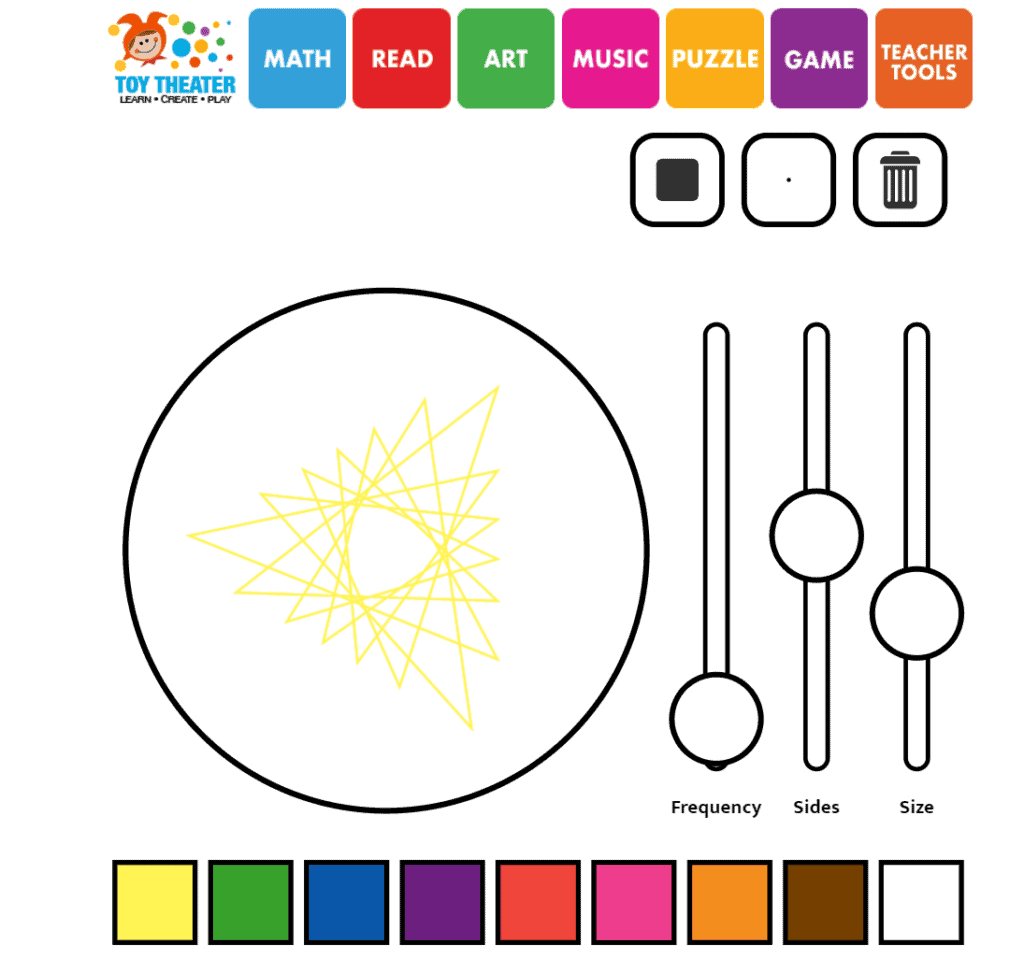 This free app is designed to help elementary-level students experiment with concepts of symmetry through design. The online drawing tool instructs students to create lines or draw shapes and then explains the concept of symmetry using their design.
Learn More: Toy Theater
24. Online Symmetry Painting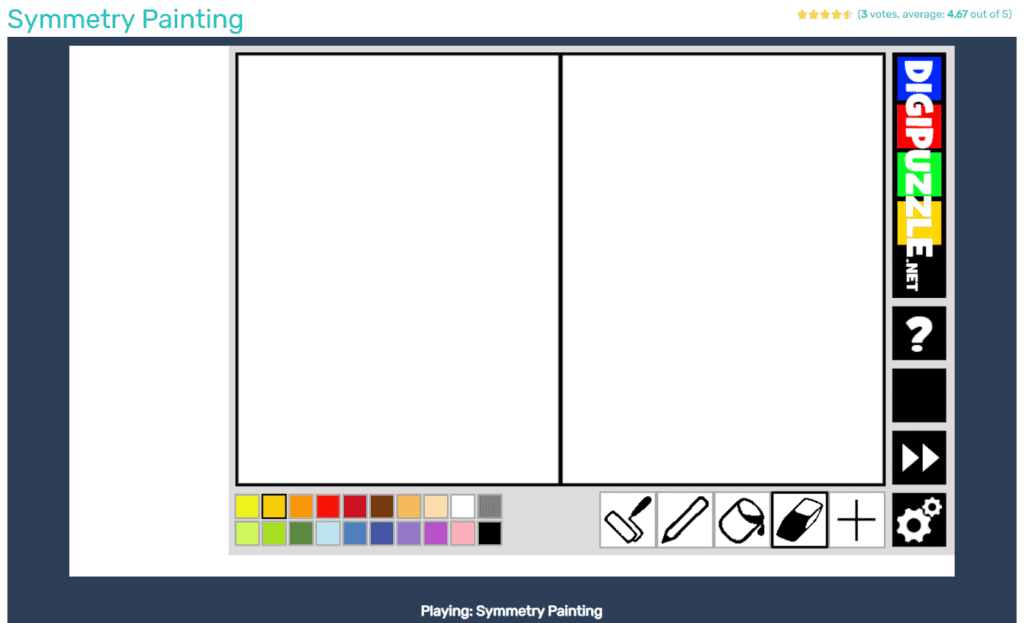 Kids will have hours of fun with this interactive draw and paint symmetry board. It's free and easy to use! They'll simply draw pictures, add color and design, and watch the computer create a mirror image. Have students explain why the replicated drawing is a mirror image instead of the exact replica.
Learn More: Coko Games
25. Lines of Symmetry Tutorial
Join your charming host, Mia the butterfly, as she explains lines of symmetry. With this video, students will learn how to identify symmetrical and asymmetrical objects and identify and count the lines of symmetry in real-life objects like a butterfly.
Learn More: Periwinkle
26. A Day at Symmetry Land
Get young learners singing and dancing with this adorable symmetry video. Join the characters as they spend a day at Symmetry Land and discover that there are lines of symmetry everywhere they look!
Learn More: MiCath TV
27. Introduction to Symmetry Video
This video is a great warmer or supplement to a lesson about symmetry. The content depicts how symmetry is all around us in everyday life. The explanations are simple and the visuals are engaging.
Learn More: Free School