I love teaching sign language to kids because kids are expressive with their hands already, so they take quickly to the concepts. Teaching ASL also gets kids up and moving, makes them more aware of their own body language and facial expressions, and unites them as an ally to the hard-of-hearing culture. Take a look at these fun ways to engage your students in ASL!
1. Use Sign Language as A Warm Up Every Morning
Change your warm-up for a couple of weeks to learning one or two of these top 25 ASL signs daily. Students can learn and practice in pairs or on their own.
Learn more: Learn How to Sign
2. Write A Play in Sign Language
Have your students watch this video about how to write a script. Then set them into groups to write a short play. Provide them with a series of signs to use and have them include those signs into their script, and enjoy the shows!
Learn more: My Learning Guru
If your students have access to a smartphone, creating Boomerangs of themselves doing certain signs and sharing them with their friends is a great way to make ASL fun.
Learn more: Freeway Social
4. Create an ASL Choreography of Popular Song Choruses
YouTube has hundreds of music videos created by the Hard of Hearing Community. Have students select one song and spend a little time every day for a week learning the chorus in ASL for an ultimate performance!
5. Emojis to Demonstrate ASL Facial Expressions
This site provides information about important ASL facial expressions. Have students create a list of statements with an emoji for each one that would match an ASL signer's expressions. Discuss whether the emoji chosen was appropriate and why.
6. Brainstorm Ways Students Already Use Sign Language Daily
Teach students how much they already use signs by having them work in groups or individually to come up with at least three ASL signs we already use regularly in our culture (think waving, snapping, or a thumb's up).
Learn more: ASL Hawaii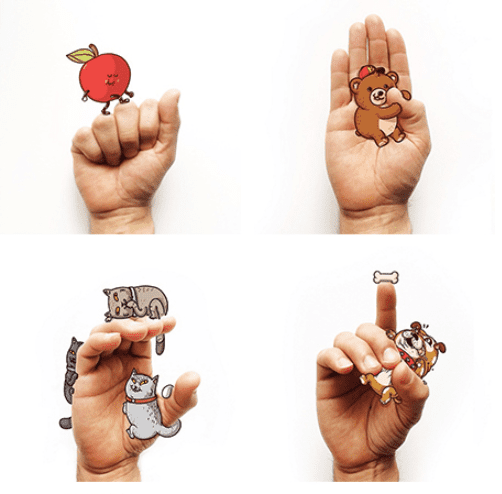 This artist has created an ASL alphabet with doodles playing on the hands making signs. Have students check out the list, choose one letter, and try to draw different doodles around the shape that makes sense. Then collect them all and hang them up around the room!
8. ASL Sentence Structure Puzzles
Teach ASL sentence structure by providing images of signs on cards to them. Then, have the students arrange the signs in the grammatically correct ASL structure. Let them play around with it for a while until they have a good feel for it. If you would rather have a quick worksheet-style lesson, you can check this one out here.
Even kids who haven't seen it, love playing Jeopardy in class. Create an ASL Jeopardy game here. When the students play, they have to SIGN the answers. Keep score, make teams, there are endless ways to make this activity different each time!
Teach students ASL 1-10. Then have the students create formulas using ASL number signs that their peers have to answer. Each student stands up and signs his or her formula. Students have to answer in an ASL number sign as well.
This video shows the ASL sign for each holiday. You can print off images of the signs for the students, have them draw their own, or make them on the computer (easiest method). You could do this for every holiday of the school year!
Learn more: ASL Meredith
12. Deaf and HoH Culture Day!
Hosting an HoH Culture Day would be a fun way to bring Deaf Culture into the ASL Classroom. Invite a deaf speaker if you have that resource. If not, check out this TED Talk video about life for the hard of hearing culture and have students write a reflective paragraph about what they learned.
Learn more: Tedx Talks
13. Deaf and HoH Weather Channel
Spend a week having students tell the forecast for the day in ASL only. Meredith, at Learn How to Sign, has an awesome video explaining the different signs and styles of weather signs.
Learn more: Learn How To Sign
Apps do everything these days! Why limit ourselves to only in-person resources when apps are a great way to learn and track progress? Check out this list of apps and consider incorporating them into your class. The Hands-On ASL App is my favorite- it creates a 3D model of each sign. Many of the apps are free or free to teachers, so definitely explore!
15. Walking In Their Shoes
Create a list of simple tasks students must complete (find the bathroom, learn three people's names, get help picking something up, etc). Divide the class into two groups: hearing and deaf. Have the "deaf" students try to complete the tasks while interacting with the hearing students. Then switch groups with new tasks and have them reflect on the experience.
16. Review a Movie Starring a Deaf Character
Have you read or seen El Deafo? It's a wonderful cartoon/book about a deaf bunny making his way in the world. Common Sense Media has it available, and if you're not familiar with the site, it provides a lot of information about shows and books for kids. Have them watch El Deafo here and then review it from the perspective of a hearing student.
17. Accessibility Lessons
Have students research accessibility features in this video or in this article. Students should choose ONE feature, explore it, and write up a brief paragraph explaining it, incorporating an image or a video. Share all products on the walls or your classroom OR on a digital platform like this one.
18. Self Recorded Monologue
Have your students make a small script using signs to introduce themselves. Then, have them record themselves, watch the recording, and write a brief review of what they are doing well and what they need to work on.
In this activity, students will pick a famous person who is deaf or HoH and create a slide show about them to present to their peers. They will learn about the biography and challenges of a successful deaf person in their culture.