There are many ways to show appreciation for your favorite teacher; including making a homemade craft or card, baking treats, donating to a charity in their honor, or organizing a special event. You can also make use of printable gift card holders, keychains, e-gift cards, or even personalized ribbons. Whatever you choose, the most important thing is to make it personal and heartfelt. A small token of appreciation can go a long way in making a teacher feel valued and appreciated.
1. Decorate the Teacher's Lounge With Notes of Appreciation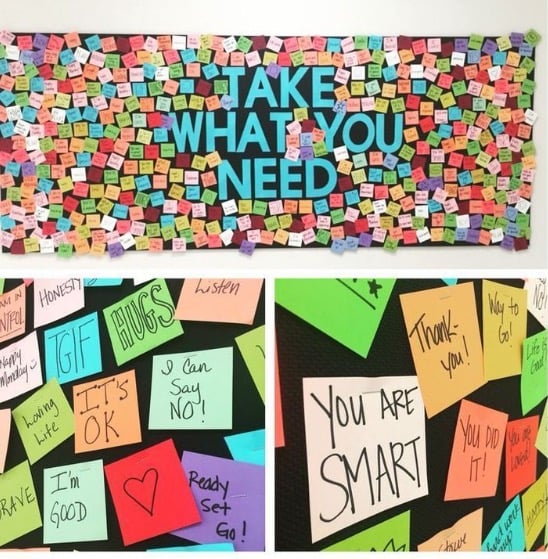 What better way to honor the tireless dedication of teachers than with these thoughtful notes? They are sure to put a smile on your favorite teacher's face during a busy day!
Learn More: Booster
2. Sweet Gestures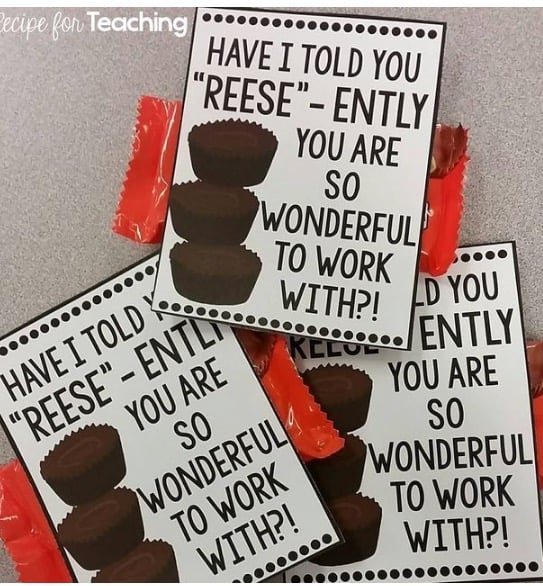 This sweet gift makes for a tasty celebration of teacher appreciation week. Why not have fun with a pun or label them 'chill pills' for a good laugh? Teachers will definitely appreciate the sugar rush!
Learn More: Booster
3. Host a Catered Lunch
Say thank you to the entire school staff for hosting this delicious Italian feast luncheon. From pasta dishes to mouth-watering pizzas and delectable tiramisu, this elaborate banquet is a wonderful way to show gratitude to teachers.
Learn More: TidyLady Printables
4. Musical Gift Idea
Create a personalized mixtape as a unique way to show appreciation! Include songs that remind you of your time in their class, as well as a few fun and upbeat tracks to make them smile.
Learn More: Teachers Pay Teachers
5. Deliver Handmade Cards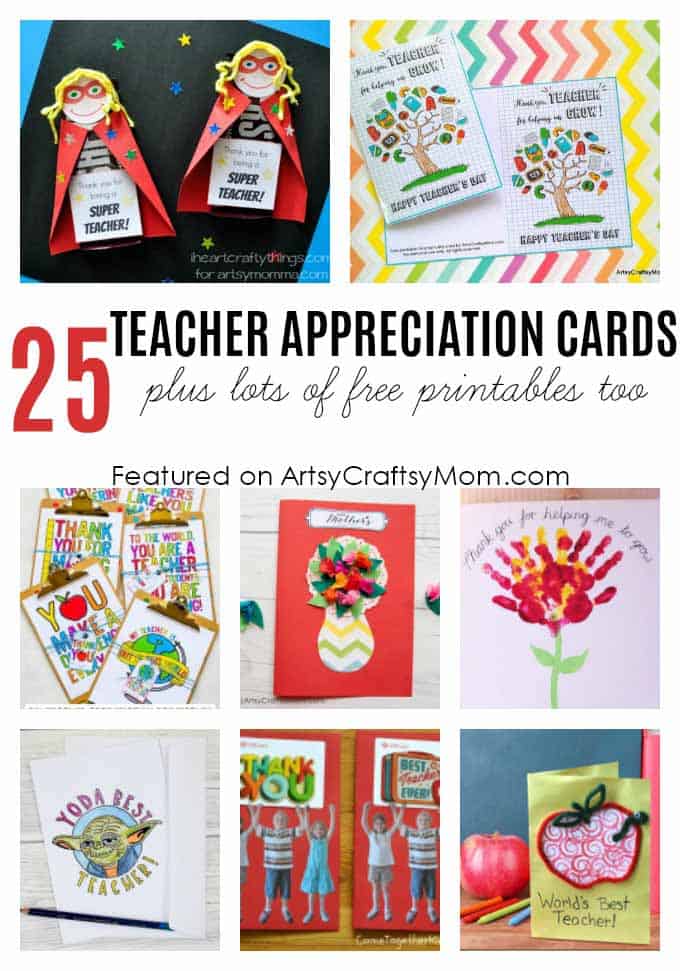 Get crafty and make a handmade card for your teacher! Use colorful cardstock, stickers, and markers to create a unique and fun design. Add a special message expressing your gratitude for all the hard work and dedication they put in every day.
Learn More: Artsy Craftsy Mom
6. Try a Book-Related Idea
A favorite picture book is a perfect gift for a teacher! Choose a classic children's book that has a special meaning to your teacher, or a book they can read to their students. It's a gift that's sure to be treasured for years to come!
Learn More: Thrifty Littles
7. Make a Teacher Appreciation Poster
Make a colorful and creative poster to show your appreciation for your teacher! Use fun illustrations, positive quotes, and heartfelt messages to express how much you appreciate their hard work and dedication.
Learn More: Classroom
8. Make a Cute Teacher Bookmark
Make a fun and personalized bookmark out of simple materials such as construction paper, markers, and glitter to create a unique design. Write a heartfelt message or quote as a reminder of their impact on your education and daily motivation in reading.
Learn More: Crafting a Lovely Life
9. Try a Flower Bulb Gift
Give the gift of growth with a favorite flower bulb! In the same way that teachers help us grow, this thoughtful gift will bloom into a beautiful flower. It's a fun and unique way to say "thank you" to the educators who have helped you flourish.
Learn More: Pinterest
10. Write a Poem in Honor of Teachers
Teachers light our inner spark, kindle our curiosity, ignite our passion, and inspire us to reach for the stars. They lead by example; showing us the power of hard work, determination, and kindness. Why not thank them for being a guiding light by crafting a personalized poem of appreciation?
Learn More: Poemsource.com
11. Make a Crayon Candy Dish
This crayon candy dish is made using real crayons and is the perfect addition to any classroom! It's also a great conversation starter that can be used as a visual tool to teach about recycling and repurposing materials.
Learn More: Two Sisters
12. Sing a Teacher Appreciation Song
"In Your Hands" is a catchy and upbeat song that expresses gratitude towards teachers for all their hard work and dedication- highlighting the role they play in shaping students' futures.
Learn More: Kids/Move-RONNO
13. DIY Monogram Sign
Get ready to create a one-of-a-kind monogram that is sure to make any teacher smile! This DIY project uses pencils of your choice to make a unique and fun monogram that can be hung in the classroom or given as a gift. Sharpen your pencils and get crafting!
Learn More: Runde's Room
14. Mason Jar Gift Idea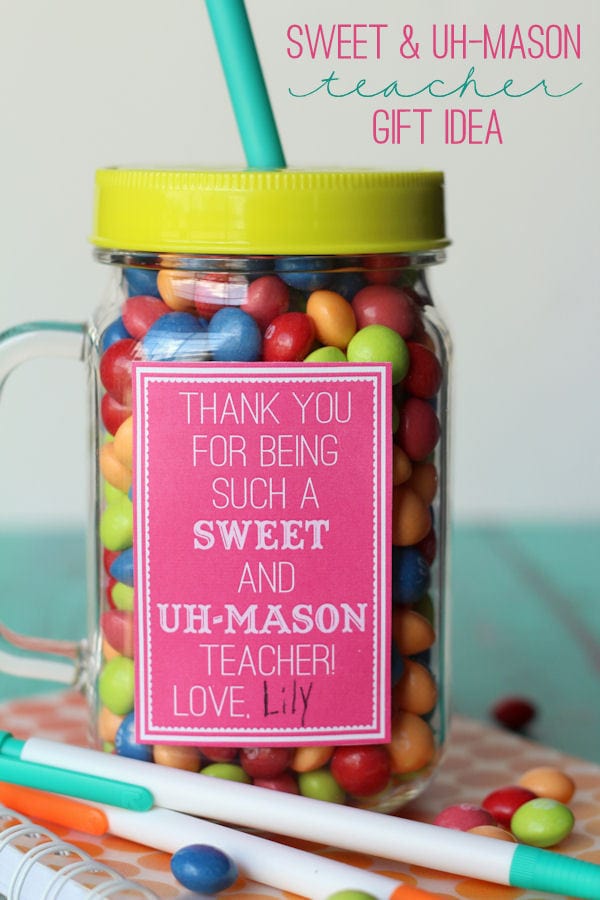 A mason jar filled with candy is the perfect gift for any teacher with a sweet tooth. To make this simple yet thoughtful gift, simply fill a mason jar with a variety of candies such as chocolate, gummies, or hard candy, and then decorate the jar with a ribbon or twine before adding a funny message or pun like the one shown here.
Learn More: The Dating Divas
15. Make a Tote Bag
Get ready to create a unique and fun tote bag that's perfect for showing your appreciation for your favorite teacher! All you need is a plain tote bag, paint or fabric markers, and your imagination to decorate the bag with drawings, sweet messages, or quotes that reflect your appreciation.
Learn More: Tatertots and Jello
16. Make Bookends for a Class Library
All you need for this practical craft is some heavy-duty cardboard, paint, and a few decorative materials. You could paint them in bright colors, cover them with scrapbook paper, or even decorate them with glitter or beads.
Learn More: My Crafting World
17. Tree Planting Gift For Teachers
A tree-planting gift for a teacher is like planting a seed of hope and growth in their hearts. It symbolizes the endless possibilities and the promise of a brighter future in the same way that teachers cultivate the minds and hearts of their students.
Learn More: Arbor Day Foundation
18. Make a Fingerprint Poster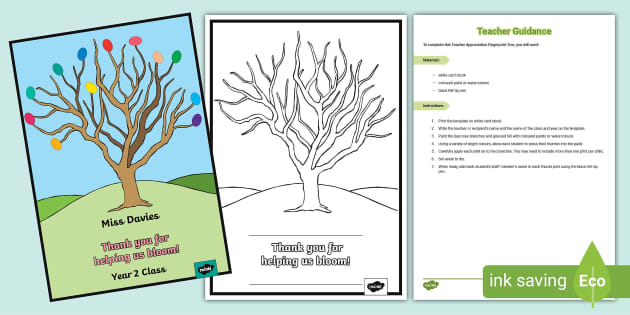 This poster features a tree and branches with a space for fingerprints, which can be filled with different colors of ink. Each fingerprint represents a student and symbolizes the growth and nourishment that teachers provide to their class.
Learn More: Twinkl
19. Door Hanger for the Classroom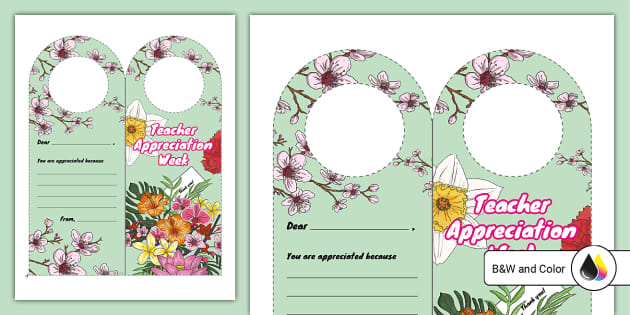 Step right up and feast your eyes on the ultimate teacher appreciation door hanger! Guaranteed to bring a smile to any educator's face, this colorful gift can be customized with jokes or heartfelt sentiments.
20. Make Some Teacher Appreciation Coupons
Teacher appreciation coupons are a great way to show your gratitude for the hard work and dedication of your favorite educator. Each coupon offers a unique benefit such as; a free homework pass, a special class treat, or even a personalized thank-you note, and can be customized to suit the individual preferences of each teacher.
Learn More: Teachers Pay Teachers
21. Write a Thank You Letter
A teacher thank you letter not only shows appreciation, but also improves literacy skills, recognizes a favorite teacher's efforts, and provides an opportunity for students to reflect on their learning experiences.
Learn More: Teacherph
22. Give a Themed Gift Basket
There are so many possibilities for themed baskets; cooking, gardening, or sports-based ideas all work well. For instance, for a book-themed basket, you could fill a wooden hamper with classic literature, bookmarks, a cozy blanket, and a cute book light. Perfect for your English teacher or any bookworm in the faculty!
Learn More: SignUp.com
23. Gift a Superhero T-Shirt or Accessory
This Super Teacher Appreciation Iron-On Transfer can be ironed onto clothing, bags, or any other fabric item and feature colorful designs of popular superheroes. It's a great way to make your teacher feel like a real-life superhero!
Learn More: PTO Today
24. Make a Beaded Lanyard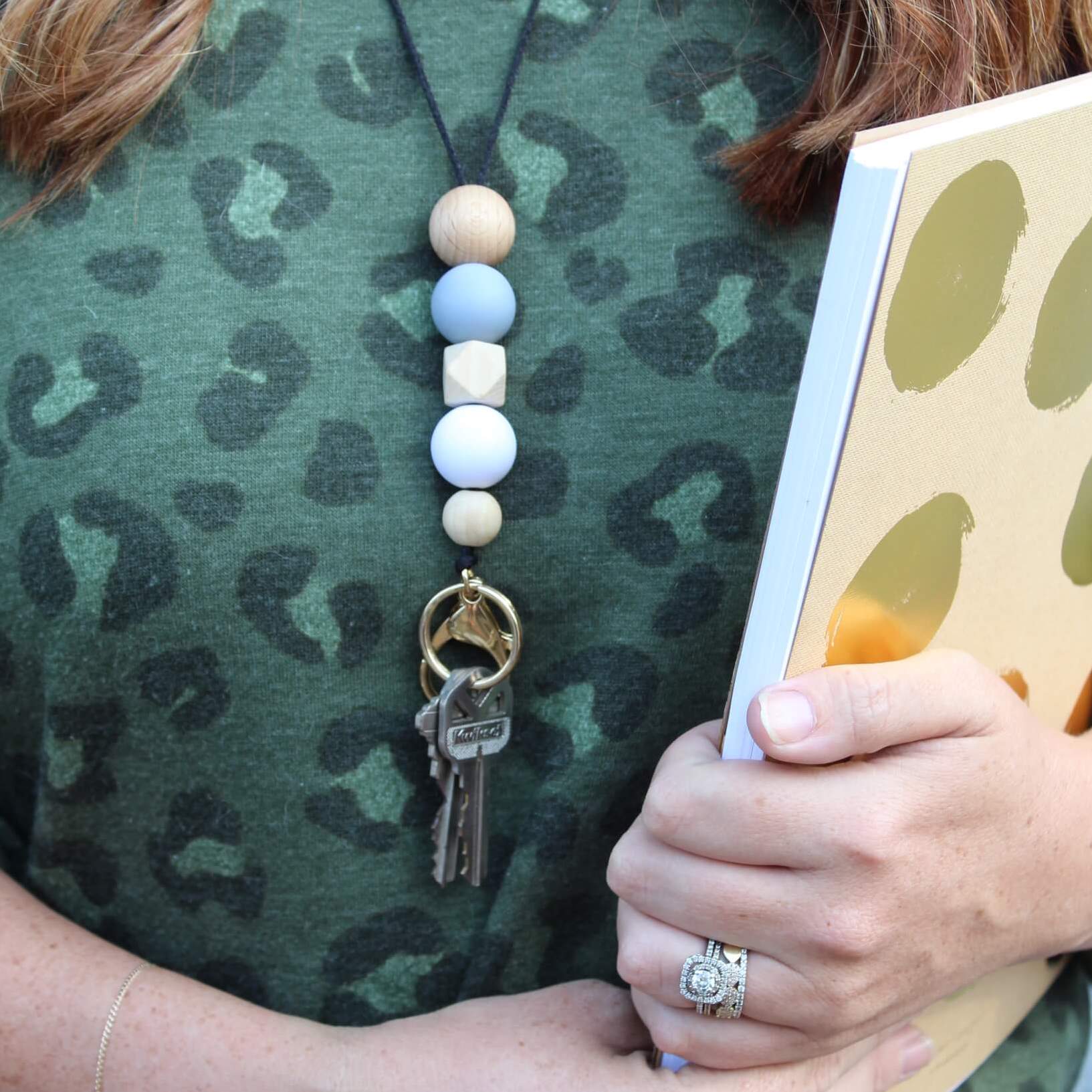 This beaded teacher lanyard craft can be made with a variety of beads in different colors and shapes and personalized with the teacher's name or a special message. It's a useful and unique gift for any teacher to use in their classroom!
Learn More: Something Turquoise
25. Crochet or Knit A Gift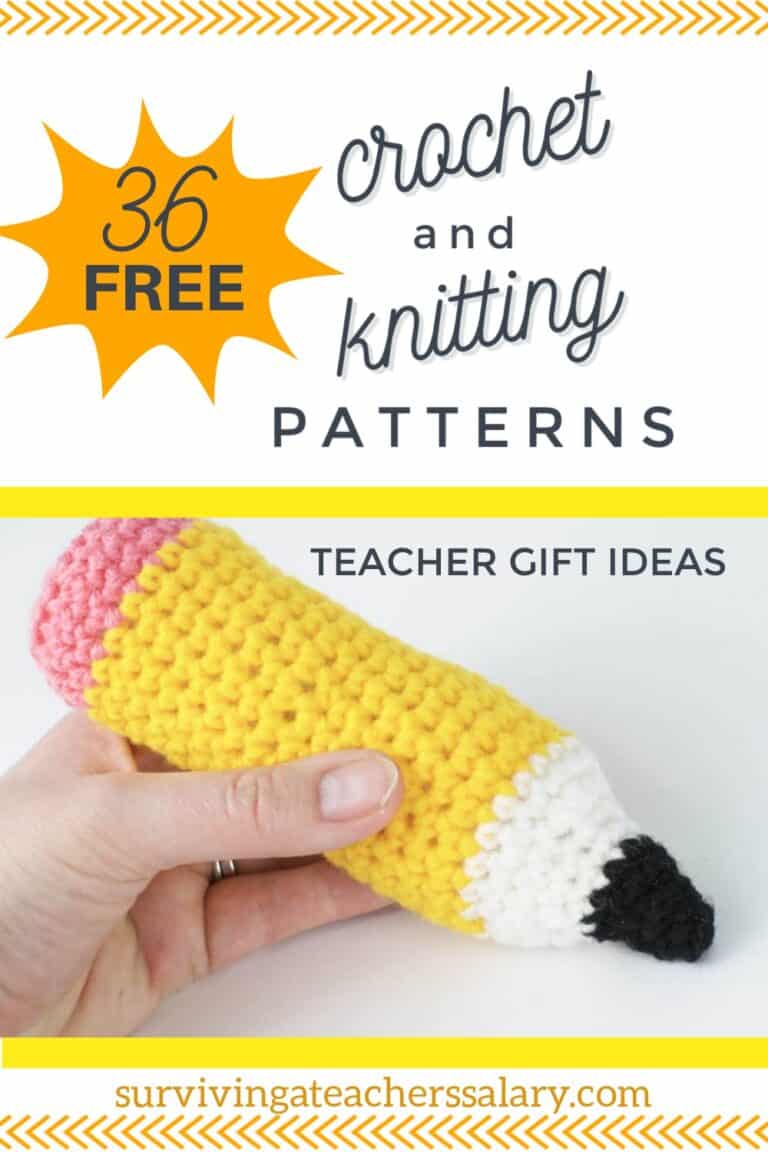 A knitted teacher gift could include a cozy scarf, a warm hat, a pair of soft gloves, or a comfortable shawl. You can choose colors that match your teacher's personal style and preferences; knowing that the bonus of the item being handmade will make it even more special!
Learn More: Surviving A Teacher Salary
26. Decorate a Clipboard
There are so many ways to decorate a clipboard. Use patterned or colored contact paper, then add a personal touch by attaching a photo of the class or a heartfelt message written on a piece of cardstock.
Learn More: Skip to My Lou
27. Bake Some Muffins
Why not bake some yummy homemade muffins and attach a note with a heartfelt message? This extra personal touch lets your favorite teacher know you care and it's a simple yet effective way of brightening their day.
Learn More: Mama Cheap
28. Give Them a Gift Card in a Printable Gift Card Holder
This printable gift card holder is easy to personalize with a thoughtful message. It's a great way to give a gift card to your teacher's favorite store, coffee shop, or restaurant.
Learn More: Simple Everyday Mom
29. Donate to a Charity in Your Teacher's Honor
Donating to a charity in a teacher's honor is a way to give back and make a difference in the community while honoring your teacher. You can choose a charity that aligns with the teacher's interest or one that is close to the school's mission.
Learn More: Edutopia
30. Make a Custom Keychain
This practical gift is small but useful, and it can serve as a reminder of the appreciation you have for your teacher. You can personalize your keychain with a sweet message, the teacher's name, or the school's logo.
Learn More: Shrishti: The Art Lover
31. Make a Classroom Thank You Book
A "Thank You" book is a collection of messages from students and parents expressing gratitude for the teacher's hard work and dedication, and is sure to be a cherished keepsake!
Learn More: Pinhole Press
32. Send an E-card
Sending a fun, e-gift card is a quick and easy way to show your appreciation for a teacher! You can choose from a variety of options like a gift card to your favorite coffee shop or clothing store. This way, your teacher can treat themselves to a little something special.
Learn More: American Greetings
33. Make Them A Ribbon
A ribbon gift can be easily personalized with a message or a fun quote that relates to your teacher. For example, you could make a ribbon that says "World's Best Teacher" or "Thanks for Making Learning Fun". Or, decorate the ribbon with cute stickers or drawings from the class.
Learn More: Hallmark
34. Make a Butterfly Teacher Appreciation Craft
Have your child trace and cut out their hand prints on construction paper before writing thoughtful messages on them with a marker. Next, attach some bundled-up crayons with tape for a memorable keepsake that teachers will cherish for years to come!
Learn More: Hands on as we Grow