There's nothing like a good breakfast to start the day! As educators, however, your mornings are most likely rather rushed, and breakfast is forgotten about as you get caught between getting your own kiddos ready for school and finalizing last-minute details of upcoming lessons. Teacher Appreciation Week provides the perfect excuse to slow down and really relish your role as a teacher; even affording you the luxury of indulging in a few treats and savoring a hearty brekkie! Whether you're keen on a sweet treat or something savory, we have you covered with 15 tasty ideas. Read on to discover our tried and true breakfast faves!
1. DIY Omelet Bar
Roll up your sleeves and dive into the art of omelet making! A DIY station will let you whisk, pour, and flip your personalized omelet. Filling this creation with an array of ingredients from cheeses and veggies to meats and more, we invite you to embrace your inner chef!
Learn More: Pinterest
2. Pancake Food Truck
Buckle up for a culinary adventure! Just like with our DIY omelet bar, a pancake food truck delivers an exceptional experience right to your doorstep. Sample fresh, hot pancakes adorned with syrup, butter, and a sprinkle of powdered sugar and indulge all your sweet breakfast cravings!
Learn More: Toronto Food Trucks
3. Yogurt Parfait Bar
The thrill of creation continues with a yogurt parfait bar! Mix and match your favorite yogurts with a variety of crunchy granolas, fresh fruits, and sweet toppings to make every spoonful your own!
Learn More: 365 Days Of Baking And More
4. International Buffet
Broaden your horizons without leaving the school grounds! Any international buffet is like a passport to a world of flavor- offering up everything from hearty English breakfasts to delicate French pastries.
Learn More: Wander-Lush
5. Coffee Tasting
Not everyone's keen on something to eat so early in the morning so, coffee lovers, this one's for you! Dive into the rich, nuanced world of coffee at a specially-curated tasting station. Test your palate with a variety of roasts and blends to find your new favorite or reaffirm your love for your current one!
Learn More: MistoBox
6. Smoothie Bar
Strap in for a whirlwind of flavor with a simple yet delicious smoothie bar! With a plethora of fresh fruits, creamy yogurts, and succulent juices, you'll get to concoct your own breakfast elixir and then enjoy the refreshing thrill with each sip!
Learn More: Breanna Spain Blog
7. Bagel Spread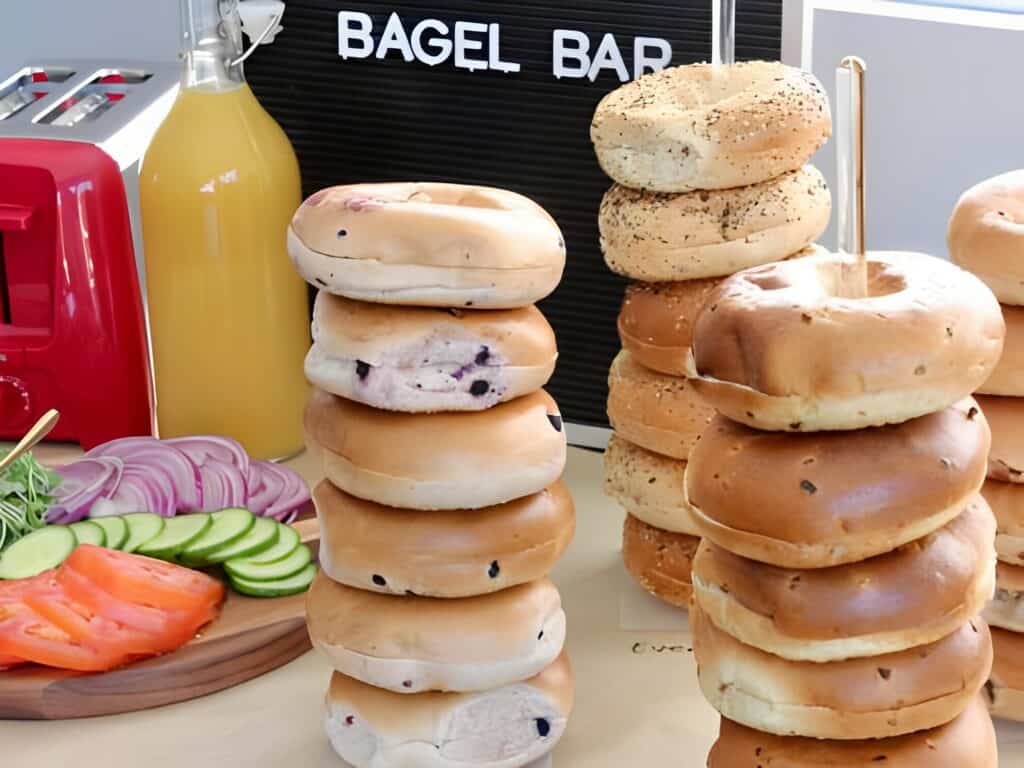 How about a scrumptious bagel spread? Take your pick from a selection of sweet or savory bagels and an enticing assortment of toppings to build the perfect brekkie to go!
Learn More: Whitney Bond
8. Waffle Station
Get set to waffle your way to breakfast satisfaction! Craft your waffle masterpiece with a selection of flavorful batters and tempting toppings. The perfect station should include savory, sweet, and fruity options to choose from!
Learn More: Pinterest
9. Breakfast Burrito Bar
Prepare for a flavor fiesta with a breakfast burrito bar! A smorgasbord of tantalizing fillings awaits your creativity; a teacher appreciation week favorite that's bound to have you longing for more!
Learn More: Dukes & Duchesses
10. Fresh Juice Bar
Dive into a sea of colors, vitamins, and flavors with a fresh juice bar! Choose from a selection of ripe fruits and vegetables to blend into a rejuvenating juice and sip on some sunshine!
Learn More: Pinterest
11. Crepe Station
Fast-track to France with a sweet crepe station! With an enticing array of sweet and savory fillings on offer, each teacher can design their perfect crepe and savor the tantalizing European breakfast experience!
Learn More: Dazzling Hospitality
12. Biscuit and Gravy Bar
Hop onto a flavorsome expedition with a hearty biscuit and gravy station! Warm, fluffy biscuits and a selection of tasty gravies beckon you to enjoy a comforting breakfast experience.
Learn More: Pillsbury
13. Tea Party
Set sail for a sophisticated day with a classy tea party! Prepare for an elegant breakfast experience filled with charm and warmth, you can enjoy an array of tea blends and delicate pastries.
Learn More: Yummly
14. Breakfast Potluck
Experience the joy of sharing and tasting diverse dishes brought in by your colleagues. By organizing a brekkie potluck, you're in for a treat of a morning feast that celebrates both unity and taste!
Learn More: Sign Up Genius
15. Build Your Own Acai Bowl
If health is your focus, then you'll love an acai bowl station. Packed with antioxidants and superfood toppings, you're just a scoop away from a breakfast that's as nourishing as it is delicious.
Learn More: SBK Living