Classroom environments so quickly become tense. Whether it's learning a new math problem or preparing for an important final exam, students carry a lot of weight on their shoulders when it comes to academia.
As a teacher, bringing a sense of humor into the classroom helps to put a smile on your student's faces, lightening that load of theirs and bringing positive energy to any class. Here are some of the best cheesy teacher jokes to get you started!
 1. Last night I dreamt I wrote The Lord of the Rings.
Then I realized I was just Tolkien in my sleep.
2.  What kind of pencil did Shakespeare write with? 
3.  Last night my classroom was broken into, and all dictionaries were stolen.
4.  Dating apostrophes won't get you anywhere.
5. My sister is reading a book on anti-gravity. 
Boy, she cannot put that book down.
6. Cats and commas have so much in common and yet are so different. 
Cats have claws at the end of their paws, and commas have a pause at the end of their clause.
7. What do you call an alligator in a vest? 
8. There's a dinosaur that knows the most synonyms.
9. At night, an owl said, "Whom" instead of who, and my father exclaimed,
"Now, that's a classy owl right there."
10. Past, Present, and Future entered a shop together.
1. What did the triangle say to the circle? 
2.  Parallel lines have so much in common …
It's a shame they'll never meet.
3.  Why did the student do multiplication problems on the floor?
The teacher told him not to use tables.
4.  Why was six afraid of seven?
Because seven, eight, nine!
5. Which king loved fractions?
6. Why did the student get upset when her teacher called her average?
It was a 'mean' thing to say.
7. Why did Pi get its driver's license revoked?
Because it didn't know when to stop.
8. What do you call two friends who love math? 
9. Why does algebra make you a better dancer?
Because you can use the algo-rhythm!
10. Why is math considered to be codependent?
It relies on others to solve its problems.
1. What's the best thing about Switzerland? 
I don't know, but the flag is a big plus!
2. What always sits in the corner but can move all around the world?
3. Why did the Romanian stop reading at night?
4. My friend knows how to read maps better than anyone.
5. The grumpy cartographer got kicked out of the map-making club. 
They don't let anyone in who has a bad latitude.
6. So you want some puns about rocks?
Give me a minute, and I'll dig some up.
7. The metamorphic rock really struggled in tests.
He just couldn't handle the pressure.
8. I can't think of any more puns, but I'm sure my mum will know a few, 
9. I met a cartographer who was a spider.
10. I finally found my book of maps.
1. I was reading a book on helium.
2. What do you call it when a biologist takes a photo of himself? 
3. How do you know that Saturn has been married multiple times? 
Because she has a lot of rings!
4. How did the thermometer insult the graduated cylinder?
She said, "You may have graduated, but I have more degrees."
5. What do you call a bunch of iron atoms at a carnival?
6. What did the chemist say when he heard oxygen and magnesium were dating? 
7. How do astronomers organize a party?
8. I would make another chemistry joke, but 
9. Why is the pH of YouTube very stable?
Because it constantly buffers
10. A photon checks into a hotel and is asked if he needs any help with his luggage. 
"No, I'm traveling light."
1.  Why were the early days of history called the dark ages?
Because there were so many knights.
2. How was the Roman Empire cut in half?
3. Where did Nicholas Romanov II get his coffee?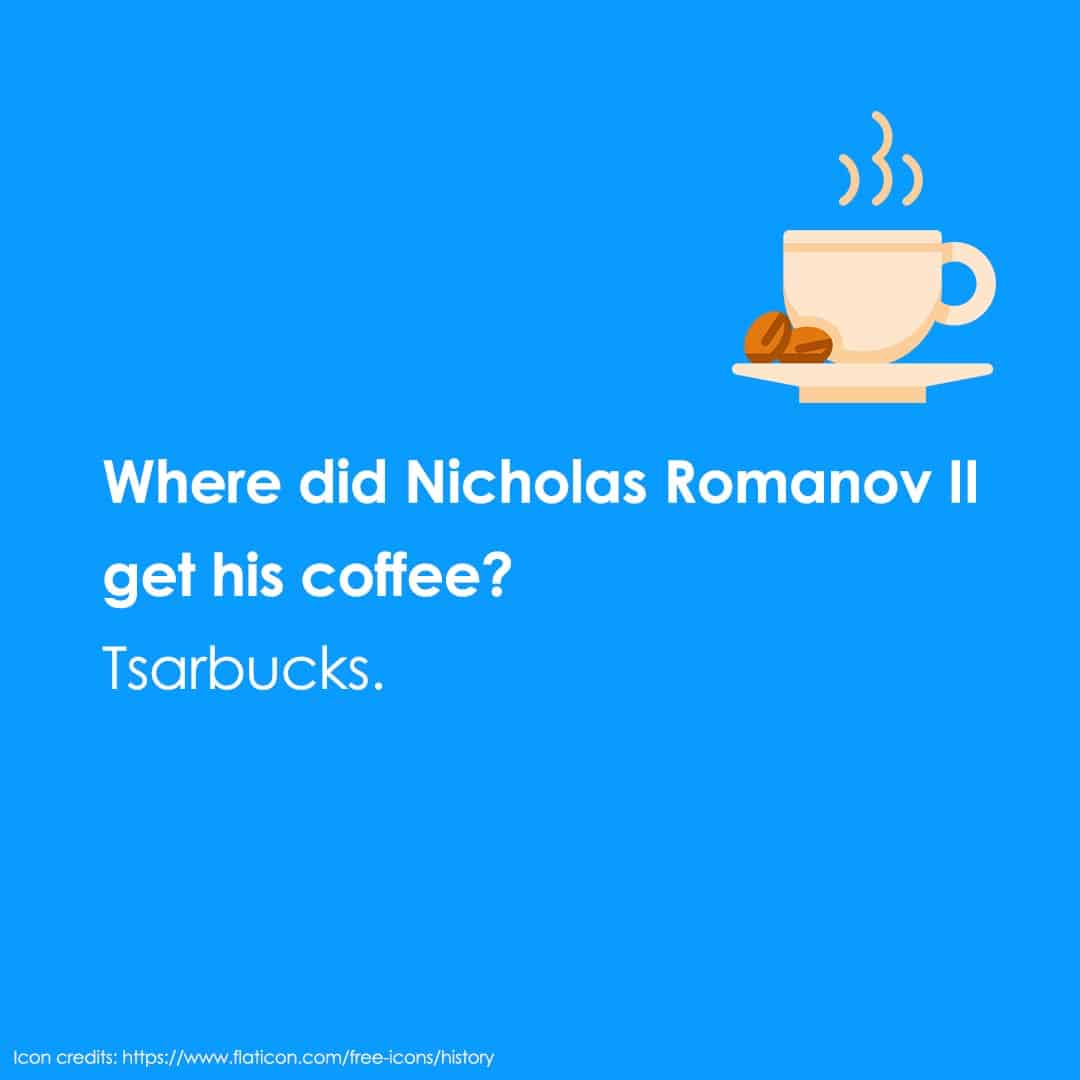 4. How did the Vikings send secret messages?
5. How did Louis XIV feel after completing the Palace of Versailles?
6. Two wrongs don't make a right.
But two Wrights did make an airplane!
7. What do you call a vegan Viking?
8. Who made King Arthur's round table?
9. What's an Ancient Egyptian's favorite restaurant? 
10. What was the most popular kids' movie in Ancient Greece?
A sense of humor has the power to impact your classroom environment positively. It both improves student experiences and enhances the relationship between students and teachers. While teaching the content at hand will always be a priority, adding some of these subject-specific, cheesy jokes into your lesson plan will give your students a smile (and sometimes an eye-roll) to start or end their period with you.