The texture is an important element in some artworks. It's also a really interesting aspect to explore with students in a variety of ways. From taking rubbings and creating collages or painting with glue in various forms to creating a textured painting, there are so many ways to add different textural elements to art projects. The best part is that a lot of the materials you might use for textured art activities are easily found in recycling or out in nature! We have gathered 23 of the most exciting textured art activities to encourage your students to think outside the box! Read on to learn more!
1. Leaf Rubbing Art Activity
For this activity, you will need your students to gather different sizes and shapes of leaves. Then, following the technique in the video, use chalk or a crayon to take rubbings of the leaves on paper; revealing the texture of each leaf. Use different colors to create an eye-catching piece of artwork.
Learn More: Jen Goode
2. Texture Art Experiment
This activity is perfect for younger preschool or kindergarten students to explore different textures. Set up tables with a range of different materials to allow your kiddos to explore different textures such as aluminum foil, cotton wool, sandpaper, and so on. Then, let students explore these textures with pens, paints, crayons, and so on.
Learn More: Artful Parent
3. Creating a 3-D Multi-Textured Figure
This craft will encourage students to consider different textures of materials to create this multi-textured figure. Challenge your students to select materials from differing categories such as smooth, rough, bumpy, and soft.
Learn More: Childhood 101
4. Textured Paper Printing
This fun printing activity used recycled materials to create the pattern that is printed onto other papers. Challenge your students to come up with creative materials or objects to use for this printing task.
Learn More: Instagram
5. Texture Relief Art Project
Texture relief artwork is similar to a sculpture as it is 3-D, however, this project is created when you place materials under some aluminum foil and then rub the foil until the textures show through. The end result is a super cool piece of artwork that really highlights all the different textures of the materials below.
Learn More: Cassie Stephens
6. Aluminum Foil Fish Activity
This activity is a super simple and effective project to create some colorful and decorative textured fish! Your kids can use aluminum foil and recycled netting to create the texture of the fish and then paint with some bright colors.
Learn More: Instagram
7. Textured Hot Air Balloon Craft
These bright and colorful pieces of art are super simple to make and will look great displayed in your classroom. Challenge students to pick a material from each different category of texture (smooth, rough, soft, bumpy, and so on) and stick it to a paper plate to create these funky hot air balloons.
Learn More: Artsy Momma
8. DIY Sensory Board Books
Creating a DIY sensory board book is so simple and is a fantastic way to get your students working with texture. Mixing rough textures with smooth textures is best for this project!
Learn More: Mommy Evolution
9. Textured Tree Crafts
These textured trees use pipe cleaners and various pom poms, beads, and felt stickers to create a mixed-media craft for younger students.
Learn More: Reading Confetti
10. Texture Hunt Art Activity
Take your students on a texture hunt around your school as a fantastic art project. Use a piece of paper and some crayons or pencils to take rubbings and encourage your students to collect a mixture of textures.
Learn More: Art With Trista
11. Salt Art
This salt art activity is super effective and leaves a rough texture effect once completed. To create the salt mixture, simply mix craft glue with table salt. Kiddos can then use the salt mixture to outline their drawings and then paint over them with watercolors or watered-down acrylic paints.
Learn More: Kids Activities Blog
12. Textured 3-D Daisy Artwork
This cool 3-D artwork looks fantastic and is a straightforward craft for elementary students to enjoy. Using different colors of card, paper, and cardboard tubes, students can cut and stick the different elements together to design a piece of 3-D art.
Learn More: Instagram
13. Mermaid Foam Slime
This cool mermaid slime mixes the smooth texture of slime with the stiffer, more malleable qualities of Styrofoam bead clay. Just mix up some glitter glue, liquid starch, and Styrofoam beads to create this magical sensory slime!
Learn More: Sugar, Spice, and Glitter
14. Texture Collage Process Art
This art project is superb for preschool students. Give students a wide range of materials with rough and smooth textures and let them create their own multi-textured masterpieces.
Learn More: Modern Homestead Mama
15. Elements of Art – Taking On Texture Video
This video explores the definitions of texture and provides examples of it in real life and in artworks. The video then challenges students to draw different types of textures and photograph them for reference.
Learn More: Paint It Kids!
16. Crumpled Paper Art
Explore the rough texture of crumpled paper with this colorful watercolor activity. Crumple a sheet of paper into a ball and then paint the outside of the crumpled ball. Once dry, open the paper up before crumpling it again and painting it with another color. Repeat a few times to create this cool, rough texture effect.
Learn More: Buggy and Buddy
17. Make Your Own Puffy Paint
To create this creamy, smooth texture paint all you need is shaving foam, white glue, and some food coloring. Then, let your students create their own colorful puffy painting!
Learn More: One Little Project
18. DIY Paintbrushes
Explore how different textures create different effects and patterns when painting with this DIY paintbrush activity. You can use almost any item held in a peg as a paintbrush and let your students explore the textures they create.
Learn More: Parenting Chaos
19. Textured Self-Portraits
These easy and simple self-portraits are the perfect opportunity to let your students get creative and explore different textures. Ensure that there are lots of different materials and craft supplies available and see how experimental your students can make their portraits.
Learn More: Artful Parent
20. Paper Plate Snake
This paper plate snake is super simple to make and looks fantastic! Create a cool textured roller for your paint using bubble wrap which will create a scaly effect when dipped in paint and rolled over a paper plate. Cut in a spiral shape and then add eyes and a tongue!
Learn More: Crafty Morning
21. Painting With Nature
Bring in different elements to art projects using a wide range of materials from nature. Take your students on an outdoor scavenger hunt to gather pine cones, leaves, twigs, and more. Then use them to print, paint and decorate your next art project in class.
Learn More: Kids Craft Room
22. Pasta Mosaic Art Project
Pasta mosaics are a super simple activity for students of any age to create. First, paint some lasagna pasta sheets in different colors and smash them up once dry. Then, arrange the pieces into a mosaic pattern and adhere them to a piece of paper with glue.
Learn More: Thimble and Twig
23. Yarn Mache Bowl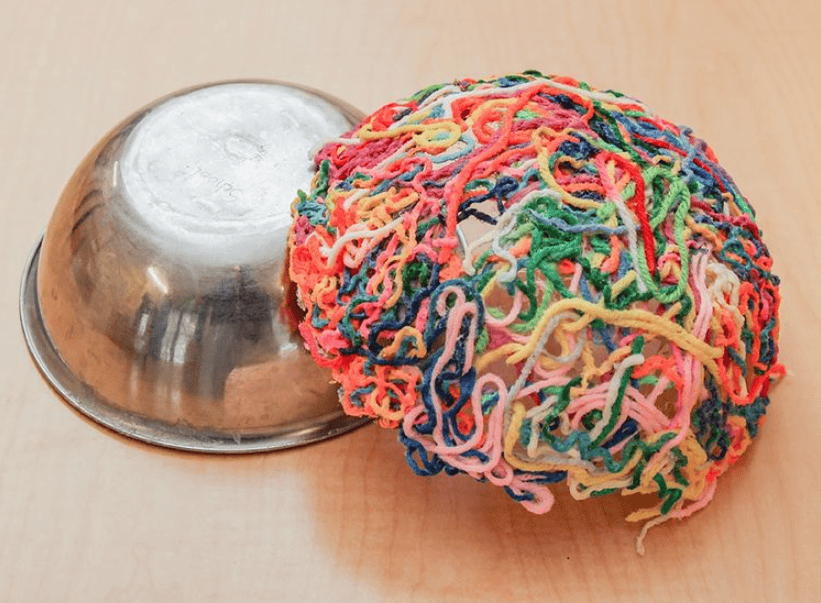 Students can create their own 3-D textured bowl in this super cool craft. Arrange yarn that has been dipped in glue over a metal or plastic bowl. Once dry you can peel it off of the bowl and the yarn will stay in shape!
Learn More: Pinterest