Thanksgiving is known as a time for people to be reflective and think about the things they are thankful for. Many people are thankful for their families, so spend this holiday with family members they may not see often. These Thanksgiving jokes are family and kid-friendly to be shared throughout the day or even throughout dinner. You can teach these to your child to share or share them with your child throughout the day. These jokes vary from turkey jokes to funny knock-knock jokes sure to encourage hearty laughs throughout the holiday.
Let's start with the most popular Thanksgiving dish. Turkey is a popular main for Thanksgiving and there are lots of jokes to share relating to the animal and the food!
1. Why did the turkey cross the road?
To prove he wasn't chicken!
2. What is one difference between chickens and turkeys?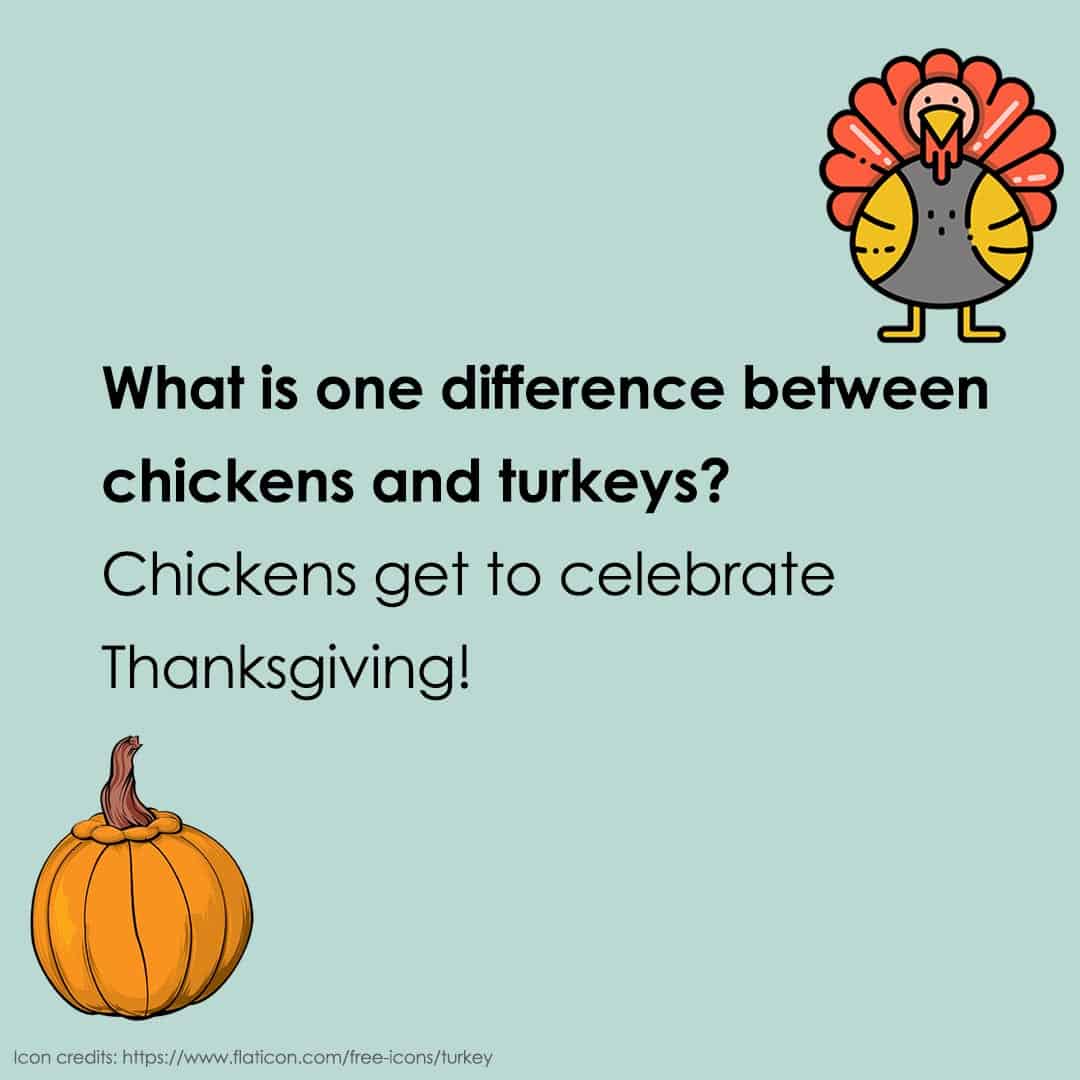 Chickens get to celebrate Thanksgiving!
3. What is the key to Thanksgiving?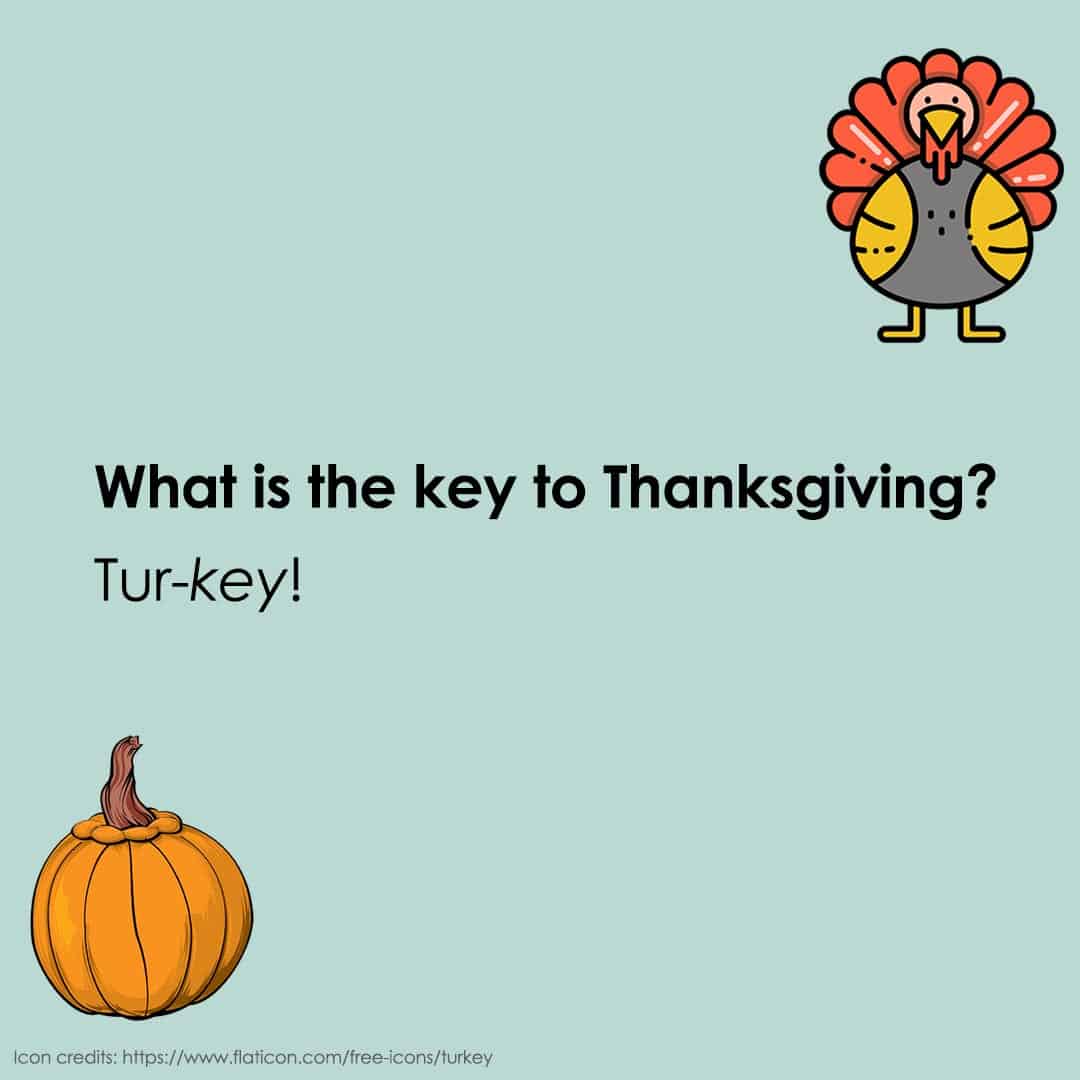 4. What's the best dance for Thanksgiving?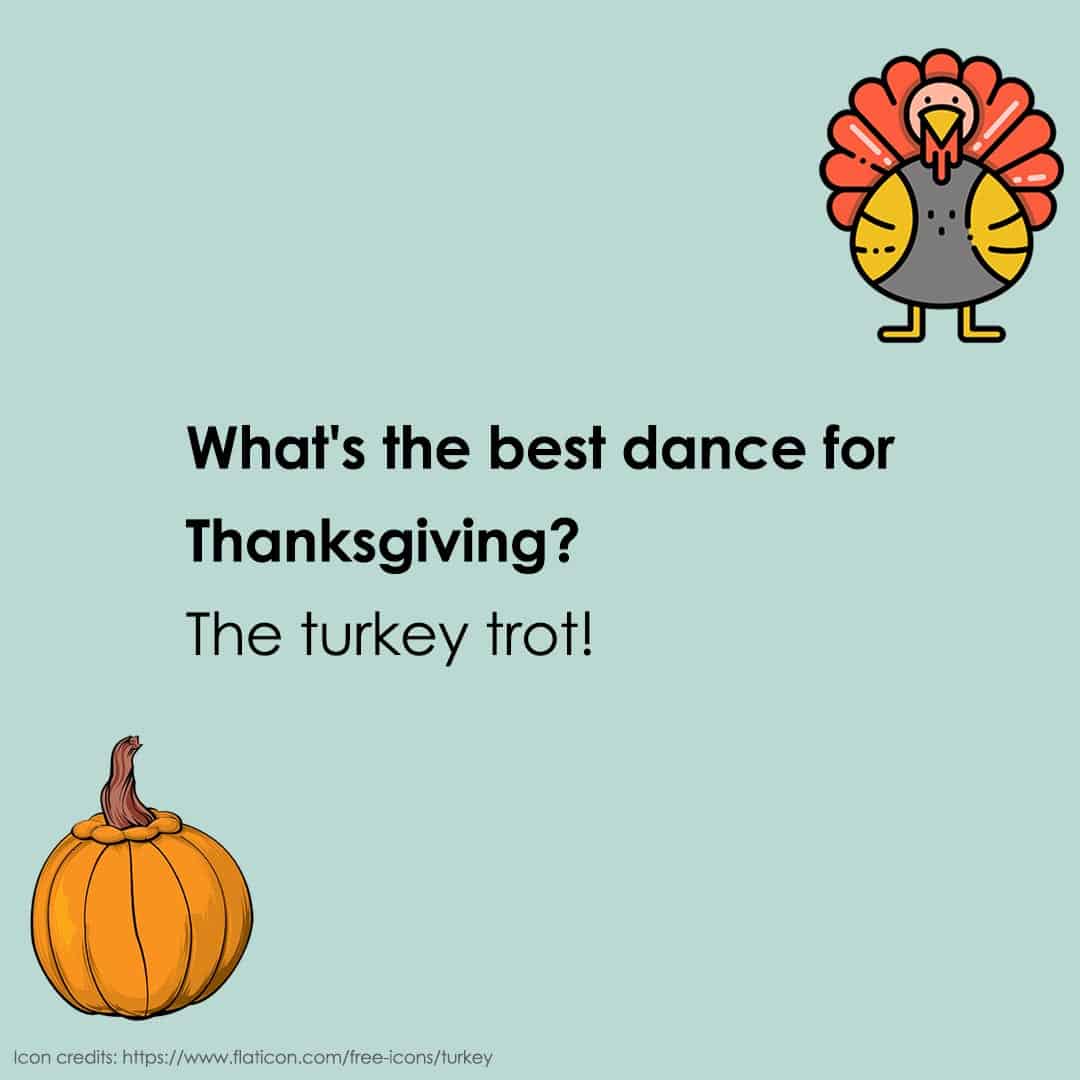 5. What did the turkey say to the turkey hunter on Thanksgiving?
6. Why didn't the cook season the turkey?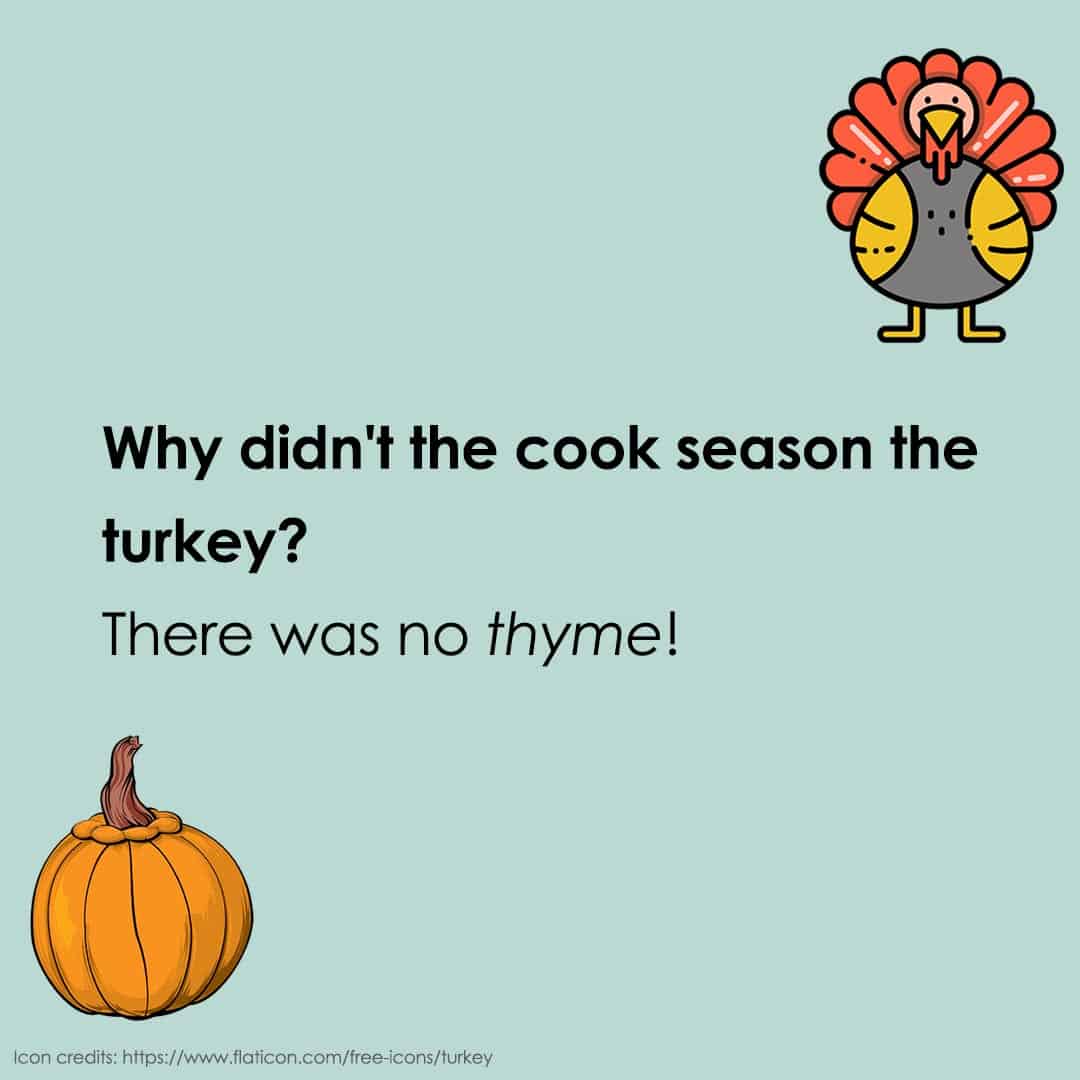 7. Where do the turkeys go to dance?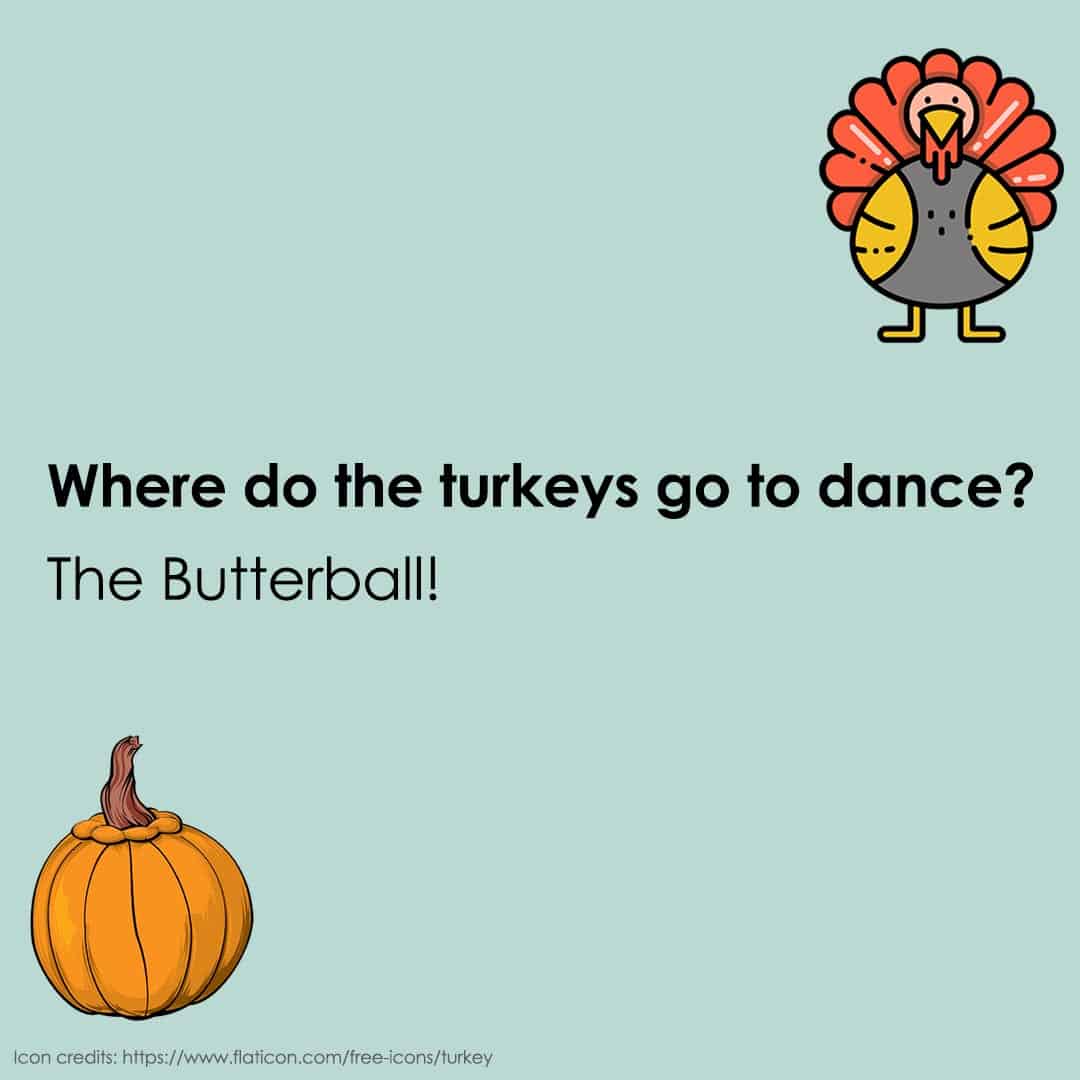 8. Why did the turkey decide to become a drummer?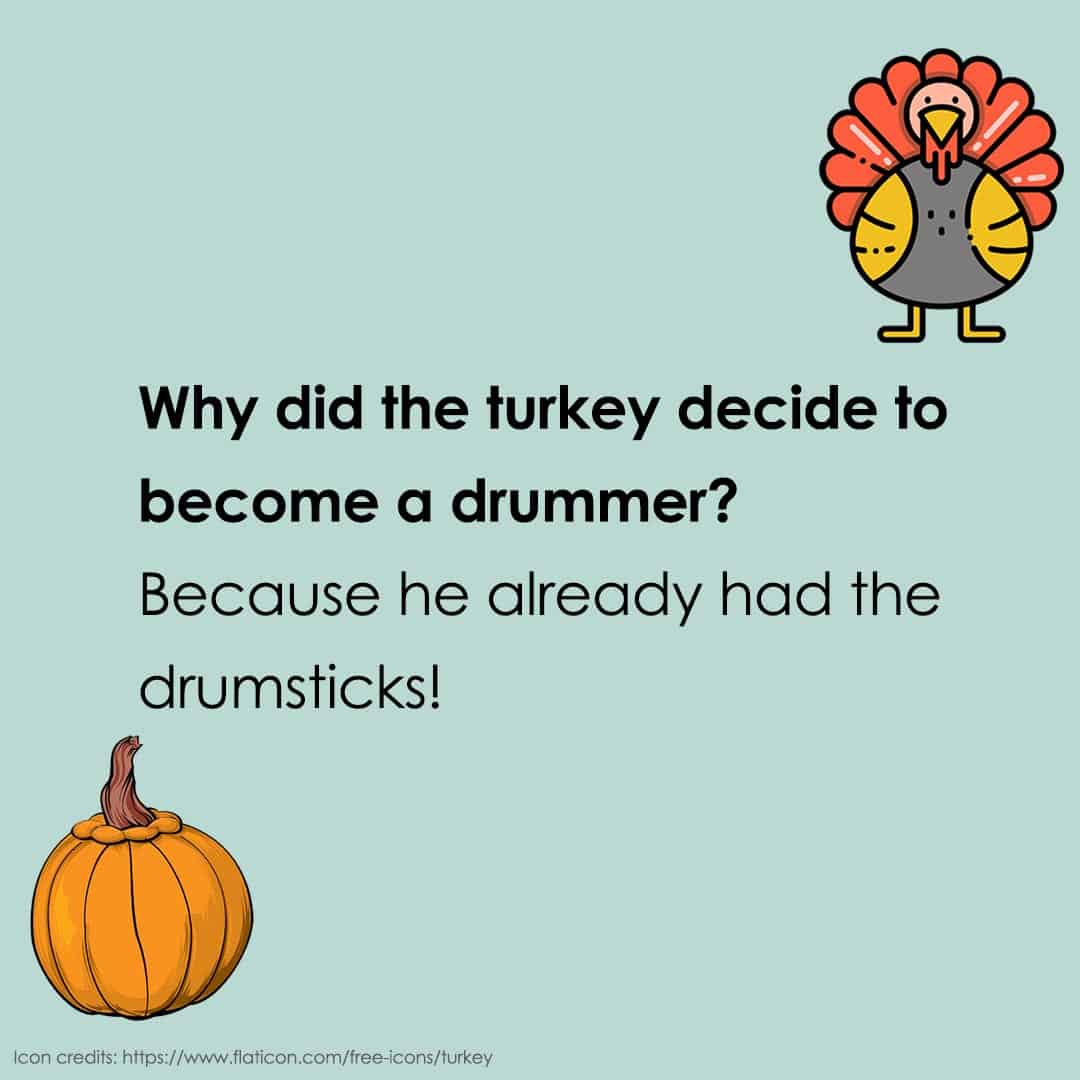 Because he already had the drumsticks!
9. Where do you find a turkey without legs?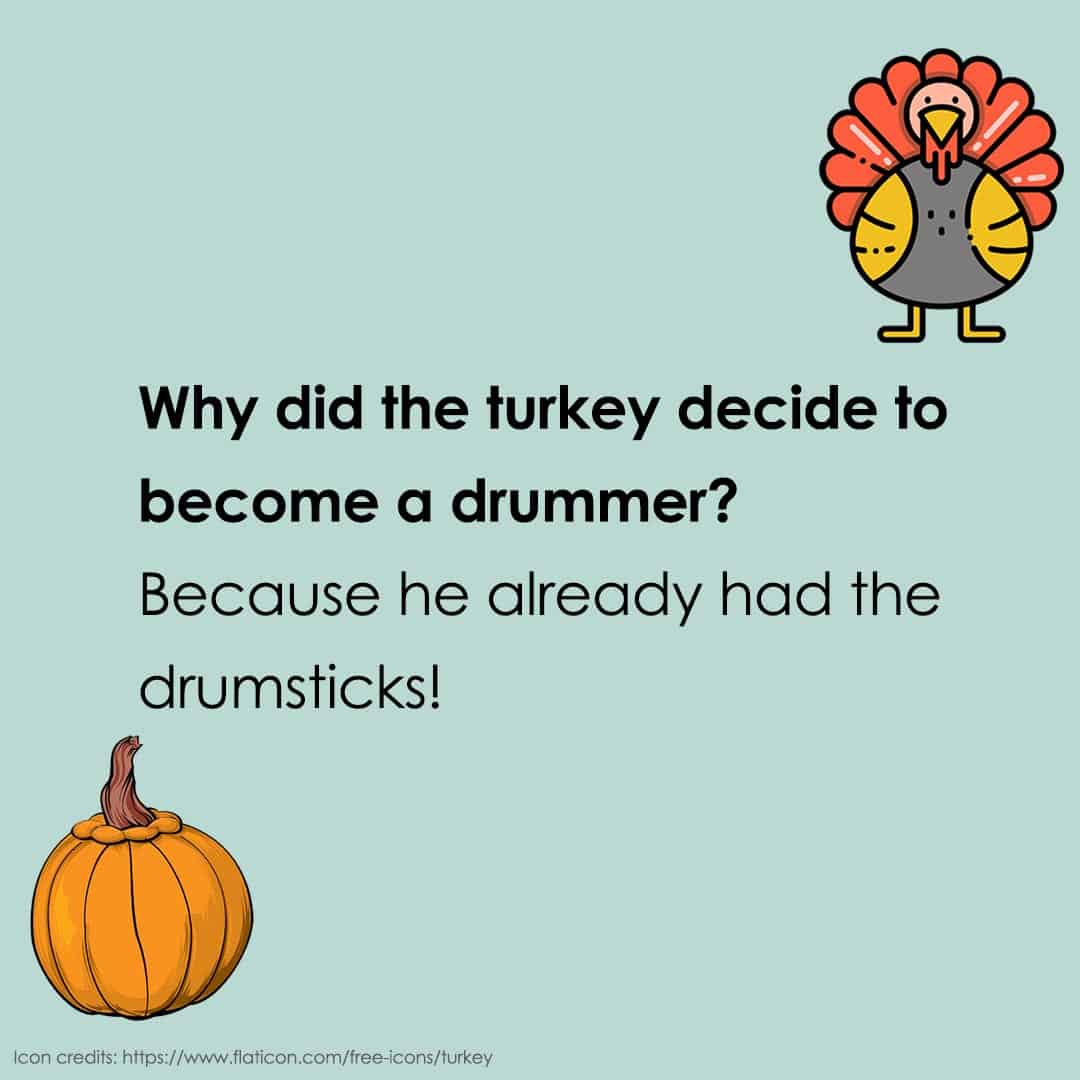 10. What did the mama turkey say to her naughty son?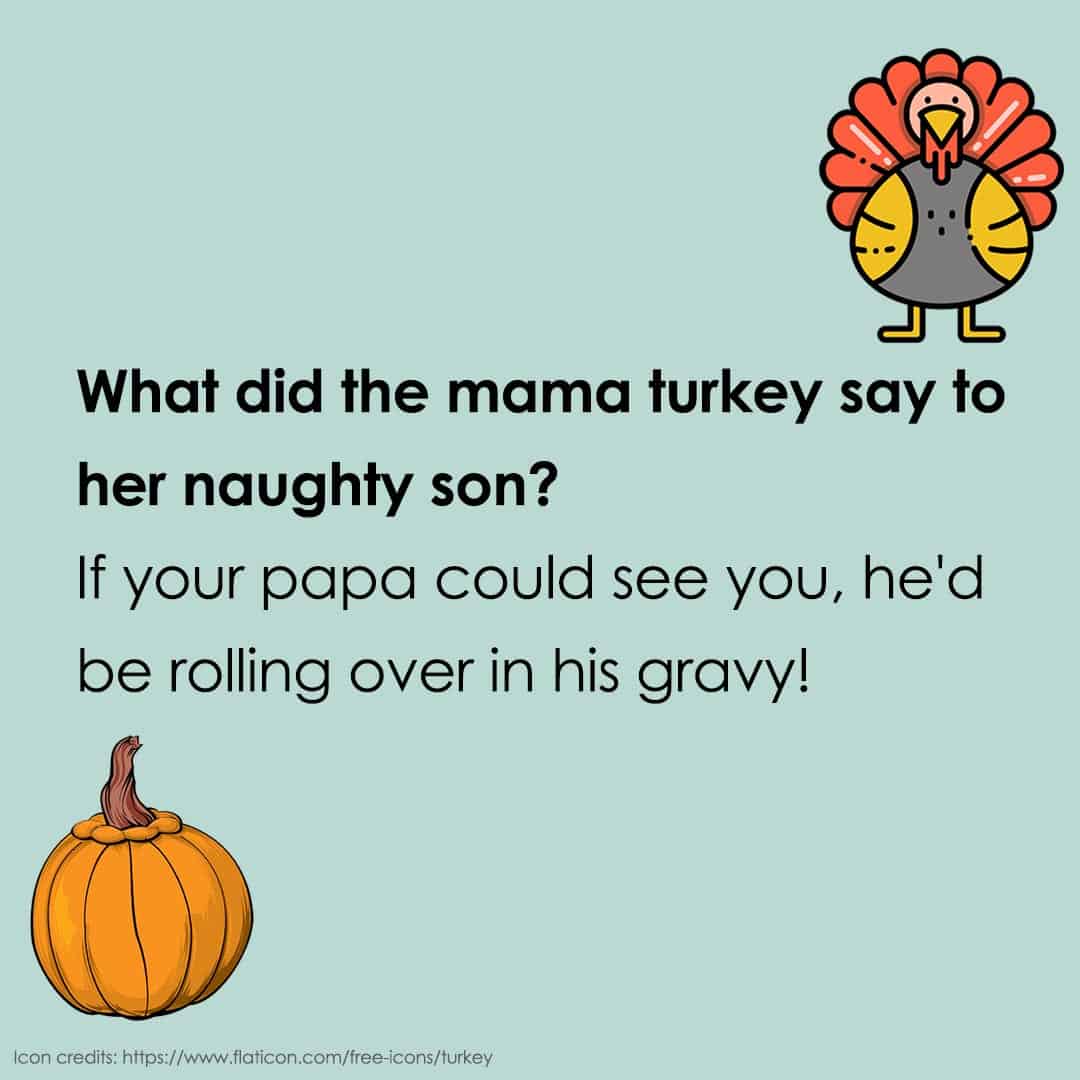 If your papa could see you, he'd be rolling over in his gravy!
11. Why do you never put the turkey near the corn? 
They would gobble, gobble, gobble it up!
12. What happened to the turkey when he got into a fight?
He got the stuffing knocked out of him!
13. Who is not hungry at the Thanksgiving dinner table?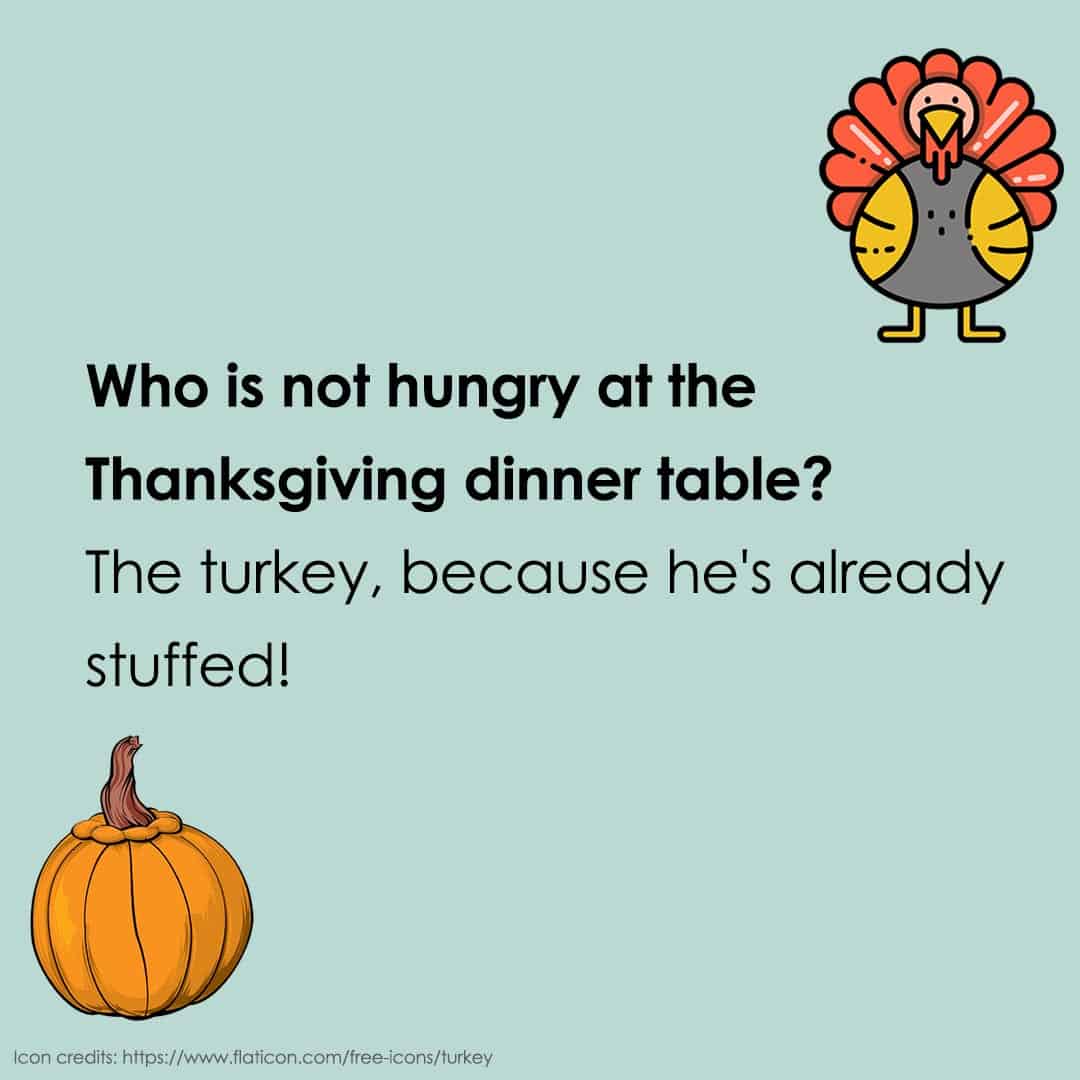 The turkey, because he's already stuffed!
14. Which side of the turkey has the most feathers? 
15. Why did the turkey stop going to church?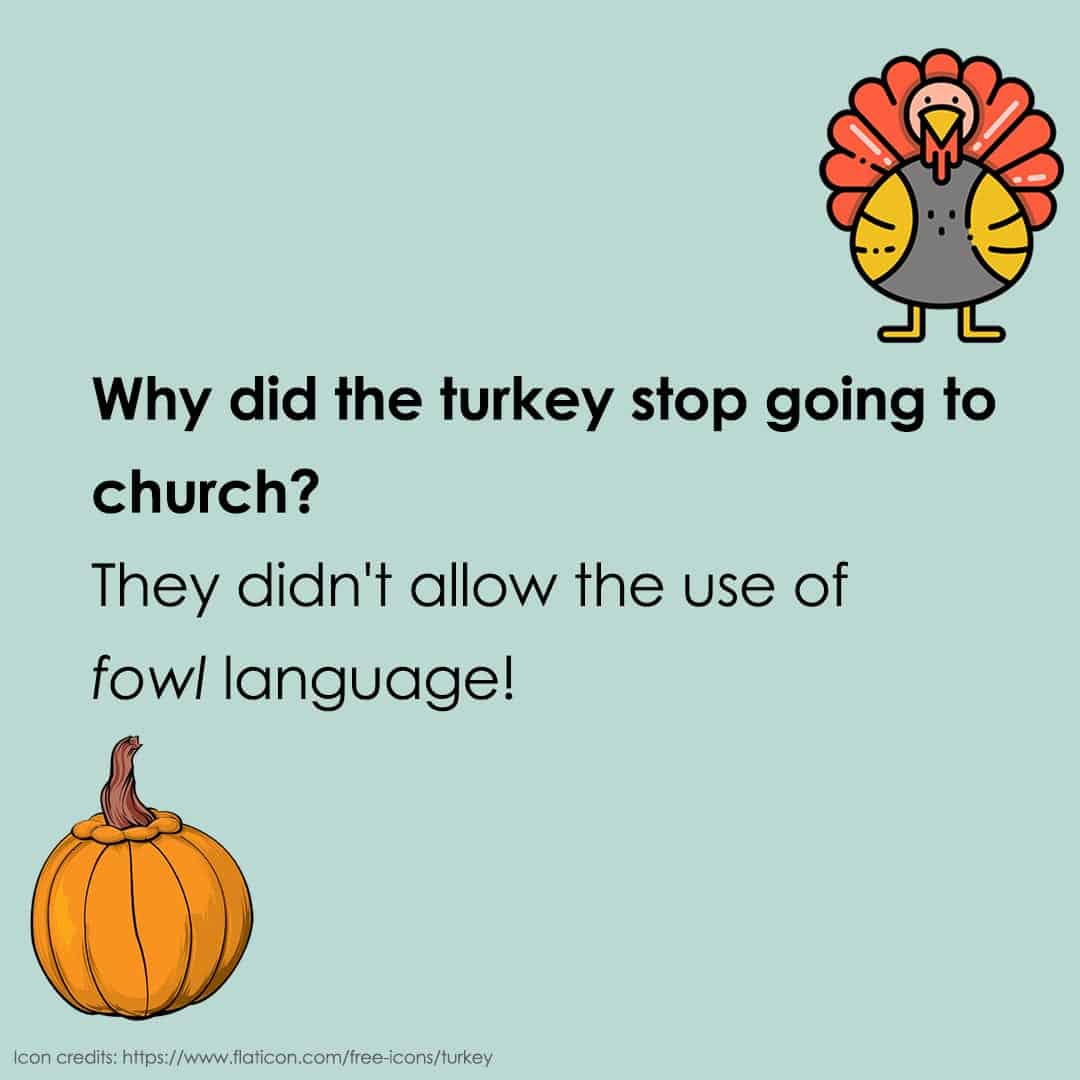 They didn't allow the use of fowl language!
16. What is the turkey's favorite dessert? 
Apple (or peach) gobbler!
17. Why do turkeys always say "gobble gobble"? 
Because they lack table manners!
18. What would be inside the genie's turkey? 
19. What do you call a mean gobbler?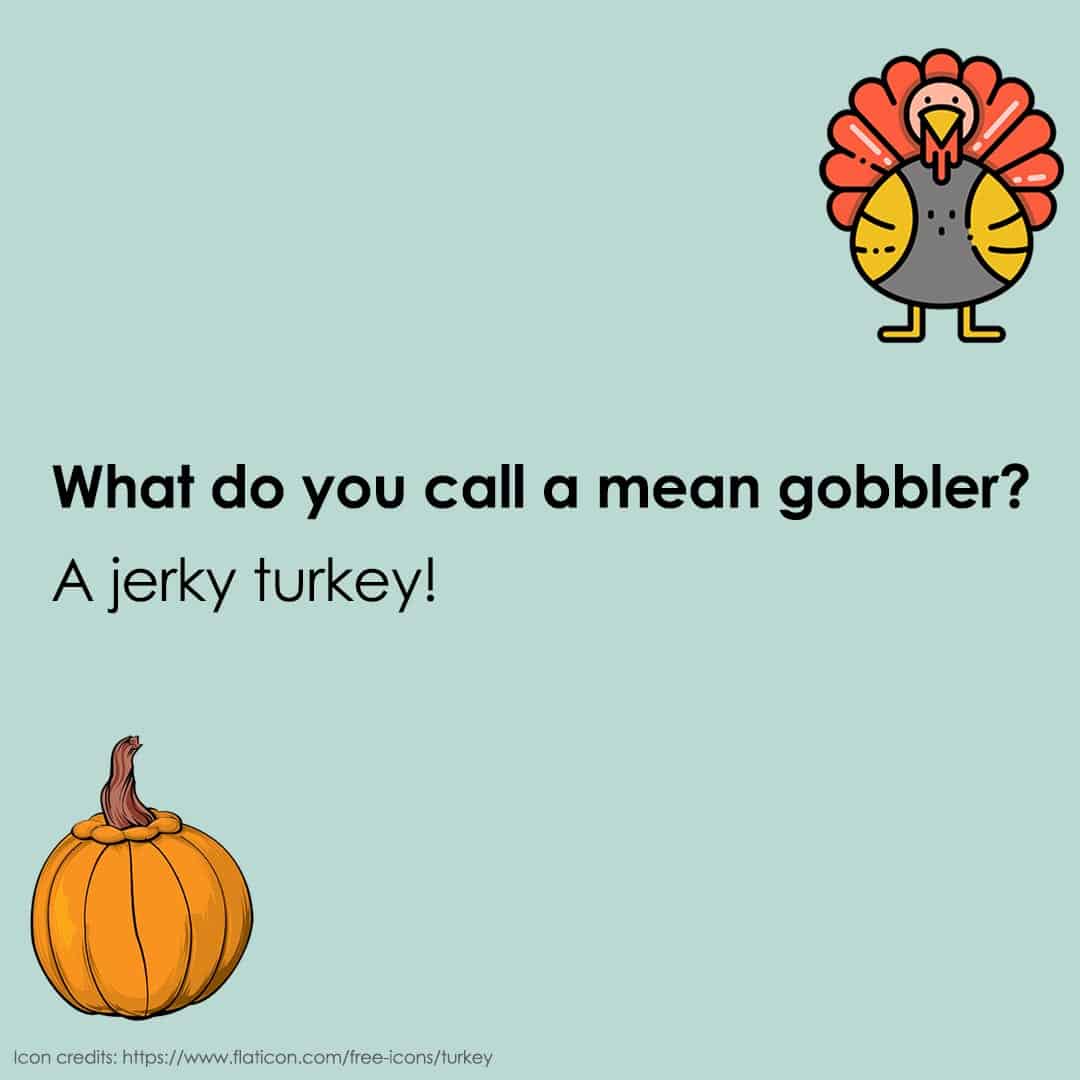 20. What do you call a running turkey?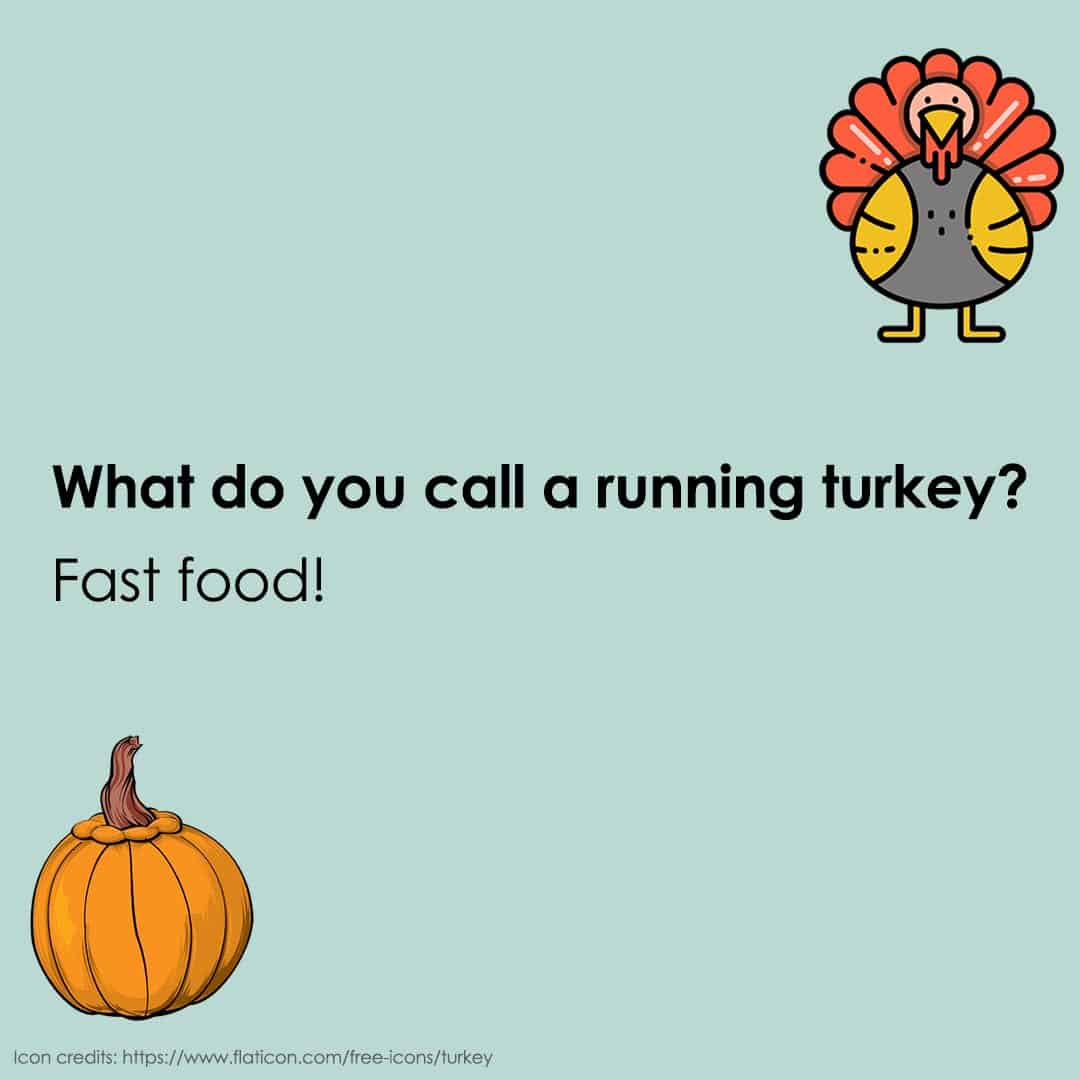 21. Who was the turkey grateful for at Thanksgiving?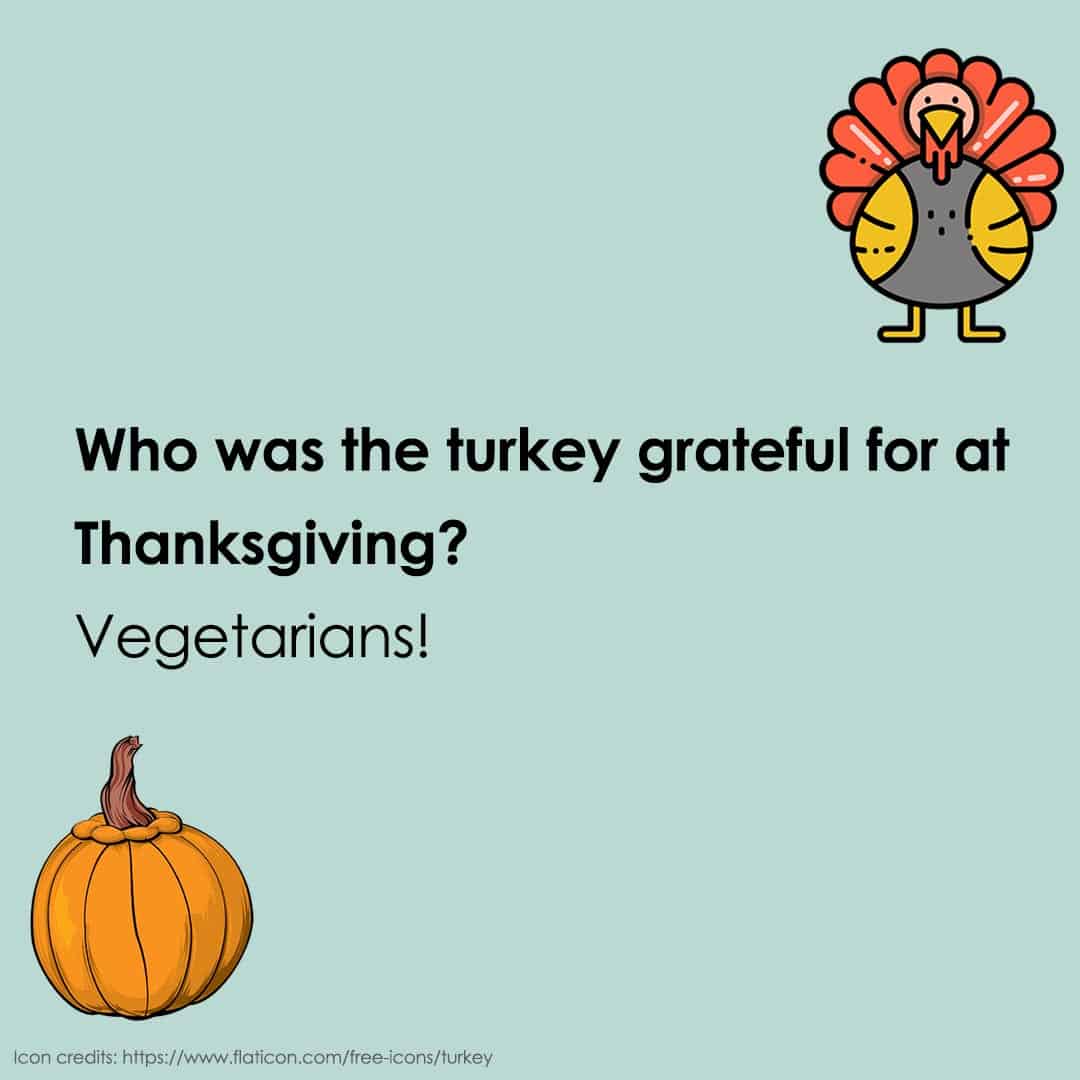 22. What is it called when it rains turkeys?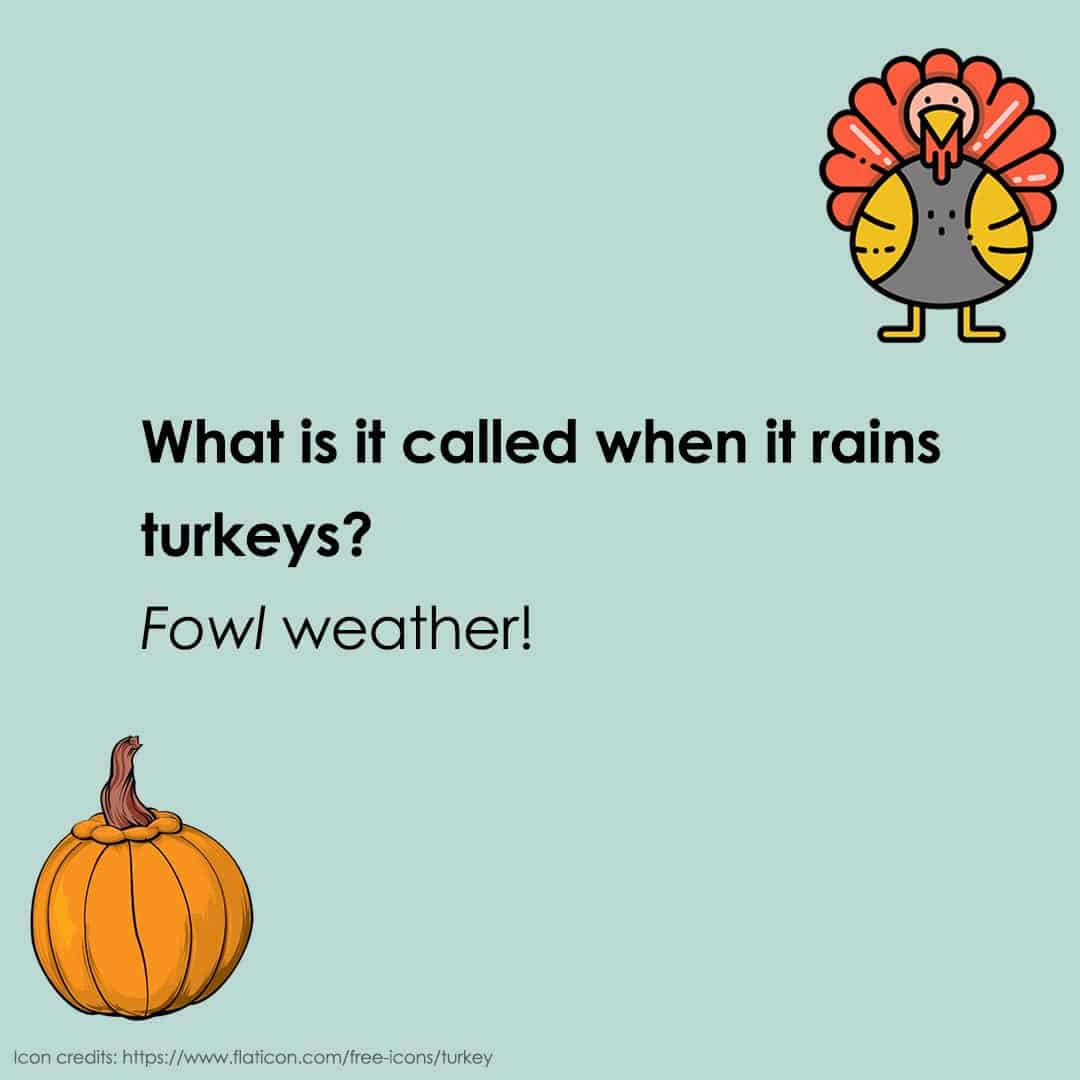 23. Why did the turkey get arrested?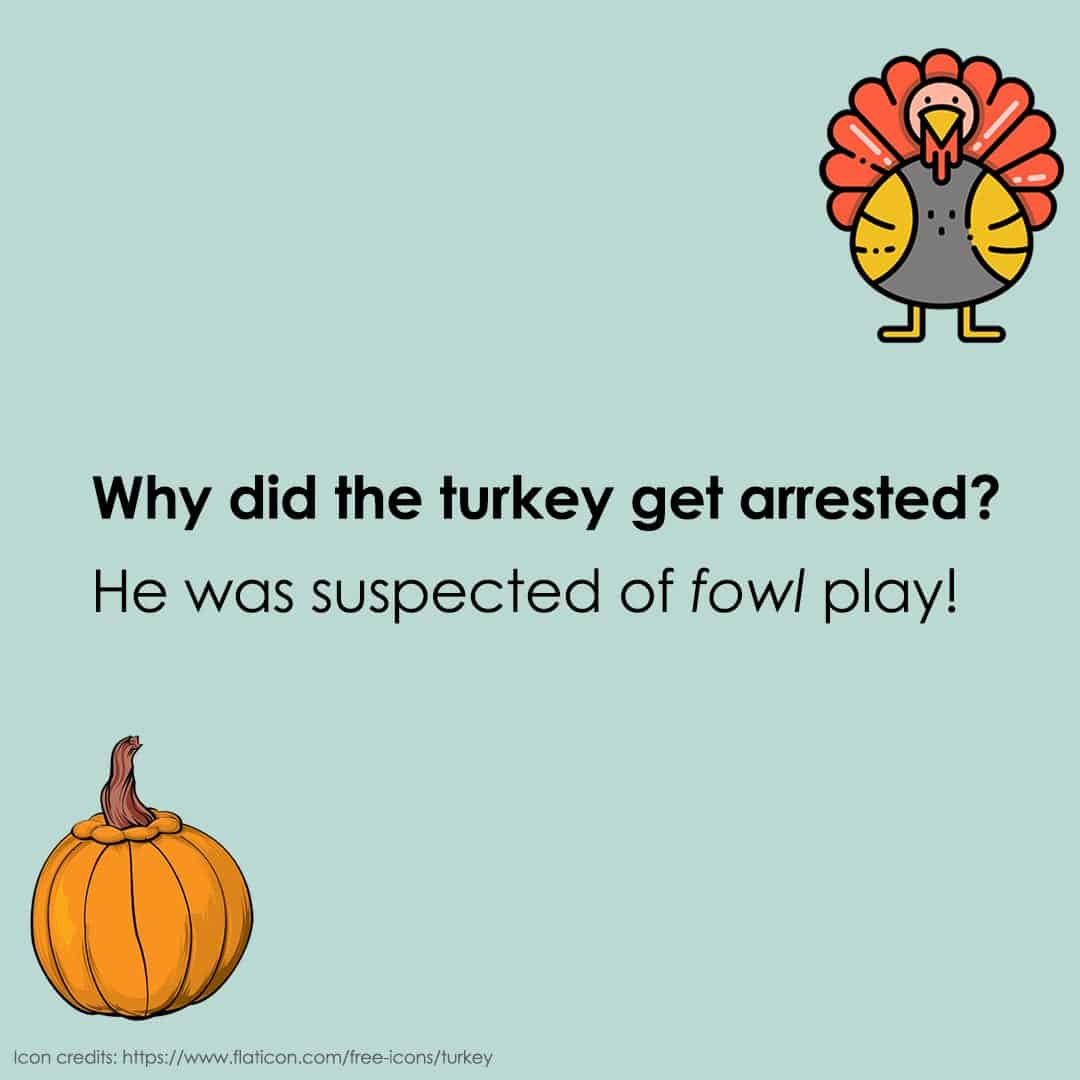 He was suspected of fowl play!
24. What would a turkey be called the day after Thanksgiving?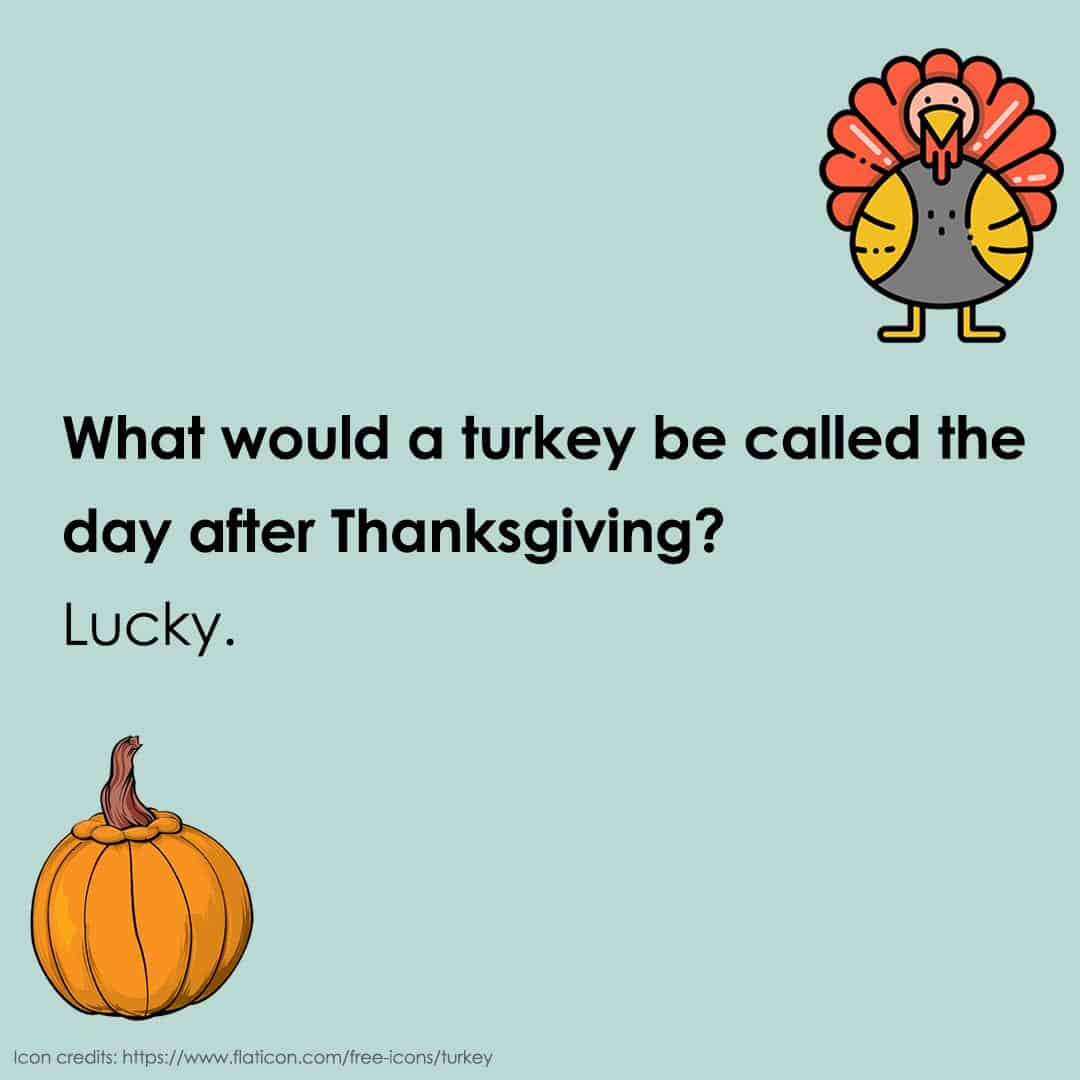 Around Thanksgiving, many children are taught about the Pilgrims traveling to America from Europe. Children who are learning about the Pilgrims' journey will enjoy these jokes and puns based on these stories!
1. Why didn't the pilgrims tell secrets in cornfields?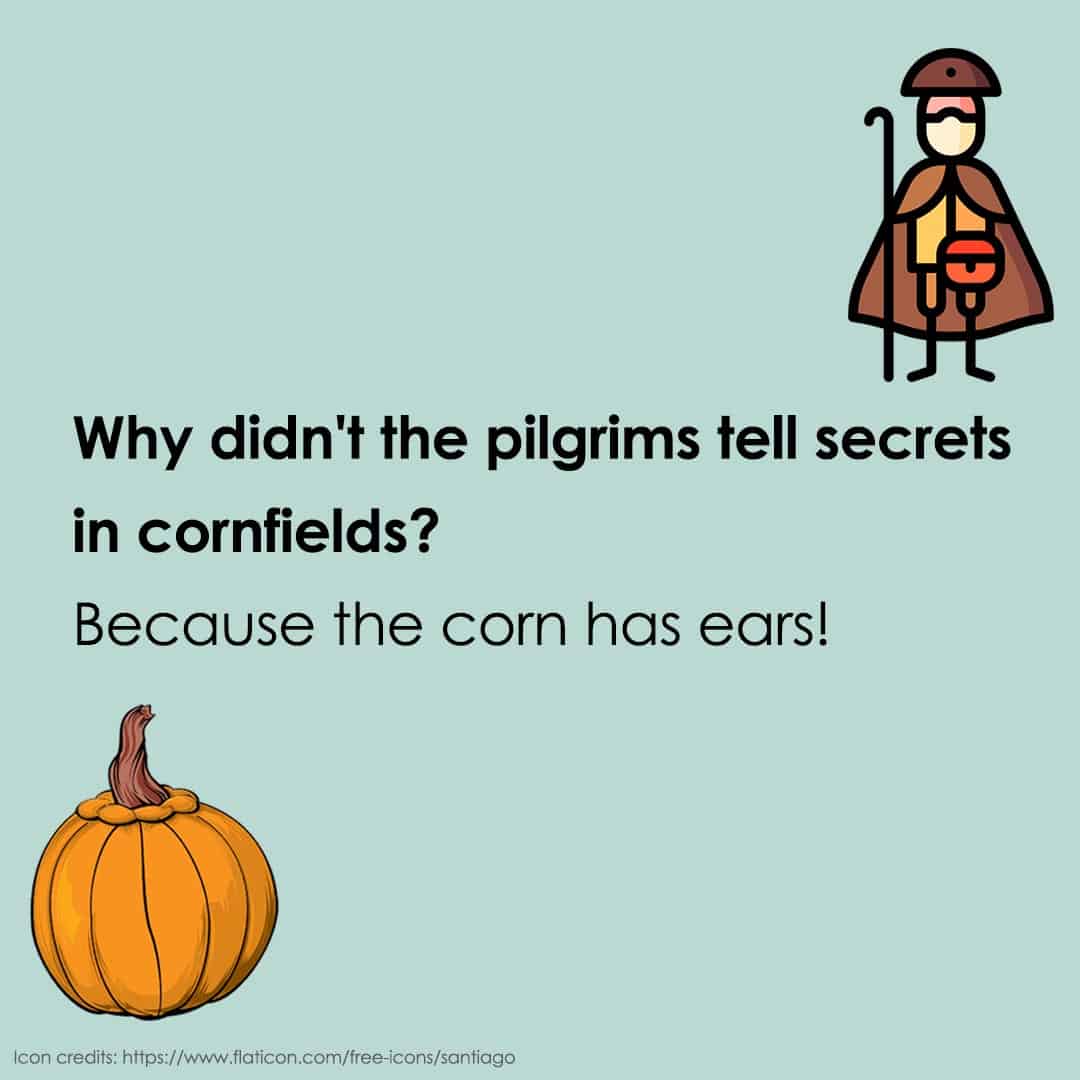 Because the corn has ears!
2. Why didn't the Pilgrim want to make the bread?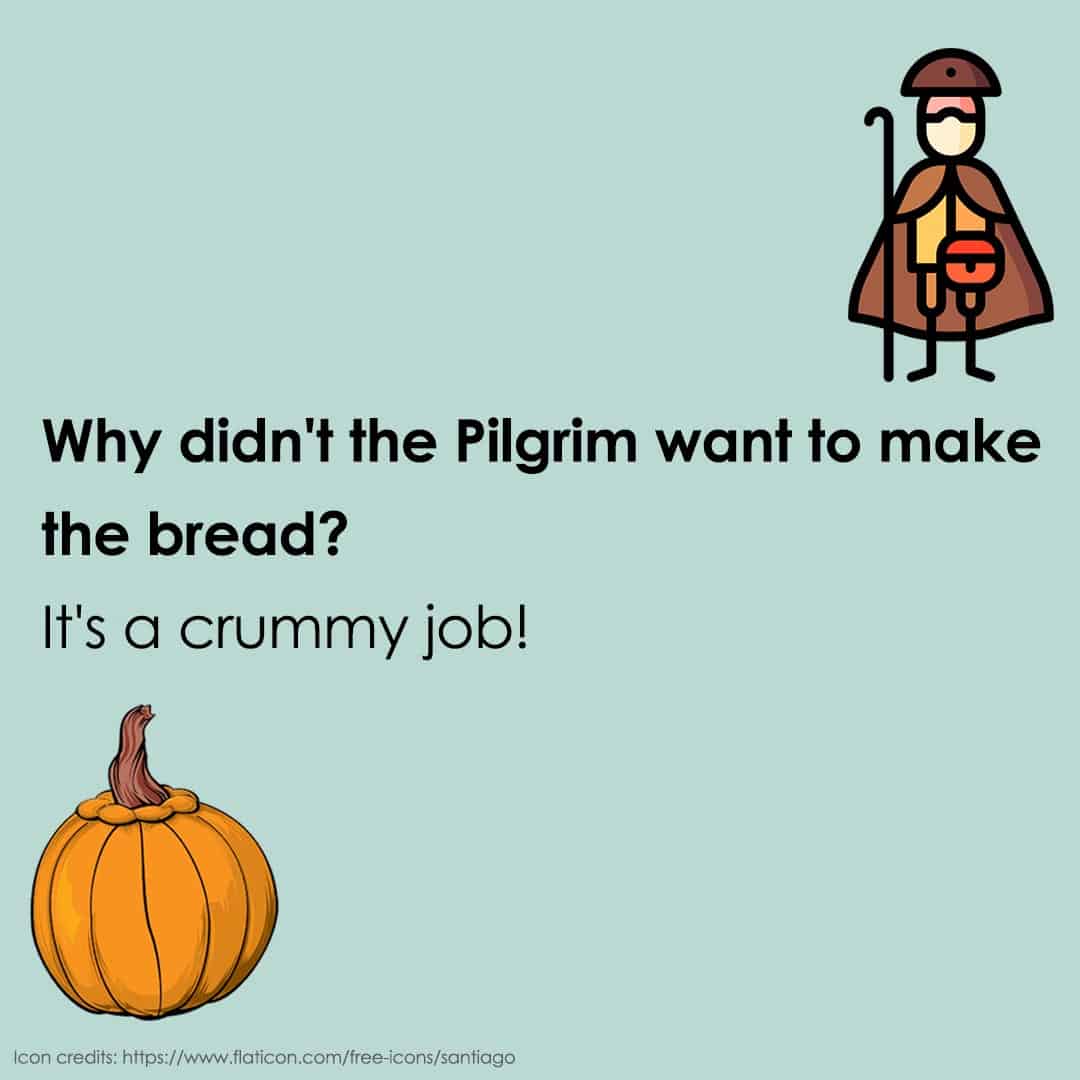 3. What was the pilgrim's favorite type of music?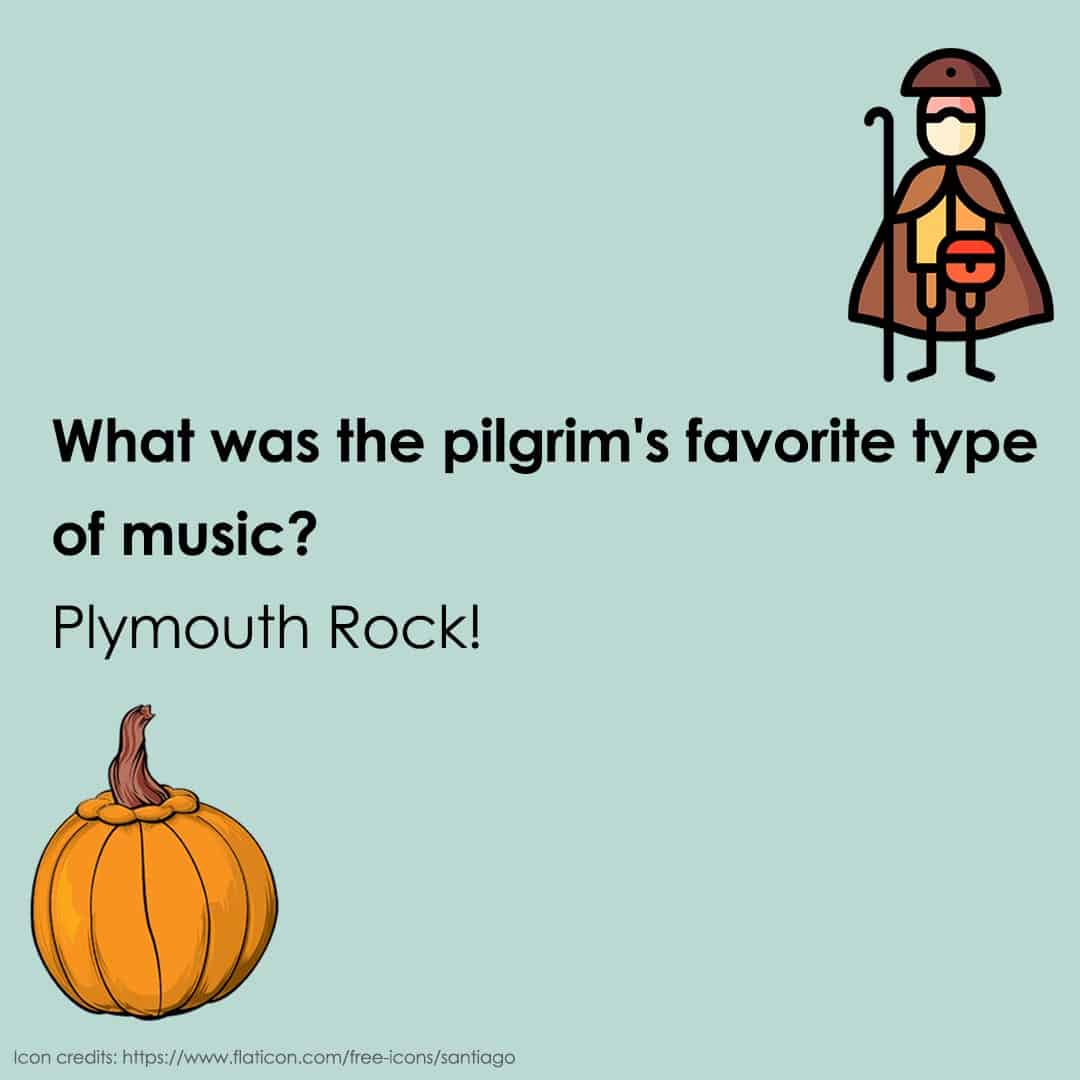 4. What kind of cars would Pilgrims drive today?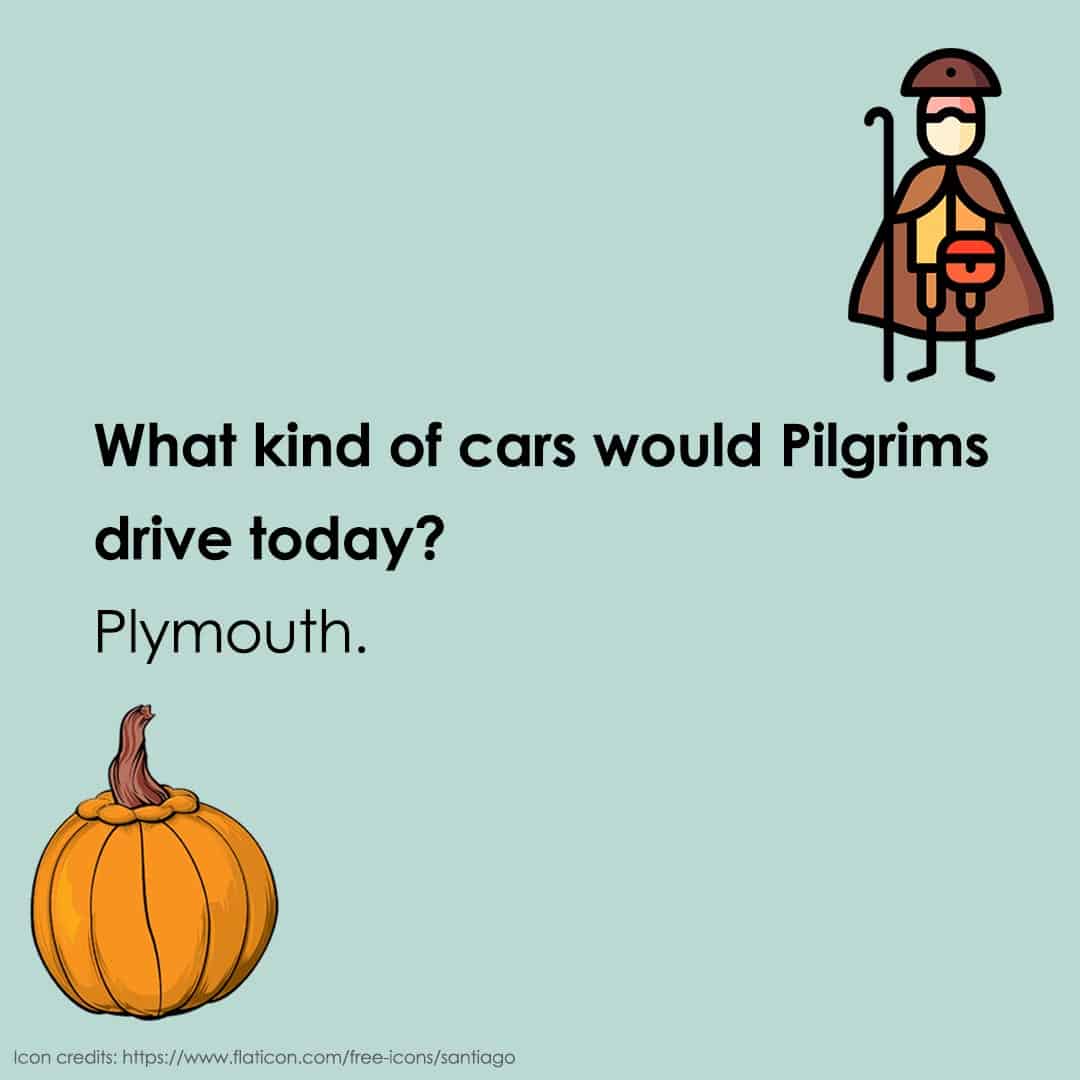 5. If April showers bring May flowers, what do May flowers bring?
6. When the Pilgrims landed, where did they stand?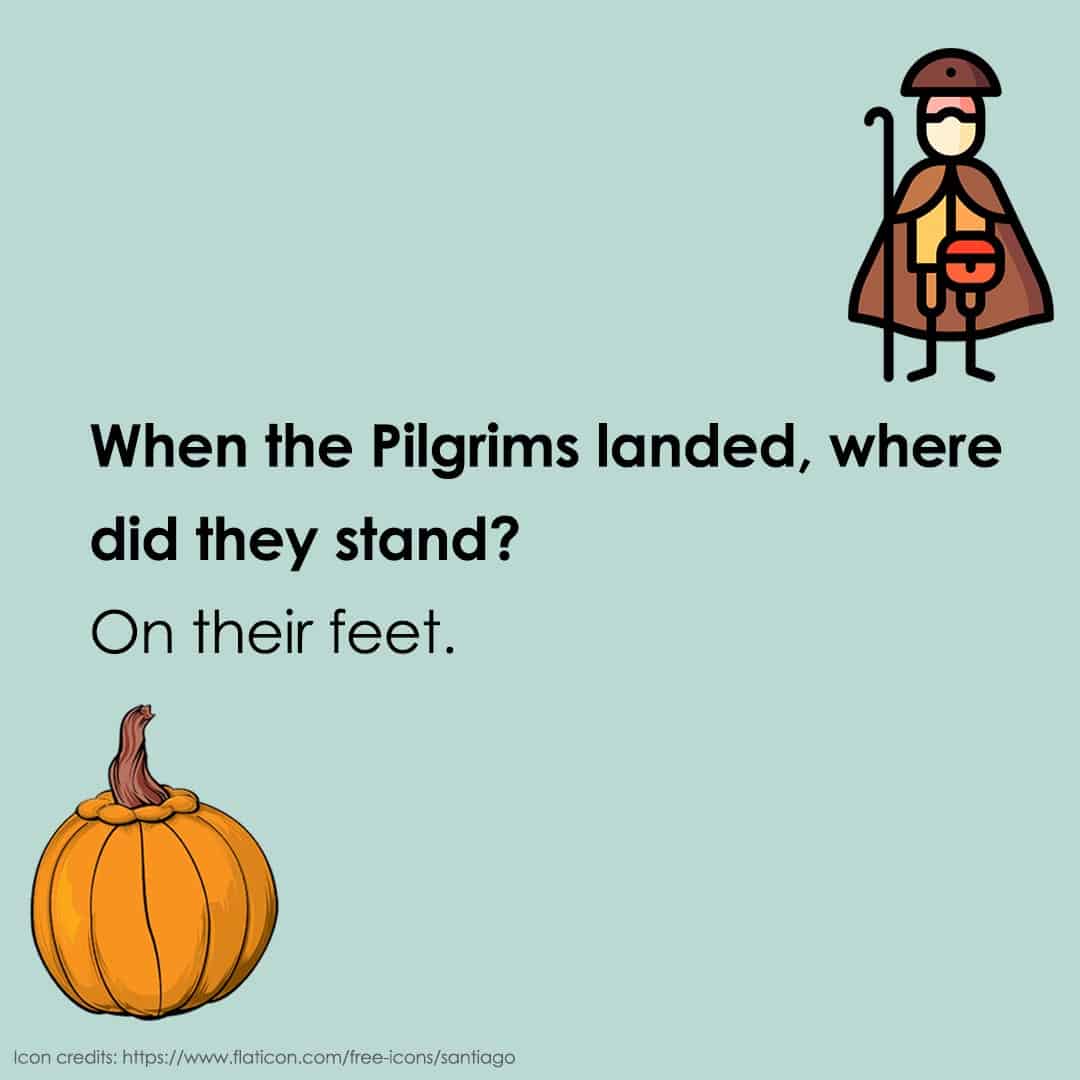 7. What English classes did the Pilgrims have?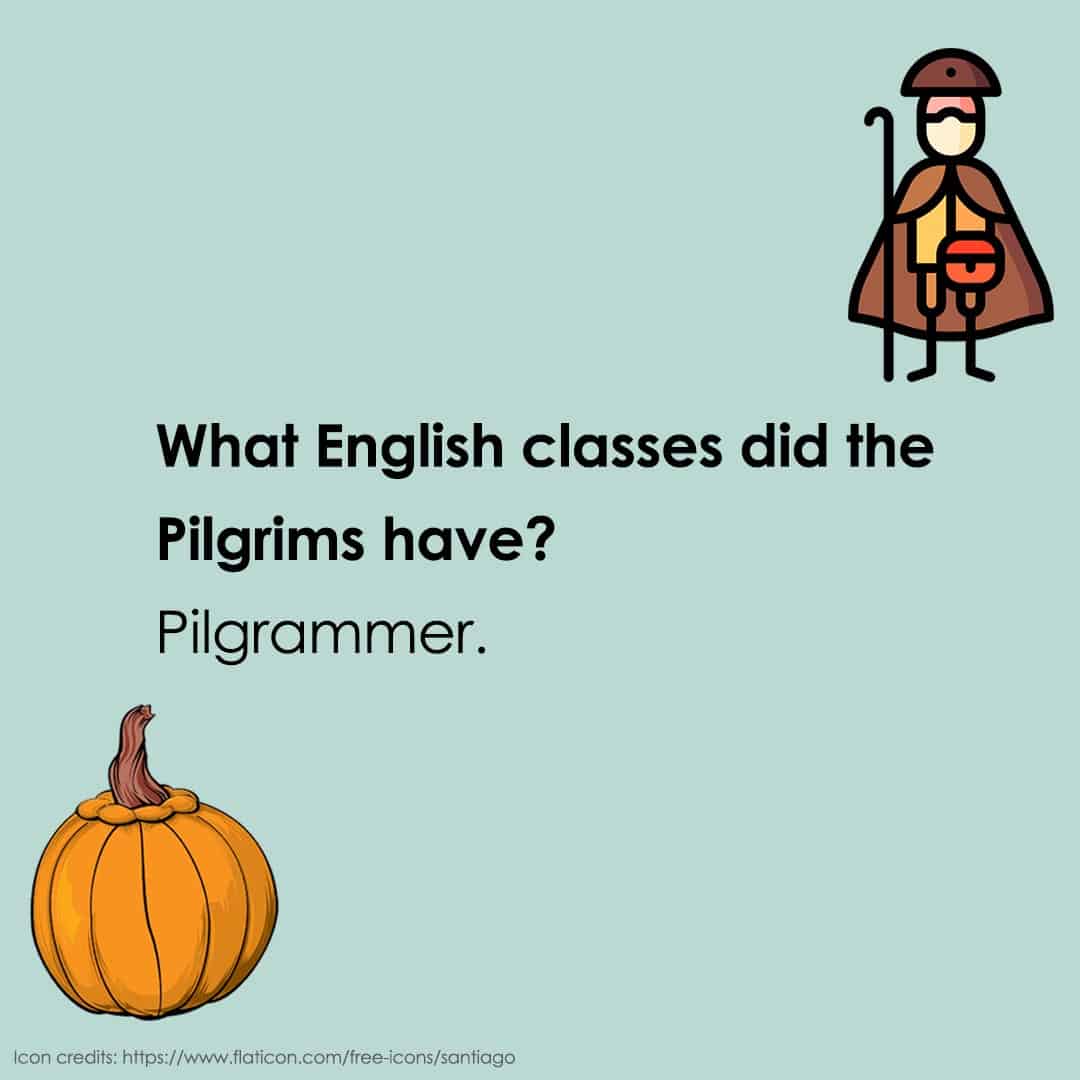 8. If the Pilgrims traveled on the Mayflower, what do college students travel on?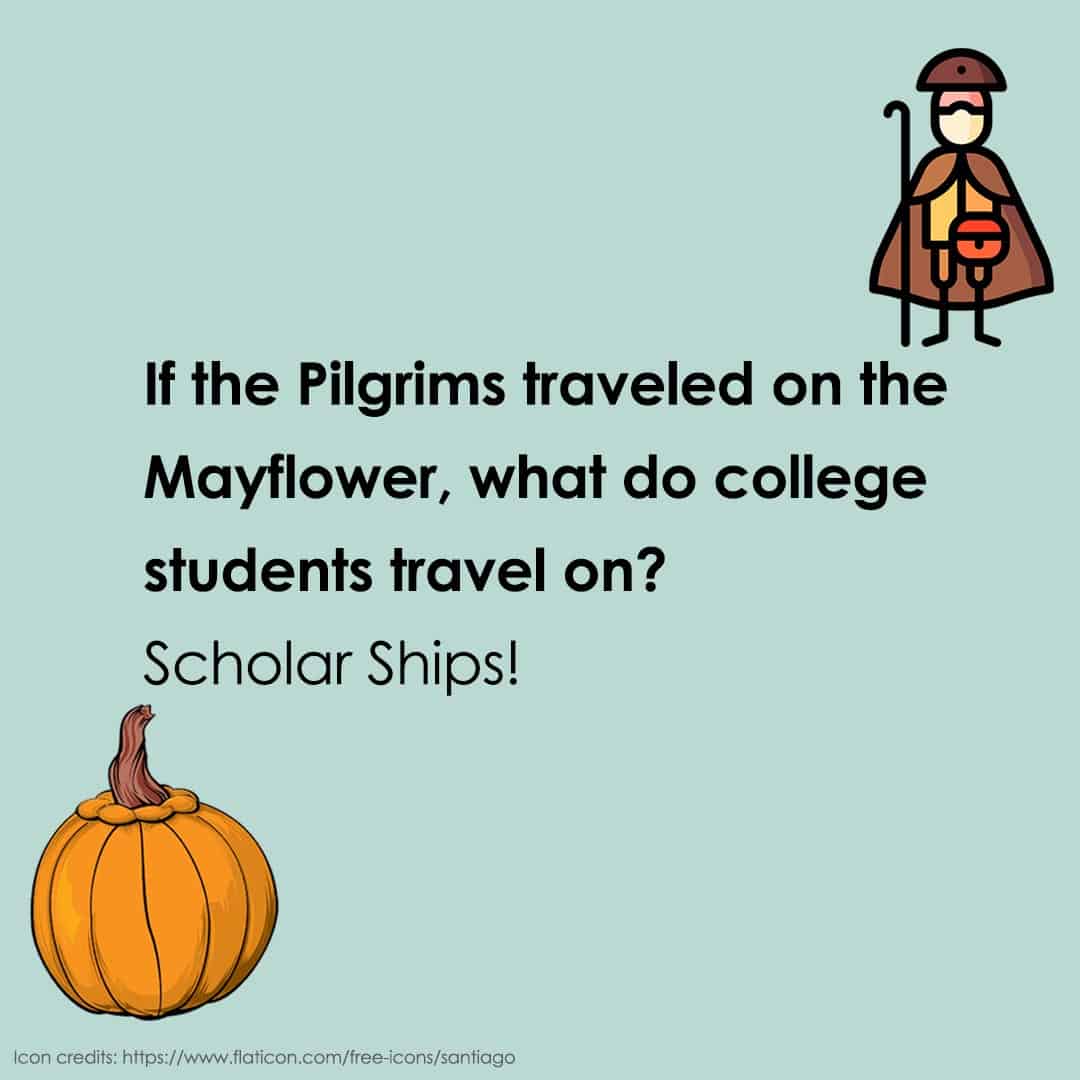 9. What is a Pilgrim's grandmother called?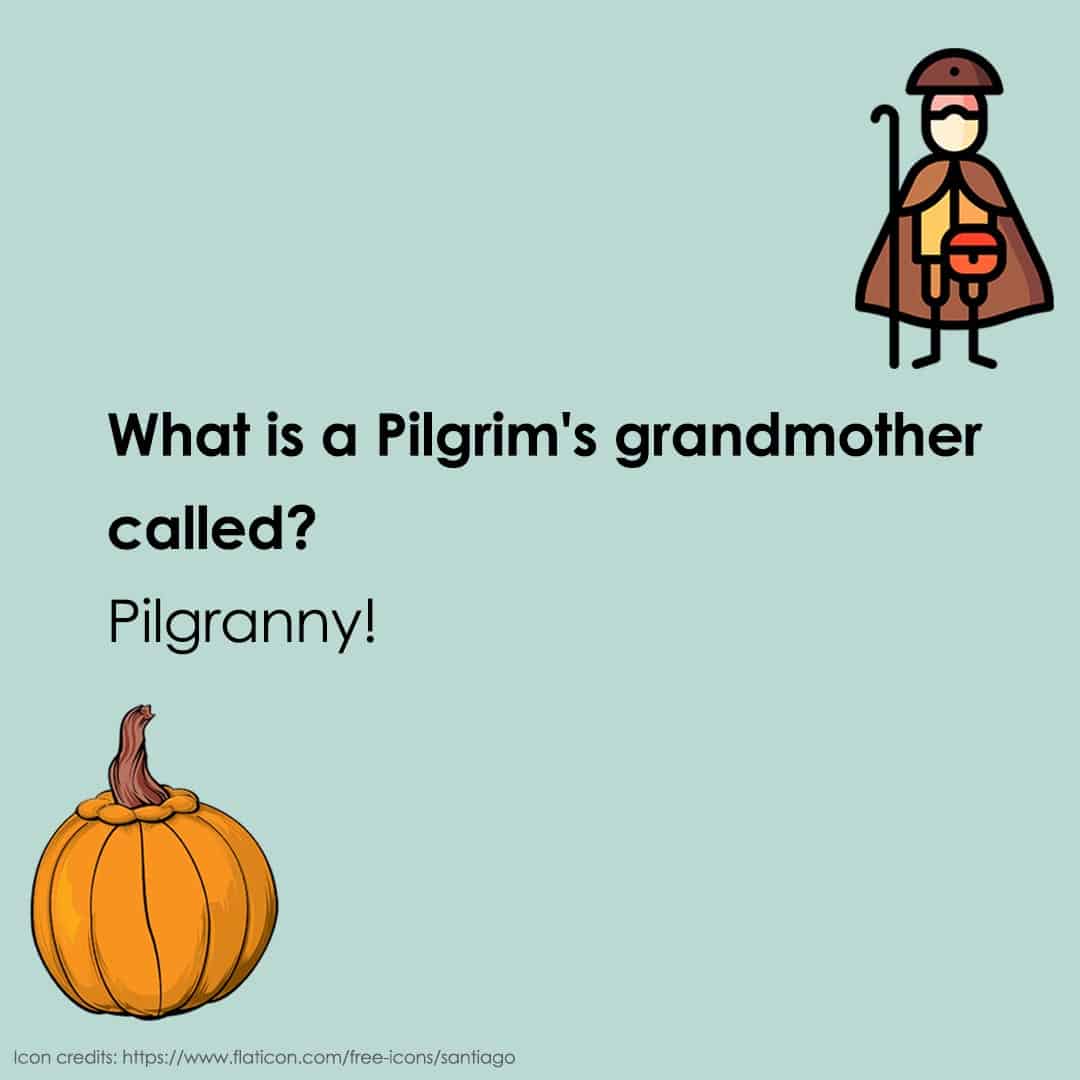 10. What do you get when you cross a Pilgrim with a cracker?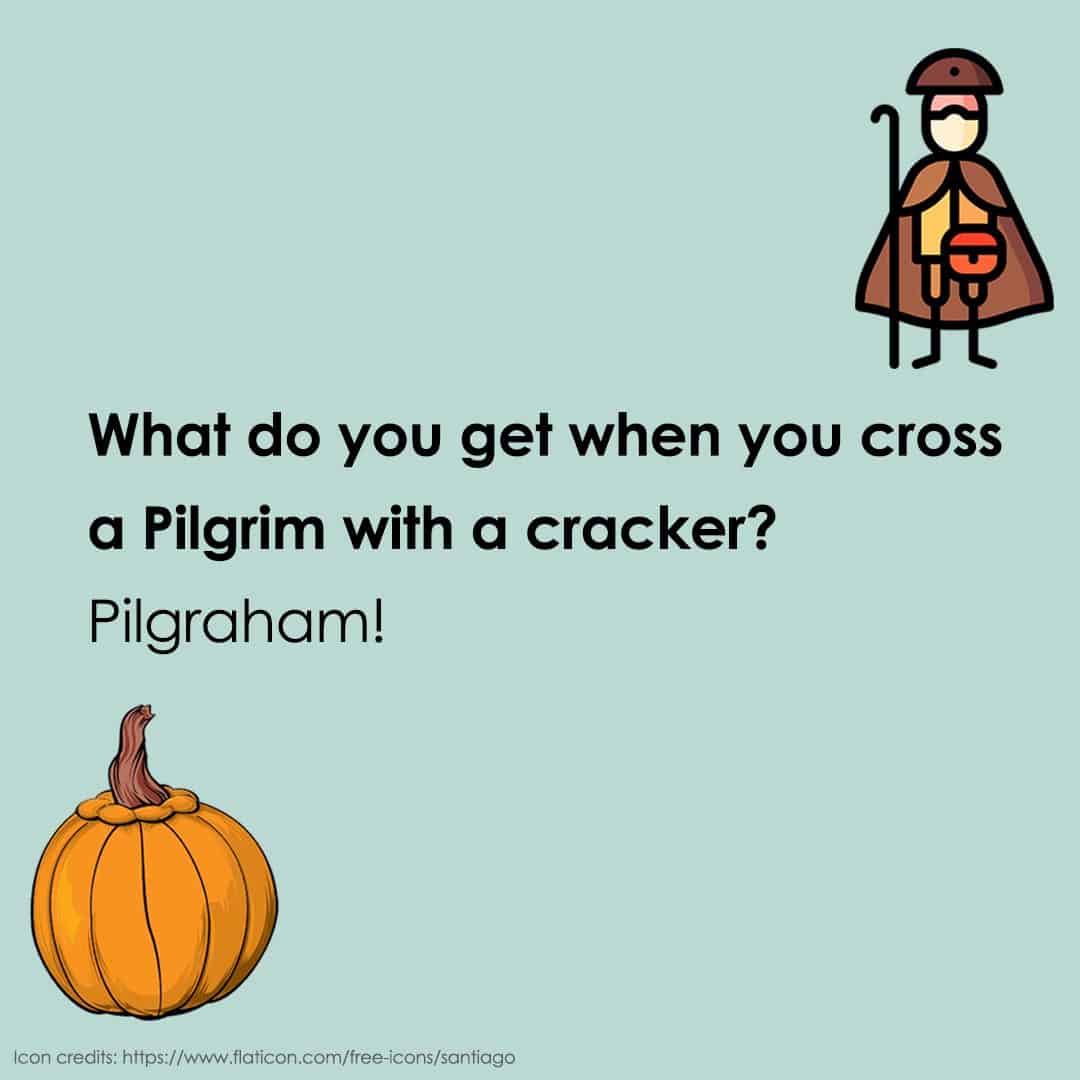 11. What is the smallest unit of measurement in the Pilgrim's cookbook?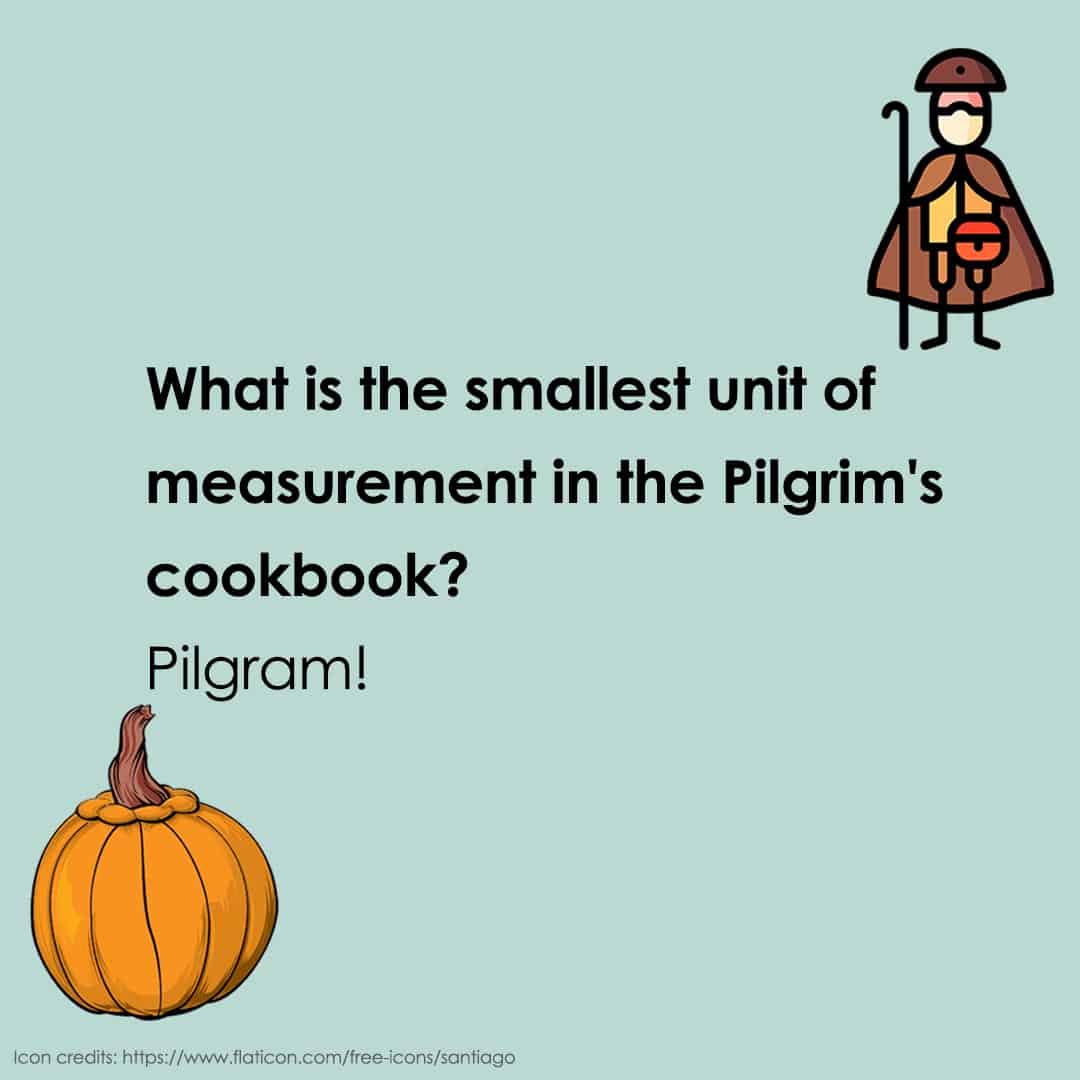 Jokes for the Dinner Table
There are many popular foods for Thanksgiving. Many families have potatoes, cranberry sauce, and even a plate of vegetables alongside their Thanksgiving turkey. These food jokes are sure to leave you with plenty of leftovers after the full belly laughs throughout dinner and dessert.
1. What do you call a turkey without feathers?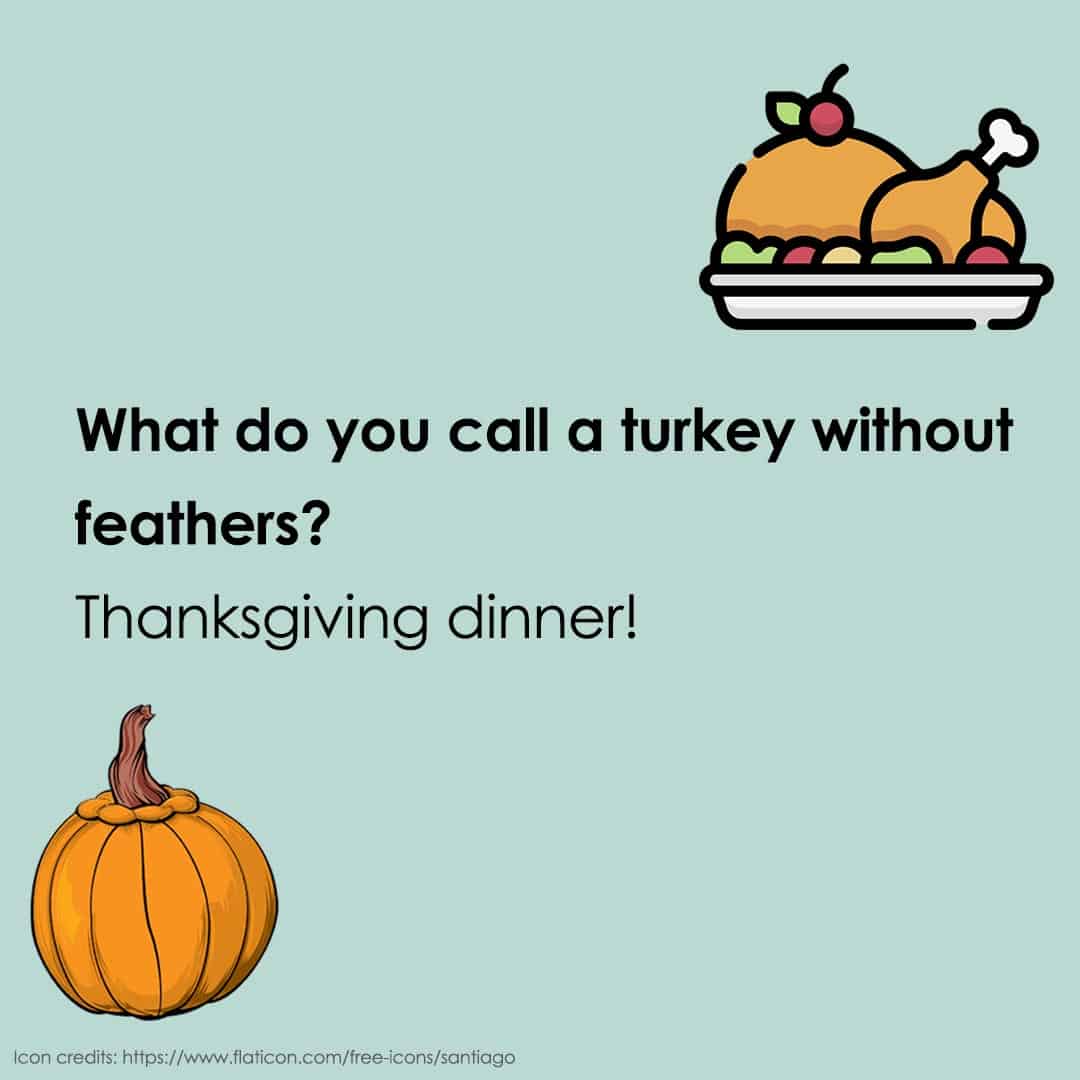 2. What should you wear to Thanksgiving dinner?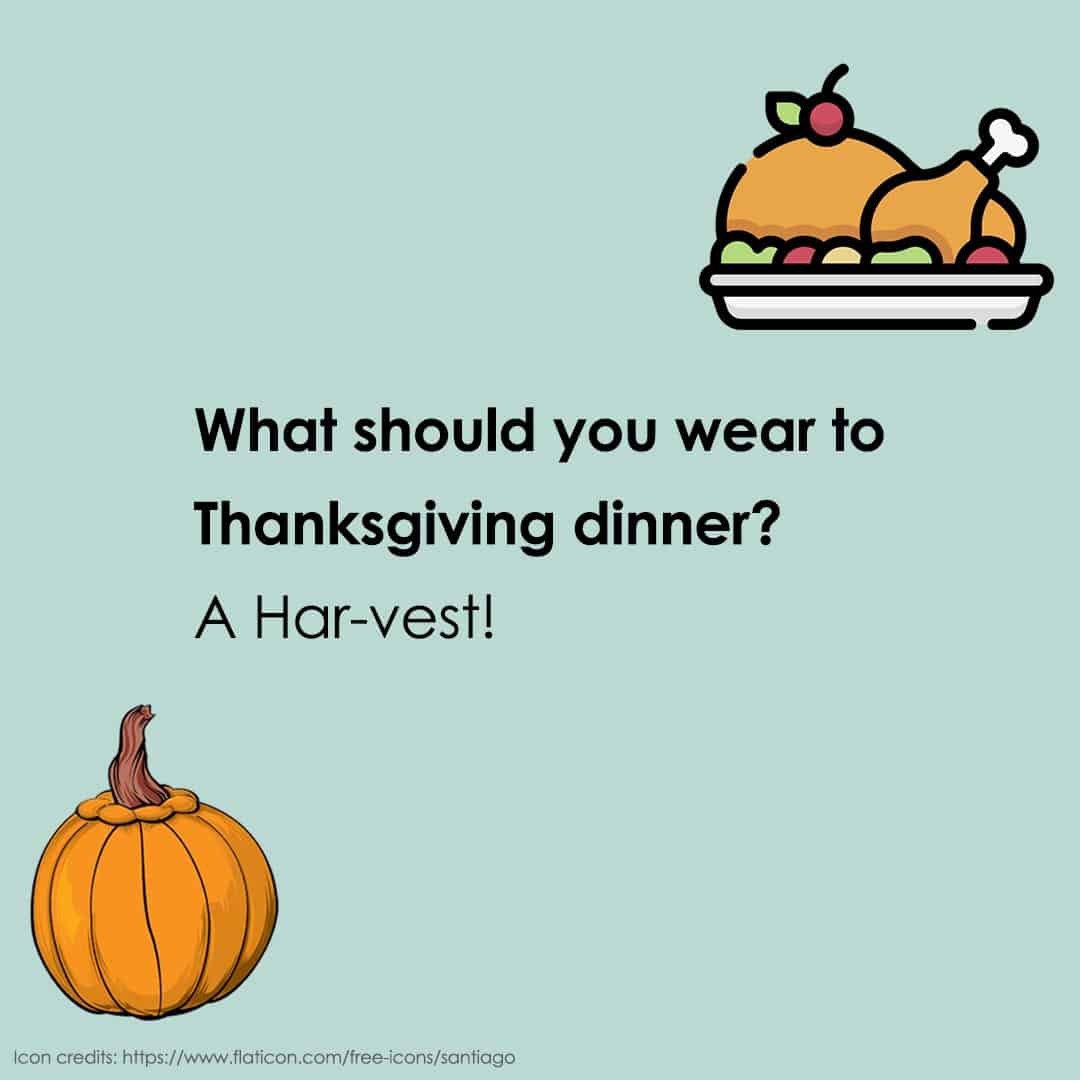 3. What can you never eat at Thanksgiving dinner?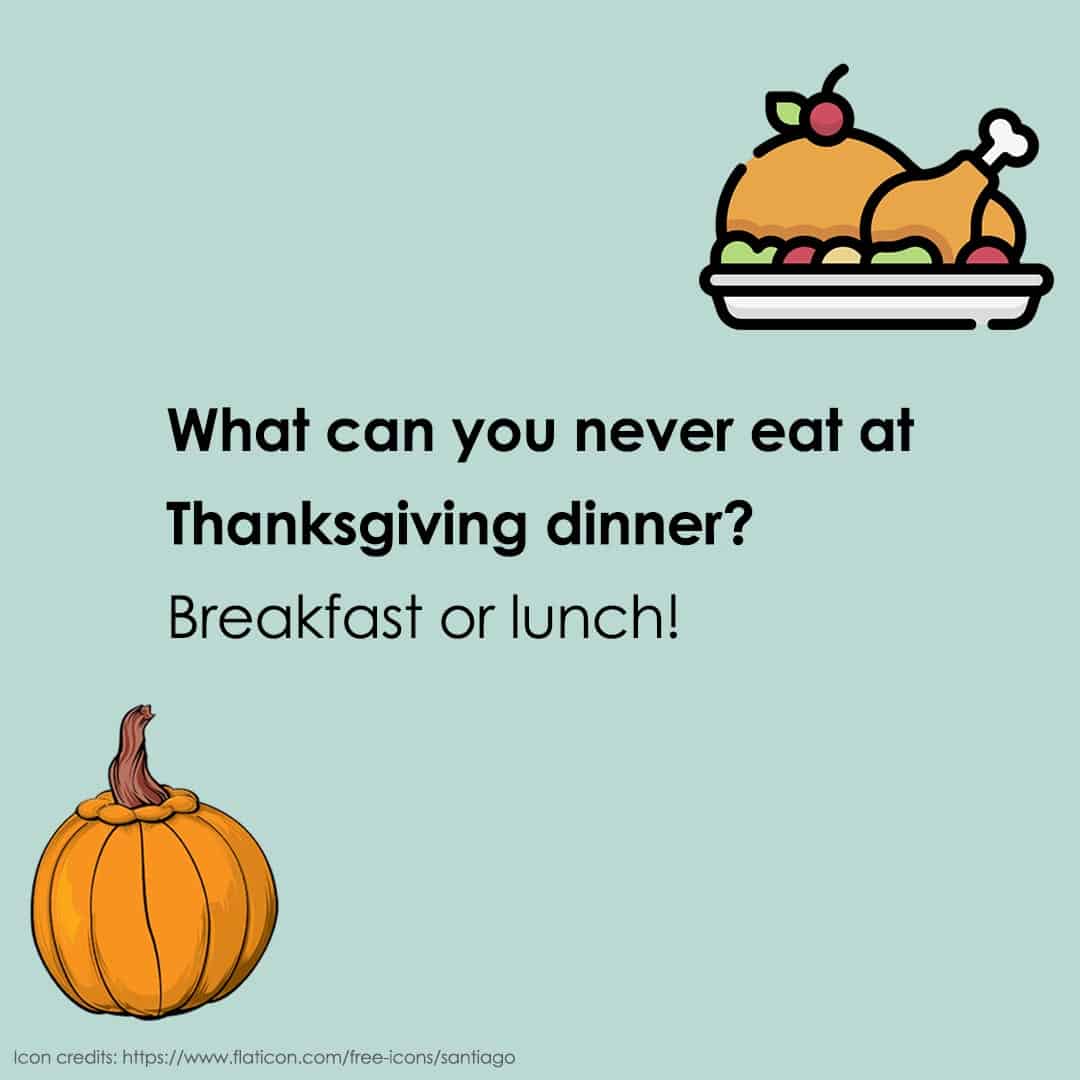 4. What kind of potatoes say oui-oui-buzz-buzz? 
5. What would the turkey say to the butter who kept making jokes?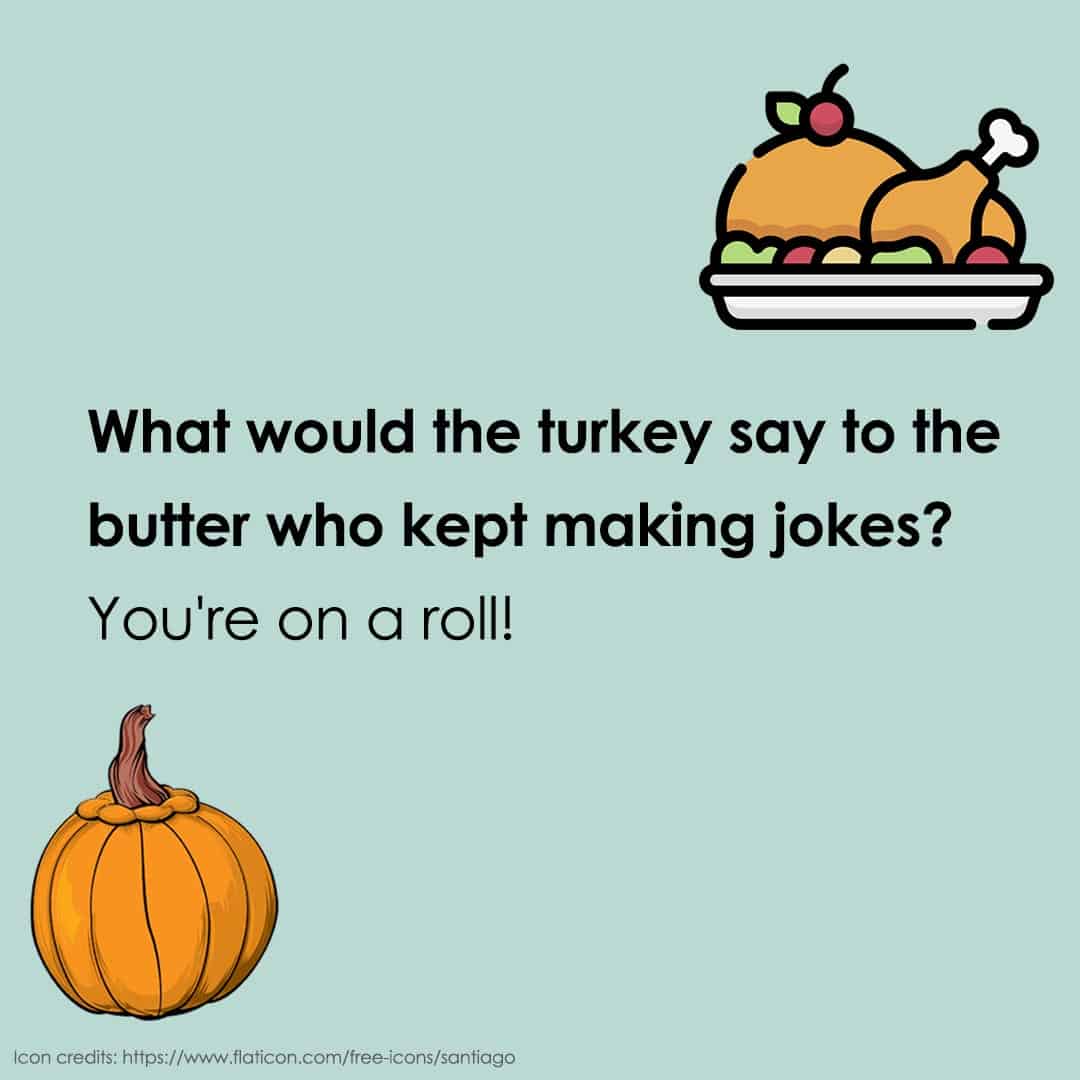 6. Why were the cranberries embarrassed?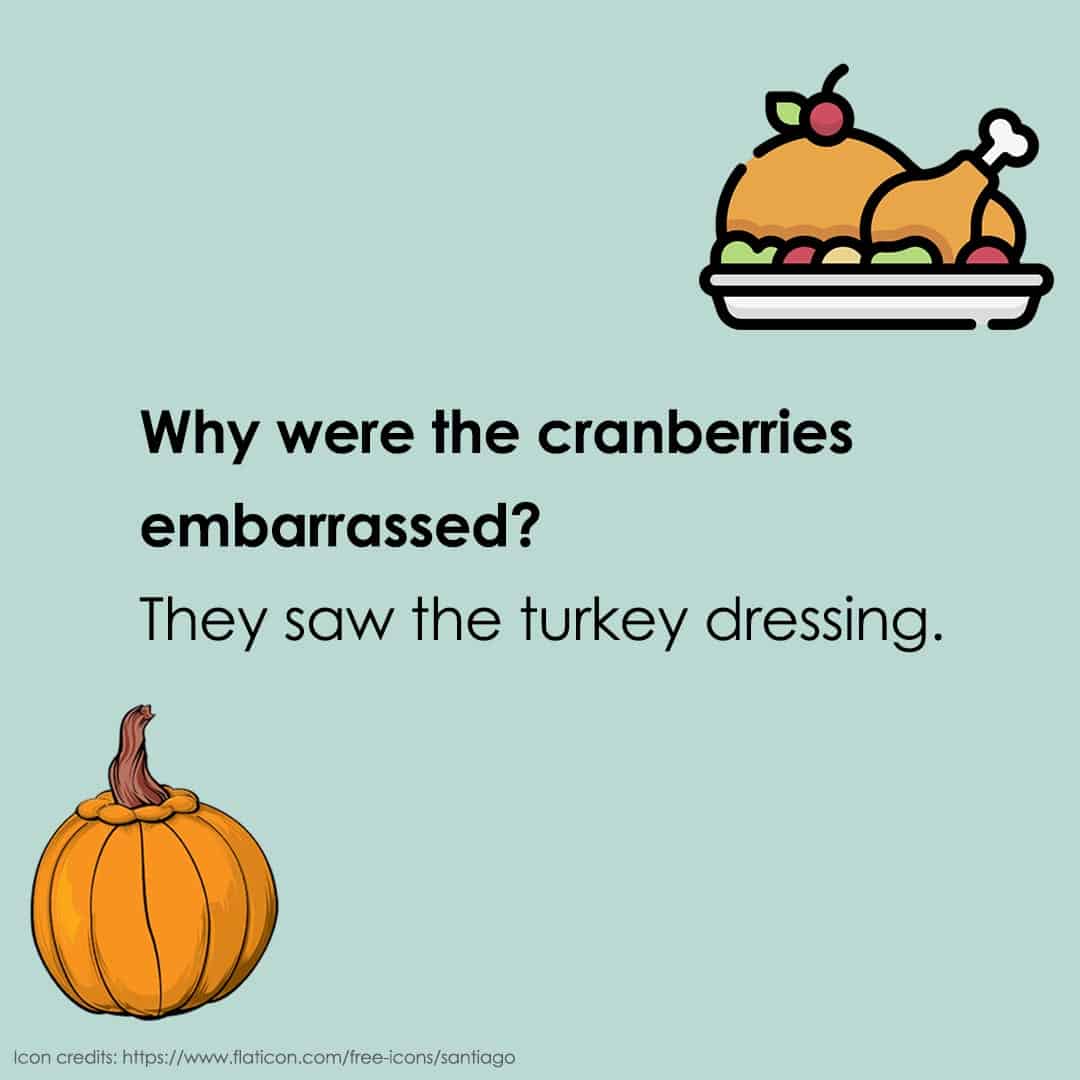 They saw the turkey dressing.
7. Why was the cranberry in the can?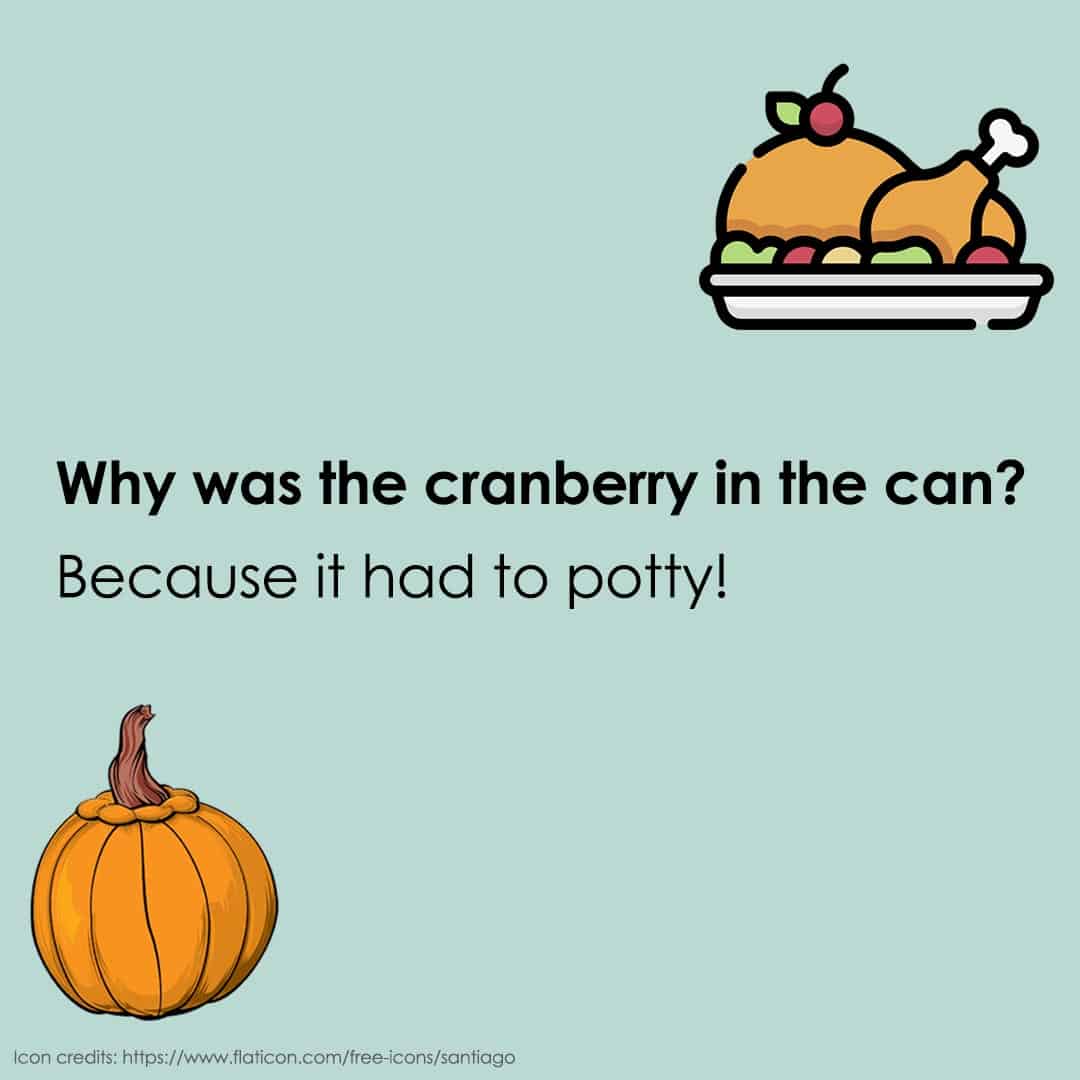 8. What's red, fruity, and washes up on the beach?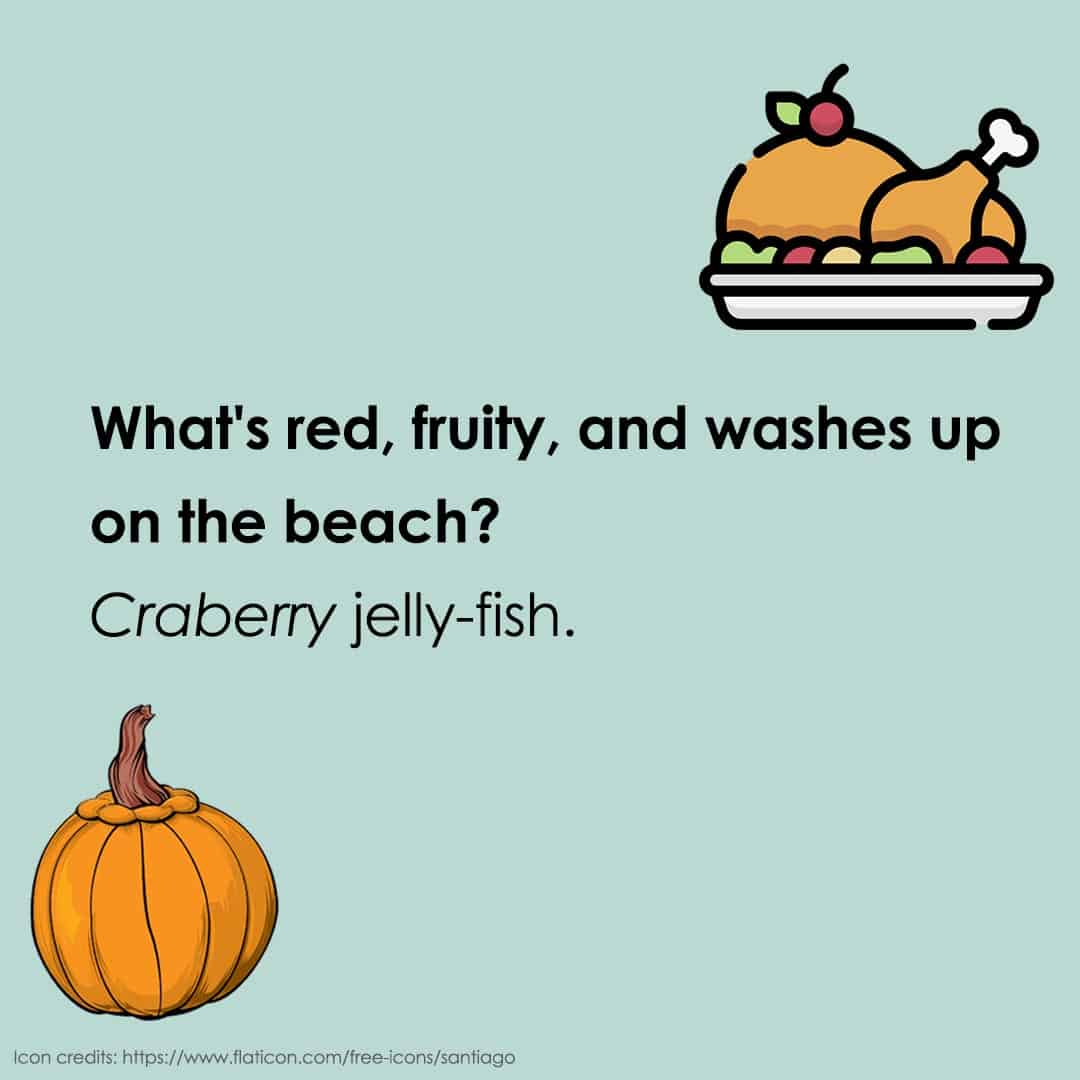 9. Why were the cranberries wet? 
10. What do you call a small glass on Thanksgiving?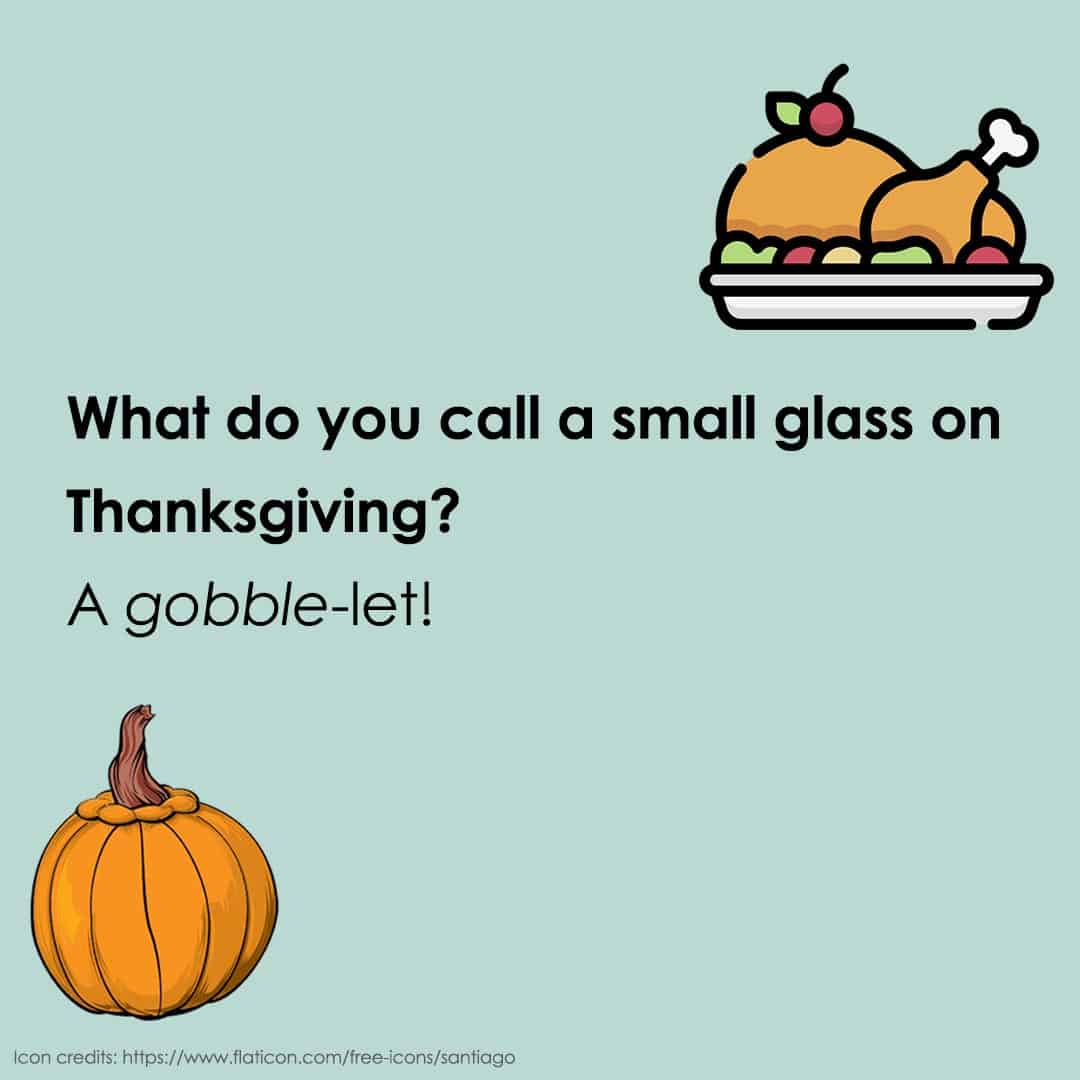 11. What did baby corn ask mama corn?
12. Where did the first corn come from?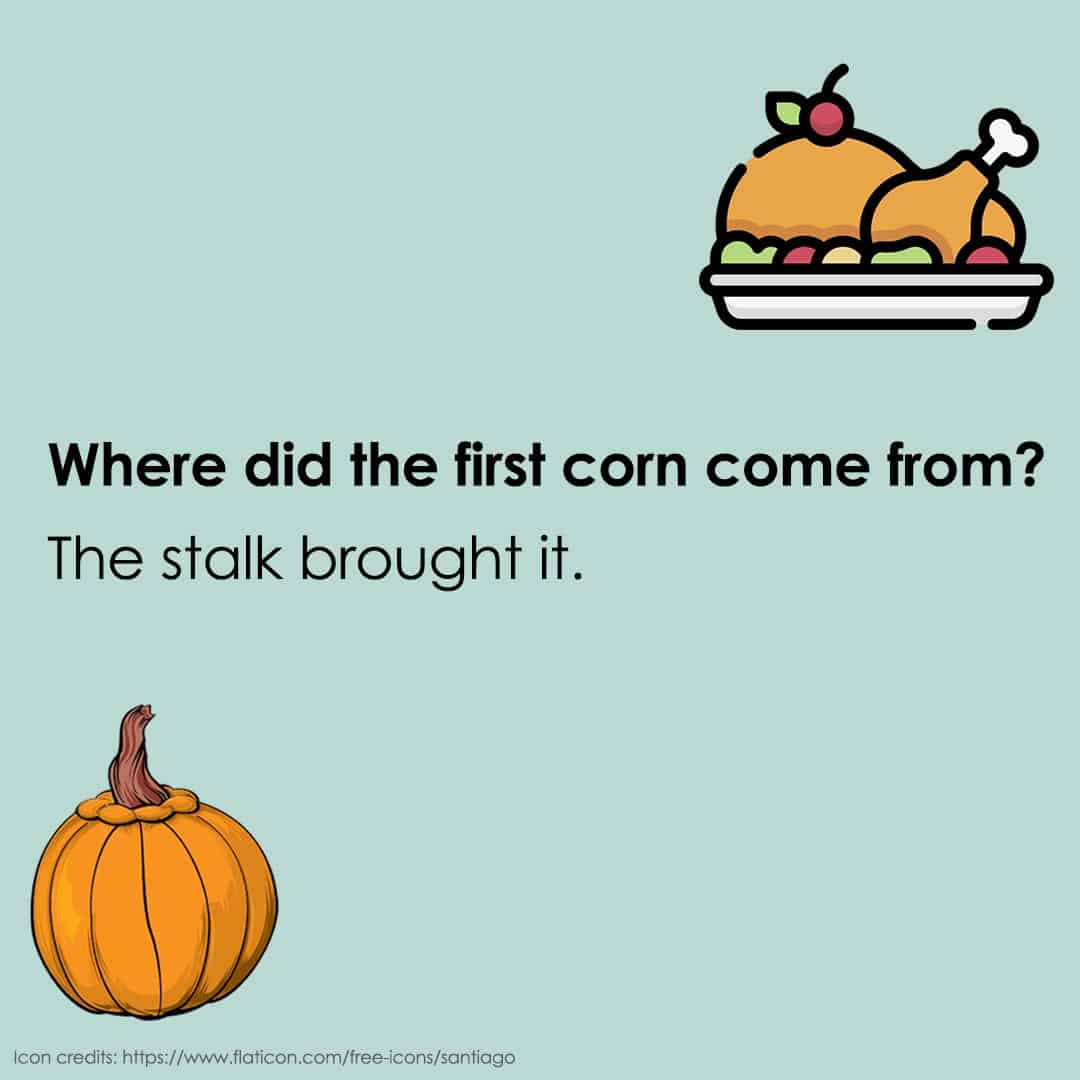 13. How would a sweet potato say when asked if he is hungry?
14. Why should you never eat fish on Thanksgiving?
15. What can you sink into pumpkin pie?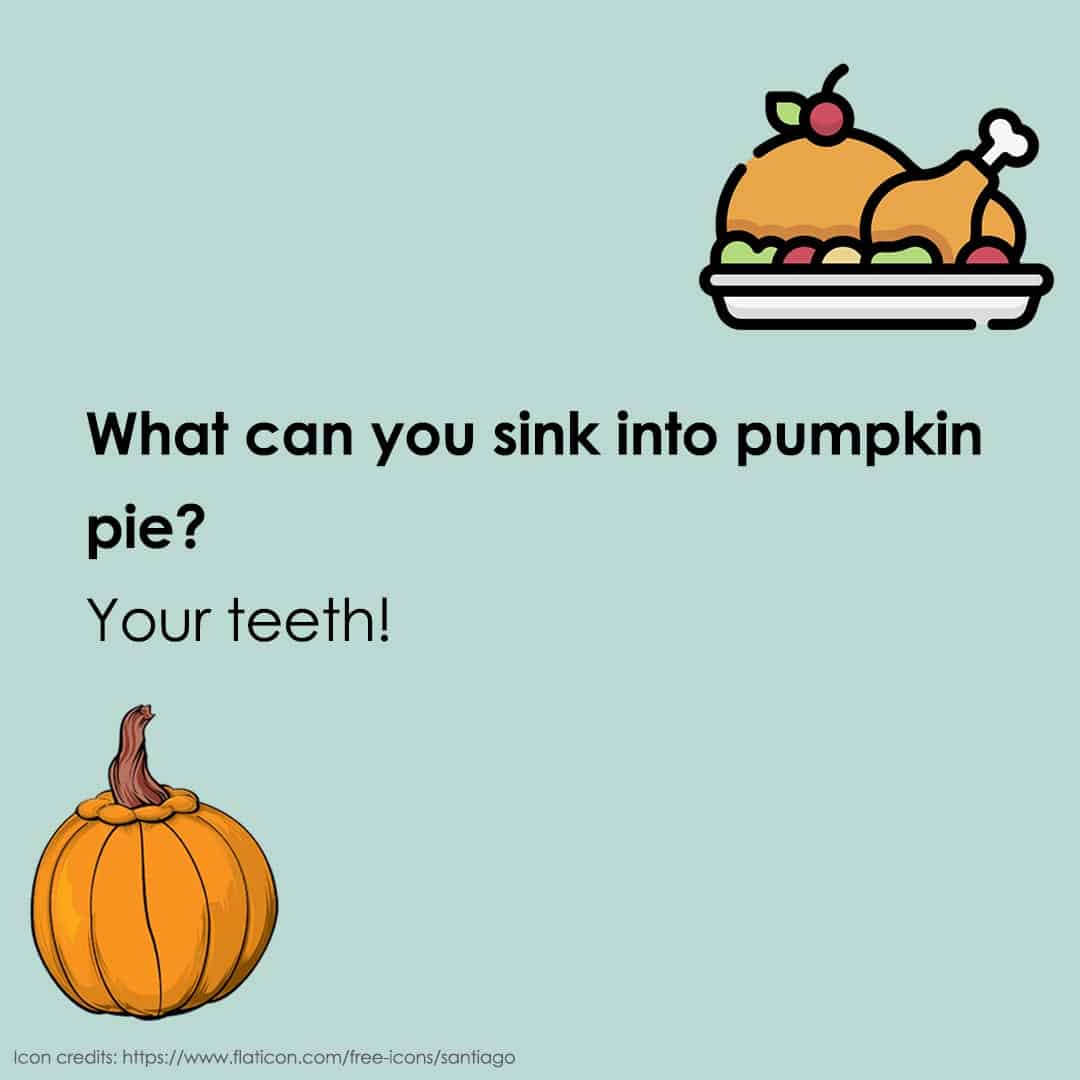 16. What did the pumpkin say after Thanksgiving dinner?
Thanksgiving Knock Knock Jokes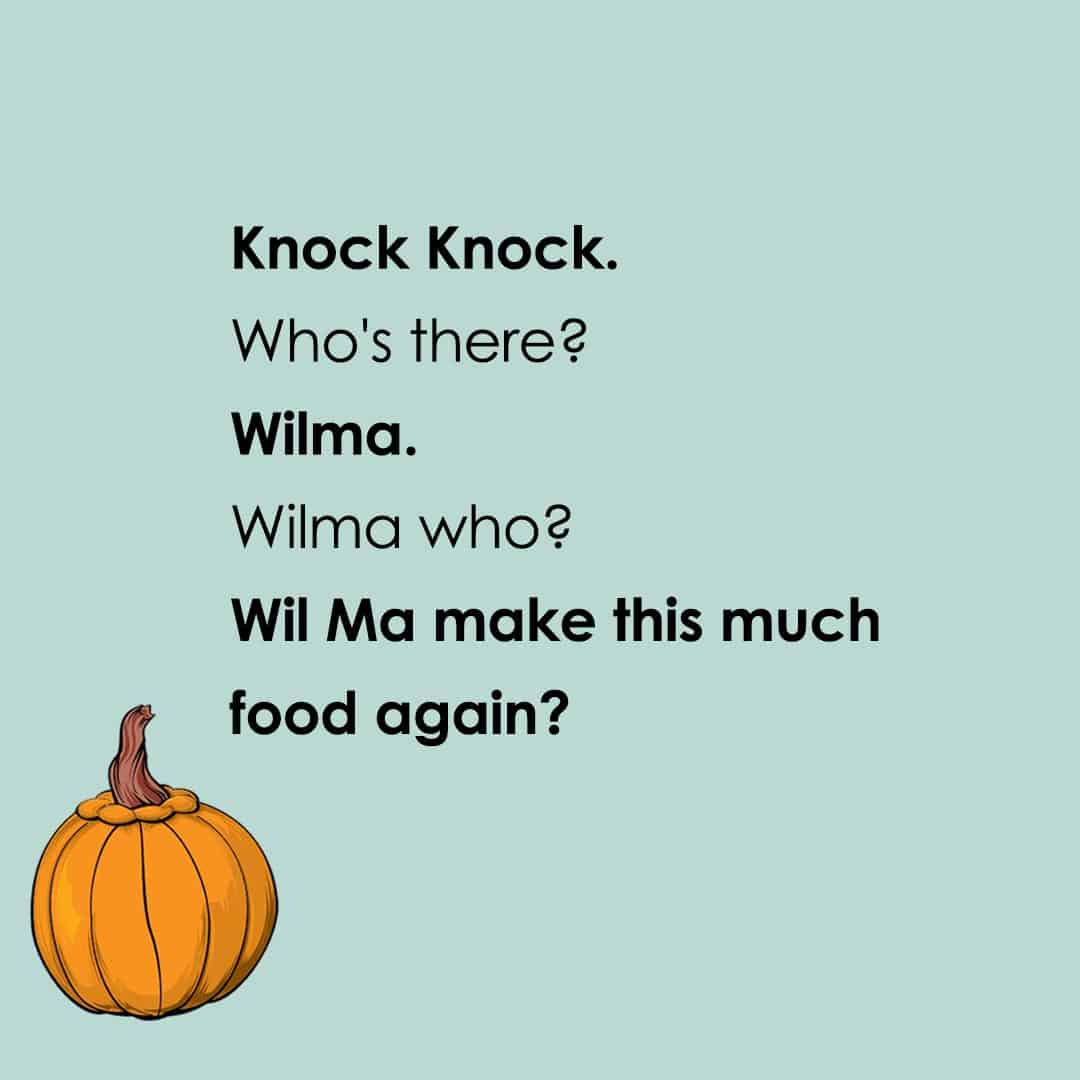 Wil Ma make this much food again?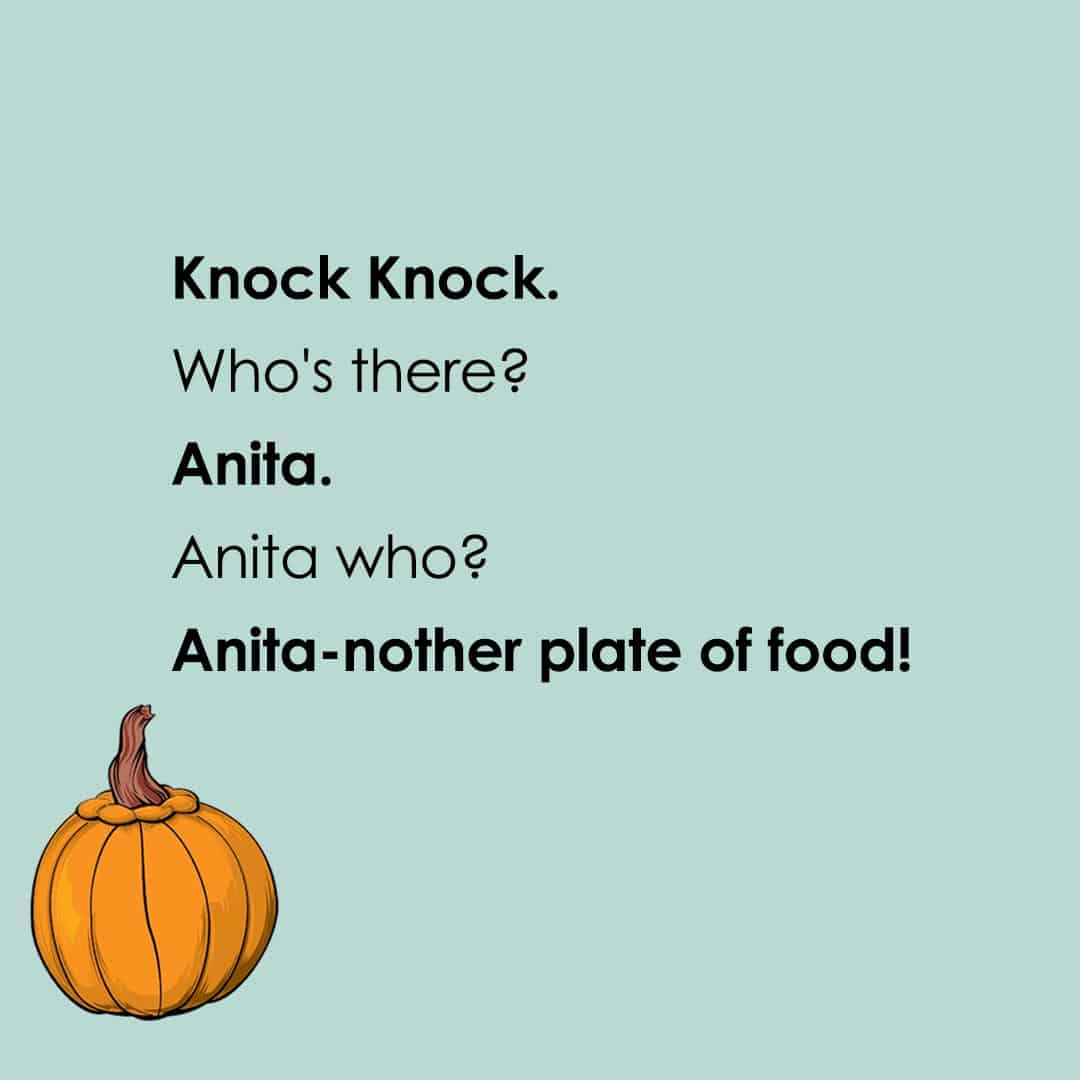 Anita-nother plate of food!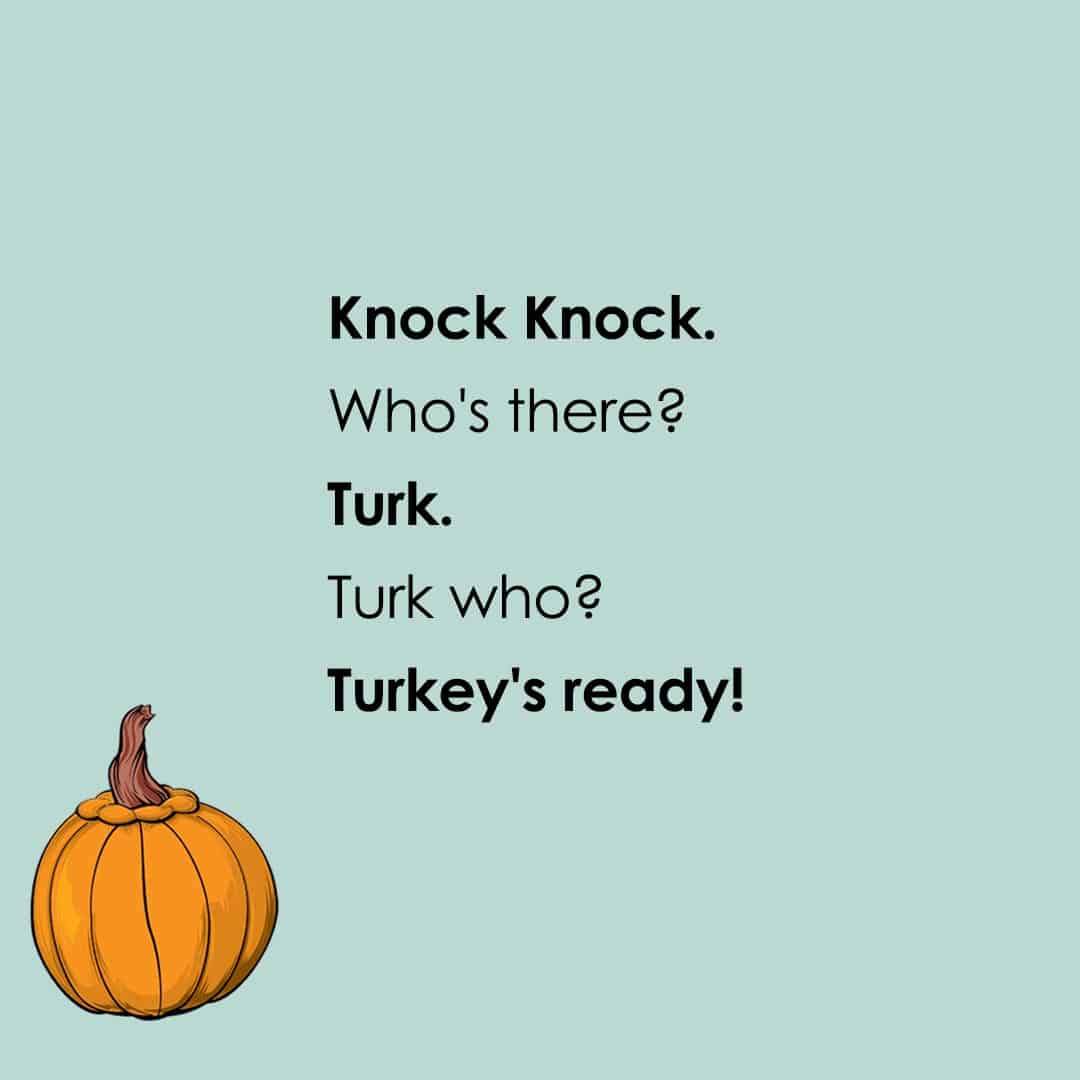 I Norma Lee don't eat this much!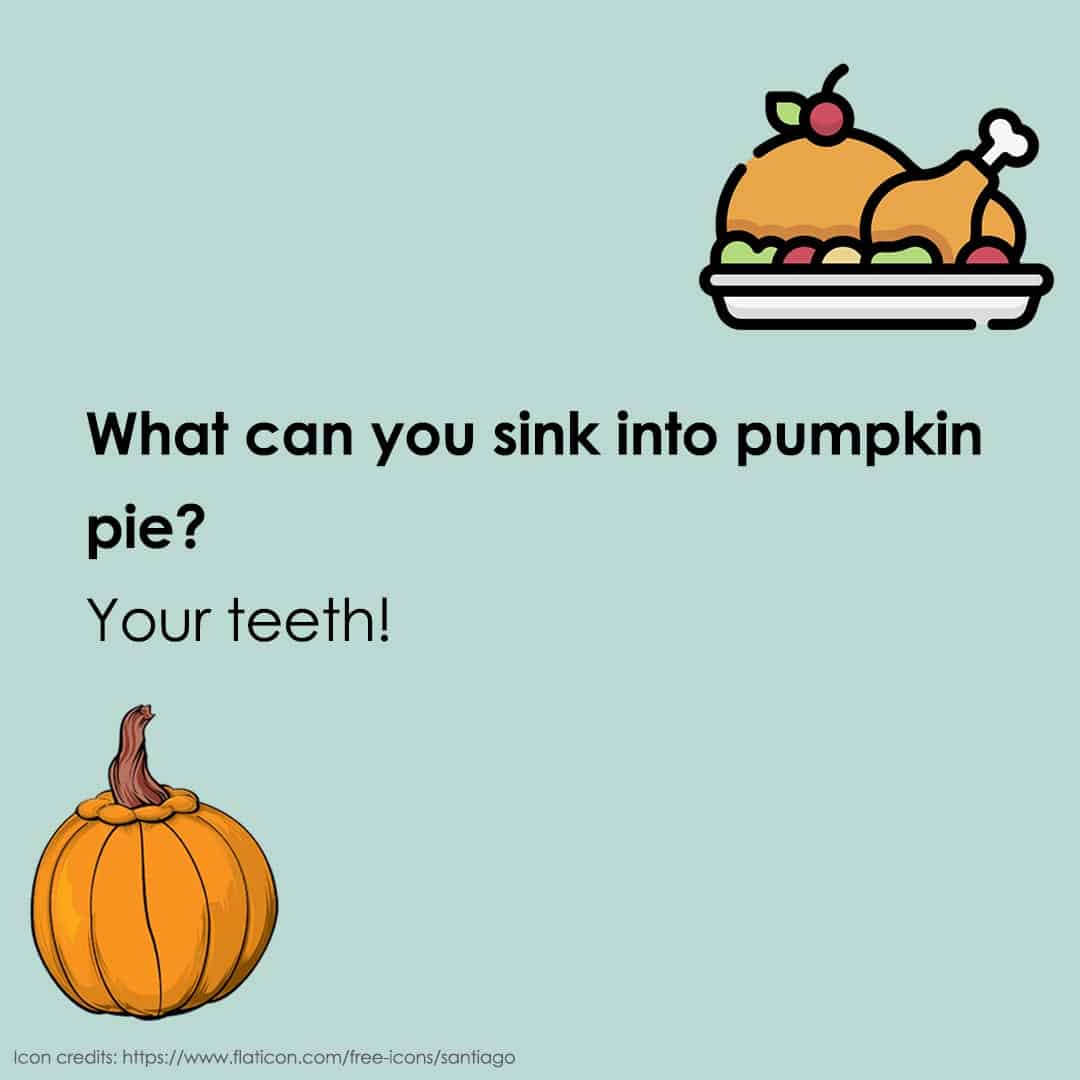 Luke at all these food and drinks!
Jokes with Other Holidays
There are dozens of jokes comparing or relating Thanksgiving to other holidays. These family-friendly jokes can be used at Thanksgiving as well as the other holidays mentioned, such as Halloween or Christmas.
1. Why did Johnny come to school late the day after Thanksgiving?
Because it's Black Friday and he gave himself 50% off the school day!
2. What would a turkey/ghost be called?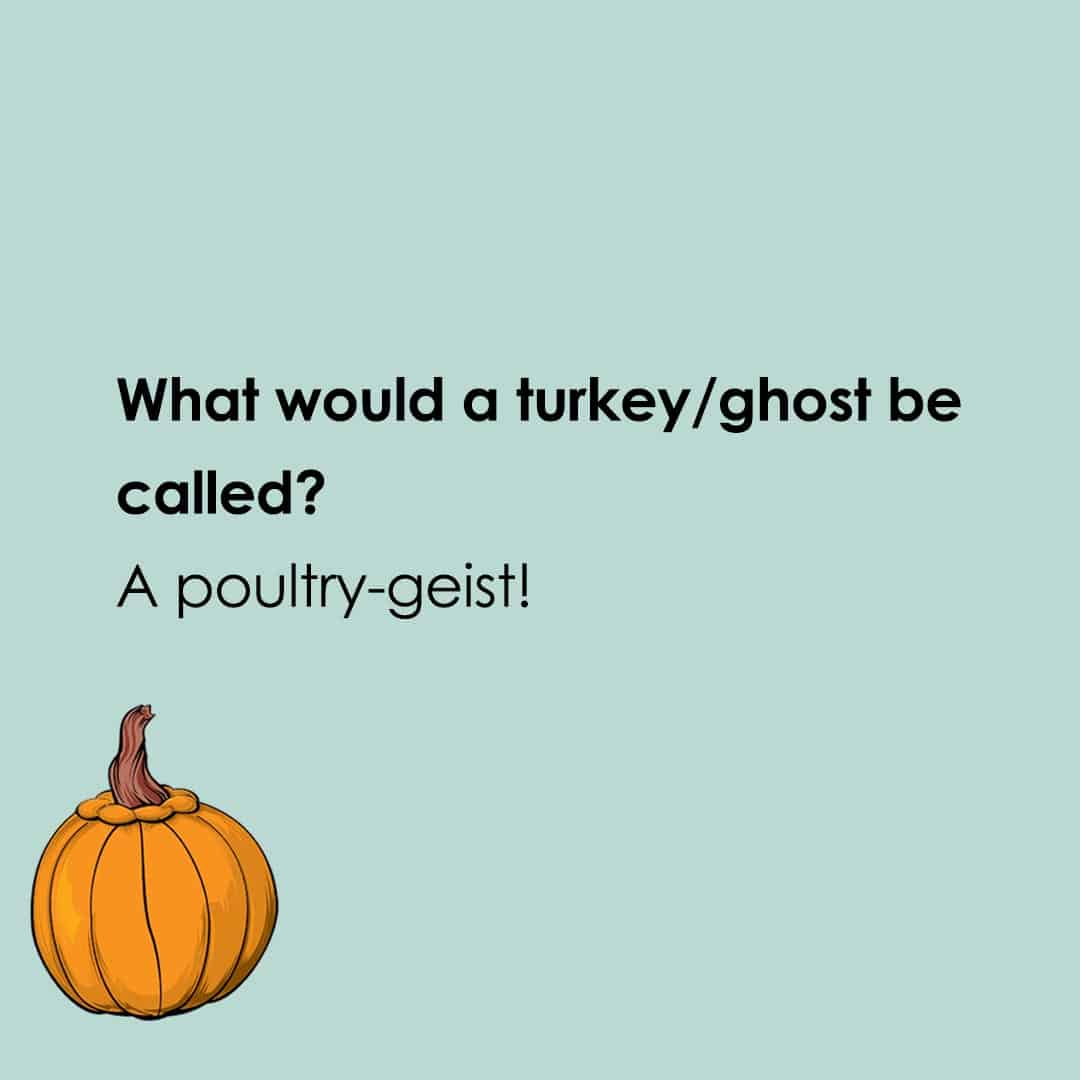 3. What does the vampire call Thanksgiving? 
4. What is the difference between Halloween and Thanksgiving?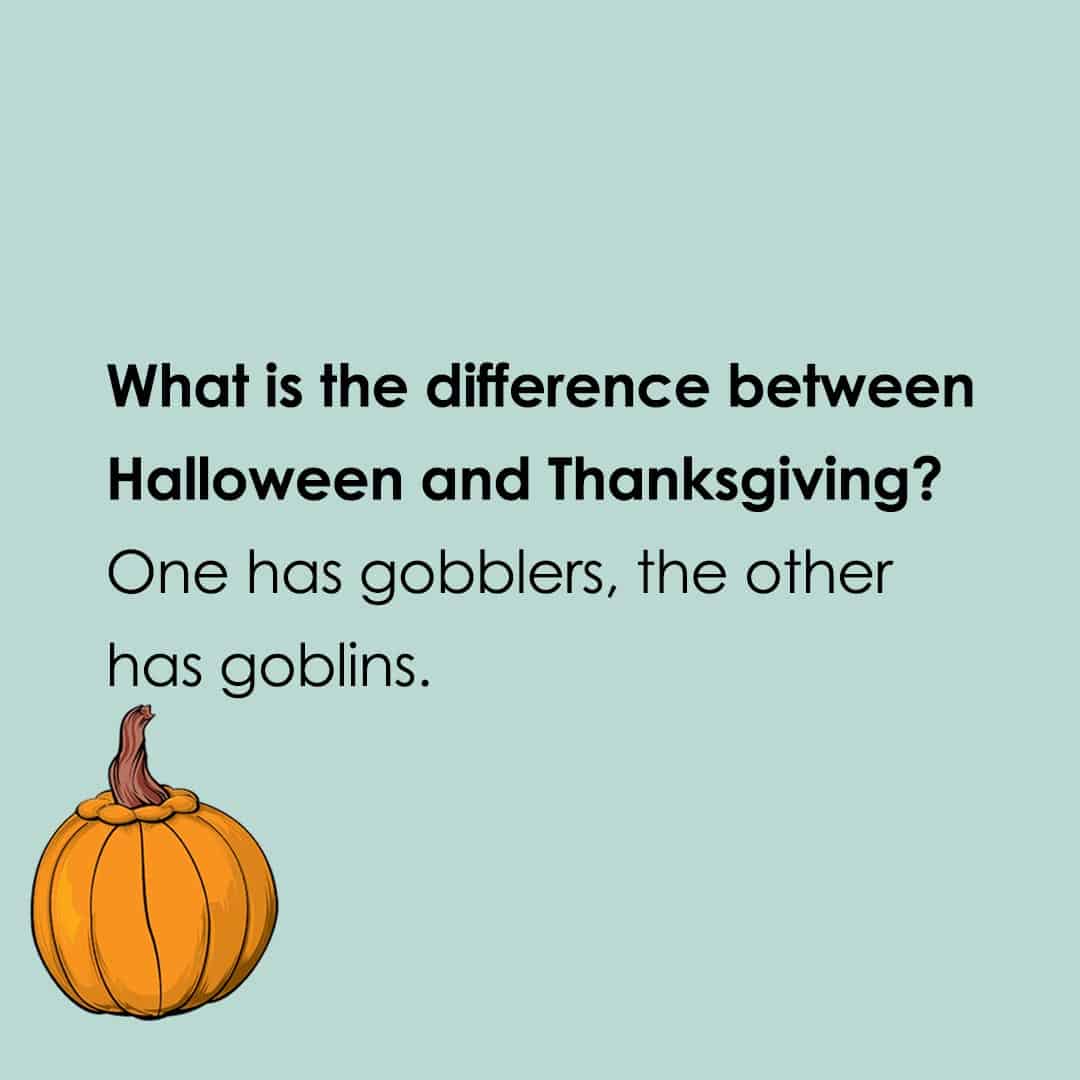 One has gobblers, the other has goblins.
5. Where does Christmas come before Thanksgiving?