Pythagoras' theorem is not the easiest mathematical concept to teach children! Interestingly, it can be used to check if a triangle is right-angled, and oceanographers often use it to determine speed and sound. Aerospace scientists use it to source sound too! Complex formulas and equations can be a little mind-boggling, however, with these fun activities you can create some engaging and memorable ways to teach the Pythagorean theories differently.
1. The Snail Spiral
In this activity, students are required to understand the theory and relationship to draw out the spiral that it creates. There is an easy-to-explain guide for teachers to facilitate this in the right way for their classes.
Learn More: Savannah Tweed Digital Portfolio
2. Pythagoras At Christmas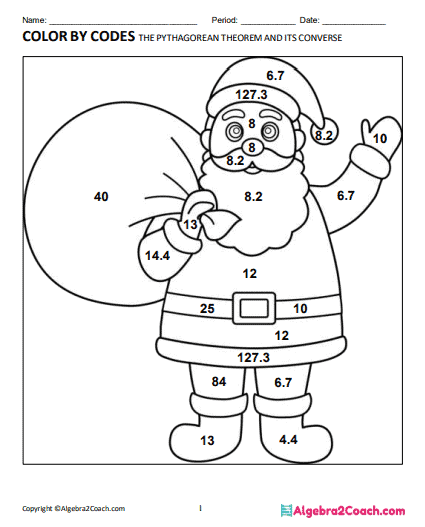 This Christmas-themed activity requires students to answer questions based on Pythagoras and its converse, and then color code the fun Santa picture with the correct colors. Answers are all included so students can all self-check once they complete the sheet.
Learn More: Algebra2Coach.com
3. Interactive Spiral Project
This digital activity is inspired by principles of the Pythagorean Theorem and creates a spiral using the results of the equations. Students are shown the wheel and must then create their own by measuring accurately. They can then identify that this follows the pattern of the theorem.
4. Math Mosaic
Not strictly a coloring activity but it could easily be adapted to create a colorful masterpiece when complete. Students solve the missing sections of the triangles and build up the mosaic using the correct answers.
Learn More: TES
5. Color-by-number
This is a 15-question coloring sheet to check your student's knowledge and problem-solving skills using Pythagoras' theorem. They are required to match the answers with the colors on the sheet and then decorate to create a masterpiece.
Learn More: Teachers Pay Teachers
6. Doodle Notes
The use of colors and diagrams instead of words will help your visual learners engage with the concept and build a strong memory of the theorem. The science behind this is that visual note-taking and color help the students process information in a different way and develop their long-term memory more.
Learn More: Pinterest
7. Owl Coloring Page
For another simple worksheet, use these cute owls to solidify students' knowledge of the Pythagoras Theorem whilst completing a simple color-by-number.
Learn More: Amped Up Learning
8. Alpaca-themed Worksheet
These fun worksheets are perfect for practicing missing sides, integers, rational numbers, and rounding. Each section is clearly numbered for ease of use.
Learn More: Kraus Math
9. Stained Glass Activities
Great for self-assessment as students can visually see the stained glass window being built up as they work. There are a collection of four worksheets; each with a different theme linked to the theorem. Each worksheet has 10 questions for students to complete.
Learn More: Math in Demand
10. Mandala Patterns
Another super easy, minimal prep worksheet. Students can practice their knowledge of the Pythagorean Theorem and its converse whilst completing this cool coloring activity.
Learn More: TES