This-or-that activities are a fast and easy way for students to get to know each other in the first week of school. These are also fun activities for groups that already know each other well. The answers spark conversation and connection, and provide a much-needed brain break during meetings or lessons! These fun games can be played in person or conducted as virtual games, so without further adieu let's check them out!
1. This or That Food Edition
Would you rather have white chocolate or dark chocolate? Play this video edition of this-or-that. Have students make their choice by raising the hand that corresponds to their choice or by having them move to the side of the classroom that represents their choice.
Learn More: THIS OR THAT
2. This or That Heart Quiz
Pose these basic anatomy questions to students to assess their pre-knowledge and get real-time student data. Use this quiz again as a review before a formal assessment.
Learn More: PE with Coach Smith
3. This or That Brain Break
Turn up the energy with a fun game of this-or-that with this interactive version for kids! This is a great resource for brain breaks. Not only do students have to make a decision, but they also have to move their bodies to choose!
Learn More: Steve Steve
4. This-or-That for Active People
Get everyone's blood pumping using another interactive this-or-that activity. Participants have to complete an exercise for 20 seconds based on their choice. This is a great choice for a school activity bundle for inside recess or PE sub plans.
Learn More: Mr. Cerrillo PE
5. School Ice Breaker
Build your classroom community using supplies from art class. Students will select a stick with a choice written on each end. When they make their choice, those who agree raise their hands. The "chooser" throws a ball of yarn to someone else in the class and, in the end, a great entanglement will be revealed.
Learn More: Amateur Craft Hour
6. 100 Days School Activity
With this list of interesting would you rather questions, you can start the class period off with a think-pair-share activity for the first 100 days of school! This is a fun icebreaker to play in scavenger hunt style.
Learn More: The Best Ideas for Kids
7. This or That Board Game
This game is geared toward ELL students, but everyone can use the questions. Purchasing this bundle also grants you access to various resource types. You can engage with these questions as a board game, PowerPoint, handout, etc.
Learn More: Teachers Pay Teachers
8. This or That Disney Edition
Add a little magic to the first week of school with these Disney-themed this-or-that questions! While they will delight little ones, they also make great school icebreakers. They'd also be great for a birthday party game.
Learn More: Paper Heart Family
9. Dice Breaker
This easy-to-set-up icebreaker is a great way to get to know your students on a deeper level. Unlike most school activities, this one has great questions that can get deep fast! Would you rather is one of the game categories.
Learn More: Pinterest
10. Teacher Edition
This list of questions can make a fun group game for Summer camp or can be used as a community builder throughout the year. Use these questions to help renew conversations between teacher teams that spend a lot of time together. You could also use this list to spice up a remote meeting.
Learn More: We Are Teachers
11. Crazy Hard Edition
This long list of questions is a great classroom icebreaker. You could even take this fun icebreaker game one step further and use these questions in a debate or speech class. Once students choose a position, they have to defend it by explaining their choices.
Learn More: Hobby Lark
12. This or That Google Slides
Why make your own Google slides when you can use this amazing pre-formatted bundle? You could also post these slides in Google classroom as a discussion or poll. Both of these formats are a low-stakes way to build classroom community.
Learn More: Minds in Bloom
13. Junk Food Edition
Chocolate chip cookies or Chinese food? Chips with salsa or onion rings? This light-hearted junk food edition is a fun group game to build classroom community in a unique way. You might just be surprised at the debates sparked!
Learn More: Pinterest
14. Drink Edition
Drip coffee or tea? Do you like hot coffee or iced coffee? Pair your morning meeting with these simple questions to help build community. You can also use this graphic to quickly add the game to Google slides.
Learn More: Instagram
15. Choices Game-Chores Edition
Expand the game with a chore choice chart for your homeschooler. Give your child more autonomy to choose from more than just two options. They're happier, you're happier and the chores still get done!
Learn More: Happily Unprocessed
16. Cold Weather Edition
Celebrate cold weather with this fun list. Hot chocolate or hot tea? Chocolate chip cookies or peppermint bark? Use this list to kick off Winter break celebrations or find out what students enjoyed over the break once they return.
Learn More: Instagram
17. Basic Edition
Build classroom community fast with these basic questions. Up the ante by asking students to see if they can guess a classmate's answer beforehand. These are also a fun way to spice up a morning meeting.
Learn More: Parade
18. 60 More This or That Questions
Play a rapid-fire question version of the game to build classroom community fast. Students must answer in 5 seconds or they're out! Sweeten the game by offering one last choice in the form of the winner choosing a candy bar.
Learn More: iSchool Connect
19. This or That Video Game
Instead of a coin toss, use this video instead. The student selects "this" or "that" and then chooses when the video stops. If their choice and the video stop point are the same, they win!
Learn More: Download Youth Ministry
20. Mind Bogglers Edition
Why use Google slides when you can use YouTube? Use this video in snippets or play all the way through to spark discussion. Make the game more individualized by asking students to share with new partners each question.
Learn More: Teacher Ingrid
21. Either.io
Play by yourself or build a classroom community with this question generator. Make sure you preview it before posting to avoid inappropriate or embarrassing questions! Once you answer, you can see others' results as well.
Learn More: Either.io
22. Printable Would You Rather
Start off a morning meeting with a little fun! Reel off this list as a set of rapid-fire questions to wake everyone up in a morning meeting. You could also have everyone complete the questionnaire anonymously and see if people can guess whose is whose.
Learn More: Happier Human
23. Would You Rather IO
This is an electronic question generator that can be played individually or in a group. Before using this in a remote meeting, or to build classroom community, preview the slides as there are some potentially inappropriate or embarrassing questions.
Learn More: Wouldurather.io
24. Funny Question Edition
Do you prefer a funny movie or a scary movie? These light-hearted questions are sure to make you giggle and bring a little levity to a remote meeting. The list of 24 questions is appropriate for all ages.
Learn More: Happy Mom Hacks
25. Rrrather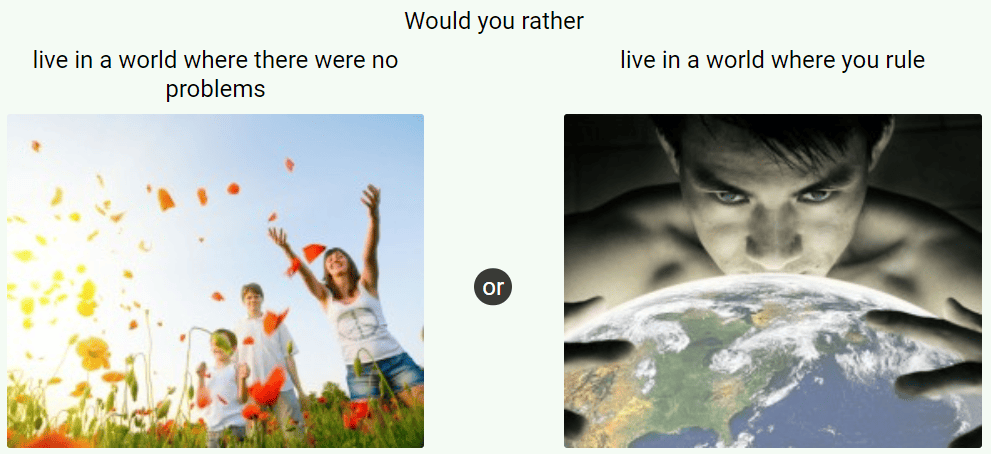 This question list has pictures paired with each question for an easy-to-use format. Pull up this website before class each day or copy and paste the content onto a Google slide. Students will love the wide variety of topics on this list.
Learn More: Rrrather