Are you searching for a fun and engaging activity to entertain and challenge your students? Look no further than Tic Tac Toe! Allow us to be your guide as you dive into the world of Tic Tac Toe and explore how this classic game can benefit your kids in various ways. Get ready to introduce your students to strategic thinking, problem-solving, and social interaction through a play-based experience.
Materials needed for Tic Tac Toe
Before we jump into the game, let's make sure we have all the materials we need to get started. You'll only need pen and paper but don't worry, we'll also explore alternative materials if you want to get creative and play the game in different settings.
Learn More: Hands On As We Grow
How To Play Tic Tac Toe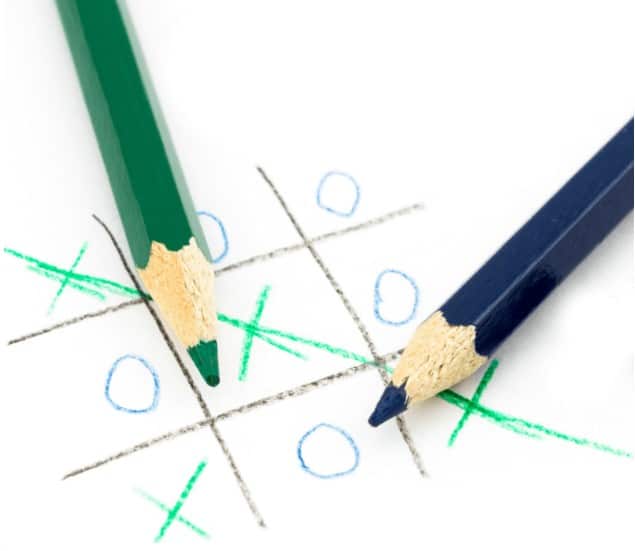 Basic rules: Let's learn the basic rules of Tic Tac Toe so that you can teach your students how to play:
Setting up the game grid: Draw a 3×3 grid on a piece of paper or any playing surface. You can use lines to create the grid or simply divide the space into nine equal squares.
Taking turns placing X and O: Players can take turns placing their chosen symbol, X or O, in any empty square of the grid. One player starts by placing their symbol, followed by the other player.
Objective of the game: The goal is to get three of your symbols in a row; either horizontally, vertically, or diagonally. The first player to achieve this wins the game.
Ending the game: The game ends when one player gets three in a row and declares their victory. If all the squares are filled and no player has won, the game is considered a draw.
Learn More: The Inspired Treehouse
Strategies To Enhance Your Game
Now that your students know how to play Tic Tac Toe, let's explore some strategies to enhance their gameplay:
The importance of the first move: The first can give your learners a strategic advantage. Encourage your students to consider the center square for their first move as it provides more possibilities for winning.
Blocking your opponent: Teach your students the importance of blocking their opponent's attempts to get three in a row. Encourage them to anticipate their opponent's moves and strategically place their symbols to prevent them from winning.
Planning ahead and recognizing patterns: Encourage your students to think ahead and recognize patterns on the grid. By observing their opponent's moves and understanding the possibilities, they can plan their own moves strategically to increase their chances of winning.
Learn More: Puzzle Fry
Variation & Extensions Ideas
To keep the excitement going, let's explore some variations and extensions:
Playing on larger grids: Challenge your students to play on larger grids where there are as many as 16 or 25 squares instead of the traditional 9. This allows for more complex gameplay and longer games.
Introducing new symbols and additional players: Spice up the game by introducing new symbols, such as hearts or stars, and allowing more than two players to join!
Creating a three-dimensional grid: Take your Tic Tac Toe game to the next level by playing on a three-dimensional grid. Students can build their game boards using blocks or other materials to create an exciting and challenging playing experience.
Learn More: Teachers Pay Teachers
How To Incorporate Tic Tac Toe Into Learning Activities
Tic Tac Toe isn't merely a fun game—it can also be a fantastic learning tool! Here are some ideas on how to integrate Tic Tac Toe into various subjects:
Using Tic Tac Toe to practice math skills: Create math-themed Tic Tac Toe boards where students must solve math problems to place their symbols. What a fun way to reinforce counting, addition, multiplication, and other mathematical concepts!
Adapting Tic Tac Toe for language learning: Customize Tic Tac Toe boards with vocabulary words, spelling challenges, or phonics exercises. Students can play by taking turns placing their symbols on squares that correspond to the correct answers.
Integrating Tic Tac Toe into art and craft projects: Combine creativity and critical thinking by having your learners create their own themed Tic Tac Toe boards. They can design game boards related to a specific topic, such as animals, space, or famous artworks.
Now that you have a few ideas to adapt the beloved game of Tic Tac Toe, let the games begin! We're sure that whether you choose to incorporate the game into learning spheres or simply change up gameplay for the purpose of fun, your learners will love the fresh takes that we've sourced!
Learn More: Hands-On As We Grow