Tie-dye is a timeless craft that has been enjoyed for generations. From t-shirts to Easter eggs, tie-dye adds a pop of color and creativity to any medium. Whether you're looking for a rainy day activity or planning a classroom craft, tie-dye is an activity that everyone can enjoy. We've compiled twenty unique tie-dye activities that are perfect for kids of all ages! So, grab some fabric, rubber bands, and dye, and get ready to have some colorful fun!
1. Wet Wipe Tie Dye
This is a cheap and easy activity for younger kids. You only need a bit of liquid watercolor or food dye, a dropper, and baby wipes. Little ones can place drops of color on top of a wet wipe and watch the colors spread, blend, and form a work of art.
Learn More: Raising Dragons
2. DIY Sharpie Tie Dye Shoes
Grab a pair of white canvas shoes and a rainbow pack of Sharpies for this project. Tape off the soles of the shoes using painter's tape, and then let your kids go to town coloring their shoes in bright colors. Once fully colored, spritz the shoes with rubbing alcohol and let them dry.
Learn More: KC Parent
3. Sharpie Tie Dye Scarf
For this creative activity, use a white scarf and dyes in squirt bottles. Children can tie off their scarf in small sections before covering each section in primary colors. Ensure that they're wearing plastic gloves before they get started!
Learn More: Fave Crafts
4. Tie Dye Butterfly Craft
You don't always need complex tie-dye projects for kids. This simple butterfly craft is created with washable markers, a coffee filter, and a clothespin. Simply have your kids color the coffee filter, spritz it with water and watch the colors run.
Learn More: The Imagination Tree
5. Tie Dye Swirl Socks
Grab a tie-dye kit, a pack of solid white cotton socks, and some rubber bands. Your kids can use the rubber bands to section off their socks and pour the liquid dye along the sections. Flip the project over and repeat. Let sit for 24 hours, rinse in cold water, and wash/dry as usual. What cool socks!
Learn More: Love Mischka
6. Make a Tie Dye Bookmark
You can tie dye with Sharpie markers! These fun bookmarks are made from a recycled milk jug! Have your kiddos cut a section of plastic and color it using sharpies. They can then drip rubbing alcohol over the bright colors and watch them blend.
Learn More: Happy Hooligans
7. DIY Tie Dye Crayon Eggs
These fun tie-dye Easter eggs are a hit! Kids can use freshly boiled eggs and color the surface with crayons. The heat from the egg will melt the wax and create a striking flowy effect. You could also use cool eggs and hold a crayon over a candle to heat it up to melt it.
Learn More: Emmy Made Extras
8. Treat Yourself to Tie Dye Rainbow Popcorn
This colorful tie-dye craft is edible! Sugar, butter, popcorn, and a few cooking utensils are all you need to make a batch of tie-dye caramel corn. Your kids can use any color they wish or even consult a color wheel to make complementary color popcorn.
Learn More: The Spruce Eats
9. Tie Dye Suncatchers
This tie-dye suncatcher is a beautiful craft for celebrating bright colors! Learners can color a coffee filter in bold patterns and spritz it with water. Once the filter is dry, they can cut it into its desired shape and glue it to a black cardstock cutout in the same shape. Tape to a bright window and enjoy!
Learn More: There's Just One Mommy
10. Faux Tie Dye Easter Eggs
These intricate designs and bold patterns were created using coffee filters and washable markers. Have kids color bold patterns on coffee filters, spritz them with rubbing alcohol, and let them dry.
Learn More: Mom to 2 Posh Divas
11. Decoupage Tie Dye Book Cover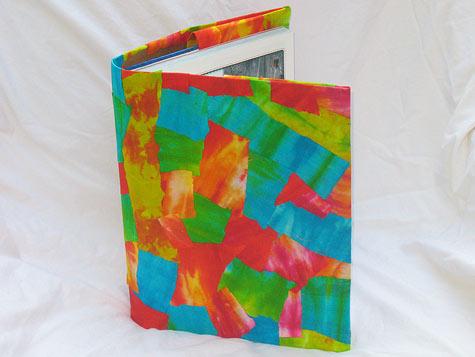 This colorful activity is an easy tie-dye activity for even the youngest of artists! Provide students with butcher paper; cut to size for the chosen book cover, along with liquid glue and scraps of colorful tissue paper. Have them coat tissue paper squares in glue (a paintbrush works well for this) and cover the butcher paper in colorful patterns. Once dry, fold the book cover around the book and tape it in place with painter's tape.
Learn More: Fun Family Crafts
12. Tie Dye Beach Towels
What a fun project for kids! Grab some white towels, trash bags, and rubber bands to create beautiful beach towels. Similar to tie-dying shirts, your kids can place the dyes in squirt bottles and use rubber bands to section off the towels to create different patterns.
Learn More: Mom Endeavors
13. Tie Dye Coffee Filter Monsters
You only need basic materials for this activity for children. Learners can color coffee filters using complementary colors and then spritz them with rubbing alcohol. Once they are dry, have your little ones add additional cut-out elements to make monster faces. This cute craft is perfect for building fine motor skills!
Learn More: Felt Magnet
14. Tie Dye Heart Garland
This creative group activity has no dull colors! Cut heart shapes out of coffee filters and then color sections with bold colors. Spray with water, let them dry, and string them together to make an adorable heart garland to decorate your classroom.
Learn More: Craft Project Ideas
15. Tie Dye Soap
Did you know you can make soap with tie-dye designs? This fun activity requires soap-making supplies, a bit of dye, rubber gloves, and a mold. Pour in your soap mixture, add your color, and swirl the colors with a toothpick. You could use fruit-scented soap and all sorts of fruity colors to make fun designs.
Learn More: A Beautiful Mess
16. Tie Dye Stained Glass
What a fun activity for a rainy day! Have your learners lay out a plastic sandwich bag and glue it onto the back of a square popsicle stick frame. They can then use tinted glue to create a design on the plastic sheet and let it dry.
Learn More: 30-Minute Crafts
17. Reverse Tie Dye with Bleach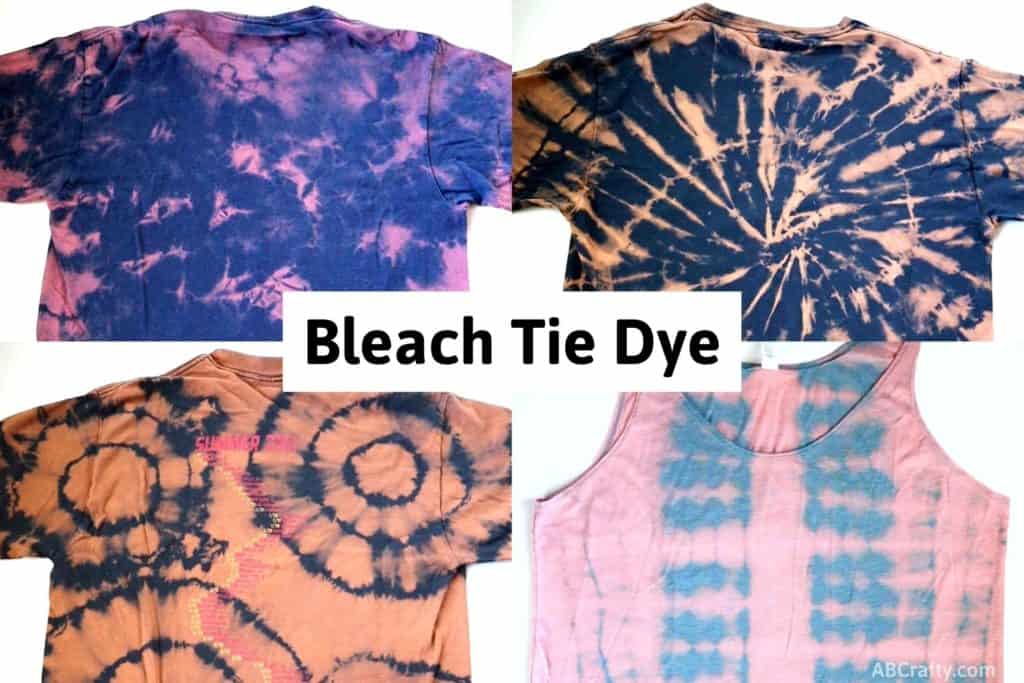 You don't have to use a white shirt with the reverse tie-dye bleach method. Rather than using dye with squirt bottles, switch it out with bleach and use a black or dark-colored shirt. Make sure your kiddos wear rubber gloves while they scrunch, twist, and cover the dark fabric in bleach, let sit, wash, and wear it!
Learn More: Fiber Artsy
18. Crumple Tie Dye Tees
You don't have to be super skilled to dye a cotton shirt with the crumple method. Your kiddos can grab a wet shirt, lay it flat, crumple it, and wrap it with rubber bands. They can then spread the dye, let it sit overnight, and rinse it in cold water the next day.
19. Tie Dye Tote Bags
What a fun activity for kids! Create a fun tote bag with tie-dye squeeze bottles. Twist the wet canvas bag into a tight disk shape and hold it in place with 3-4 rubber bands crisscrossing the bundle. Cover the fabric in different colors of fabric dye and let it sit. Rinse in cold running water and let dry.
Learn More: Growing Up Gabel