The iconic, striped beast might be ferocious, but it's also a fan-favorite of students everywhere! A thematic unit on tigers can span all subject areas- from discussing patterns in math to perusing nonfiction texts during reading; students can conduct scientific observations for a science lesson or find their habitat on a map during social studies. There's even a tiger who teaches social skills on his TV show! This comprehensive list of tiger activities will captivate students as they study this incredible creature.
1. Tiger Sanctuary
The study of any wild animal must include learning about its natural habitat! During your study of tigers, let children use craft supplies and loose parts to create models of a tiger's home! Children can use fabrics, stones, or recycled materials to create a jungle biome for their tiger toys.
Learn More: Picklebums
2. Tiger Observations
An easy activity that you can use to fill any gaps during your school day is animal web cam observations. The San Diego Zoo has a camera feed of its tiger habitat that you can view on its website! Let children watch freely or "take notes" on what they observe.
Learn More: San Diego Zoo Safari Park
3. Symmetry Prints
Symmetry squish paintings are an early childhood favorite! Fold a piece of paper in half and then re-open it and have children paint one side of the tiger's face. When they squish the two halves together, they will open it to find a totally-symmetrical tiger staring back at them!
Learn More: Mrs. Knight's Smartest Artists
4. Pattern Matching
Animal patterns are always a topic of natural curiosity for students. Give them some animal figurines and have them practice their sorting skills by matching toys to the correct pattern! Some of the best to include are tigers, cows, cheetahs, and zebras, as well as fish or snake scales.
Learn More: Pinterest
5. Tiger I Spy
A fun, low-prep center to set out is an I-Spy page like this one! Children will find and count how many of each type of tiger they can find. This builds both mathematical and visual discrimination skills with an activity you can print and use in just minutes!
Learn More: Loving Homeschool
6. Tiger Enclosures
During your zoo animal study, try out this STEM challenge where children are tasked with building a tiger enclosure! This example uses clothespins and popsicle sticks, but you can use whatever building manipulatives you have on hand. You could use recycled materials, Legos, Magna tiles, and more!
Learn More: Teaching Ideas
7. Tiger Tea Party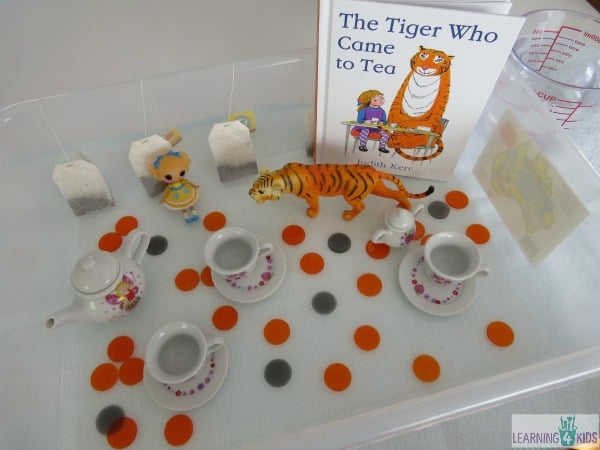 Another fun tiger activity center that can be paired with a read-aloud is the tiger tea party! Read The Tiger Who Came to Tea with your class, and then let them set up a tea party to promote comprehension and storytelling! Add teacups, play food, and whatever other elements students might find engaging!
Learn More: Learning 4 Kids
8. Shaving Cream Tiger Painting
To make this beautiful tiger art project, swirl orange, and black tempera paint into a tub of shaving cream. Gently lay a piece of cardstock on top and tap it down. Lift it, scrape off the excess, and your students will be left with a brightly-patterned page to cut for tiger crafts!
Learn More: Play Create Explore
9. Handprint Tigers
Handprint art is early childhood canon. You can make these sweet keepsakes with your class as a standalone craft or as part of an alphabet book! Paint and stamp each child's handprint upside down to create the tiger's body. Lastly, add the stripes and details with the marker!
Learn More: Red Ted Art
10. Tiger Play-Dough
Your kiddos finally have a chance to mix the play-dough colors! Make two batches of play-dough (one in orange and one in black) to set out with googly eyes, chenille stems, popsicle sticks, and animal figurines to let children make their own tiger creations. The swirled colors will create the perfect tiger-patterned effect!
Learn More: Pre-K Pages
11. Origami Tiger
For your students who love a good challenge, try making these adorable origami tigers! Children can follow the step-by-step instructions to fold and make the head shape. They can then add their own special details to give their tigers a unique personality!
Learn More: Red Ted Art
12. Henri Rousseau's Tigers
French artist Henri Rousseau was known for his jungle paintings, including several that featured tigers! Let his original works inspire your class to create these watercolor masterpieces. Follow this creator's step-by-step instructions for a directed drawing activity, or let students freehand their tigers!
Learn More: Messy Little Monster
13. Marble Painting Tigers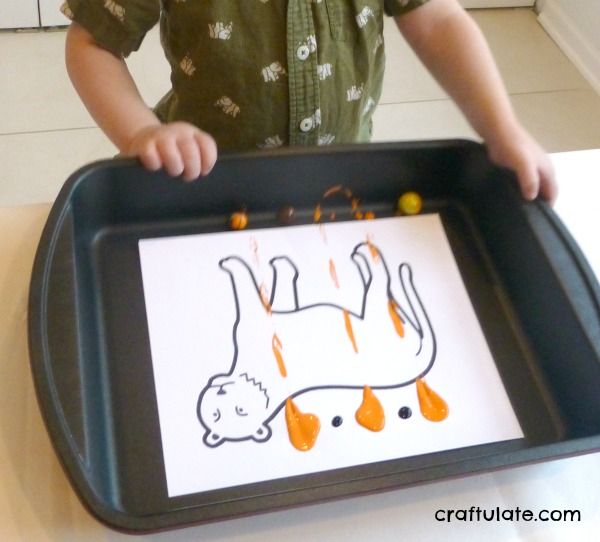 Marble painting is an excellent way of teaching physical science concepts through creativity. Add a few dots of orange and black paint to a tiger coloring page placed in a tray. As children tilt the tray back and forth and the marbles will pick up the paint and add stripes to the tiger.
Learn More: Craftulate
14. Torn Paper Tigers
Torn paper crafts are an excellent center activity to develop children's fine motor skills and focus! In this activity, children will rip strips of orange and black paper to glue down as their tiger's stripes. They can add googly eyes, a nose, and a pair of ears to complete the tiger's face.
Learn More: Pinterest
15. T for Tiger
Fork painting is a fun way to introduce children to the basics of printmaking. Children dip the tongs into black paint and then stamp them onto their T cutout to make the tiger print. As they create, you can review the letter T and the /t/ sound that it makes.
Learn More: Pinterest
16. Mix 'n Match Animals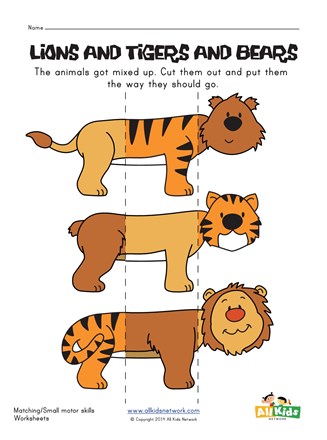 This mix-and-match animal activity is a great, low-prep option for morning work or quiet time. Children will use their visual discrimination and matching skills as they cut and correctly match the body parts to create a complete animal! In the end, they'll create a lion, tiger, and bear!
Learn More: All Kids Network
17. Popsicle Stick Tigers
Making this sweet tiger craft with your students will also help them review triangles! Children will create the 3-sided shape out of popsicle sticks to form the tiger's face. Add in the details with additional craft supplies to transform the triangle into the iconic big cat!
Learn More: Crafty Morning
18. Tiger Small World
Sensory bins provide an excellent opportunity for children to use their new vocabulary terms as they engage in imaginative play! Some elements to add might include dyed rice, tongs, tiger figurines, miniature jungle plants, or anything else you think might spark children's creativity.
Learn More: Happy Toddler Playtime
19. Tiger Sensory Bag
If messy play isn't your cup of tea, but you still want children to have opportunities for sensory play, try making this tiger bag! All you need is hair gel, a few drops of orange food coloring, and a few items to put in the bag to make the tiger's features!
Learn More: Happy Toddler Playtime
20. Tiger Reports
This fun, printable activity book is a great opportunity for children to demonstrate all that they have learned in your tiger unit. This resource includes reading passages, activities listing facts about the species, and writing prompts. Use this low-prep activity set for assessment after all of your other hands-on learning activities!
Learn More: Keeping My Kinders Busy TPT