Setting up a kids' chore or activity chart doesn't have to be a difficult process. In fact, there are plenty of printable charts that are free and easy to access! Or, you can go the DIY route and make a more durable and practical chart for your kiddos by using household office staples. Whichever path you choose to take, devising a daily schedule for chores has tremendous benefits for your child and the whole family!
We've gathered 20 of the top activity charts for toddlers to help you communicate expectations clearly and make general activities and responsibilities fun for your little ones!
1. Everyday Chore Chart
This is the perfect chore chart for encouraging your toddlers to complete day-to-day activities. The bright colors and clear pictures show your little one exactly what they should do, and this kid chore chart also includes space to check off each activity. It helps them track their expectations and measure their own progress.
Learn More: Play Osmo
2. Morning Routines Chart
This printable morning routine chart will help your toddler wake up and get going in an effective way. The morning routine chart features clear pictures to help your little one start their day the right way!
Learn More: Pinterest
3. Evening Routines Chart
To make the most of that precious time before bed, look no further than this handy bedtime routines chart. It runs through a consistent bedtime routine that spans all the way from dinnertime to bedtime. The evening routine includes chores such as tidying up and brushing teeth before heading to bed.
Learn More: Nurture and Thrive
4. Going Out Chart
If a visual schedule inspires you and your toddler, then this checklist will bring clarity and peace of mind when it's time to head out with your little one. It features everything you need to remember to do and bring when you leave the house for an outing.
Learn More: Parent Club
5. Mealtime Routine Chart
This routine chart focuses on mealtimes. It goes through the necessary steps that a toddler should take to prepare for, enjoy, and tidy up after a meal. You can use this kid routine chart to make breakfast, lunch, and dinner easier and more enjoyable for the whole family.
Learn More: Yummy Toddler Food
6. Printable Routine Cards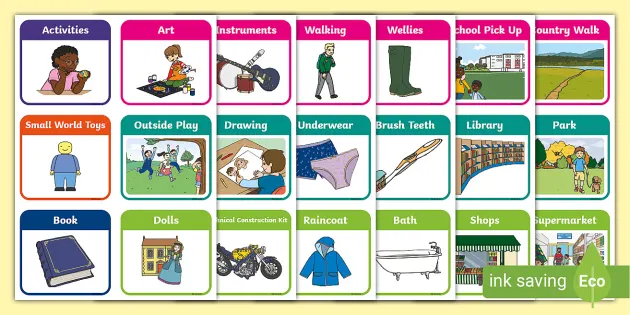 Routine cards are a tactile way for toddlers to interact with their chores and activities throughout the day. These routine cards can be modified to fit the schedule and expectations of your home and family.
Learn More: Twinkl
7. Dry-Erase Activity Chart
This is a highly modifiable routine chart that allows you to add several responsibilities to your toddler's list. You can also use it as a behavior chart to track their progress throughout the day as they complete their activities. Then, just erase everything and start fresh the next day!
Learn More: Amazon
8. Toddler To-Do List
This printable to-do list is a bit different from the chart because the format is more straightforward. This is a great place to start before you make a chart for your toddler. This resource is awesome for parents as they can make sure that all of the relevant activities are organized on the routine chart.
Learn More: Woo! Jr.
9. Visual Schedule for Speech Therapy
This visual schedule is a great tool for teaching and drilling basic household vocabulary, especially as your toddler is learning to speak. It also promotes spending one-on-one time with your toddler as you engage them in various activities.
Learn More: Pinterest
10. Responsibilities Chart
This responsibility chart features several age-appropriate tasks for your toddler. You can also incorporate it into a weekly progress chart that will show how your child grows and develops their sense of responsibility over time.
Learn More: The Military Wife and Mom
11. High-Quality Routine Charts with Magnets
This daily schedule magnetic board easily folds out and hangs on a wall where everyone in the family can see it. It serves as both a chore chart and a behavior chart since kids can use magnets to track their progress throughout the day and the week.
Learn More: Amazon
12. Exercise and Sports Routine Chart
With this resource, toddlers can practice their exercise and sports skills as they adhere to a specific routine. This allows them to build healthy habits and good organizational skills from an early age.
Learn More: Play Osmo
13. Bedtime Fun Activity Chart
This chart can help parents set expectations around bedtime, which can help reduce those frequent bedtime battles that parents face far too often. Let your toddlers take responsibility for their bedtime routine so that the whole family can enjoy more peaceful evenings.
Learn More: Pinterest
14. Activity and Routine Learning Tower
This learning tower is great for toddlers who are learning to help with activities around the house, especially in the kitchen. It allows your little one to be involved with the day-to-day chores.
Learn More: Montessori
15. Chores and Responsibilities by Activity Level
This list is a great resource for parents who want to set up an effective chore chart for their kids. It gives so many examples of chores and responsibilities that are age- and level-appropriate for toddlers and older kids.
Learn More: Child Development Institute
16. Taking Care of Pets with an Activity Chart
Pets are a big responsibility, and this chart can help your toddler take care of the furry members of the family. It's a great way to teach them to be kind, caring, and responsible!
Learn More: Pinterest
17. How to Set Age-Appropriate Tasks for Toddlers
This guide takes parents through the process of choosing and assigning chores for toddlers and young kids. It has been extensively researched and tested by several families, so it's a reliable parenting resource that centers around both the toddler and the family as a whole.
Learn More: Happiest Baby
18. DIY Toddler Routine Board
This video shows you how to make a toddler routine board with things that you have lying around the house, plus a handy printable template. The video also explains how to make the most out of the routine board, and how to add extra features or leverage the existing features for maximum results with your toddler.
Learn More: Cortney K
19. Toddler Routine Chart with Velcro
This resource depicts a step-by-step process of how to make a routine board featuring. With velcro, you can always stick the right chores and activities in the right place, and you can be flexible with scheduling and assignments; changing them around quickly and easily.
Learn More: Cassie Scroggins
20. How to Use Reward Charts Effectively
This video explains all the ins and outs of using a reward chart with your toddler. It goes into the benefits of reward charts, as well as the common pitfalls that families face when they first implement the system. Make the most of all your activity charts with these tips and tricks!
Learn More: Becoming you