Totem pole activities are a great addition to any Native American unit and a great introduction to cultures that students may not yet be familiar with. These teaching resources are a wonderful way to include creativity and artistic freedom in your lessons. Blend your history and art lessons together to provide meaningful instruction and enhance student engagement in your next Native American unit. Check out these 21 fun totem pole projects and activities!
1. Carved Wooden Totem Pole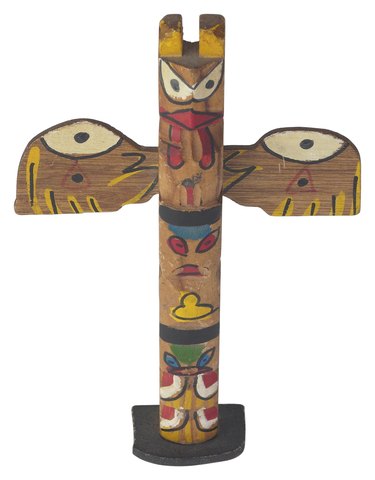 This fun project will require supervision. Students can carve their own designs and create their own totem crafts. As students learn the history of totem poles, they can choose what designs or which animals to include in their detailed totem pole project. They can later add colors with paint or markers.
Learn More: ehow
2. Paper Towel Totem Pole Craft
A simple and easy totem pole using a tall paper towel tube is a fun project for your elementary school students. Let them create their design plans and then put together their Native American totem pole craft. These can be made using construction paper and glue.
Learn More: Educatall.com
3. Mini Totem Pole
Recycle small containers to build a mini totem pole craft. Simply stack a few containers and cover them in paper or paint. Students can use totem pole symbols or animal totem meanings to design their mini totem poles. This will help them understand the meaning and history of totem poles.
Learn More: Education.com
4. Log Totem Pole
This totem pole activity is pretty cheap and simple to make. Find logs outside to use in the creation of this Native American totem pole activity. Students can paint the logs, including animal totem meanings or totem pole symbols, to create this fun activity.
Learn More: All Free Kids Crafts
5. Totem Pole Bookmark
Using paper to craft a totem pole bookmark is another great way to get students' creative energy flowing. A perfect addition to a Native American culture lesson, this bookmark will allow students to make their own totem pole using paper and colored pencils. They can add words to the middle or draw pictures.
Learn More: Native Americans
6. Coffee Can Totem Pole
Recycle old coffee cans for this Native American totem pole activity. You can paint them first and then later add additional details and features. Add paper wings and tails to create the animals. You can even add eyes, noses, and whiskers to the faces. Attach the coffee cans together using a hot glue gun.
Learn More: The Crafty Crow
7. Recycled Totem Poles
A perfect addition to Native American heritage month, these recycled totem pole projects will be a beautiful addition to your unit. Students can do this at home to create a family totem pole project and this will help bridge the school-to-home connection. They can repurpose recycled items to create their Native American totem poles.
Learn More: Recycled Crafts
8. Printable Totem Animal Templates
This Native American totem pole craft is a pre-made printable. Simply print in color or let the students color it in. Then, put them together to form this adorable, all-paper totem pole. Students could add beads or feathers for additional pizazz.
Learn More: Pinterest
9. Stuffed Paper Bag Totem Poles
Collect brown paper bags to recycle for this project. Each student could create one piece of a bigger totem pole and the pieces can be put together and assembled against the wall. This will be a perfect collaborative project for Native American Heritage Month.
Learn More: Minds in Bloom
10. Virtual Field Trip
Take a virtual field trip and explore the Native American Totem Poles of the Pacific Northwest. This activity is ideal for teaching fourth to sixth-grade students about Native American tribes and different types of totem poles. They will be able to see details of animal designs up close.
Learn More: Teachers Pay Teachers
11. Drawing Totem Poles
This activity requires students to do some reading about totem poles first. After that, students can design their own totem poles. They can sketch it out on paper first. Later, they can build it or draw it on heavier paper with oil pastels and use many different colors.
Learn More: Teachers Pay Teachers
12. Totem Pole Poster
While learning about Native American Heritage Month, invite students to create their own personal totem poles. As they learn about fascinating tribes, they will begin to understand the meaning of totem poles and their designs. Students can choose animals and have a chance to explain why they chose each piece and build a totem on paper.
Learn More: Really Good Stuff
13. Printable Totem Pole Template
This printable totem craft is great for younger students. They can use these on a tall paper towel tube or simply build it on paper. If built on paper, there is a 3-dimensional aspect that will help this totem pole stand out a bit.
Learn More: Google
14. Totem Pole Cards
There is no shortage of baseball or trading cards in childhood classrooms. Use some to build a totem pole art project. You could also use cardstock paper cut into this size. Paint each piece and put them together to form a striking totem pole craft.
Learn More: Bloglovin'
15. Cardboard Animal Totem Pole
Combine art and history to create an educational event to showcase Native American art tributes, like these totally recycled animal totem poles. Save boxes and wrap them in old newspapers. Cut additional features out of recycled cardboard to make eyes, noses, beaks, and wings. Add the cut-outs to your boxes to form animals.
Learn More: ARTiFun
16. Animal Totem Pole
Let students use small boxes to create individual animal faces. They can then add some animal facts and information to go alongside the animal faces. Have students work together to put the pieces on top of each other to form a large totem pole.
Learn More: Pinterest
17. Seven-Foot Totem Pole
This giant totem pole is a fun project for the whole class to collaborate on. You can use this project to help foster a healthy classroom climate as students work together. Each student can design their own piece of the totem pole using a printable that can be colored. Students will love seeing this totem pole grow into a 7-foot structure as you put it together.
Learn More: Pinterest
18. Totem Pole and Writing Activity
This educational resource is a great way to combine writing and artwork. Add some literature to your Native American unit study so that students can learn more about totem poles and aspects of culture. Let them design and color the printable. Then, have students complete the writing to describe why they choose to design it the way they did.
Learn More: The Art of Learning
19. Toilet Paper Totem Poles
This totem pole craft is a three-part activity. Use three separate toilet paper tubes to create three tiny totem poles. Then, attach all three on top of each other to form a series of three parts. These are simple and easy to make and are sure to make a fun Native American project.
Learn More: Kitchen Counter Chronicles
20. Colorful Totem Poles
For this Native American totem pole project, let the colors flow freely! Have plenty of toilet paper tubes or paper towel rolls and lots of colorful paper, feathers, and craft sticks at the ready. Give students a glue stick and let them get creative!
Learn More: It is Art Day
21. Paper Cup Totem Pole
Making this paper cup totem pole is simple and will allow for plenty of student choice and creativity! it's perfect for older students who possess good fine motor control. Let students use colorful markers to draw intricate details to represent beautiful poles.
Learn More: Pinterest