The Tower of Babel is a biblical story about a group of people who tried to build a tower to reach Heaven. However, their project was stopped by God, who caused them to speak different languages- thereby making it impossible for them to understand each other. These 18 activities are inspired by this parable and include colorful arts and crafts, hands-on tower-building challenges, and plenty of fun games and puzzles. They provide a wonderful opportunity to discuss some of the important lessons of the story such as the consequences of human pride and the importance of humility and cooperation among people of different cultures.
1. Play a Language Memory Game
This memory-matching game features a pair of cards for various foreign languages. It's a great way to have fun learning common international greetings while developing children's concentration and attention to detail.
Learn More: Angelic Scalliwags
2. Printable Coloring Sheet Building Kit
This clever craft focuses on the theme of building from the Tower of Bable story but encourages learners to build a life that God truly wants for them. After cutting out this toolbox from colored construction paper, students add various 'tools' such as love, faith, and prayer that will serve them in building a purposeful life.
Learn More: Bible Fun for Kids
3. Tower of Babel Bible Craft
This simple Tower of Babel craft features a free brick patterned printable that you can cut out and shape into a cone before taping it into place. Next, add the printable bible verse strip by spiraling it around the cone shape, and voila! A unique and eye-catching design that is sure to put a smile on your child's face!
Learn More: 123 Homeschool 4 Me
4. Tower of Babel Bingo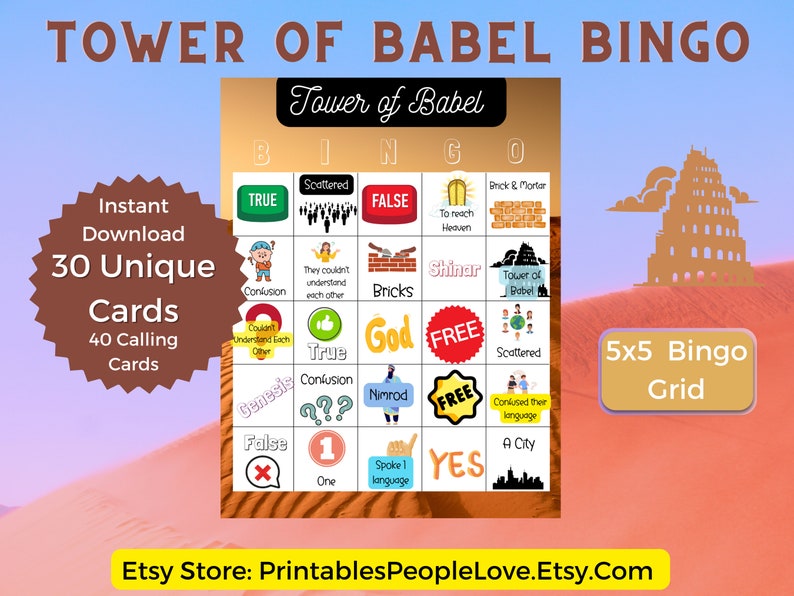 This vibrant and colorful set of 30 unique Bingo cards makes for a fun way to review the core themes of this classic bible story while enjoying a classic game with family or classmates.
Learn More: Etsy
5. Create Colorful Block Towers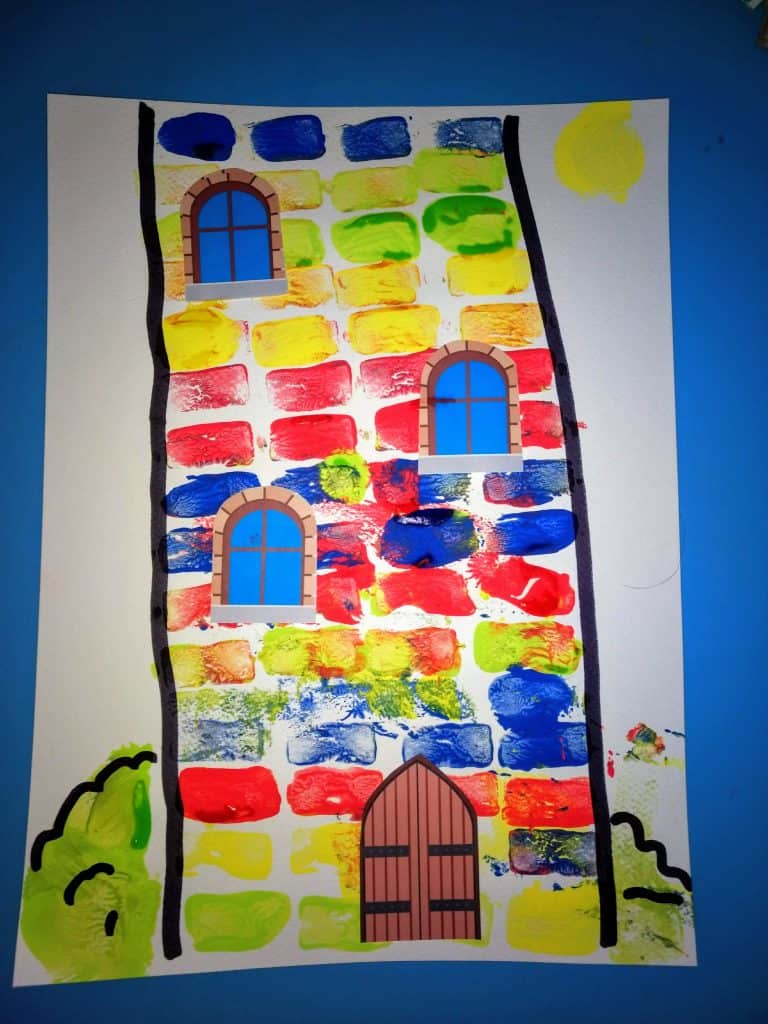 After cutting out and gluing this printable tower template, cut a rectangle eraser into a brick shape and dip it into colored paint. Stamp the bricks around the template tower, layering the colors to create depth and texture. The final result is a colorful creation that kids can show off with pride!
Learn More: True Way Kids
6. Video School Lesson
This animated video makes for a great discussion starter about the main themes of the story including the confusion of different languages, humankind's arrogance, and the importance of building a life in alignment with biblical teachings.
Learn More: Crossroads Kids' Club
7. Coloring Pages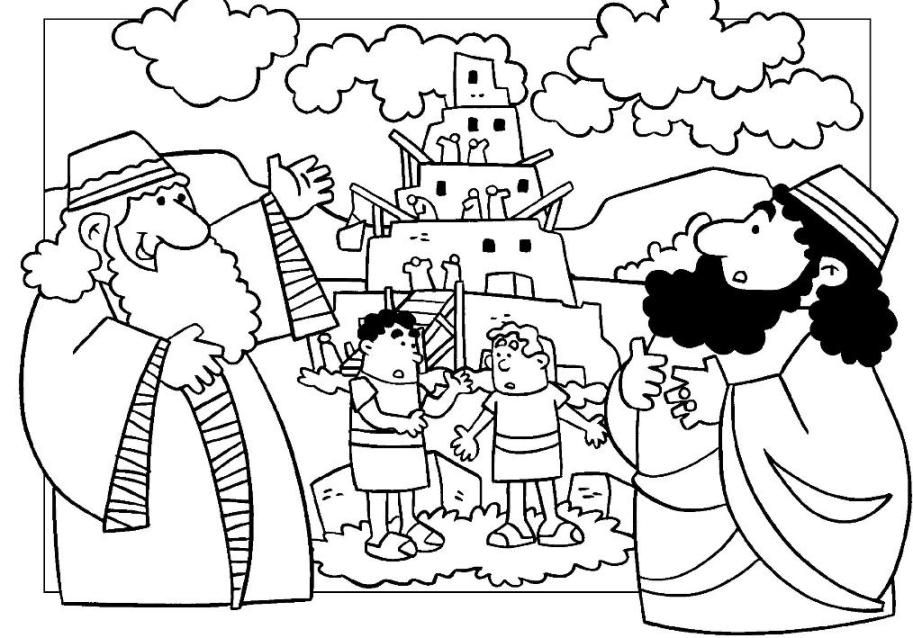 These coloring pages feature the confusion and chaos caused during the building of this famous tower. Coloring is a wonderfully grounding and calming way to develop fine motor skills while providing an opportunity for discussion about the dangers of human pride.
Learn More: Best Coloring Pages for Kids
8. Answer Basic Questions
This hands-on activity involves coloring, cutting, and assembling a mini storybook. Students may need help with stapling the pages together before practicing their comprehension skills by reading the story independently or with a partner.
Learn More: Teachers Pay Teachers
9. Complete Lesson About the Tower of Babel
This fun and engaging sequencing activity invite kids to arrange a set of pictures depicting biblical events in the correct order. It's a great way to deepen their understanding of the story while developing their critical thinking and memory skills.
Learn More: Teachers Pay Teachers
10. Tower of Babel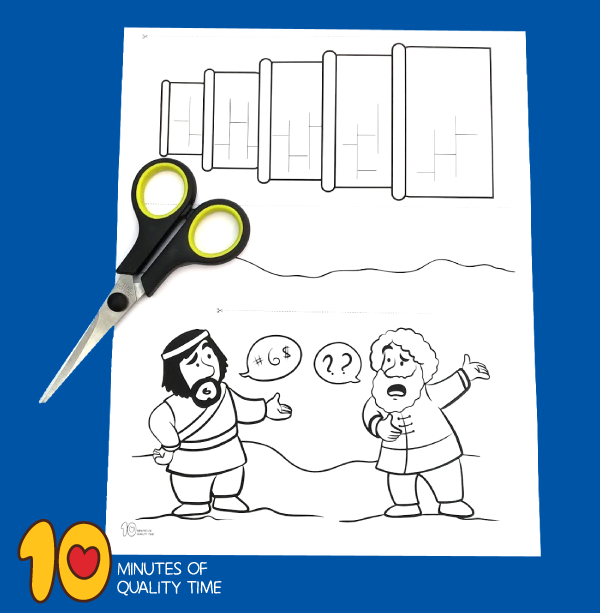 All you need for this fun pop-out craft is plain paper for printing the included images, scissors to cut out the slit, and coloring materials of your choice. The moving tower is a great way to engage kinesthetic learners and creates a compelling visual to communicate the core message of the story.
Learn More: 10 Minutes of Quality Time
11. Read a Book About the Babylonian People
This colorful book, aimed at elementary-aged children retells the classic story in a funny and irreverent tone, where people are trying to reach the moon by constructing a tower made of cheeseburgers instead of bricks. It makes for an entertaining way to teach young learners about teamwork, problem-solving, and the power of tenacity.
Learn More: Amazon
12. Try a Word Search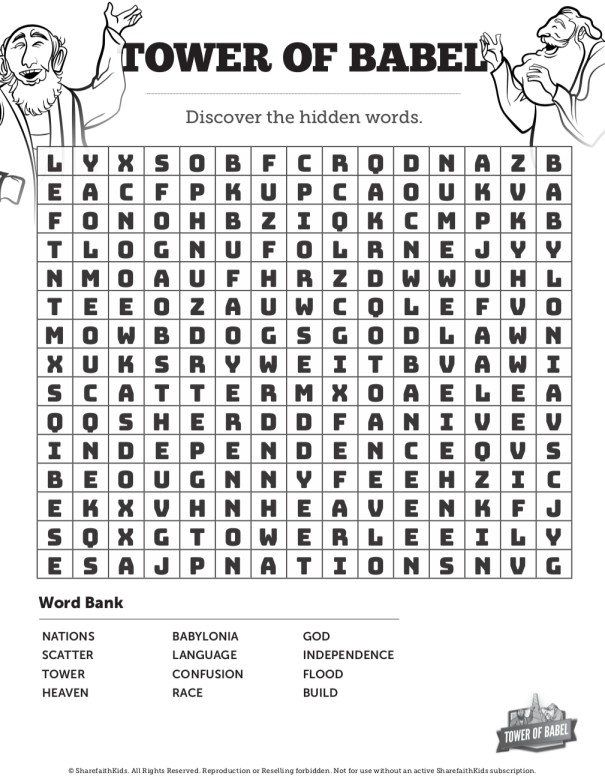 This Tower of Babel themed-word search is a fun way to enhance vocabulary and spelling while improving focus, memory, and problem-solving skills. You could even try boosting motivation by offering a prize for the first student to complete the search.
Learn More: Share Faith
13. Engage Learners in a Maze Activity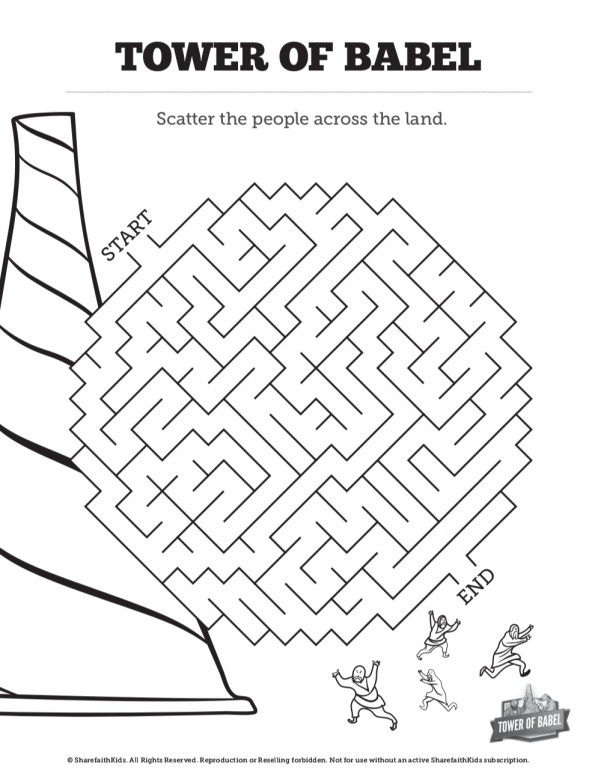 This simple maze makes for a great opportunity to discuss the core themes of the story while providing a fun challenge. Additionally, it can help improve cognitive skills such as spatial awareness and decision-making.
Learn More: Share Faith
14. Building Blocks Craft
The brown strips for this hands-on activity are cut to different lengths to make the project more challenging. After downloading the template, have kids add the strips of paper in the right order to create their own Tower of Babel before enhancing their creation with designs of their choice.
Learn More: Bible Crafts by Jenny
15. Build the Tallest Tower STEM Challenge
Building a Tower of Babel with gummies and toothpicks is a hands-on way to promote teamwork, fine motor skills, and problem-solving abilities. Combing science, engineering, and art, it's sure to leave kids with a sense of accomplishment when they've completed their unique creations.
Learn More: Jewel's School Gems
16. Build the Largest Tower out of Crackers
This Tower of Babel-inspired snack is super simple and delicious! Have kids spread peanut butter on the crackers of their choice, before topping them with banana slices. Watch as they compete to see who can stack the highest tower!
Learn More: The Crawfords
17. Educational Craft
After studying this Bible verse from the well-known story and coloring the tower-shaped design, kids can glue pieces of cotton to the clouds and glitter to the sun to create an eye-catching textured effect.
Learn More: In my World
18. Create a 3D Pop Up Tower
After printing this template on cardstock, fold the page in half along the middle of the tower before cutting along the lines indicated in the template. It's a simple way to create an impressive design!
Learn More: Teach Sunday School