Tracing activities can be beneficial for many reasons. Try these activities if you're looking to improve motor skills, provide morning work activities for additional practice, provide additional practice for beginner writing skills, or cover skills that students are struggling to master. Tracing activities can be a great way to help students progress in all areas of learning. Check out these 22 tracing activities for some fun and helpful ideas! They are great for center time or at-home practice!
1. Q-Tip Tracing Activity
This tracing activity is a great idea for centers when students are practicing their letter-writing skills. This is an easy activity where students can trace using watercolor paint on a Q-tip. You will need to write out the letters for them ahead of time. You can also try out a Q-tip number tracing activity!
Learn More: Toddler at Play
2. Months of the Year
In order to cover skills like months of the year or days of the week, you may consider using this tracing activity. This is also a good way to introduce proper nouns and how to capitalize the beginning letter of each word.
Learn More: SupplyMe
3. Farm Numbers Tracing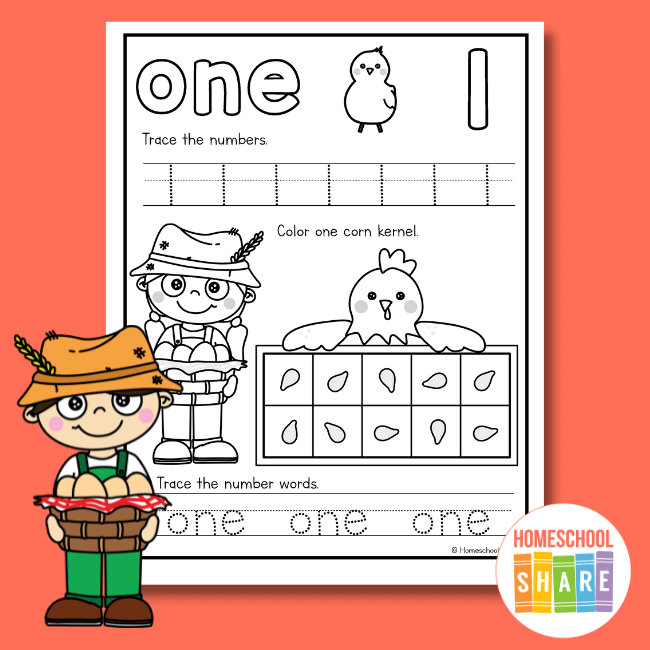 If you're covering a farmyard unit, consider incorporating this tracing activity. These sheets cover skills like tracing the number words and their numerals. This is also a sheet that students can color afterward so it provides something for them to do independently.
Learn More: Homeschool Share
4. Ocean-themed Tracing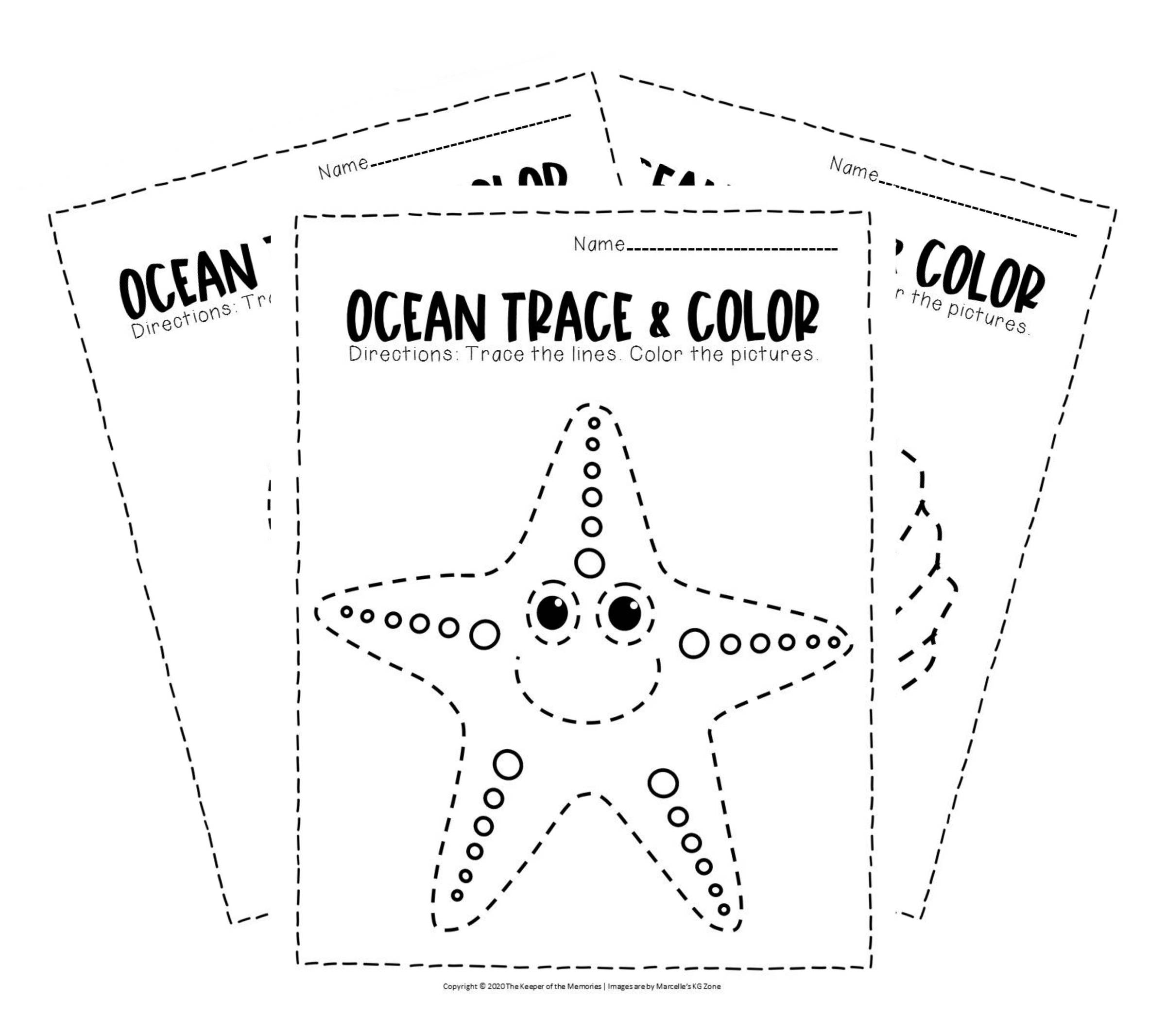 A great way to practice those motor skills is with this ocean-themed tracing activity. It's great for center time or as a morning work activity. You can copy these and have students trace or cut on the lines. You could also laminate the sheets and have students trace over them with dry-erase markers.
Learn More: The Keeper of the Memories
5. Count and Trace
This is a perfect station or morning work activity! Students can count the animals and trace each number with their fingers before using a pencil or dry-erase marker. Gradually, they can begin trying to write the number by themselves. This is one of many daily activities that can add value to your students' center time.
Learn More: Pinterest
6. Back to School Traceable
If your current activities for back-to-school morning work need an update, try this tracing activity! This is a good activity to use to build basic school-related vocabulary. It's perfect for showing students the different types of school supplies they will use at school and they can then trace each item afterward.
Learn More: Planning Playtime
7. Cursive Tracing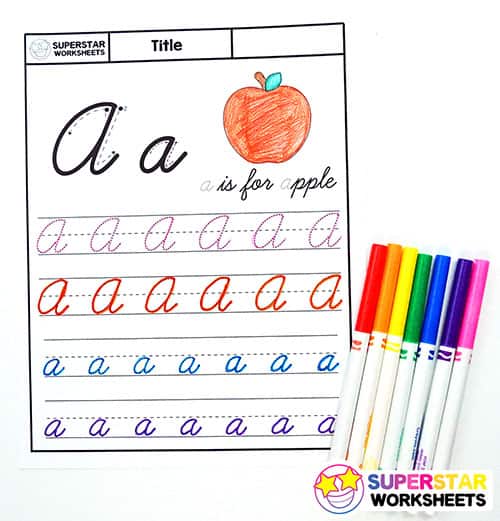 Add this to your list of daily activities for your more advanced students! You can laminate these or simply print them out for single use. This activity bundle is designed to help students practice individual cursive letters. You can also make this activity from scratch by writing out the letters yourself and then copying them for your students.
Learn More: Superstar Worksheets
8. Fall-themed Tracing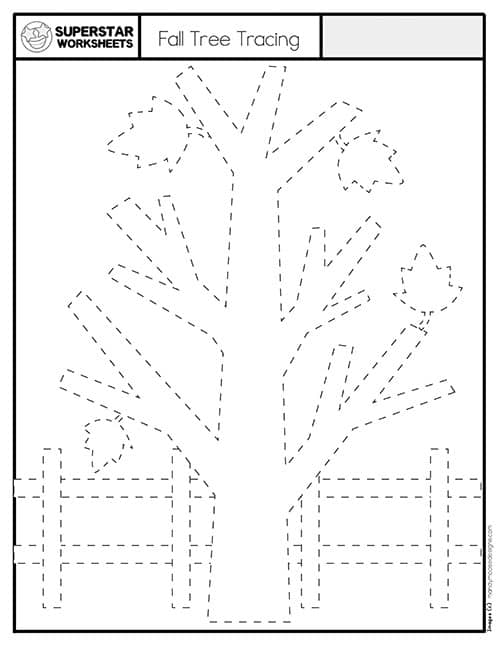 Perfect for Fall time; these Fall-themed tracing activities are great activity packs to use during centers or morning work time. These daily skill sheets can be used to improve fine motor skills for young ones. They can trace them first and then color them in.
Learn More: Superstar Worksheets
9. Harold and the Purple Crayon
Pair this well-loved children's book with a preschool tracing and prewriting activity. Read Harold and the Purple Crayon aloud to your class and then give them the opportunity to practice the tracing and prewriting sheets independently.
Learn More: Totschooling
10. Spring-themed Tracing
Springtime is full of fun with flowers blooming and birds chirping! These Spring-themed prewriting and tracing activity bundles are great daily activities for students to use to improve these skills. Motor tracing activities like this one are fun and can be laminated or placed in clear, plastic sleeves for repeated use with dry-erase markers.
Learn More: Totschooling
11. Holiday Tracing Sheets
When learning more about holidays, you can easily incorporate motor tracing activities! Simply laminate or copy these sheets and allow students the chance to practice tracing different types of patterns and lines. These are great as morning work activities or can alternatively be used in centers. They can also be laminated and put on a binder ring to finger trace for a quick revision activity.
Learn More: Fun with Mama
12. Tracing Cards
Alphabet tracing cards are a great way to provide some extra practice for students who are just beginning to learn how to form the letters of the alphabet. These can be laminated and used for finger tracing or with a dry-erase marker. They can also be used as a model for students to write in the sand. This is good to use in small groups or for intervention.
Learn More: Teachers Pay Teachers
13. Sight Word Tracing
Sight words are a big part of building literacy skills. This tracing activity bundle is a great way for students to get some practice with this important skill. Students can read the word, find and highlight them around the border, and then trace the word in the center.
Learn More: Teachers Pay Teachers
14. Rainbow Tracing
Rainbow tracing will be a favorite for students who enjoy colors! You can choose uppercase or lowercase tracing for students to practice. Encourage them to use rainbow colors to trace and write these letters. These motor tracing activities are ideal because they show the starting point and how many strokes are needed for proper letter formation.
Learn More: Parents
15. Comparing Sizes Tracing Worksheet
Easy to print and laminate, these morning work activities are perfect to pull out when you need a simple activity that students can do alone. Objects are shown in different sizes so as students are tracing, they can also compare the sizes. Students will begin to understand the concept of small, medium, and large.
Learn More: Parents
16. Mittens Tracing Activity
Daily skill sheets like these are perfect for fine motor practice. This mitten bundle comes with many different printable options and has a variety of lines to choose from for independent practice. Some lines are straight while others curve and zig-zag for different types of practice.
Learn More: ABC's of Literacy
17. Shapes Tracing Worksheet
Shape tracing practice is a great daily skill sheet to use with your students. Reinforcing or introducing shapes to young learners with these tracing sheets will help them practice proper formation. These will also be fun to color when the tracing is complete.
Learn More: Preschool Mom
18. Numbers Tracing Worksheets
When teaching students about numbers, this is a great resource to use! Students will see the proper formation of the number, get the opportunity to trace and then write the numeral, and have the chance to trace and then write the number word. Finally, they can find and color the number.
Learn More: Preschool Mom
19. Valentine Traceable
Valentine's day printable sheets are fun morning work activities to use around the time of this loving holiday! Print and laminate or insert in a plastic sleeve so students can practice tracing shapes with this Valentine-themed printable. This would also be great for center time and independent practice.
Learn More: Living Life and Learning
20. Fine Motor Tracing Printable
If your current activity for independent student practice needs revision, you may want to consider this one. These lines are fun for finger tracing or tracing with a marker or pencil.
Learn More: Living Life and Learning
21. Letter Tracing Worksheet
This clear resource is good for practicing letter formation. The top shows the strokes and starting point needed for the proper formation of the letter. The bottom section provides an opportunity for learners to practice the uppercase and lowercase versions of the letter.
Learn More: Nature Inspired Learning
22. Name Tracing Practice
This amazing resource is ideal for back-to-school time! Create these tracing sheets that have the student's full name. They can practice tracing over the first and last names in proper formation. They can do this as morning work or as a homework task at the start of the year until they master writing their own name.
Learn More: Create Printables