Whether you're looking for a game to play, new track designs, a simple craft train, or a holiday decoration, this list has you covered. Every age will be able to find something exciting to do by browsing through this list of sixty terrific train activities. Looking for a fun train project? We have multiple. Do you need a new favorite train book? Read on for some suggestions. The collection of train activities listed below will provide entertainment for the entire family!
1. Hidden Train Bath Bombs
Tell your toddler you have a surprise for their next bath. These DIY bath bombs will be a hit at bath time. You will need baking soda, citric acid, water, optional food coloring, and essential oils. Place those ingredients in a muffin tin with a tiny toy train inside.
Learn More: Craftulate
2. Costume
Is it Halloween yet? Homemade costumes are the best. For this one, you will need cardboard boxes, a round box, scissors, tape, a Pringles tube, primer paint then blue and black paint, red tape, yellow, black and red cardstock, a hot glue gun, and some ribbon. Whew!
Learn More: Craftulate
3. Tissue Train Box
Are you looking for a fun craft on a rainy day? Keep those empty tissue boxes and glue them together to make a train! Kids will love painting the boxes and then taking their stuffed animals for a ride. Painted cardstock works well for these wheels.
Learn More: Pinterest
4. Stencil Trains
Is your toddler trying their best to draw, but not able to get the perfect shapes they are looking for? Drawing is so much easier when you have a stencil. Check out this stencil set to add to your at-home craft area.
Learn More: Amazon
5. Sticker Books
Sticker books are a great way to pass the time, especially while traveling. Check out the exciting train stickers found in these books. Mom hack: peel the back layer of the stickers off so your toddler's little fingers can easily remove the stickers.
Learn More: Amazon
6. Pete the Cat
Go on a train adventure with Pete the Cat through this easy-to-read story. Your child will love hearing your voice as you read, or, if they are a little older, they will be eager to sound out words with you as you look at the train scenery.
Learn More: Barnes & Noble
7. Goodnight Train
Are you looking for a new bedtime read? This cute short story puts all the trains and their cabooses to sleep one by one. Cozy up with this book at the end of your bedtime routine while telling your child it's their turn to go to sleep now.
Learn More: Barnes & Noble
8. Build a Cookie Train
Who needs a gingerbread house when you have trains? This Oreo kit has everything you need to make an adorable holiday train, including frosting squeeze tubes and little pieces of candy. Buy one kit for the whole family to enjoy!
Learn More: Oriental Trading
9. Get Tattooed
I honestly believe my son learned how to count to thirty by listening to us every time he wanted a temporary tattoo. If your toddler is super into trains, these tattoos will be so fun for them! Or add them to a birthday goody bag.
Learn More: Oriental Trading
10. Train Rocks
Painting rocks is so much fun! You can pre-draw the trains with white fabric paint or a white crayon. Then have your child pick which color they would like each part of the train to be using acrylic paint. Showcase them inside or outdoors.
Learn More: Hello Wonderful
11. Paint With Trains
Who needs paintbrushes when you have trains? Use the wheels of trains to paint a picture! Be sure to use something like washable tempura paint and trains that do not have batteries in them so you can easily wash them after.
Learn More: Hello Wonderful
12. Finger Print Train
I absolutely love this idea! Have each finger be used for a different color, or have your child wash their hands in between colors. Either way, you will end up with a signature train painting that is 100% unique to your child!
Learn More: Craft of Art
13. Cardboard Bridge
Does your child have a lot of train toys but needs something to shake things up? My son will play with his trains for hours, but adding in a simple new item, like a homemade bridge, is one of the best ways to reignite his attention.
Learn More: Pink Stripey Socks
14. Paint Your Tracks
If you have a huge set of wooden train tracks, this craft is for you! Washable tempura paint is perfect for these wooden tracks and makes for easy cleanup. Get your child excited about making their custom train tracks in whatever color they choose.
Learn More: Pink Stripey Socks
15. Make Cupcakes
If you plan to host a train-themed party, these cupcakes are a must-have. While they do take longer to make, cupcakes are much easier than cake to serve on the day of the party. Place yours on graham crackers and Oreo wheels for a full locomotive effect.
Learn More: Cutesy Crafts
16. Felt Shapes
Learning geometric shapes has never been so fun! If you have scraps of felt fabric laying around, try cutting them into shapes that, when combined, create a steam engine. Your little one will have to put their thinking cap on to complete this puzzle!
Learn More: Cutesy Crafts
17. Cardstock Train
Whether you have cardstock or sheets of construction paper, this craft is super simple. All you need to do is pre-cut rectangles and provide paper with a track printed on it. Encourage students to cut out their own steam engine and hand over the glue!
Learn More: Toddler Approved
18. Practice Counting
Do you have a set of trains with numbers on them? If so, this is the perfect activity to reinforce number recognition! Write the numbers on pieces of scratch paper and have your toddler match the train number with the written one.
Learn More: Rainy Day Mum
19. Train Track Ornament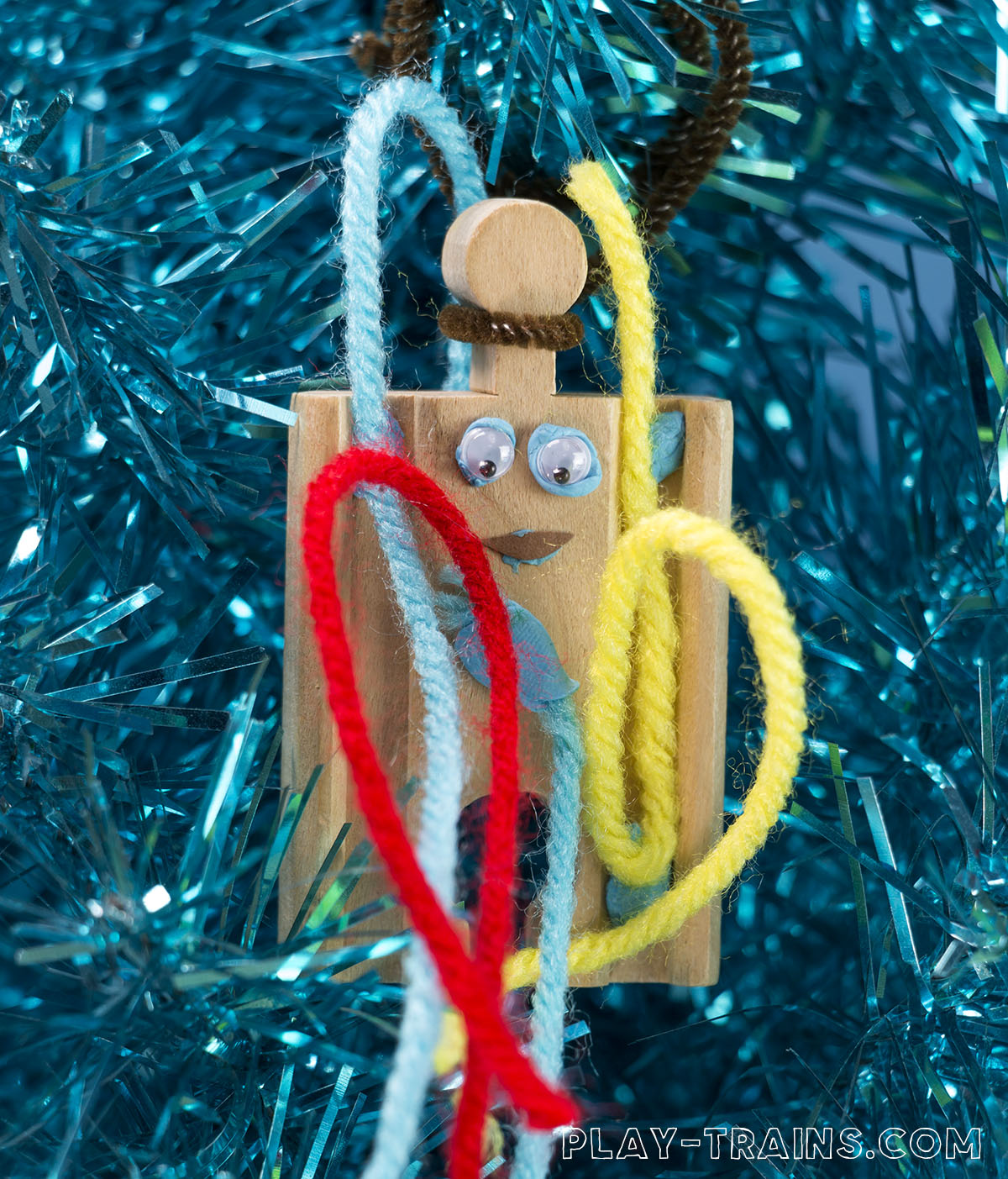 Have your kids have outgrown the wooden train set and you're not sure what to do with it? Get some pipe cleaners and googly eyes and turn them into ornaments! These will make a great DIY gift for any train lover.
Learn More: Play-Trains
20. Add in Legos
Is the train set getting a little dull? Add in Legos! Help your child build a bridge over their train set. Use the pretend people to walk up the bridge or go through the tunnel. This simple addition makes an old track feel brand new!
Learn More: Play-Trains
21. Play-Doh Molds
My son loves this Play-Doh stamp set. The figurines make perfect imprints into the Play-Doh, and each train wheel provides a different shape. Play-Doh comes out the front of the train. The hardest part is keeping the colors separated!
Learn More: Michaels
22. New Wooden Set
If you are looking for a new, interlocking, wooden train set, look no further! This set carries items like coal and makes sounds. Your child will love the fun colors these new trains come in. Get their imagination going today!
Learn More: Target
23. Geo TraxPacks Village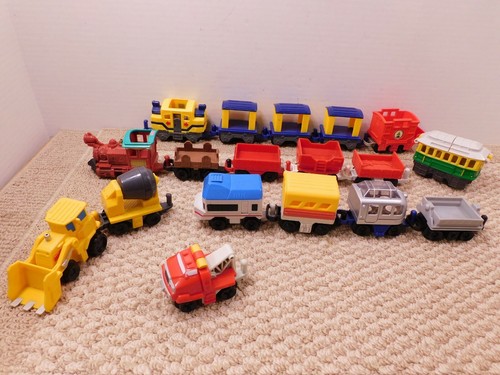 The Geo Trax set by Fisher Price is priceless! These tracks are so durable and the additions are endless. They are also super easy to clean (unlike the wooden ones). Each engine comes with a remote control to get speeding!
Learn More: Geo TraxPacks
24. Shapes With Trains Cut Out
Older students will enjoy cutting these pieces out and pasting them together themselves. Instruct students to color their train pieces before cutting as coloring on a larger piece of paper is easier. Younger students will need this pre-cut for them.
Learn More: Teachers Lien
25. Conduct an Experiment
Use some train science skills to see how trains stay on their tracks. You will need two yardsticks, two plastic cups taped together, and a shoe box. This is an exciting, hands-on physics experiment for upper elementary students.
Learn More: Science Buddies
26. Train Table Set
If you have space in a playroom for a train table set, it will be money well spent. Kids have so much fun at these tables that are designed perfectly for their height. The drawer under this table makes cleanup super easy!
Learn More: Kid Kraft
27. Egg Carton Train
Are you ready to make a colorful train? Grab washable paint, an egg carton, and paper towel tubes before sitting down to watch this tutorial video. Kids always have tons of fun making crafts out of everyday items!
Learn More: Ms. Jen's Virtual Preschool
28. Counting Trains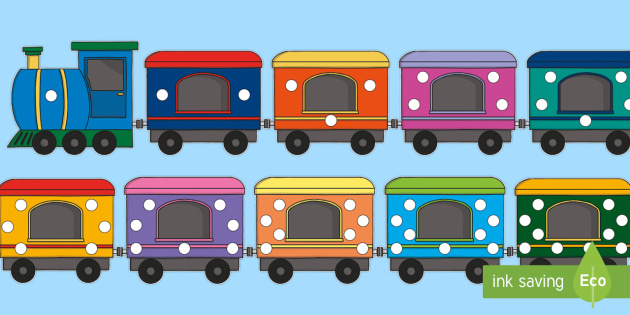 This counting trains worksheet is perfect for preschoolers. Counting is much more fun when it involves something you like, such as trains. I especially like the dotted line in the center of each answer box to help students write appropriately.
Learn More: Education
29. Trace the Train
New artists will enjoy the help of the dotted lines to complete the train shape. Once they are finished, they can color the rest of the train, however, their choose. It's a drawing and coloring book activity all in one!
Learn More: Education
30. Fingerprint Train Ornament
Get those little fingers ready for the perfect DIY gift. This is great for daycare or preschool centers to complete as a parent gift. Or parents can do this with their children to give to their friends, teachers, or grandparents.
Learn More: The Educators' Spin On It
31. Decorate With The Polar Express
Are you looking for a new Christmas decoration? Check out this free-standing cut-out train. Your toddler will be so excited to set this up next Christmas! It's a larger-sized decoration that the whole train-loving family can enjoy.
Learn More: Advanced Graphics
32. I Spy Bottle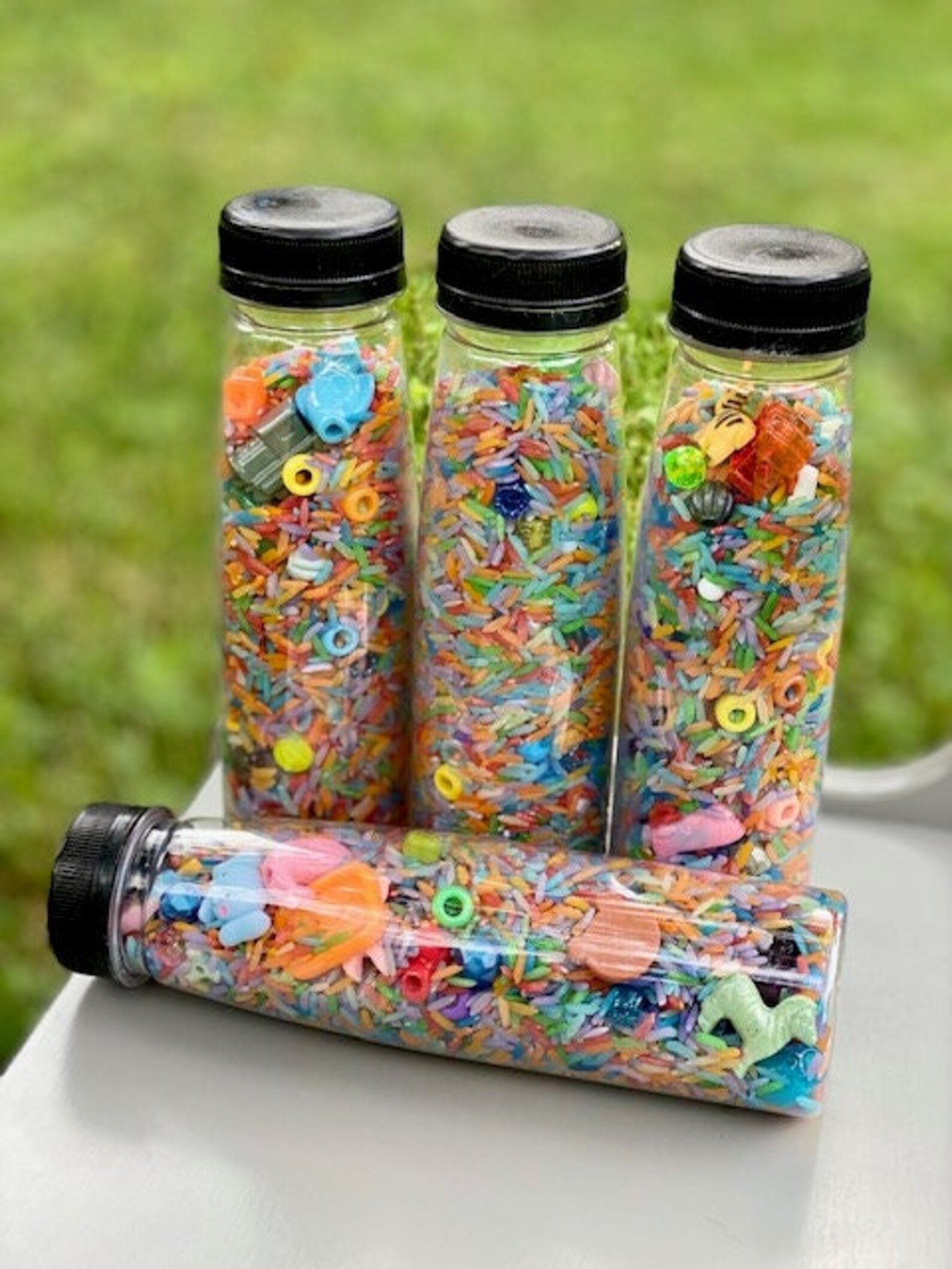 Take the "I Spy" game to the next level with this I-Spy Train Sensory Bottle. Kids will look in the bottle and describe something they see without saying what it is. Then someone has to guess what it is that the first kid spied on.
Learn More: Etsy
33. Play Plarail Trains
Check out these super cool, super fast, Japanese bullet trains! These battery-operated trains go much faster than your average toy train. Teach your child that each train has a different purpose and that these trains are meant for bringing people to their destinations quickly.
Learn More: Plaza Japan
34. Mini Train Track Set
This little tiny building set is the perfect on-the-go toy. Take it with you on a plane, or a train! These 32 pieces will provide great entertainment that is also screen-free! How many different train track configurations can your child make?
Learn More: Train Party
35. Milk Carton Train
What a cute way to reuse an empty milk carton! I love that the train lights are push pins! Grab some scissors to make the door and window. Then cut out one side of the carton for wheels. Add some paint if you wish to decorate further.
Learn More: Green Matters
36. Logic Puzzle
Four clues are given in this scenario. Your job is to figure out which train station each train travels to, and how long it takes them. Can you crack this logic puzzle? Show your kids what you are doing and encourage them to help!
Learn More: Aha Puzzles
37. Floor Puzzle
Floor 16-24 piece puzzles are the best! This self-correcting one has 21 pieces; one for the front steam engine and the rest are for the numbers one through twenty. What a fun, colorful way to learn how to count to twenty!
Learn More: Lakeshore Learning
38. Phonics Train
"H" is for horse, helicopter, and hammer! What else in the purple stack goes with the letter "H"? This fun puzzle is a great way to start sounding out words and seeing which words start with which letter. I would separate out the colors so as to not overwhelm my new reader!
Learn More: Lakeshore Learning
39. Build a Matchbox Train
This wooden puzzle is a whole new kind of challenge! Rated for kids six and up, the pieces in this matchbox train puzzle will create a whole new, 3D toy that can be taken apart and put back together over and over.
Learn More: Tin Toy Arcade
40. Building Blocks Puzzle Train
Are you looking for a fun and engaging way to work on problem-solving and numeracy skills? Check out this puzzle train! Toddlers will be putting together a puzzle that doubles as a number line. Have your child count the items on each puzzle piece once complete.
Learn More: Hinkler
41. Train Names
I love this hands-on way to spell names. After printing each student's name on different colors of paper, cut out each train car. I would use envelopes to separate each one. Have students tape or glue them together once they spell their names.
Learn More: Early Learning Ideas
42. Christmas Train
Why spend money on Christmas decorations when you have empty toilet paper tubes? This cute Christmas train uses three toilet paper tubes, a cotton ball, cardstock paper, and a piece of yarn to hold it all together.
Learn More: Entertainment Junction
43. Life Size Cardboard Train
This amazing train is just what you need in your living room! If you have multiple cardboard boxes, this could be a fun project for a rainy day. Kids will love using their imagination as they ride inside their make-believe train.
Learn More: Entertainment Junction
44. Valentine Craft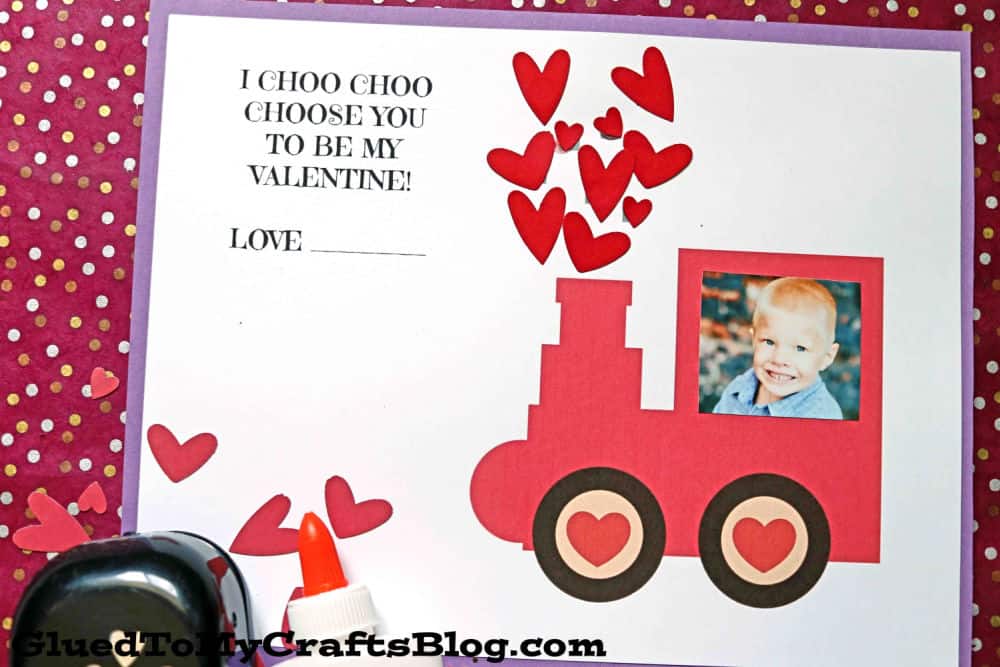 Choo Choo Train Crafts are adorable, especially when your child's picture is involved! Have students paste the flutter hearts and their pictures on themselves. Be sure to have them sign their names at the end and maybe even write "mommy and daddy" if they're able.
Learn More: Glued To My Crafts
45. Popsicle Strick Trains
Make a train engine out of popsicle sticks! This would make a great stand-alone craft or is the perfect way to use up the last few popsicle sticks from an older craft. Paint the sticks ahead of time, and then get building!
Learn More: Glued To My Crafts
46. Play the Dinosaur Train
Visit the link below for a wide range of digital games to choose from. Kids can play a digital relay game, or help a dinosaur drink water. They can also push a train full of dinosaurs along the tracks and sort them from smallest to biggest.
Learn More: PBS Kids
47. Counting Trains
Do you have an enormous amount of train cars? Use them as part of a counting game! Using cards or post-its, write the numbers one through five. Then instruct your child to add that many cars to their steam engines.
Learn More: School Time Snippets
48. Pool Noodle Tracks
Who needs a fancy train table when you can make custom train tracks all by yourself? Cut an old pool noodle in half and bust out the washable black paint. Draw some parallel lines and then allow your child to complete the rest.
Learn More: Mama Papa Bubba
49. Make a Pattern
Building patterns and figuring out what comes next in a line of pictures is a foundational math skill. Use pictures of train cars to make pattern finding more exciting! Cut out what comes next, or have students draw it themselves.
Learn More: Pinterest
50. Reading Train Log
This is such a great idea to keep track of which books have been read! All you need is some colored paper, scissors, and a marker. Make a goal with your child to read ten books this month and record each book once it has been read.
Learn More: Research Parent
51. Floor Tracks
Masking tape for the win! Tape this down before your next movement break. Have students pretend they are trains as they use the tracks to move around the room. Sometimes adding something so simple can make everything much more exciting.
Learn More: Ms. Ange's Class
52. Train Themed Paper
This train-themed paper provides a unique writing space for your new author. Perhaps you can read a short train story and then have students reflect or answer a question on this paper. Students are more willing to write on something that looks fun!
Learn More: Thought Co
53. Dance and Sing
Chugga chugga, choo-choo train! Sing and dance along together to this upbeat song. I would put this on when kids are getting antsy and need a movement break. Try coupling this song with the floor tracks from item 51 above.
Learn More: Pinkfong Baby Shark
54. Train Snake Game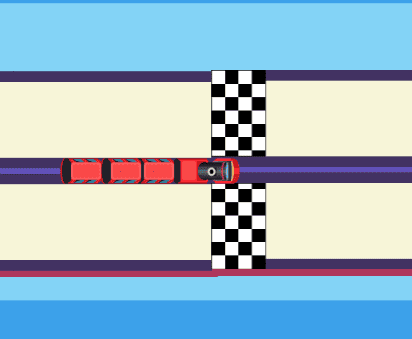 The snake game is the original cell phone game. I distinctly remember playing it for hours on my mom's phone. In this version, the snake has turned into a train! Can you keep the train from bumping into the walls even as it grows bigger?
Learn More: Game Forge
55. Train vs. Car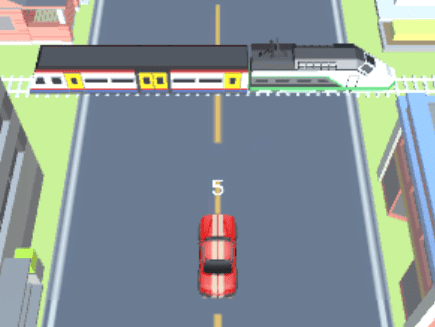 Here's another digital activity to play at home. Your job is to try and drive the cars all the way down the road before the train comes racing by. Will your car get hit by the train? I sure hope not! Please get to your destination safely!
Learn More: Game Forge
56. I Think I Can Craft
Do your students need some uplifting words of encouragement? Try reading The Little Engine That Could and then make this empowering train craft. It's just a few cutouts that most kids can do themselves. Get your free template at the link below.
Learn More: Crafting Jeannie
57. Train Growth Chart
My son is almost four and I still don't have a cute way to track his growth. Don't be like me and have it written in the back of his baby book. Get something nice like this instead that can be hung on the wall like a piece of art.
Learn More: Knotty Kingdom
58. Cork Train
For this cork train, you will need magnetic buttons, twenty wine corks and four champagne corks, two straws, and a hot glue gun. By putting the buttons on the straw, the cork train will be able to move around like a real train!
Learn More: Craft Project Ideas
59. Paper Straw Train
Do you have bottle caps, a toilet paper roll (for the steam engine), and a lot of paper straws? If so, try this out! You'll start by gluing the straws onto a piece of cardstock paper and then cutting them out into rectangular shapes. Then use a hot glue gun to put create the train boxes.
Learn More: Risi Kids Play
60. Lunch Bag Circus Train
Here is a fun way to recycle old brown lunch bags. Cut each bag in half and fill it with newspaper to keep its shape. Then use colored paper to decorate each train car. The Q-Tips are a good idea if you're going for a cage look.
Learn More: In The Bag Kids Crafts