Trampolines are some of the best outdoor toys for not only playing but also for making memories. These are praised from endless bouncing to water games, all the way to outdoor camping. Trampolines are always a good time. It's important to take all necessary safety precautions in order to keep everyone safe throughout their entire jumping journey.
Sometimes bouncing alone can get a bit tedious and tiring. Therefore, it's important to equip your kiddos with some games that they'll absolutely love. Here is a list of 50 unique and overall fun games that will make any family event, summer day, or evening fun and exciting for all.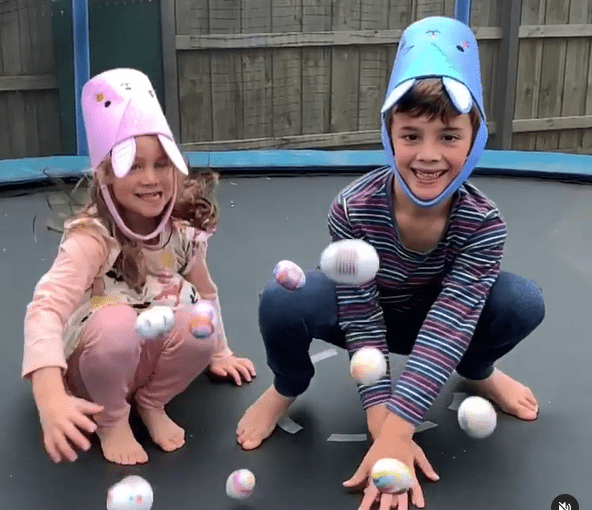 This bunny hop game is designed to knock the sugar rush right out of your kiddos. This is kind of like hot potatoes but instead of an actual potato, one will simply use eggs (real or fake). The kids have to believe that the eggs are poison and hop away at all costs.
Learn More: Youth Yoga with Rethi (Instagram)
This game can really be adapted to fit your family. The object is to hit the kids on the trampoline. Once you hit someone it's your turn on the trampoline. Ultimately it's a circling game of jumping, dodging, and throwing.
Learn More: Sarah (Instagram)
This is something that I'd absolutely love to try! Filling your trampoline with little sensory water beads could be one of the main reasons children in your neighborhood are constantly coming over.
Learn More: Danielle Christian (Instagram)
This can easily be played with a mini trampoline inside, or with an iPad, Projector, or Cell Phone outside. Simply play the video and watch as your kiddos take on the challenge of jumping over all the obstacles.
Learn More: Coach Corey Martin
This is great because it can literally be done only through listening. You can even yell out different Bop It moves for your children to do on the trampoline. Making it into a competition is even more simple because whoever does the wrong move is out.
Learn More: Fitness Hustle TV
46. Red Light, Green Light, Dance Party
Alright, in order to use this fun activity on the trampoline, you can either somehow set up this video near your trampoline OR use presentation cards to indicate which move your kids should do.
Learn More: Coach EzFit
If your kids are always wanting to get some jump in throughout the night, then this is the perfect investment. You can do so many different activities with these solar attachable lights! Games like light freeze jump or just a disco dance party!
Learn More: Amazon
48. Step Up Your Sprinkler Game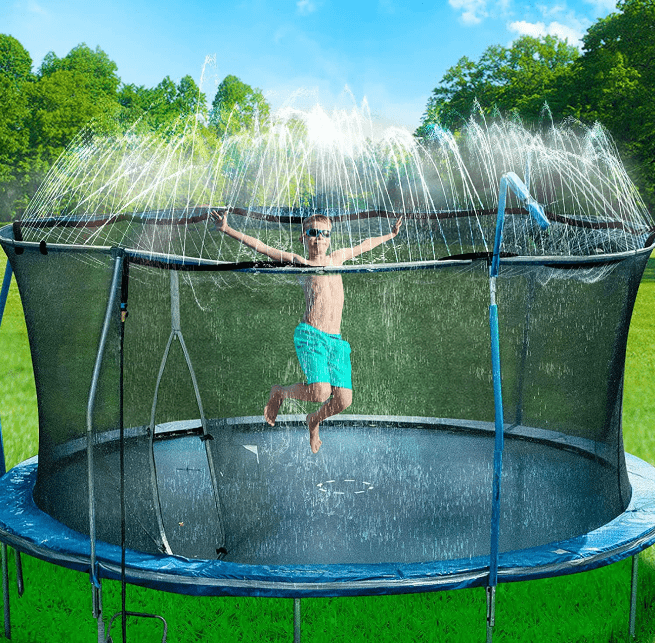 Before we mentioned that you could simply put a garden sprinkler under the trampoline. Well, if your kiddos have gotten a bit bored of that with age, then this is the answer you're looking for.
Learn More: Amazon
Bean Bag toss on the trampoline is a whole new level of excitement. Family rules can be changed and manipulated to fit the exact game you're going for. Whether it's a solo game or a game including a bunch of people, it's bound to be a great time.
Learn More: Amazon
These velcro outfits are a perfect addition to any backyard game, but they make an exceptionally amazing addition to a trampoline. It's easier to dodge when you can jump and dive safely. Kids will also be confined to one space making it even more exciting.
Learn More: Amazon