Get ready for the spooky season by searching community bulletin boards for Trunk-or-Treat events! These events often happen in school or church parking lots and are a great way to avoid the trek between houses on Halloween! The parking lot provides plenty of room to set up games for children who can also collect candy as they play! This is a fun alternative to trick-or-treating so, get reading to discover 25 unique activities for inspiration for your own event!
1. Shoot for Loot
This Robin Hood-inspired Trunk-or-Treat idea will keep kids coming back all night! Not for the candy, but to shoot arrows at the target. Be sure to use a suction cup bow and arrow to avoid injuries. Also works for a Carnival-themed trunk.
Learn More: Clearwater Cottage
2. Bean Bag Toss
Get your boo bags ready for this fun game idea! You can choose to let kids toss bags into your actual trunk or set up the game next to the cars on display. For every toss they make, kids get extra candy or a big candy bar!
Learn More: Caravan Shoppe
3. Pumpkin Bowling
See how well pumpkins roll with this fun event idea. Use hay bales to mark out bowling lanes. Then, place bowling pins, cans, or decorated bottles at the end. Grab the roundest pumpkins you can find and host a contest among students to find the best bowler!
Learn More: Badger and Peach
4. Candy Corn Toss
Whether or not you like it, candy corn makes a great gameboard! Place your candy corn board on a table and have kids bounce ping pong balls into the cups to collect points. More points equal bigger candy bars. Bonus points for fun trick shots!
Learn More: Felt Magnet
5. Ring Toss
For this fun game, you can substitute witches' hats for candy corn if you prefer. Parents can join in the fun to pass the time while the kids are going trunk to trunk collecting candy!
Learn More: Pinterest
6. Pumpkin Tic-Tac-Toe
Pass the time until the costume contest with a classic game of tic-tac-toe! Set up a small board on a table or in your trunk and substitute pumpkins for candy buttons. Or make a giant board and use huge pumpkins for tons of Halloween-themed fun!
Learn More: Bit-O-Me
7. Pumpkin Sweep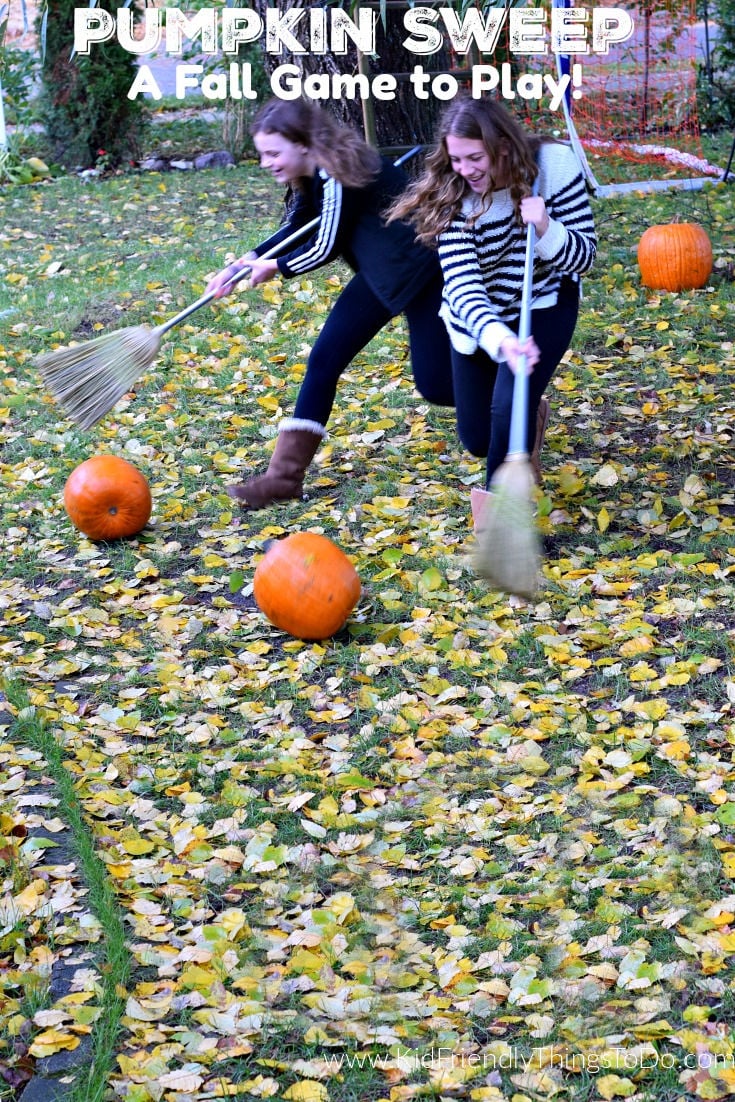 Work off those sugar highs with a fun game of pumpkin sweep! This relay race requires teams equipped with stiff brooms. The goal is to sweep the pumpkin down the field, around a cone, and back to the next player before the other team.
Learn More: Kid Friendly Things To Do
8. Walk The Plank
This fun trunk theme has kids cross shark-infested waters to claim their booty! Place treasure chests filled with goodies in your trunk. Then lay out your water and planks for kids to conquer. Use ramps and extra-wide planks for a handicap-accessible option.
Learn More: Pinterest
9. Candyland
A Candy-Land-themed scene is perfect for a holiday all about candy! Decorate your car with characters from the game and set out squares for kids to follow. You can have them roll a giant die to advance spaces until they reach your trunk!
Learn More: Children's Ministry Deals
10. S'more The Merrier
If it's a bit chilly (and you can safely light a fire), why not have the option to make tasty s'mores? If the fire is out of the question, create s'more kits for kids to make at home. You're sure to have the most festive trunk of the night!
Learn More: Etsy
11. Space Race
Three, two, one…. blast off! Reach for the stars with an out-of-this-world trunk design. The perfect compliment to alien-themed costumes, you can add battery-operated LED lights to bring the stars down to Earth and illuminate your rocket ship.
Learn More: HGTV
12. Hungry Hungry Hippos
Ensure you have the funniest trunk this year with a Hungry Hungry Hippo theme! Fill your trunk with balloons or ball pit balls. Then, have kids shuffle through the balls to find the candy of their choice!
Learn More: Four by Two
13. Pumpkin Golf
Bring the putting range with you to create an active trunk theme! Carefully carve a variety of faces into pumpkins. Be sure to have wide-open mouths and clean out all the pumpkin guts. You could also use plastic pumpkins for an easier setup.
Learn More: Eighteen25
14. Twister Treat
Put a twist on the Twister game. Attach plastic pockets to each Twister circle and fill them with different kinds of candy. When kids arrive at your trunk, have them spin the spinner to discover their tasty treat! Make sure to have allergy-friendly substitutes on hand.
Learn More: Pinterest
15. Pop A Pumpkin
This interactive treat game is perfect for social distancing! Wrap some tissue paper over a cup filled with a treat or toy and use a rubber band to secure it. Kids punch the cup to retrieve their prize. Replace the paper for the next round.
Learn More: Passion For Saving
16. Where's Waldo
Turn a kids' classic into your trunk theme! Fill your trunk with stuffed animals, dolls, and other toys. Hide a Waldo and see how quickly your trunk-o'-treaters can find him! Dress in striped socks and a shirt to match the theme.
17. Hocus Pocus
Everyone's favorite Halloween movie makes an awesome trunk theme! You can choose to turn your trunk into a bubbling cauldron or the interior of the Sanderson sisters' house. Break-out microphones for sing-a-longs and dance parties.
Learn More: Popsugar
18. Monster Boogers
See who's brave enough to dig around Frankenstein's nose! This entertaining trunk theme will have kids shrieking and giggling all night long. Add some homemade slime for extra-gross sensory play. Keep your candy in plastic bags to avoid cross-slime contamination.
Learn More: Pinterest
19. Mummy Races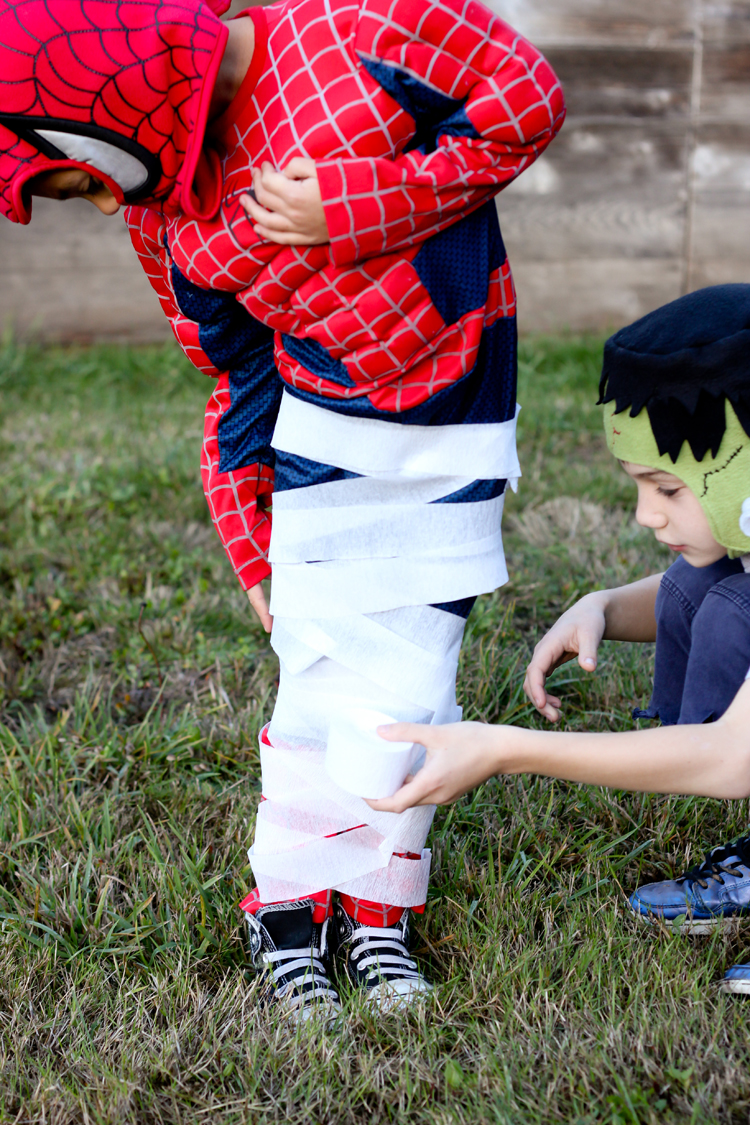 A classic Halloween game is perfect for any Trunk-or-Treat night! Grab rolls of toilet paper, paper towels, or streamers and form teams. The first group to fully wrap their mummy wins! Give out extra points for the most decorative, creative, or worst-wrapped mummy.
Learn More: Delia Creates
20. Cookie Monster Cookie Toss
Make your Halloween monster friendly for the littlest of trunk-o'-treaters! A Cookie Monster-themed Trunk-or-Treat display is adorable and easy to make. Set up a bean bag throw with cookie-shaped bags, and hand out individual packs of cookies to the kids who stop by.
Learn More: Holidappy
21. Charlie Brown and the Great Pumpkin
Welcome the Great Pumpkin with this adorable trunk display. Use a variety of pumpkins to set up a pumpkin patch in your trunk. Be sure to decorate your ghosts to look like Charlie Brown and the gang. Hide a Snoopy in the pumpkin patch for kids to find!
Learn More: Arlington Catholic Herald
22. I Spy
I spy with my little eye…..a trunk full of awesome things! Use a small table or two to build tiers inside your trunk. Fill the tiers with toys, pumpkins, and ghouls. You can choose to hide the candy in the scene or have kids find an object to get their prize.
Learn More: Pinterest
23. Ice Cream Trunks
If your Halloweens are on the warm side, create your very own ice cream shop trunk and pass out a refreshing treat for kids and adults! You can choose between pre-packaged treats or a DIY ice cream sundae bar.
Learn More: Pinterest
24. Frozen Trunk
Bring the kingdom of Arendelle to your parking lot with a Frozen-themed trunk! Decorate with some fake snow, glittery streamers, and lots of snowflakes. Don't forget to bring Olaf and Sven!
Learn More: The Learning Experience
25. Ghost Town Trunks
Who doesn't love a ghost town? A cardboard jail and graveyard make great backgrounds for photoshoots! Hay bales and a boneyard add to the Western theme. Place the candy loot next to a skeleton bandit or two.
Learn More: Michelle's Party Plan-It