Get ready to create some turtle-y awesome crafts for kids! Whether it's their cute and cuddly appearance or the fact that they're ancient creatures that have been around for millions of years, kids just can't get enough of turtles! These crafts will keep your children entertained and help develop their fine motor skills as they create a wide variety of art forms. So grab the glue, and an assortment of paints, and get crafting!
1. Paper Headband
If your child is an animal lover and wants to play pretend, consider crafting a simple headband for them to wear as a cute turtle. They can use their fine motor skills to cut, draw, and color. Then, wear the headband as they play!
Learn More: Fun Activities for Kids
2. Crochet Coasters
Every morning, your child (or even, you!) can place their delicious hot chocolate mug on top of an adorable sea turtle coaster! Download the pattern from this Etsy and start crafting today. Your child can make several sets for family and friends or keep a few in their room!
Learn More: Cool Creativity
3. Christmas Ornaments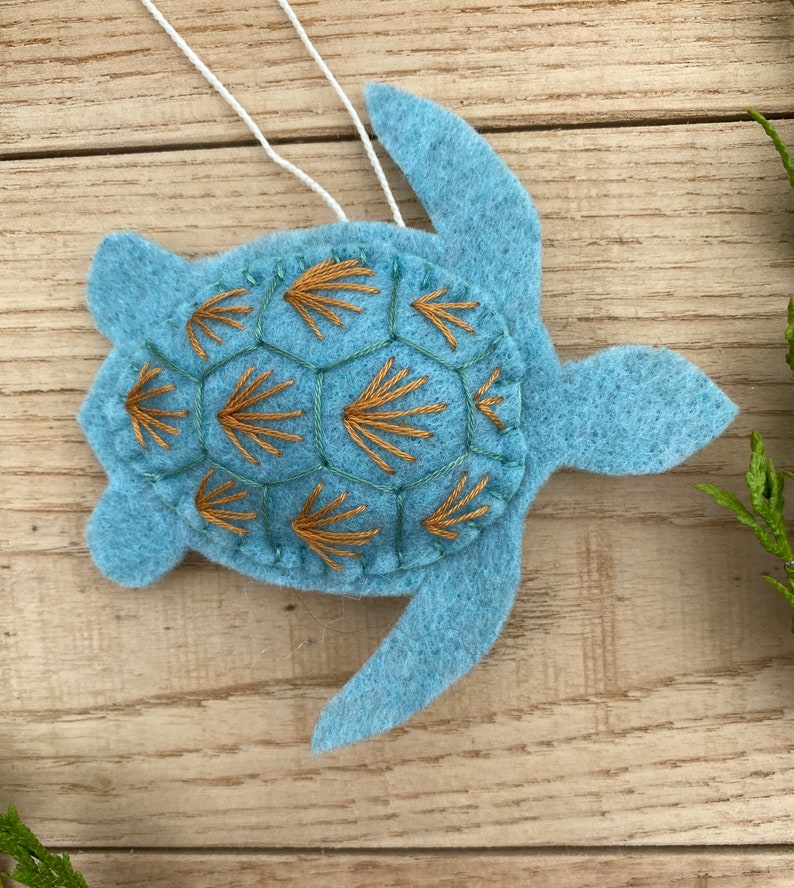 Sewing is a fantastic hobby for children to learn as it can follow them through their life. Use this Etsy design to create an ornament that can hang on your Christmas tree or be gifted to family and friends around the holidays. This is a fun craft and you could even make a family of turtles!
Learn More: Life and Peace Home
4. Handprint Craft
Using your child's adorable handprint is always a great start to any art project. Throw in the fact that they can finger paint and it's a perfect and colorful turtle craft! Check out this video with your child to try out a handprint turtle.
Learn More: Saboten
5. Egg Carton Animals
Before you throw out that empty egg carton, use the recycled item to make an adorable mini-craft project. This youtube videos show how to cut, assemble, and craft adorable animals – including a sea turtle. Just add on some googly eyes and your child will have a cool craft in no time flat!
Learn More: DIY with Anna
6. Recycled Art
Help kids learn about the idea of reusing recycled materials by making cute paper sea turtles! Kids can learn about how plastics affect sea turtles' ecosystems and then start collecting string, recycled paper, and paper plates to create adorable eco-friendly turtles! Kids can top it all off with green paint and tissue paper to have an awesome turtle craft that is also eco-friendly.
Learn More: Teachers Mag
7. Paper Mache
Get messy and create a one-of-a-kind and innovative turtle with paper mache! Paper mache is a craft technique in which paper is torn or cut into small pieces and then glued together using a paste (often made from flour and water). It is a versatile and inexpensive way to make 3D objects!
Learn More: RS. art crafts design
8. 3D Crafting
When it comes to crafting with kids, finding a project that is low prep, versatile, and appeals to all ages can be a challenge. That's why this 3D turtle craft is the perfect solution! All you need is some basic supplies like construction paper, scissors, glue, and a pencil.
Learn More: Krokotak
9. Patterned Turtle
Use this fantastic, curated, and easy-to-prep art lesson that your kids will love! Kids can transform an ordinary paper turtle into an innovative and unique rainbow turtle, all while practicing their patterning skills. You can consider adding math by asking your kids to use symmetry, use a ruler as a math tool, or use multiples of numbers in the patterns!
Learn More: Teachers Pay Teachers, Party in the Art Room
10. Turtle Time
Engage your child in their time-telling skills by creating a funky, cute, and creative clock! This craft helps to combine art and math for younger students. Try purchasing these simple turtle templates from Teacher's Pay Teachers for a low-prep craft with your child. This is a must-try activity for your child!
Learn More: Teachers Pay Teachers, Whimsey Workshop Teaching
11. Weaved Turtle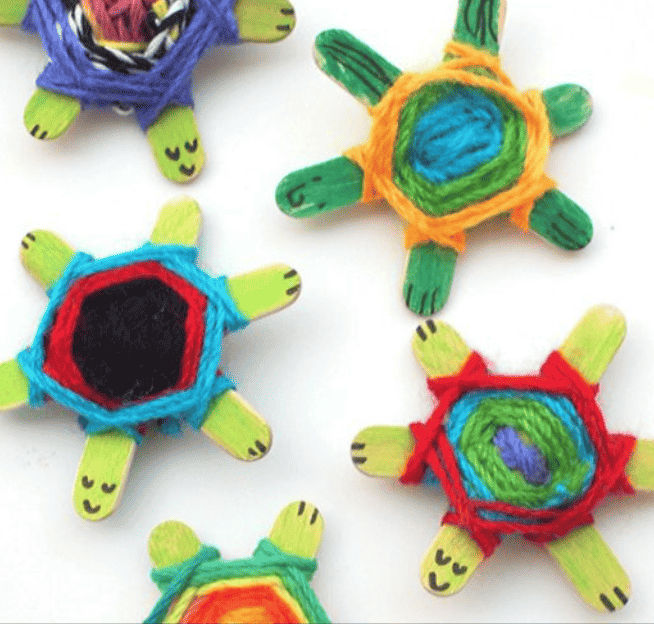 Using materials like yarn and popsicle sticks that can be easily collected, this craft allows kids to be creative with what they have on hand. They can wrap the yarn around the sticks and create their perfect hand-held turtle. Make many of all shapes, sizes, and colors!
Learn More: 1001 Patterns
12. Mandala Turtle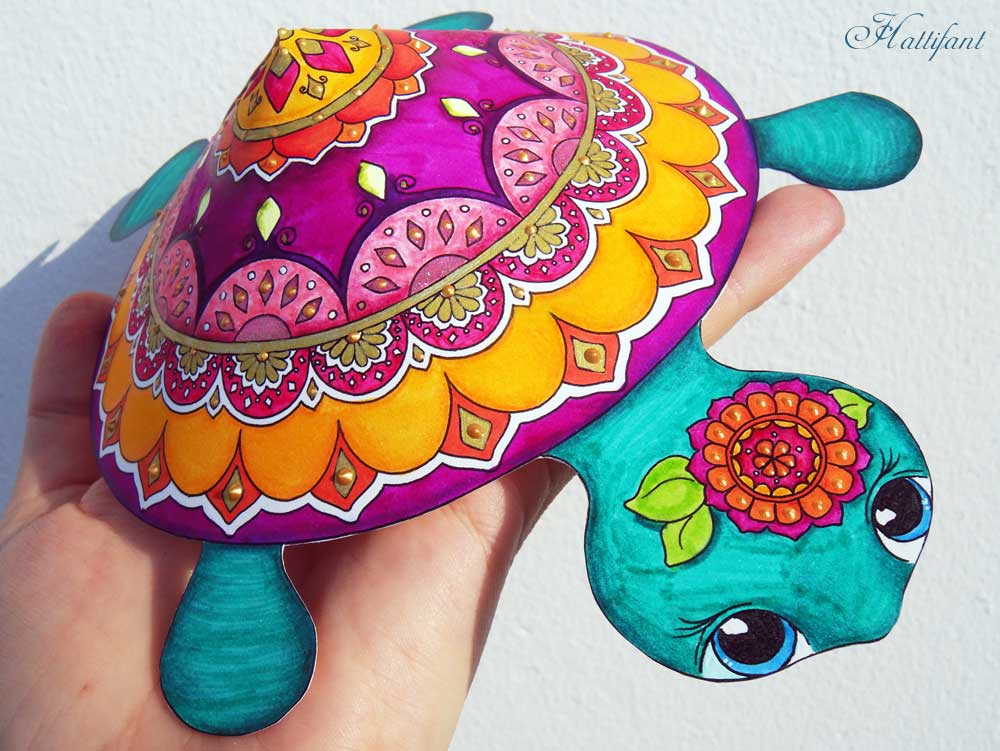 Mandalas are ancient geometric patterns with spiritual significance, and coloring them can be calming and meditative for kids. Why not take a simple turtle craft and transform it into something extraordinary? It's a great way for kids to express their creativity, and it's a fun way to learn about different cultures and art forms.
Learn More: Hattifant
13. Felt Stuffed Animal
This can be a small, quick, and simple craft that kids can complete in a short amount of time but will last for years! Plus, it also makes a great companion to take with them wherever they go!
Learn More: Lia Griffith
14. Paper Mosaic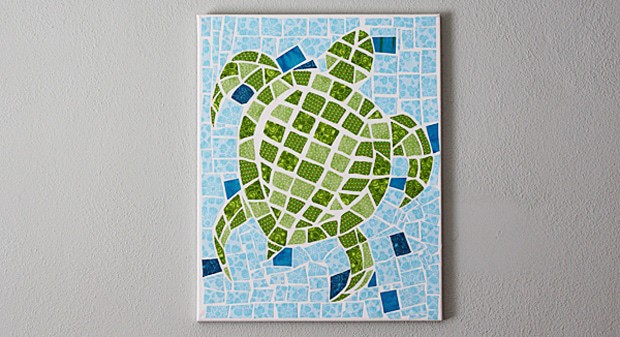 Making a paper mosaic turtle is a colorful way for kids to express their creativity. They'll love ripping paper into small pieces and using them to design their own turtle. Both paper and regular school glue are cheap supplies that kids can use to make a lovely turtle they are proud of.
Learn More: Crafts by Amanda
15. Origami
Origami turtles are a fun take on traditional art from Japan. It is a great way to develop folding skills while also helping kids learn about a different culture's art! Plus, children will only need simple supplies for this activity.
Learn More: Art Hub for Kids