Valentine's day is a celebration marked by sharing messages of love with others. Children are delighted by making and receiving messages; demonstrating the care shared between special people in their lives! From the beginning of February, you can tap into the opportunity to inspire and strengthen students' writing skills for real-world purposes with these Valentine's day-themed writing prompts. From pre-writers to advanced poets, there is something for everyone in this list of 30 activities. Let's get stuck in and spread the love!
1. Cookie Pre-Writing
Some of our young students are not quite ready for sentence writing. Instead, have them use these cookie cutouts for Valentine's day writing fun! Students pretend to be bakers, using letter or line "icing" to hone their writing skills! Laminate the pieces for reusable fun!
Learn More: The Kindergarten Connection
2. Multisensory Writing
Another excellent pre-writing task is a sensory tray! Challenge children to write 5-10 letters in the tray; use elements like gems, sequins, or sprinkles to add a festive spin! Children are better able to remember the strokes they need for letter formation when they practice multisensory activities!
Learn More: Early Learning Ideas
3. Salt Tray
The simple salt tray is the perfect center prompt for students to practice writing high-frequency words! To put Valentine's day spin on the station, use a red tray, add thematic vocabulary, and use Cupid's arrow or some conversation hearts to write in the salt!
Learn More: Laly Mom
4. Valentine's List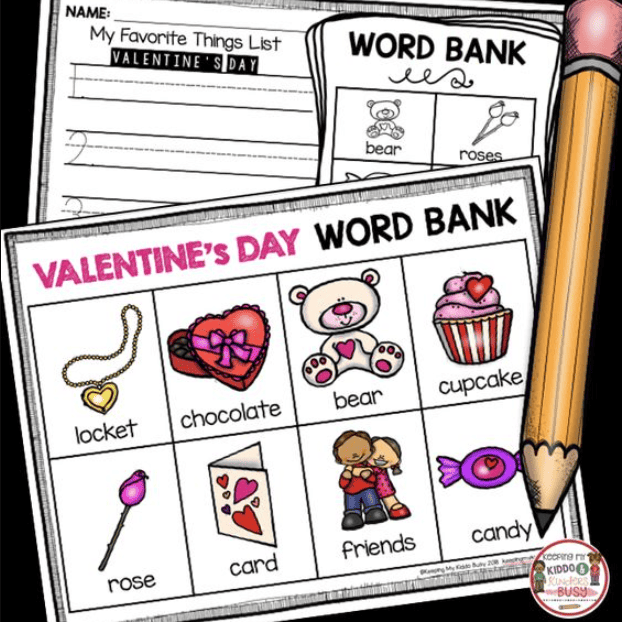 This list-making activity is an excellent, supported writing center for independent work. Children simply list Valentine's day vocabulary words in the order of their preference. As a follow-up activity, have students write a sentence about why their number one item would make the perfect gift!
Learn More: Keeping My Kiddos Busy
5. CVC Scramble
This fun activity will get your early elementary students' minds warmed up for reading! Children will draw a card with a scrambled CVC word and picture clue. They have to unscramble the word and write it on their worksheet. Set this out as a low-prep word work option!
Learn More: The Printable Princess
6. CVC Chaining
For a more hands-on CVC word center, this fun activity includes chain links and dry-erase supplies! Children again have a picture clue, but must use letter hearts to build the word on their own by connecting them with chain manipulatives. Then, they write out the word for some handwriting practice.
Learn More: Differentiated Kindergarten
7. Write-the-Room
This editable write-the-room center is easily adapted to your student's current needs! Challenge them to find all 12 sight words hidden in your classroom and record them on your sheet! Each word card includes a sweet "love monster" to reflect your Valentine's day theme!
Learn More: Fun Learning for Kids
8. Heart Words
Grab some acrylic hearts for this engaging sight word task! Children flip over a card to reveal their words, and then use the hearts to build them! Integrate math by requiring them to create color patterns as they work, or use the colors to highlight consonants vs. vowels!
Learn More: Differentiated Kindergarten
9. "How-To" Chart
Kickstart a weeklong creative writing activity with this shared writing lesson! Work with students to record the directions for how to make Valentine's day cards. Your entire class will be more engaged in this writing activity because they know it has an immediate, real-world application!
Learn More: Natalie Lynn Kindergarten
10. Note-Writing
Using the results of your shared writing activity, provide children with supplies to create real Valentine's day messages in your writing center. This letter-writing template has excellent support for children who are learning how to include elements like greetings, closings, and signatures.
Learn More: Miss Kindergarten
11. Love Letters
Build classroom community by using your anchor chart to guide card-making for each class member! Give each student a list of classmates' names and have them write a message on a blank heart. On Valentine's day, give each student an envelope filled with kind messages!
Learn More: Raise the Bar Reading
12. V-Day Letters
These adorable, two-sided letter-writing templates are an amazing prompt for middle-to-upper elementary classes. Encourage students to write notes of appreciation for the principal, cleaning crew, lunch preparation team, or special teachers. Spread the cheer to your whole school with special deliveries on Valentine's day!
Learn More: Babbling Abby
13. Love Day Display
This fabulous writing idea becomes a decorative banner for your classroom! Each pennant on the banner has a sentence starter that encourages students to ponder how they can spread love and kindness in their community. Hang it up on your bulletin board to inspire all who read them!
Learn More: Chaylor and Mads
14. Valentine Banner
An alternative banner project is this sweet prompt about the things students love! Children will complete the sentence stem to share their ideas, then they can draw a picture and decorate the letters of the banner! Set out this fun writing prompt as a quick morning activity!
Learn More: Erica's Edventures
15. I Care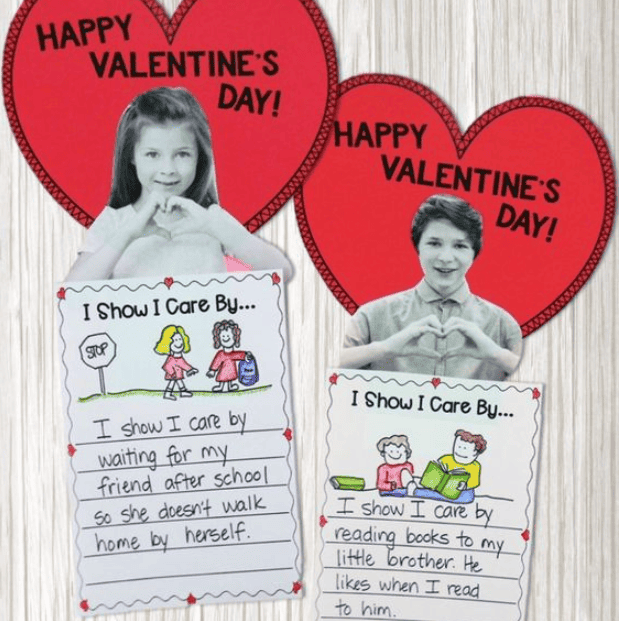 This lovely Valentine's day craftivity makes an excellent keepsake to send home. Take a quick photo of your students making a heart with their hands to attach on top. Then, have students respond to the prompt that asks how they can show compassion to others during the season of love!
Learn More: Around the Campfire
16. Love Cupcakes
Flipbooks are always an engaging writing activity! This is a simpler writing task that just requires students to add a word or short phrase to identify things they love! Your artsy students will enjoy getting to decorate the top of the cupcake that forms the background of this craft.
Learn More: A Blog from the Pond
17. Pieces of My Heart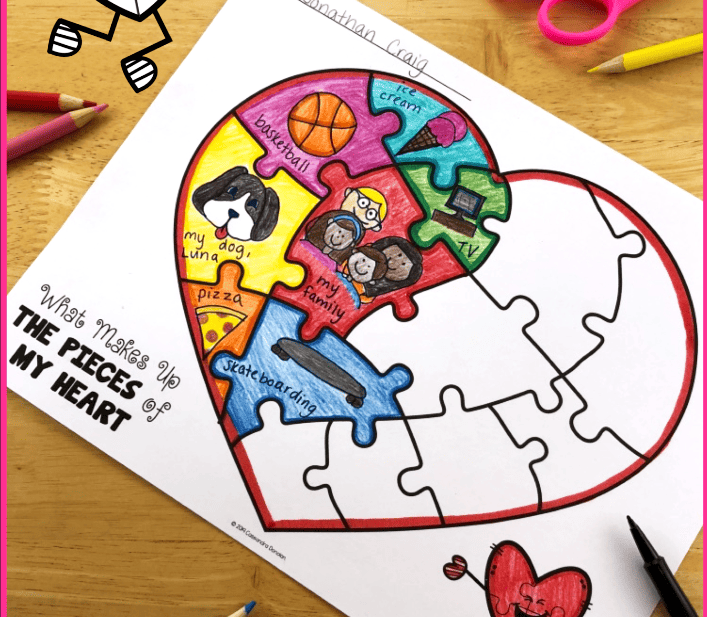 Have students complete this "pieces of my heart" writing prompt after a read-aloud of The Shape of My Heart. In this awesome book companion activity, children draw and label the things that bring their hearts joy! For more fun, they can cut the pieces and make a real puzzle!
Learn More: Raise the Bar Reading
18. Candy Hearts Doodle
Children always love an activity where candy is involved- just be sure that they get to actually eat a few pieces at the end! Children will glue a handful of conversation hearts onto the writing page, then use them to create a picture. The picture will then serve as a story starter!
Learn More: Teaching with Haley O'Connor
19. Love Bot, Option 1
Who doesn't love a good pun? Children will love using this sweet robot flipbook as a creative writing journal! Students use the pages of the template to write about things they love. Encourage them to write one page per day for morning work during Valentine's week!
Learn More: Teaching with Haley O'Connor
20. Love Bot, Option 2
Kids will get their creative juices flowing by responding to this fun prompt! Students have to write about how they would spend a day with a robot who is programmed to do only things they love! This advanced task challenges students to use transitions and sequencing skills as they compose their stories.
Learn More: Simply Sprouted Educate
21. Our Class is Sweet
A writing prompt and a cute donut craft all in one! In this Valentine's day prompt, perfect for bulletin board displays, children will share what makes their days at school so sweet! You could also use this activity to have children share what they love about other classes like art, P.E., or music!
Learn More: The Sprinkle-Topped Teacher
22. ASL Love Craft
This Love Day prompt is extra neat because it's also 3-D! Children will trace and cut out their hands, as well as a small heart, where they will write about someone or something they love. Then, simply glue the two middle fingers down to show the ASL sign for "I love you!"
Learn More: Pinterest
23. Attack of the Hearts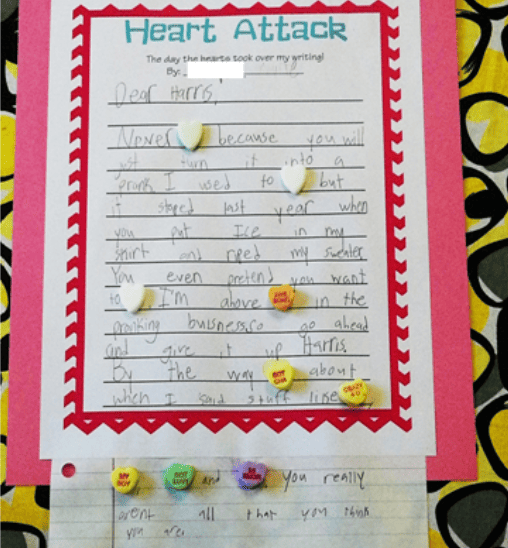 This uber-challenging writing activity incorporates more fun with conversation hearts! Children grab a handful of hearts and then incorporate the messages into their stories. It's an excellent creative writing project for your enrichment classes or as an early-finisher activity. Better yet, students can try it again and again to produce new messages and stories!
Learn More: Pinterest
24. Crankenstein Valentine
Isn't Valentine's day all about having a chance to express your feelings? This Crankenstein Valentine response activity requires children to tap into the feelings buried in their hearts! Kids will write about something that would turn them into a "Crankenstein", and then make their very own Crankenstein monster with the template provided!
Learn More: Stories by Storie
25. Love Poems
Students will use their understanding of the five senses to write these love poems! Children will complete sentence stems like "Love looks like," etc. This activity is perfect for grades learning about figures of speech, as the different lines of the poem are all similes and metaphors!
Learn More: Lucky Learning with Molly Lynch
26. "Dear Love Monster…"
This creative writing prompt doubles as a social-emotional learning lesson! Children will write notes of encouragement to the Love Monster (after listening to his story, of course!). This creative writing topic prompts students to take another's perspective and can support real-life opportunities for showing compassion in your classroom!
Learn More: Stories by Storie
27. Cupcake Competition
For students who are learning about different genres of writing, this cupcake how-to paragraph is the perfect challenge for your holiday theme! Children will develop descriptive writing skills and sequencing abilities as they outline how to decorate the perfect cupcake. They'll also get to try their hand at illustrating!
Learn More: Appletastic Learning
28. Jar of Hearts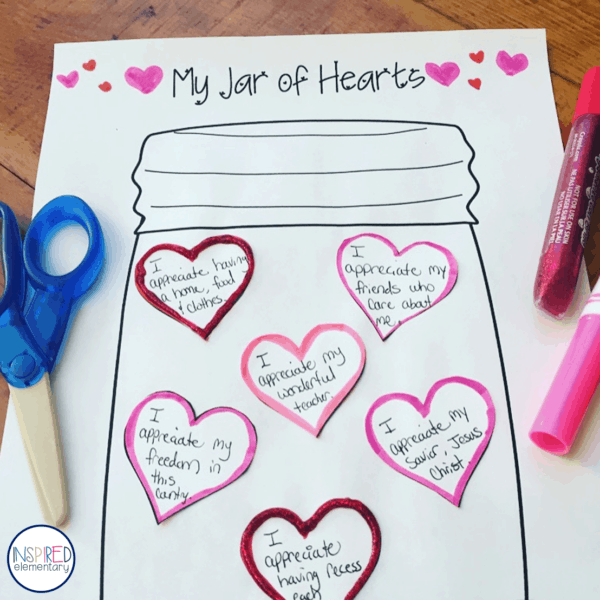 Another chance for students to express their positive feelings in writing is this "Jar of Hearts" prompt. Children will write about the things in their life that they appreciate, from friends and family to possessions to opportunities they might have, on individual hearts. Then, they will add them to their love jars!
Learn More: Inspired Elementary
29. "Roses Are Red…"
It's the classic message of love: "Roses are red, violets are blue…" But, as part of this creative writing activity, children will have to come up with new things that are red, blue, and sweet to complete the poem! Support their brainstorming with the red and blue sort included in the resource.
Learn More: Clearly Primary
30. Acrostic Poems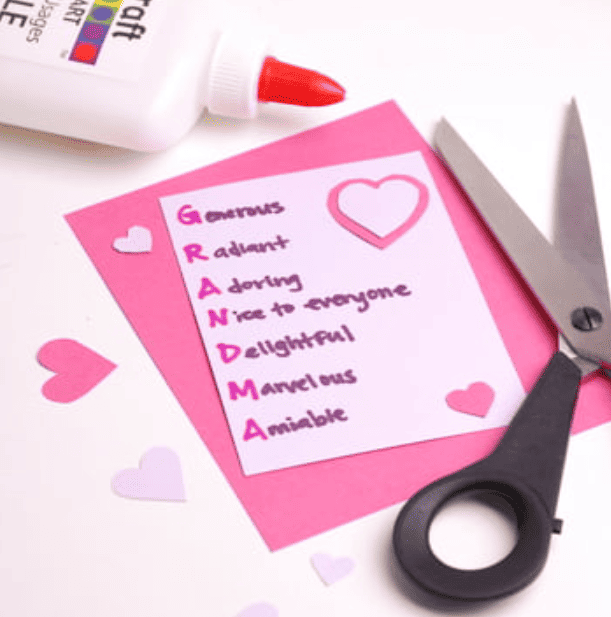 Acrostic poems are an excellent, individualized Valentine's day gift for loved ones! Children can think of who they would like to send a special message to, then write their names vertically. Next, they will think of reasons they adore that person that begin with each letter of their name to complete this lovely tribute!
Learn More: Education.com