Vegetables are packed with nutrients that are essential for nourishing growing children and maintaining health in adults. However, the vast majority of people do not meet the recommended daily intake. I think that incorporating vegetables into fun-filled activities can be an effective way to get your kids excited about vegetables and consuming them regularly.
There is a lot to learn and do with vegetables; from creating crafts with them to learning about their nutritious value. Here are 21 vegetable-themed activities for your little learners to enjoy!
1. Broccoli Painting
I find that creative hands-on activities can be the best for keeping kids engaged. For a unique experience, your kids can try painting using broccoli. They can dip the hardy vegetable into beautiful colors of paint and then go on to create an abstract masterpiece.
Learn More: Play Ideas
2. Celery Flower Stamping
Hold the broccoli. You can paint with another green-colored vegetable- celery! Celery stalks can make beautiful flower prints when dipped in paint. Your kids can paint the flower stems with a brush and then use a celery stalk to add the petals.
Learn More: Crafty Morning
3. Fingerprint Corn On the Cob
Instead of painting with vegetables, we can paint to make vegetables! You can cut out the corn shape using yellow card paper and green tissue paper for the leaves. Then, your kids can tap their paint-coated fingers over the corn to make the kernels.
Learn More: Artsy Craftsy Mom
4. Footprint Carrots
Finger painting? How about some foot painting? Your kid's footprint can make a cute carrot shape when dipped in orange paint. After stomping their orange foot on some paper, they can glue strips of green paper to the top of the carrot head.
Learn More: One Krieger Chick
5. Vegetable Counting Game
Your kids can use real or plastic vegetables to practice their counting skills! A number card will tell them how many vegetables they must collect. Then, they can count in more detail. For example, how many vegetables did they collect that is green?
Learn More: Fantastic Fun And Learning
6. Salt Dough Vegetable Soup
Your kids can make an imaginary vegetable soup in this crafty, hands-on activity. You can follow a salt dough recipe and then have your kids mold the dough into different vegetables. After baking, the vegetables can be painted in their actual colors.
Learn More: Kitchen Counter Chronicles
7. Sensory Play Bin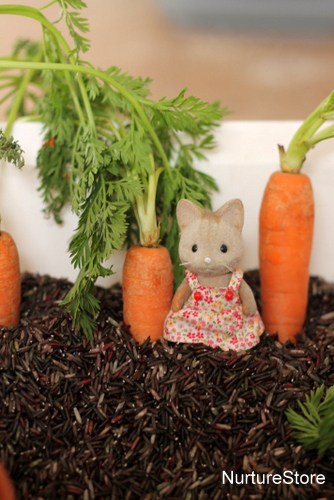 You can fill a tub with soil, gardening tools, and your kid's favorite vegetables for some exciting sensory play. You can sit back and watch your kids explore the different textures, sights, and smells from the bin.
Learn More: Nurture Store
8. Sensory Play with Corn
Picking apart the kernels of corn on the cob can provide some awesome sensory play that engages your kids' fine motor skills. Don't worry about the mess! The neighborhood birds and squirrels will love snacking on the leftovers and definitely won't let them go to waste!
Learn More: Happy Hooligans
9. Jack and the Bean Stalk
You may have already read the classic, "Jack and the Bean Stalk" and this activity is based on it! Your kids can grow their own beanstalk using a plastic cup, soil, beans, and a skewer. They can add a paper-drawn castle and cloud cotton balls for some finishing touches.
Learn More: Be A Fun Mum
10. Grow a Carrot Top
Bean stalks aren't the only vegetables that make an easy, kid-friendly growing experiment. For this project, your kids can place a carrot top onto a plate of water. They can water it, as needed, and watch its luscious growth!
Learn More: My Kid Craft
11. Gardening Activities
Perhaps you have the outdoor space for some more advanced vegetable gardening. Your kids can learn how to plant seeds, water the plant beds, and complete other plant-caring duties. There are plenty of other fun learning activities in the garden that your kids can enjoy.
Learn More: Nature's Path
12. Fruits and Vegetables A-Z Reader
This fruit and vegetable activity pairs well with a lesson plan on writing and the ABCs. Your kids can trace the lowercase letters of the alphabet as they go through a different example of fruit or vegetable for each letter.
Learn More: Preschool Play & Learn
13. Vegetable Flashcards
Flashcards can be a simple yet effective way to teach vegetable vocabulary to your kids. You can ask your kids various questions with this pack of 26 cards, such as which vegetables are their favorites and which ones they have yet to try!
Learn More: Flashcards for Kindergarten
14. Blind Taste Testing
How is your sense of taste? Your kids can try this blindfolded vegetable taste-testing challenge. The original activity uses fruits and other foods, but you can use a food tray of only vegetables if that is your lesson topic.
Learn More: How We Montessori
15. I Spy Fruits & Veggies Worksheet
I spy with my little eye… a fun fruit and vegetable worksheet! Your kids can practice counting the different types of fruits and vegetables and then add some color.
Learn More: That Mexican Teacher
16. Match It Online Game
In this online game, your kids can match the fruits and vegetables based on their shape and size. Your kids can also practice identifying and saying the names of the different food items they encounter.
Learn More: Tiny Tap
17. The Great Veggie Challenge
This reading comprehension is more suitable for your older, elementary-aged kids. The passage talks about where vegetables grow and the parts of the vegetable that we eat. Your kids can try answering the post-reading questions to assess their understanding.
Learn More: Make Way For Tech
18. Vegetable Identification Worksheet
You can test your kids' vegetable vocabulary with this vegetable worksheet containing 15 different questions. A word bank is provided for your kids to choose from. If you want to make it more difficult for older or more advanced learners, you can choose to remove the word bank.
Learn More: Busy Teacher
19. Read "Mrs. Peanuckle's Vegetable Alphabet"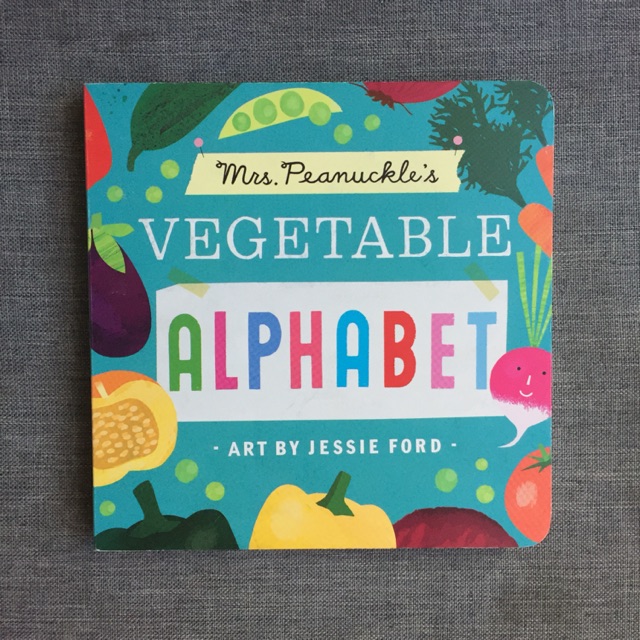 Nothing like a vibrantly illustrated book to entertain the kids through a nutrition lesson. This reading is full of fun facts about vegetables from A to Z. There are lots for your kids to learn, and you just might learn something too!
Learn More: Amazon
20. Read "Zora's Zucchini"
In this illustrated book, your kids can learn the story of Zora, a budding gardener who has grown too many zucchinis for her own family to handle. What does Zora decide to do with all the extra zucchini?
Learn More: Amazon
21. Read "Little Pea"
This delightful story is about a little pea who must eat all the sweets, or else he won't get vegetables for dessert. Hmmm. Sounds familiar. Your picky eaters can laugh and relate to this one!
Learn More: Amazon