Venn diagrams are a classic way to compare items or sets with a few overlapping circles. This simplistic definition is misleading though as Venn diagrams are also a flexible tool for students to use to promote reading comprehension, study historical figures, and bring hands-on learning to math concepts. This comprehensive list of Venn diagram ideas will show you multiple ways to utilize these graphic organizers in your lesson plans, including opportunities to integrate multiple subjects into one quick activity!
1. Shapes & Colors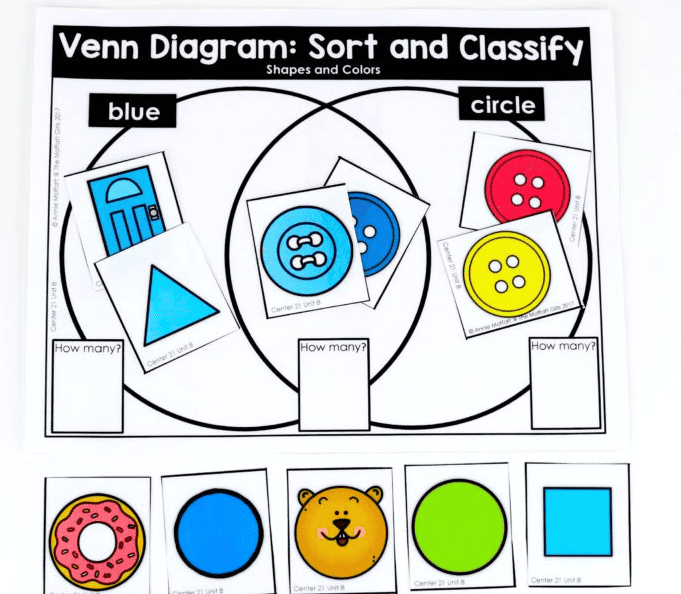 Venn diagrams are perfect for practice in sorting during your math block! Children can sort pictures of objects and classify them by shape and color, and then determine where categories intersect. This particular resource is also a great way to inspire students to look for shapes all around them!
Learn More: The Moffatt Girls
2. Guess My Rule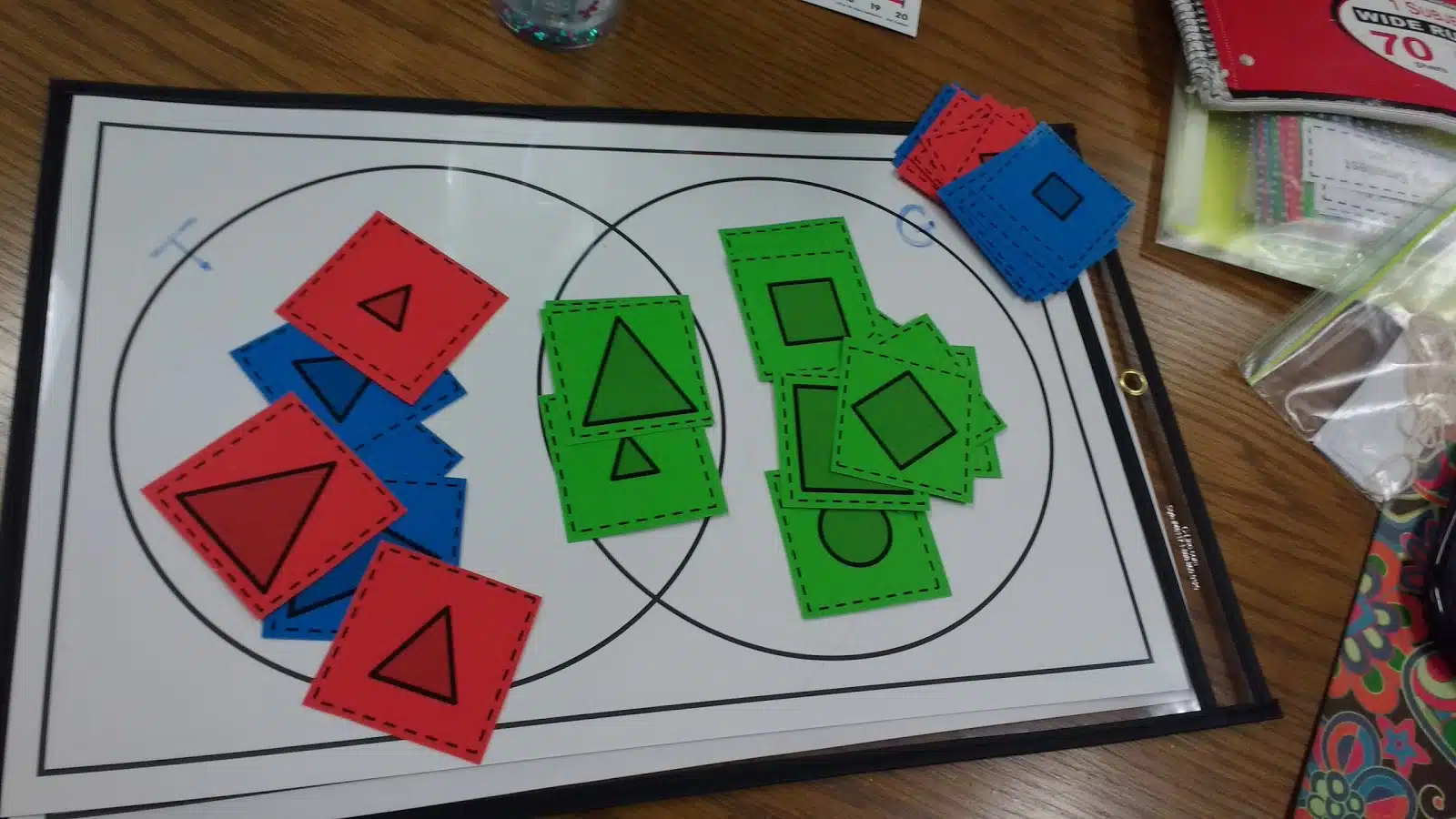 "Guess My Rule" is a staple math game in the early grades. Use Venn diagrams to add a hands-on element to gameplay! Children will examine your sort and then have to guess the "rule" for items in the center slice. Then, challenge children to play in pairs!
Learn More: Math Equals Love
3. Comparing Numbers
When thinking of how Venn diagrams and math intersect, most people envision sorting objects by shape or color, like in the previous activities. However, this sorting tool can also bring hands-on learning to older grades by using them to sort things like factors, even/odd numbers, etc.
Learn More: Top-Notch Teaching
4. Fiction Vs. Nonfiction
Use up those paper Scholastic catalogs with this sorting activity! Students will cut out the covers of books and decide if the text is fiction or nonfiction. Some series rightfully earn a place in the overlapped region as creative non-fiction; think, the Fly Guy Presents… series!
Learn More: First-Grade Fairytales
5. Jan Brett Stories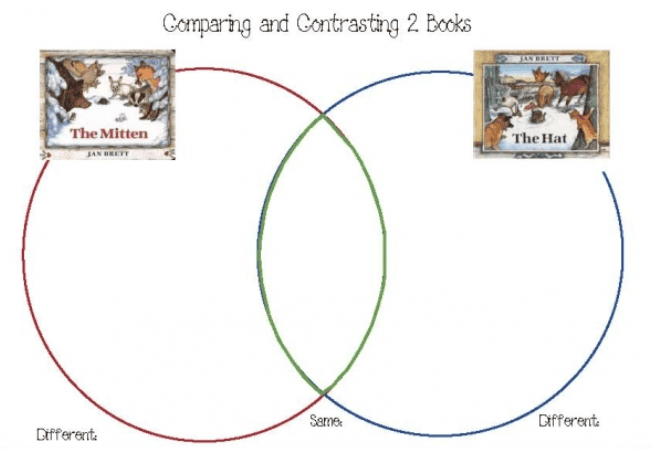 Jan Brett's adaptations of The Hat and The Mitten are excellent prompts for comparing and contrasting stories. This sweet printable has a hat and mitten in place of the Venn diagram circles where students will sort characters, plot elements, etc., that are the same or different.
Learn More: Teach With Me
6. Fractured Fairytales
If you're looking for an excellent activity to add to your fairy tale theme, try Venn diagram comparisons of the original tales and their "fractured" counterparts. Using classic children's stories makes this task more accessible to learners who are new to using this diagram tool.
Learn More: Primary Press
7. Digraph Painting
Have you ever considered Venn diagrams to be the perfect tool for integrating the arts and literacy? These printable painting sheets are an excellent way to help children visualize the concept of digraphs- each letter makes its own sound alone (and gets its own color), but together makes an original sound (and color)!
Learn More: Teachers Pay Teachers
8. Past and Present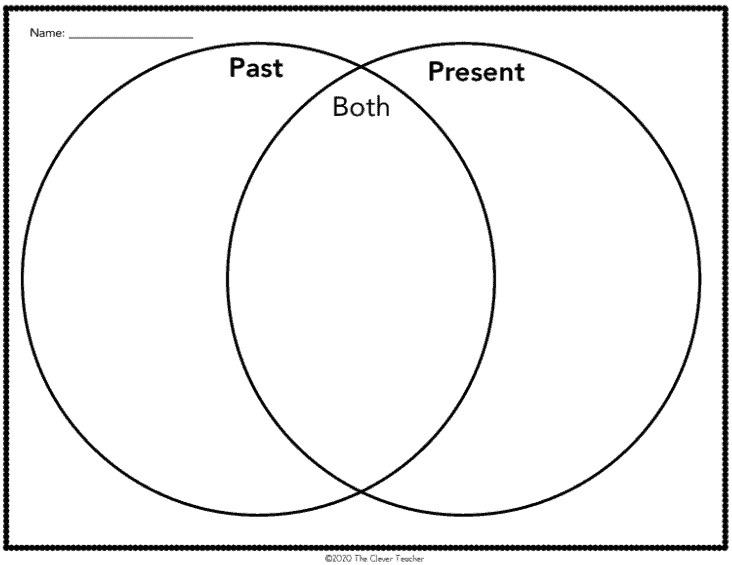 Perfect for a plethora of science and social studies topics, this past/present Venn diagram helps children consider things that do and do not change over time. Use them to compare photos of a place, themselves as a baby and then as a child, types of technology, etc.
Learn More: The Clever Teacher
9. Venn Diagram Flipbooks
This resource is a simple addition to your class's journaling routine. To make it interactive, children create a flap for distinctions between two historical civil rights leaders and one for noting similarities. This particular social studies task helps children recognize how important figures worked to collectively bring about change.
Learn More: Glitter in Third
10. Comparing Historical Figures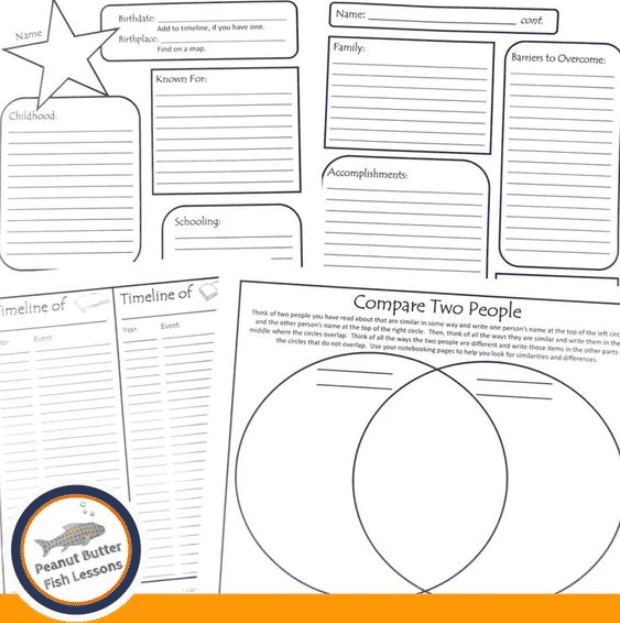 These Venn diagram worksheets are an excellent resource for comparing the subjects of biographies or the characters in stories! The flexible printable can be utilized for multiple genres of books; making it a great addition to your sub plans or low-prep resource toolkit.
Learn More: Peanut Butter Fish Lessons
11. Wants and Needs
Spark meaningful conversations with students by having them work together to determine if certain items are wants or needs. Sorting these items will bring this important social studies topic to life, spark debates, and allow children to see that some things can fall in between!
Learn More: Pancakes for Recess
12. Animal Sort
Sorting animal manipulatives is a great way to study animal features or adaptations, like body coverings, types of animals, habitats, and more. This is a simple center to set out for science rotations that children can play again and again, just change up the categories from time to time!
Learn More: Fun Learning for Kids
13. Carnivores, Herbivores, and Omnivores
This fun Venn diagram activity will help children recall the characteristics of carnivores, herbivores, and omnivores. The Venn diagram setup will help them remember that omnivores are a mixture of the other two feeding categories! Students can list traits or add animal drawings to each part, depending on their writing abilities.
Learn More: Pinterest
14. Adaptations
This Venn diagram activity helps students discover the similarities and differences between all living things. Children will consider how plants and animals obtain energy, change over time, and adapt to different environments. They can complete this on paper or use a giant hoop diagram like the one pictured!
Learn More: Pinterest
15. Buddy Comparisons
This sweet idea is the perfect way to introduce the concept of Venn diagrams to students in the early grades. Children will use a template to compare themselves and a classmate. Encourage them to consider both physical characteristics and personality traits. In the end, they can turn the template into their and their buddy's faces!
Learn More: Oh the Little Wonders
16. Name Letters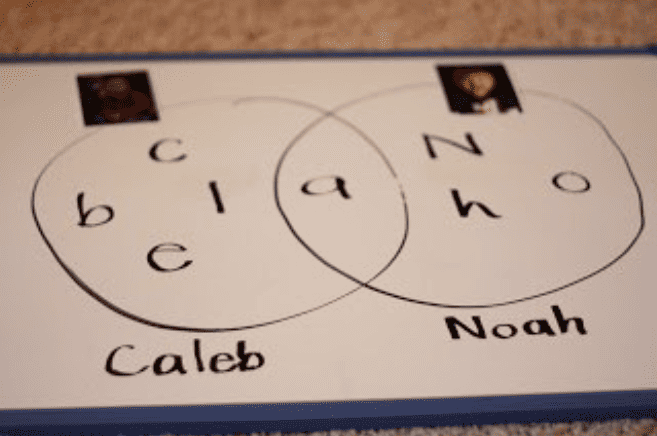 Another fun activity for comparing students is this naming task! Students can use dry-erase boards or letter manipulatives to sort the letters of their names into a Venn diagram. Children will see which letters are common between their two names; helping to scaffold letter and name recognition as well as letter formation skills.
Learn More: I Can Teach My Child
17. Compare & Contrast Glasses
This fun glasses craft will help students see the opportunities they have to categorize things in real-time. To make them, you simply turn the overlapping circles of the Venn diagram into the lenses of glasses. Take a walk and challenge students to look for opportunities to compare and contrast the things they see.
Learn More: Glitter and Glue 4 K-2
18. Hula Hoop Venn Diagrams
Hula hoops are a great tool to keep around for comparing and contrasting. Use hula hoops to build a 2-circle Venn diagram on the floor, then allow children to sort bigger objects, like items of clothing, toys, foods, etc.! You could also use them to create a giant "Guess My Rule" game.
Learn More: Clever Classroom
19. Giant Venn Diagrams
Giant Venn diagrams are also a fun way of comparing students in your class! Encourage children to sort themselves according to different characteristics like age, eye color, outfit patterns, etc. For an exciting rainy day activity, draw your Venn diagram circles in chalk around puddles and let students splash as they sort!