Little ones start thinking about their dream life from an early age. They often have goals of becoming scientists, engineers, and teachers! Help them take the foundational steps towards those big dreams with vision boards! It's the perfect activity for children; meshing the creative process with personal development. Vision boards are a wonderful project to undertake during conversations about growth mindset. This list of vision board ideas is sure to have something that will resonate with every student!
1. My Goals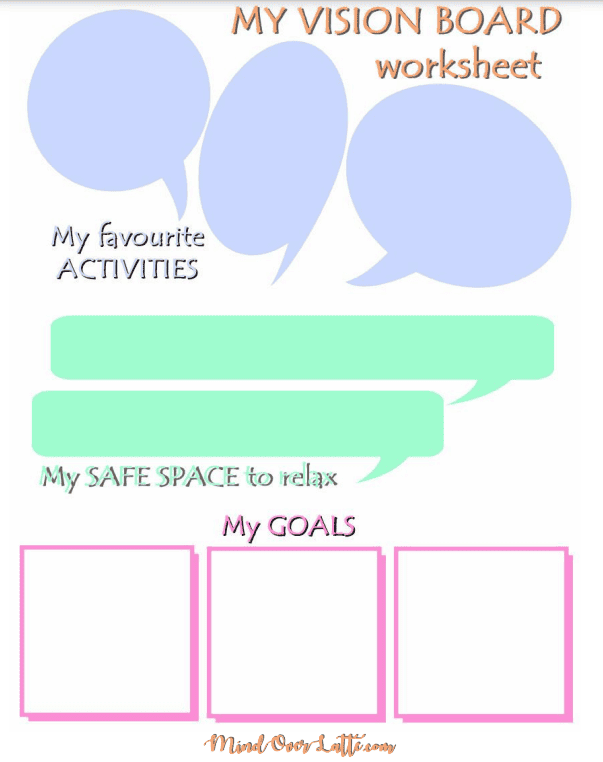 Prior to making your vision board, children can use these colorful printables to brainstorm about their favorite things, goals, and feelings regarding the future. This will enable them to define what will bring them joy and the action steps they will need to take to make things happen!
Learn More: Mind Over Latte
2. Simple Template
This printable template is a simple way to engage your children in academic and personal goal-setting. The different shapes are excellent for early readers to use to remind themselves of what is written within. Print it out as a morning work activity and encourage students to just get their goals onto paper!
Learn More: Develop Good Habits
3. School Experience
Like we might create vision boards for our jobs, this activity is meant for children to create a display of their school experience! Goal-setting in this creative way can serve as an inspiration for improved academics and trying new creative outlets like an art class and more!
Learn More: Kiddie Matters
4. Hopes and Dreams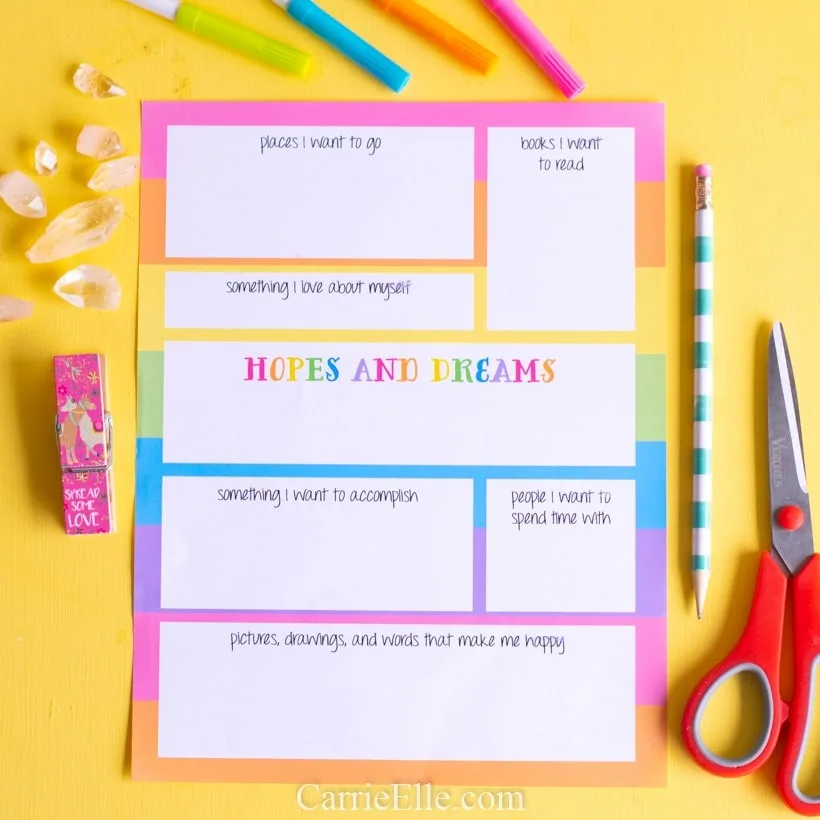 This rainbow-hued, printable worksheet is a colorful take on the traditional vision board. The prompts take a gentle approach to goal-setting by encouraging children to consider the things they already have in their lives that make them happy, as well as what they would like to accomplish.
Learn More: Carrie Elle
5. Vision Board Planner
If you intend for your vision board creations to be more of a 3-5 day project, start with a brainstorming activity using this planning page! It includes essential questions regarding goal-setting that will help them design a more useful vision board. Follow up by brainstorming action steps together!
Learn More: Coffee, Pancakes, and Dreams
6. Printable Cork Board
If you're low on space for a real corkboard, try creating a printable version! Children can complete sentence frames guiding them to adopt optimistic outlooks on their future or write briefly about the things that bring them joy. Tack it up at the front of the classroom to serve as a daily reminder of the goals they've set!
Learn More: Centervention
7. Vision Books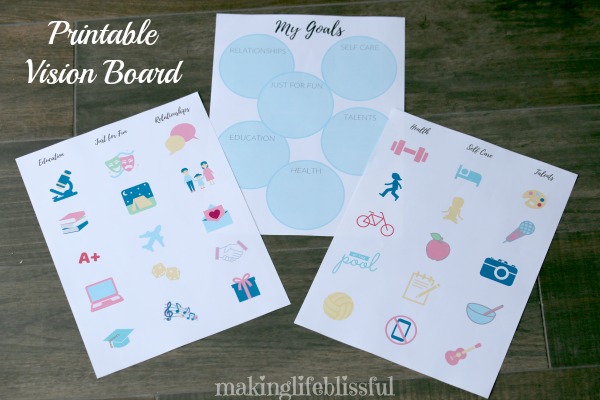 Vision books are an excellent option for younger learners who are just learning about goal-setting. These come with pre-printed pages with coloring sheet-type elements that students can use to think about their future. Instruct them to color in the objects they think are important and add words or phrases to label them!
Learn More: Making Life Blissful
8. Vision Workbooks
If a whole vision board seems overwhelming, try this vision workbook instead! Each page has a different focus, like health, friendships, or finances, so students can consider one topic at a time. Aim for 1-2 pages a week to give children adequate time to think deeply about each subject!
Learn More: Study All Knight
9. Canva Board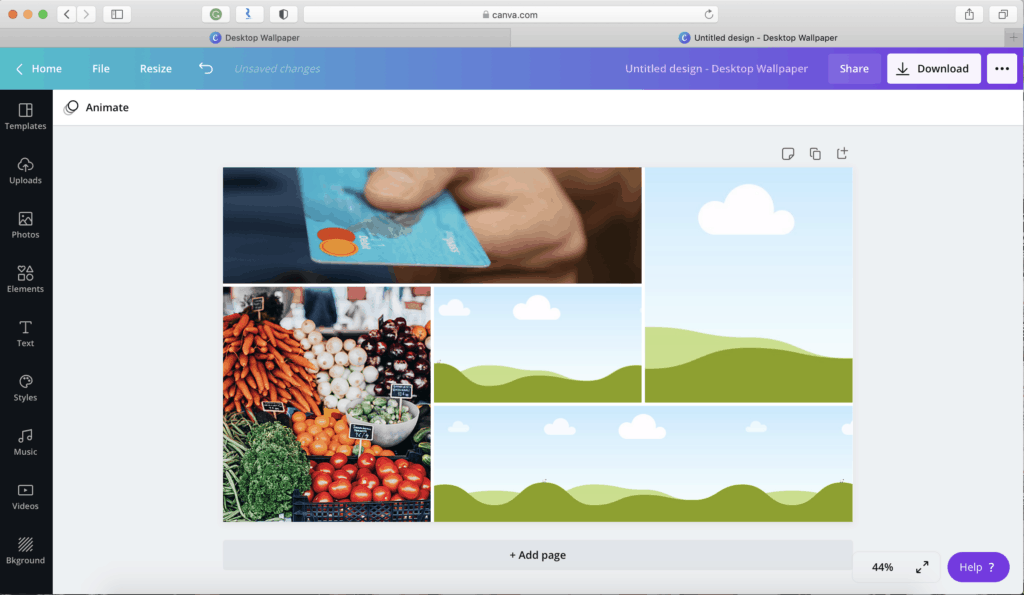 Teaching in our day and age means we have a plethora of amazing tools at our disposal. Try using Canva to create a digital image board! Choose collage images from their bank, or upload your own. The fun fonts, endless styles, and other elements make this the ultimate creativity tool!
Learn More: Whimsy North
10. Other Digital Boards
Digital vision boards are an excellent alternative for your students who are not so keen on crafts projects. Instead, they can use digital resources like Google Slides or Notion to create a vision board. These can provide more flexibility to divide the board into living areas, add interactive features like music, and more!
Learn More: Notion
11. Printable Elements
If you're unable to find enough magazines or newspapers to use in creating vision boards, there are a bunch of digital products available to print out inspirational words with cute fonts and graphics. Just search for terms that would be relevant to your student's goals.
Learn More: The Queen Life
12. Inspirational Stickers
People of all ages love cute stickers! If you're needing some extra supplies for vision board-making, grab some of these sets from Amazon. There are endless options of themes that will satisfy any preference your students could have.
Learn More: Amazon
13. Family/Class Vision Board
Make your vision board a central element of your home or classroom décor by creating it on a corkboard! Hang it in a prominent place to serve as a continual reminder of your collective hopes and dreams. You can jazz it up with cute pins, multi-textured elements, and more!
Learn More: Beyond Committed
14. Dream Big
If you're prepared for a more intensive, but also engaging, student-centered project, grab a few adult helpers and let your children create giant vision boards that they can take home with them! Ask your students what their biggest hopes and dreams are and set them loose with art supplies to get creating!
Learn More: Cherish 365
15. 4-Square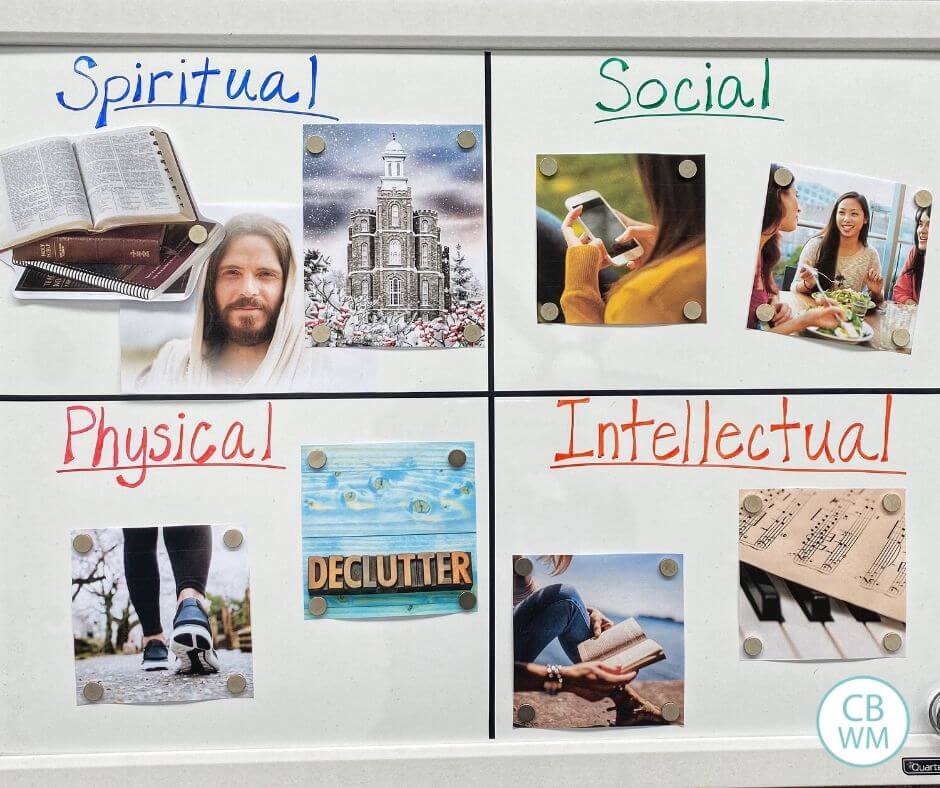 The 4-square approach to vision boards is better geared toward older children who have a firmer grasp on what the physical, intellectual, spiritual, and social aspects of their lives encompass. This narrows down the focus as they are hunting for ideas to include in their collage of images!
Learn More: Chronicles of a Babywise Mom
16. Gratitude Board
While many examples of vision boards are more goal-oriented, that does not have to be their only iteration. Try making gratitude boards instead! Have children add elements that show the things in their lives that they are thankful for, and let the finished vision boards demonstrate an alternative idea of "success".
Learn More: Develop Good Habits
17. I Am…
A words-only vision board arranged in an aesthetically-pleasing way is a cool take on vision boards for older students. They can cut and paste words found in magazines, or doodle their own words on poster paper. Encourage students to add positive, uplifting words and phrases that motivate them.
Learn More: @artisticalshell
18. Mirrored Vision Board
Adding a mirror to your vision board designs is an awesome visual tool for reminding students that these are, ultimately, all about them! Encourage them to look in the mirror as a daily reminder that their goals are achievable, their successes are important, and they are worthy of their dreams!
Learn More: Self-Made Ladies
19. Notes to Yourself
Vision boards don't have to be a one-time project. Students can add to them over time- even at lengthy intervals. One way of making a vision board a long-term endeavor is adding "notes to yourself" from time to time. Students can write about their progress, share words of encouragement, and reflect!
Learn More: Self-Made Ladies