Visual art activities are crucial for giving children a chance to express their ideas, develop their observational skills, gain confidence, develop their self-worth as well as develop their creativity and imagination. Not only that, but as they create and keep (or gift) their own artworks, it provides you with an opportunity to see how their perceptions of the world around them, and their skills, have developed over time. Start exploring these gorgeous visual art activities, and get creative today!
1. Hedgehog Painting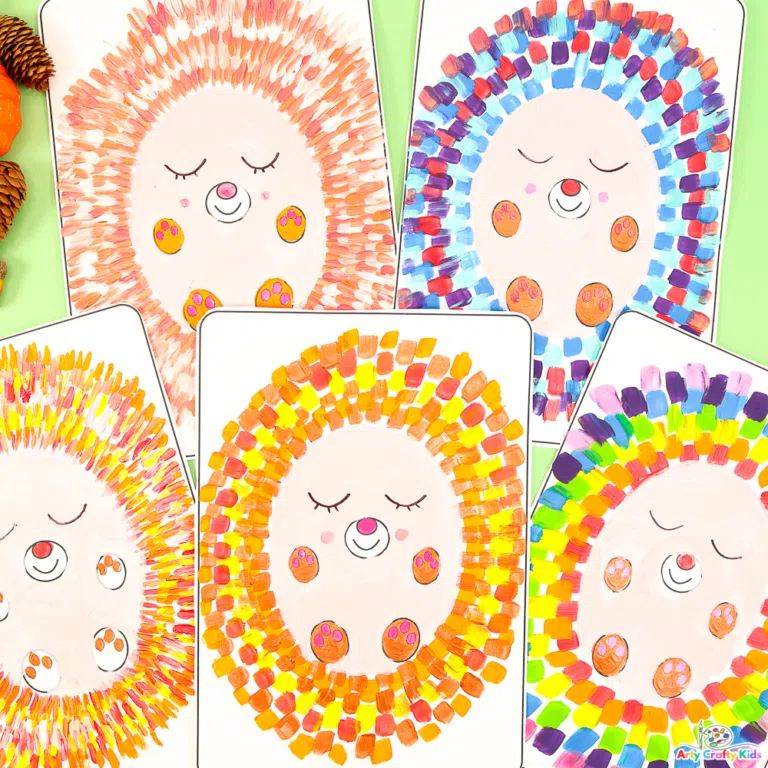 This gorgeous activity is perfect to ease your child into the beauty of autumn! Not only is it a gorgeous craft activity, but it's also a great way of helping kids to understand why some animals start to hibernate at this time, and how the seasons change.
Learn More: Arty Crafty Kids
2. Make a Natural Collage
This is such a fun activity to do at home! Grab a photo, go on a nature walk and get creative. Getting outside, in the fresh air, and collecting natural treasures to stick onto your photo will give you the most amazing memories to look back on with your child.
Learn More: Parents
3. Gelli Printmaking
Gelli printing takes mixed-media art to another level completely and is a great way of deepening your child's understanding of how different materials can be used to achieve different effects. Show your kids some techniques to use, or let them explore the Gelli themselves for some truly unique pieces of art.
Learn More: Left Brain Craft Brain
4. Fizz Drip Painting
Science meets art with this awesome activity! You can carry out little science investigations, such as what happens when you change the ratios of materials, or how you can mix colors together effectively. You can also add rubbing alcohol and hold it up to the light to see what happens!
Learn More: Capri Plus 3
5. String Art
This is an unlikely game-changer! A hands-on, practical art project which helps kids to develop an understanding of math concepts such as geometry and fractions. There's some prep to do beforehand, but the outcomes will be well worth it when you have a beautiful piece of geometric art to display.
Learn More: Babble Dabble Do
6. Dry Ice Bubble Painting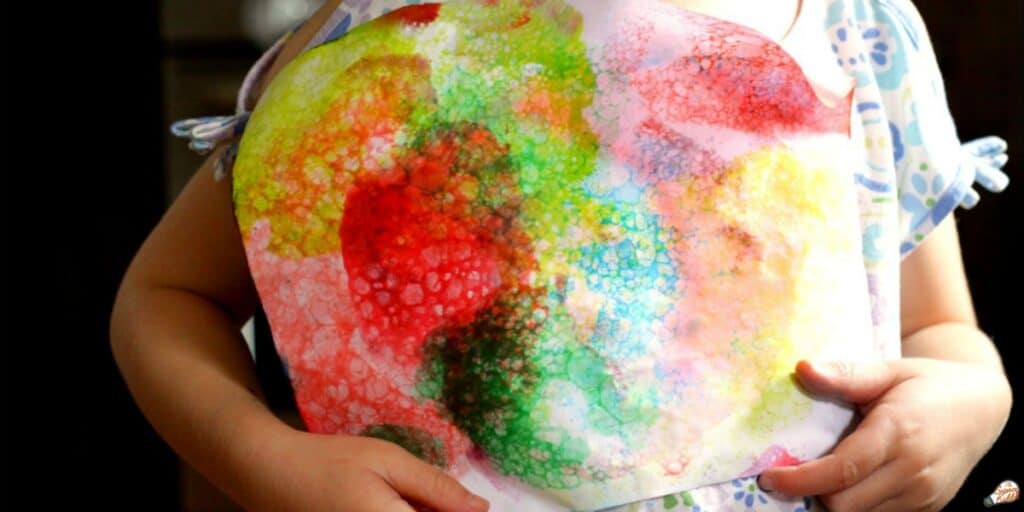 If you're looking for a quick art project which produces gorgeous results, this is it. It's a great balance between dry ice experiments and creative arts projects, so your kids are developing their art skills at the same time as deepening their scientific knowledge of color, texture, timing, and mixing.
Learn More: Science Kiddo
7. Tissue Paper Sensory Art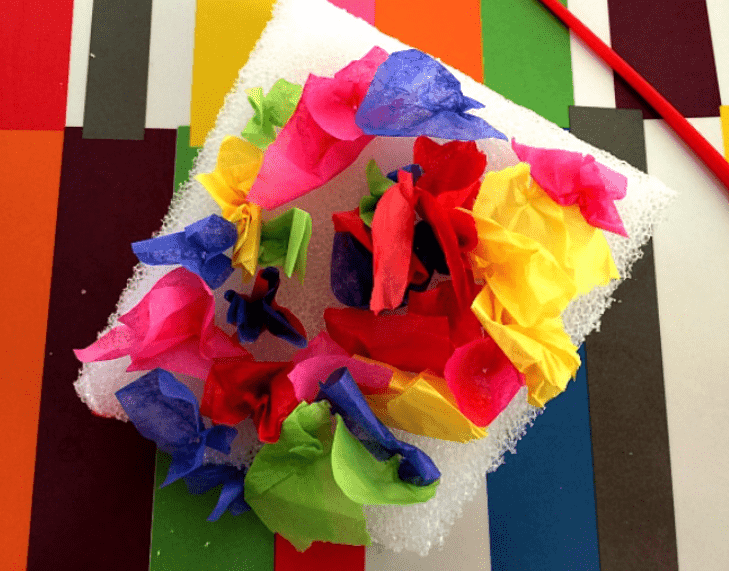 Sensory art is a great way to help your child self-regulate and calm themselves. Placing the tissue paper on the Styrofoam and then poking it in with the end of a paintbrush is a repetitive, soothing action that also happens to produce a gorgeous piece of colorful, sculptural art to display!
Learn More: Left Brain Craft Brain
8. Magnet Painting
The great thing about producing visual art is that you can't always predict what the outcome will be. This activity will help your child learn more about magnets and magnetism, and they'll be able to predict and test which items can and can't be used as they create their masterpieces.
Learn More: Left Brain Craft Brain
9. Coffee Filter Art
Inspire your kids with the amazing artwork of Dale Chihuly's colorful, bowl-shaped sculptures, and then let them create their own versions using non-permanent markers and starch. Predict how the different colors will behave, and then test them with different amounts of the liquid. Another gorgeous science-art collaboration with hardly any clean-up!
Learn More: Parents
10. Recycled Shape Art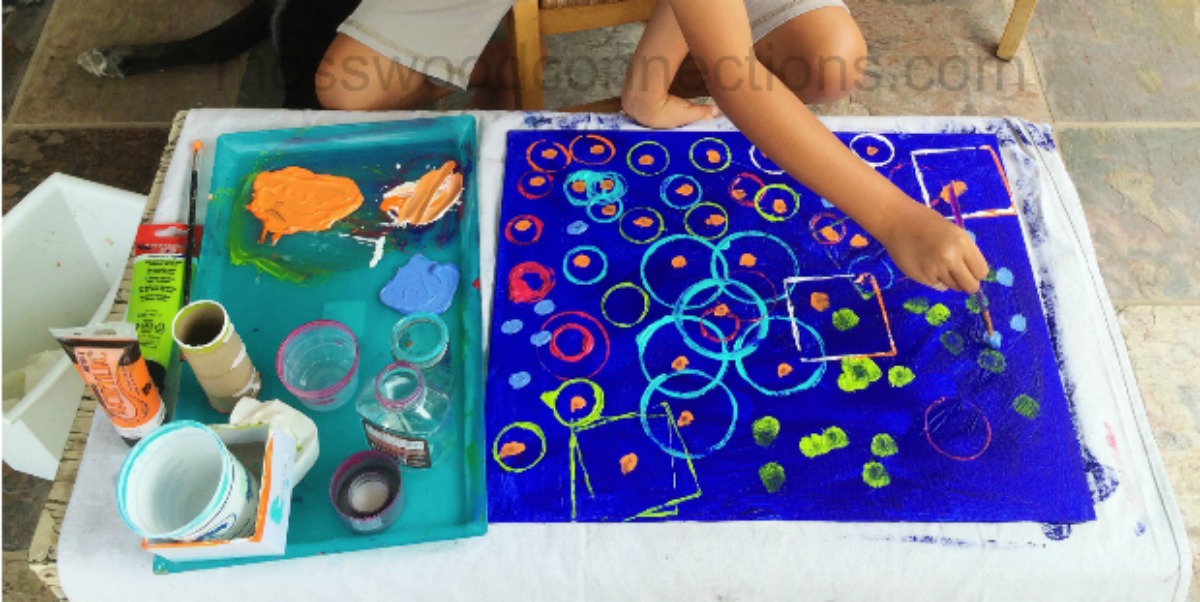 Using recycled materials in art projects is a great way to get kids talking about the environment and shapes as well as introduce kids to issues around sustainability. This activity is based on the work of Marcus Oakley, a London-based artist, who uses simple shapes and color in his work.
Learn More: Pinterest
11. Pop Art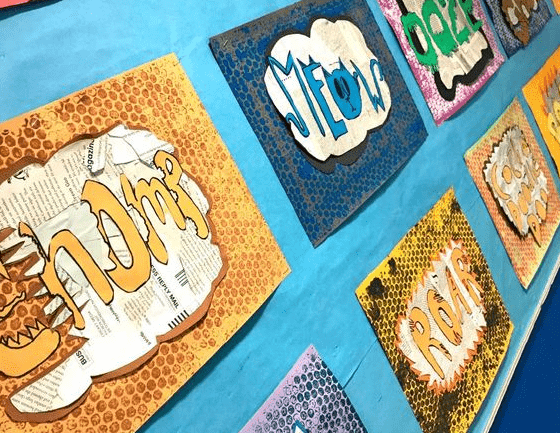 You can mix this activity up with literally anything! Onomatopoeia challenges for older kids or painting self-portraits for younger kids. This activity allows kids to explore mixed media, color mixing, texture, and pattern all at the same time. You can even create a whole montage in the style of Andy Warhol.
Learn More: Pinterest
12. Kandinsky Art Circles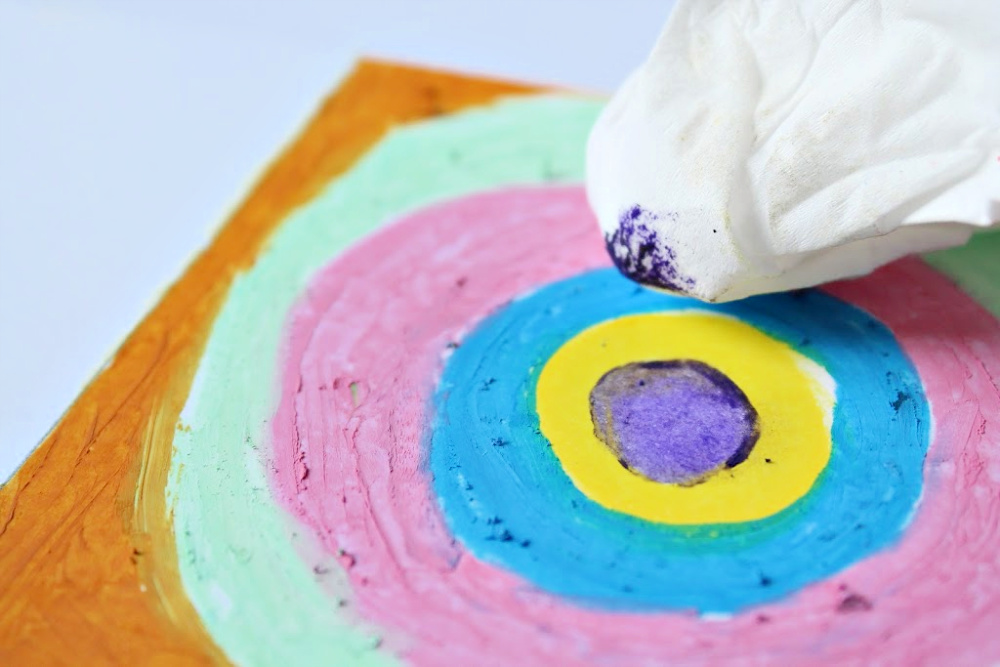 Older elementary kids can use this activity as a springboard to discovering and applying Kandinsky's color theory. Younger kids can just enjoy making concentric circles of different colors! It's a great way of facilitating discussion around color and an opportunity to introduce new vocab.
Learn More: Nurture Store
13. Blow Painting
Kids love blowing bubbles into their drinks through straws, so why not let them explore the different effects that can be achieved when they blow paint onto paper using straws? This activity brings together a really fun activity with the science of how germs can spread and make you ill.
Learn More: Pinterest
14. Dot Activities
This activity is linked to a gorgeous book called The Dot, where a little girl feels frustrated because she feels she can't draw. This activity helps reluctant artists discover that gorgeous art can be created using mere dots on a piece of paper.
Learn More: Firstie Land
15. Sharpie Doodles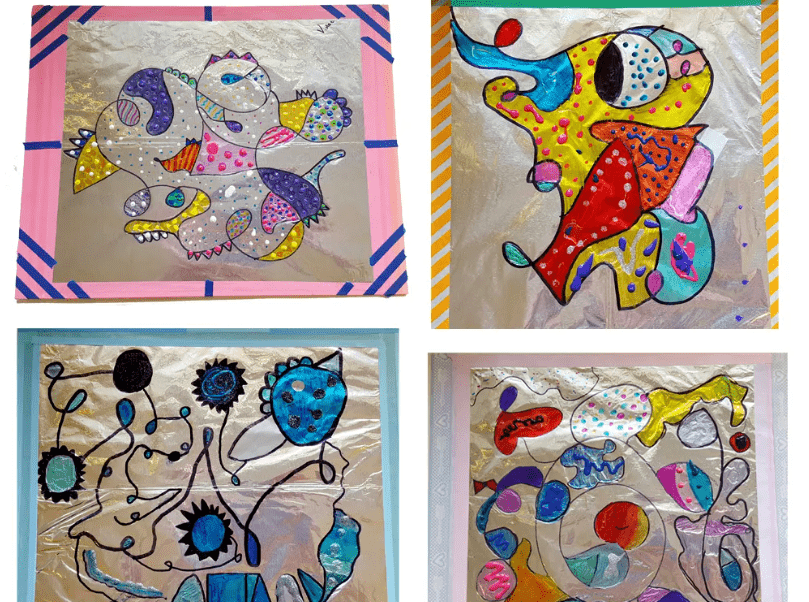 This activity is fabulous for when your child needs to slow down and self-regulate, as the only way to be successful with this activity is if they are slow and careful as they use the sharpies on the fragile tin foil. You can add other media for a textured effect.
Learn More: Art Is Basic
16. String Painting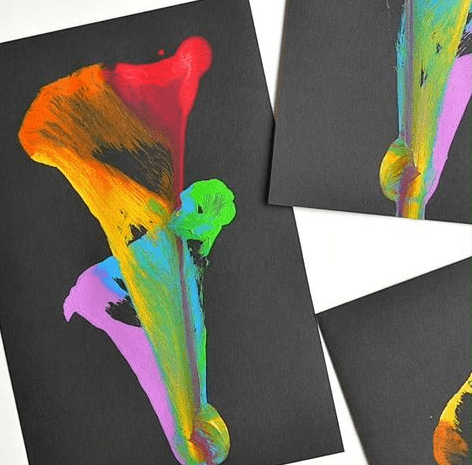 Allow your child plenty of time to explore how string can be used to create different effects. Your child will develop both their gross motor control as they move the string around the paper and their fine motor control as they use their pincer grip to pick the string up.
Learn More: Pinterest
17. Tin Foil Art
Older elementary kids will love this activity! It's a step up from the tin foil doodles and will enable your kid to see how the process of design and application can be used to create stunning outcomes. The process allows children to test and tweak their designs as they go.
Learn More: 123 Homeschool 4 Me
18. Scratch Art
Grab the wax crayons and black paint, and get ready to create some stunningly vibrant, dramatic art! The results are guaranteed to be spectacular. This activity is a great way of helping kids to plan ahead and work out the steps they need to take to achieve their intended result.
Learn More: Pinterest
19. Joan Miro Watercolors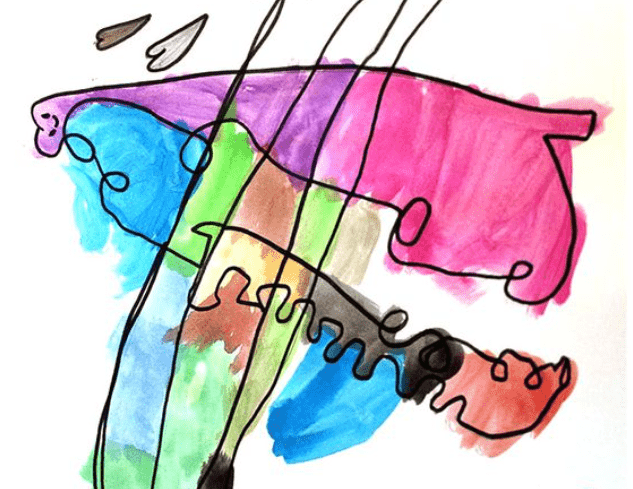 Watercolors are great because they are so easy to use as well as easy to clean! They are also very forgiving when kids are working with them, and any little mistakes can be easily fixed. Your child will develop new skills and learn more about the life of artist Joan Miro.
Learn More: Pinterest
20. Paint Like Pollock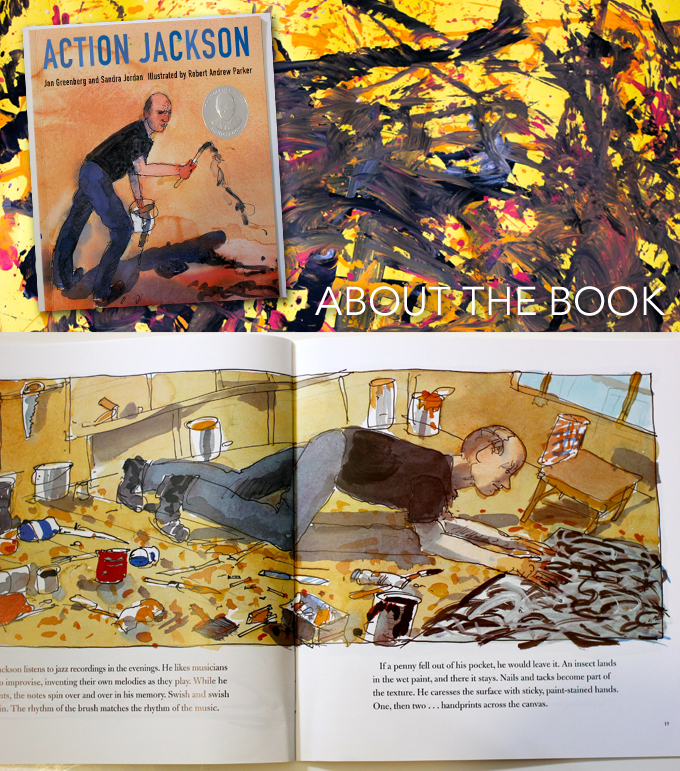 Link this with the gorgeous book, Action Jackson, and you have the perfect activity for the youngest elementary school kid right to the oldest! Encourage your child to use their whole bodies to create Pollock-inspired artwork, and to explore how different tools can be used to create different paint-splattered effects.
Learn More: Deep Space Sparkle
21. Yayoi Kusama Dots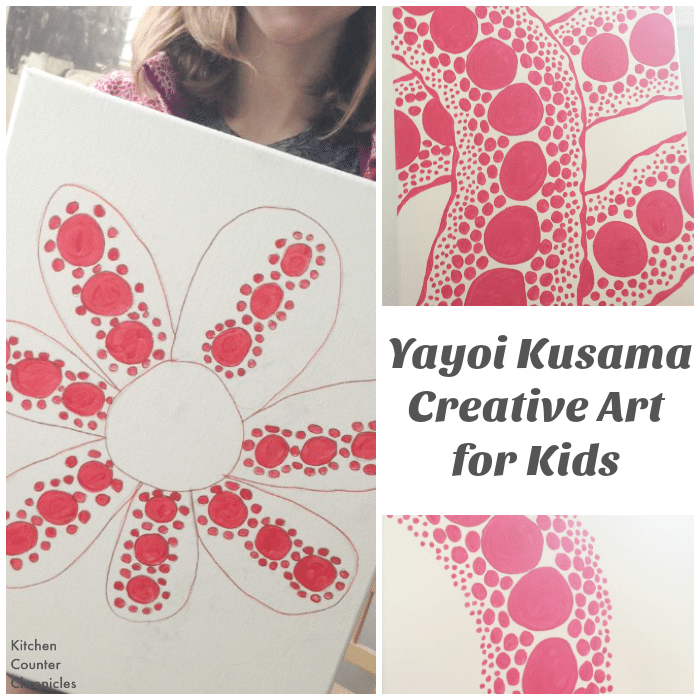 Create amazing works of art with very little setup, and even less to clean up. This activity is great for days when you're traveling, as all you need is paper and a pen! Her work is both simple and complex, and older elementary kids will enjoy researching her life and work.
Learn More: Kitchen Counter Chronicle
22. Leaf Art
Visual arts don't have to be created indoors! Let your child explore concepts around transient art as they use natural treasures to create stunning works of art. Older kids can explore the work of artists such as Andy Goldsworthy, who uses anything that is found in nature to produce gorgeous pieces.
Learn More: Pinterest
23. Wall Hangings
This is a pretty intense activity, but older kids will enjoy the process of designing and making their own wall hangings. This is a great activity for developing a huge range of skills around the use of textiles and mixed media, and can even form part of an enterprise project!
Learn More: Handmakery
24. Silhouette Collages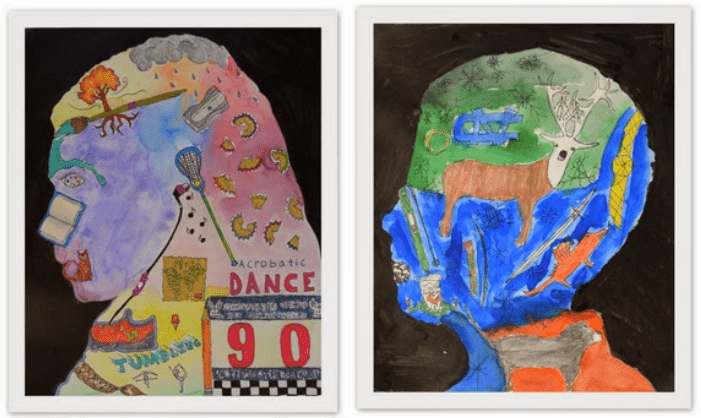 Follow in the steps of Guiseppe Arcimboldo with these incredible silhouette collages! They can be personalized to represent their interests and enable kids to practice their cutting skills. Make one every year and you'll have an alternative way of recording how your child's likes and personality develop over time.
Learn More: Pinterest
25. Painting on Textures
This is another great activity with a linked book, called Super Sensory Invitations to Play, which encourages children to explore their five senses throughout the year. This activity is a great way of developing an understanding of different textures, and how they can be used to create gorgeous pieces of art.
Learn More: Fantastic Fun And Learning
26. Movement with Lines
Your child will develop their fine and gross motor control as they color the paper before carefully using scissors to create a movement effect. Explore how horizontal, vertical, and diagonal lines all create different results when used on the page. Experiment, display, and enjoy the gorgeous finished pieces!
Learn More: Create Art With Me
27. Directed Draws
This is a fabulous sketching activity that enables children to practice specific skills around drawing and illustration at their own pace. Due to the nature of the activity, it is probably best suited to older children, although, with breaks and support, younger children would also be able to benefit.
Learn More: Share My Lesson
28. Sculpture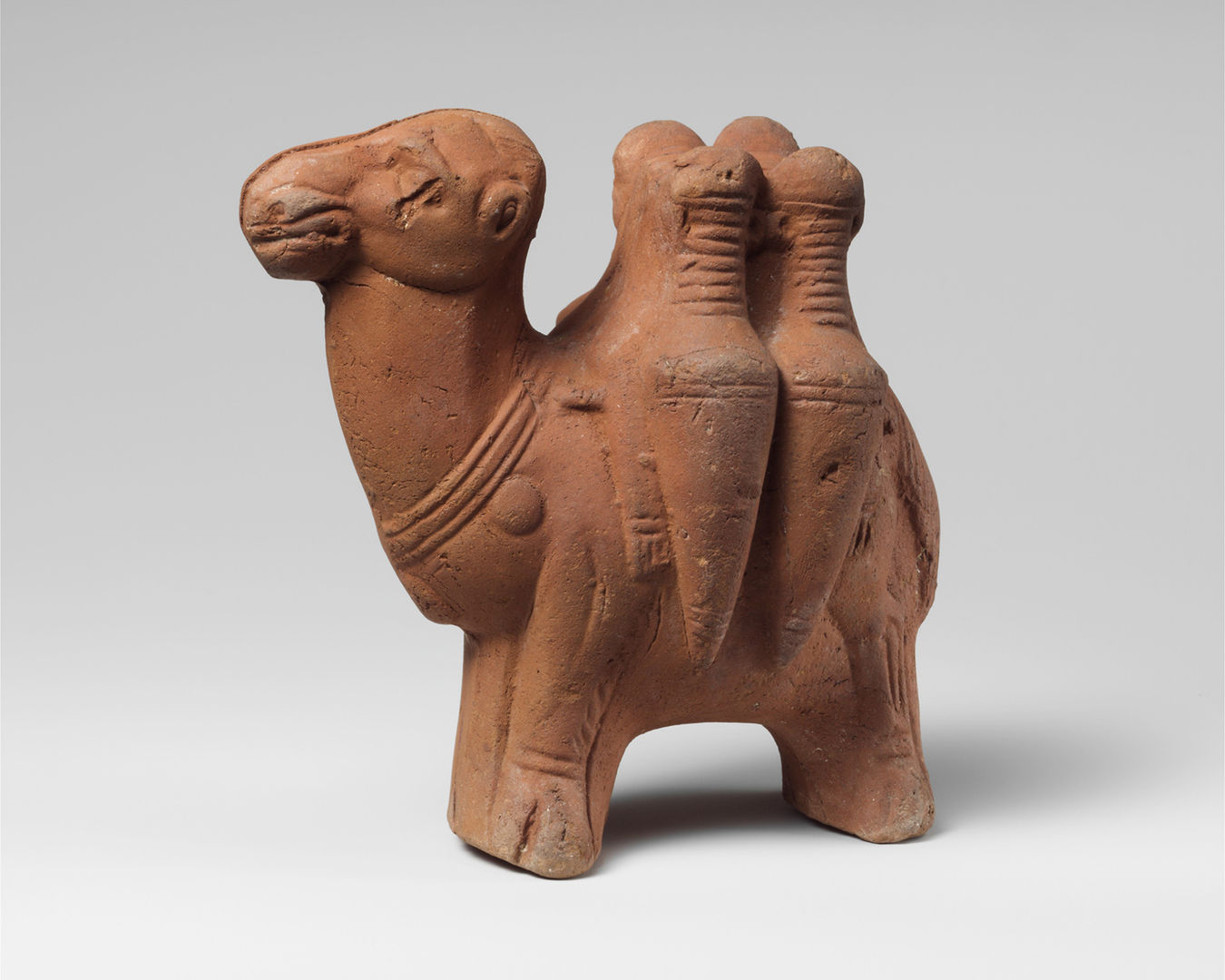 Using different art forms encourages a child to use their imagination, and basing their work on a real-world piece is a great basis for developing skills using a range of media.
Learn More: MET Museum
29. Rain Splatter Painting
This is such a fun activity for rainy days, and it provides a great opportunity for children to predict and test what they think will happen to food coloring when it is lightly rained on! It's a wonderful way of producing truly unique pieces of artwork that are sure to be treasured.
Learn More: Kid Kraft
30. Photography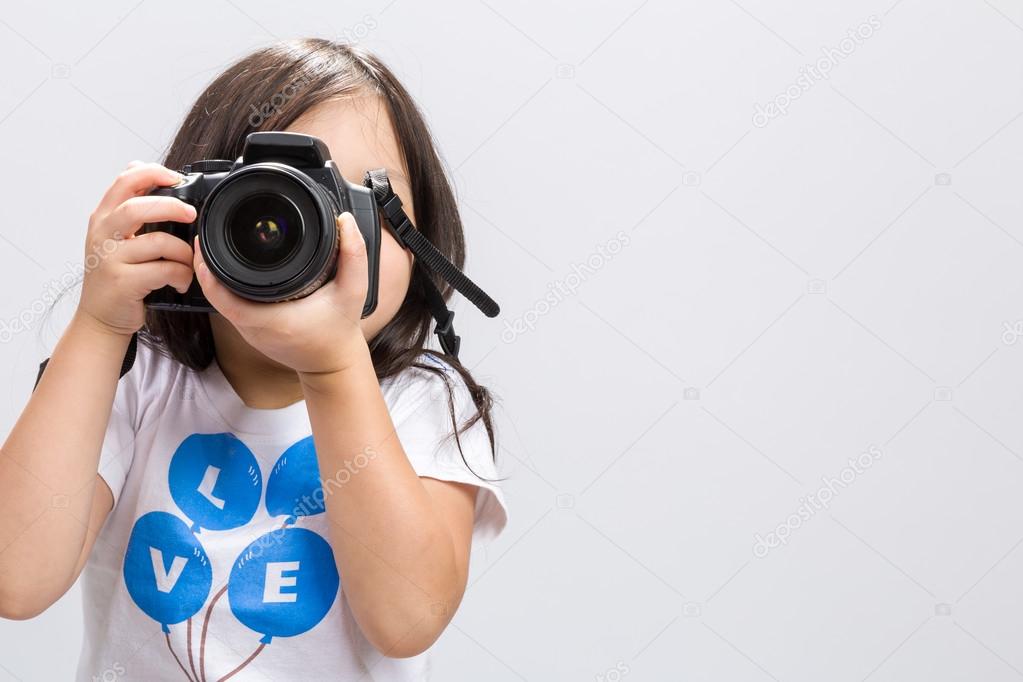 You could invest in a kid-friendly camera to let students really explore the potential that photography has in creating some truly awesome artwork. You can then upload the pictures to photo editing software and explore the editing process.
Learn More: Nat Geo Kids
31. Rainbow Windows
This is a little messy, but a whole heap of fun! Grab towels, washable paint, and a sponge roller, and make beautiful rainbow windows. You can add an investigative element as you predict and record what happens to the colors as the light shines through them at different times of the day.
Learn More: Hands-On As We Grow
32. Mosaic Making
Travel back in time and explore the ancient art of mosaic-making with your child! This open-ended activity can be done using a single medium such as paper, or mixed media. It's a great opportunity to develop cutting and ripping skills as they prepare their materials for use.
Learn More: Study.com
33. Weaving
Weaving is an amazing activity for developing an understanding of color, pattern, and texture. It also helps develop fine motor control and pincer grip- both of which are essential for pencil control. This activity takes very little prep work and the outcomes can easily be used as decorations or given away as gifts.
Learn More: Art Projects For Kids
34. Pencil Dot Pointillism
This is a super-calming activity to do at the end of a busy day and it's a great spin on painting or coloring. It's also a useful way of helping kids develop their gross motor skills and hand-eye coordination as they work to create an image using dots.
Learn More: Momtastic
35. Messy Art
Sometimes, messy art is the best art! Getting messy can turn art into a full-on, immersive sensory experience. It's also a great way to help kids learn that art doesn't always need to be pristine!
Learn More: Happy Hooligans
36. Pebble People
This is a totally different take on an art activity as kids create their own pebble people! There's plenty of skill development here as your kids listen to and follow step-by-step instructions, but also lots of flexibility in terms of the designs that they create and what they use the pebbles for.
Learn More: Nat Geo Kids
37. Colour Mixing with Computer Coding
Sometimes you want to be creative, but you just don't want the mess! This activity is perfect for those days when you want something simple that also allows learners to practice their computing skills around coding. This is great for younger elementary kids who are developing their understanding of coding.
Learn More: iGame Mom
38. Paper Weaving
Paper weaving is a great alternative to the weaving activity mentioned above! This activity practices a specific skill known as the basket weave, which provides a great introduction to a skill that has been historically essential not just for visual arts, but for everyday life. Follow templates, or explore creating your own!
Learn More: Art With Mrs. Nguyen