Having a robust vocabulary is an essential element for children to successfully communicate and, eventually, read. A large oral vocabulary is necessary for children to be able to recognize the words they know in print and to comprehend the passages they read. We can support students' vocabulary growth by engaging them in frequent conversations and conducting classroom vocabulary exercises. Use this list to add to your repertoire of games and activities and make teaching vocabulary enjoyable for everyone involved!
1. Categories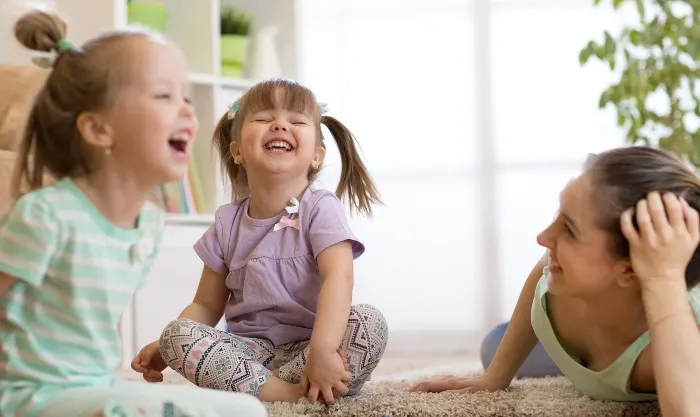 Categories is a simple game to help children understand the associations between words and unlock shades of meaning for new vocabulary terms. You select a category, and then the children take turns generating a new list item. If the word falls outside the category, pick a new one and start again!
Learn More: Empowered Parents
2. Odd One Out
Odd One Out is almost like Categories, but backward. You provide children with a list of words, and they have to determine what the category is and which of the words provided do not fit with the others. This game provides excellent opportunities for conversation and additional, implicit vocabulary practice!
Learn More: Empowered Parents
3. Free Association
Free association is a great way to build vocabulary skills in worksheet form, while still allowing children to engage in divergent thinking. You provide them with the term for the center of the web, and then they add any associated word to the worksheet.
Learn More: Cierra Harris Teaching
4. Toss and Answer
This fun vocabulary exercise combines gross motor movement with literacy. Simply write the words from your current vocabulary unit on slips of paper, and then place them into a muffin tin. Have students toss a ball or pom-pom, and then define or provide a synonym for the word it lands on!
Learn More: Cierra Harris Teaching
5. Memory
Jazz up the classic game of memory by using it as a vocabulary exercise! Students will have to search for the matches of definitions to the correct vocabulary terms. To make things a bit easier, print terms on one color of paper, and definitions on another.
Learn More: Lucky Little Learners
6. Short Stories
This low-prep, context-based vocabulary practice is perfect for centers or independent work. Children get to use their creative writing skills to come up with a story that utilizes a set of vocabulary terms. Set up a special presentation time in your classroom for children to share their pieces if they wish!
Learn More: Lucky Little Learners
7. Spinners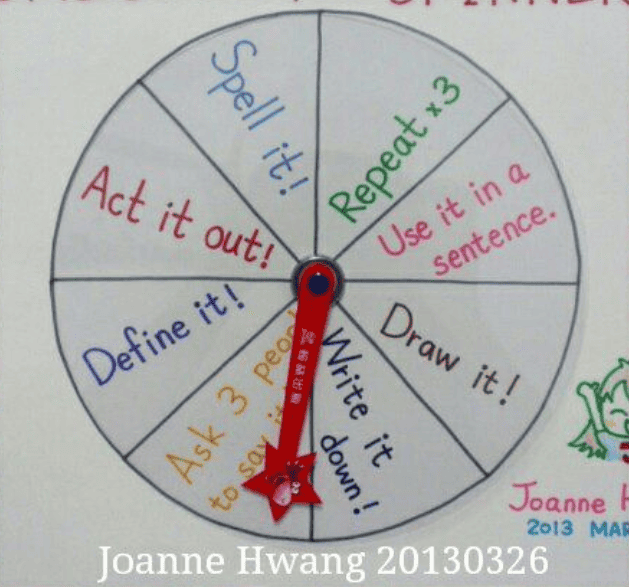 This cute vocabulary spinner provides students with multiple methods to practice vocabulary words. Set it out as a center and encourage children to complete a set number of tasks. Giving different methods of demonstrating understanding helps all children feel successful at the task!
Learn More: Pinterest
8. 1 Minute Talks
One-minute talks are a great way to get English language learners conversing and using English vocabulary in context. Provide a certain topic and encourage students to use as many vocabulary words as possible during their conversation. Or, give them a specific term to discuss in pairs.
Learn More: TEFL Course
9. Vocabulary Spoons
You can adapt the exciting game of spoons to cover so many different skills- one of which is vocabulary! Make a deck of cards that includes the vocabulary list, a picture of the term, and the definition. Once you find all three, don't be last to grab a spoon!
Learn More: I Heart Teaching Elementary
10. Character Match
Learning vocabulary in the context of a mentor text is a great way to develop an understanding of their typical usage. In this quick activity, children will draw and label a character's thoughts, feelings, and actions with their current vocabulary list. Use it over and over with new stories!
Learn More: The Sassy Apple Teaching
11. Million Dollar Words
Strengthen your class's day-to-day vocabulary usage with this Million Dollar Words game. Post a list of terms you want them to practice, and the whole class celebrates with a "Cha-Ching!" when someone gets caught using one in class discussions.
Learn More: The Sassy Apple Teaching
12. Connect Four
Make English vocabulary exercises even more fun by incorporating them into existing board games. For instance, students can play vocabulary Connect Four! They will play as usual, except they will have to define or provide a synonym/antonym for a word on a card before playing their turn.
Learn More: Not So Wimpy Teacher
13. Headbandz
Headbandz is always a hit for group gameplay! Put one of your current vocabulary terms on the headband, and students will try to guess their words based on the definitions, descriptions, or synonyms given by their classmates. You could also use the headbands for a version of vocabulary charades!
Learn More: Not So Wimpy Teacher
14. Fast Talker
Fast Talker tests students' vocabulary fluency. Select and display a particular word for students, and then call on a student to provide its root, synonyms, antonyms, or part of speech. The challenge is that they have to do so as quickly as possible, and they never know who will be called on next!
Learn More: Brain Waves Instruction
15. Doodling
Students are always doodling anyway, so why not wield their artistic talents to promote deeper interest in their learning? Encourage students to doodle about their vocabulary lists. You can provide them with some direction or give them free rein. Either way, making art adds a sensory element to learning that improves recall.
Learn More: Brain Waves Instruction
16. Word Up
Word Up is a fantastic game to play during read-aloud to keep your children engaged and listening to the story. Have children write several vocabulary terms on cards, and then hold them up each time they hear them in the text.
Learn More: Upper Elementary Snapshots
17. Fly Swat
If your class loves a good competition, try this fun fly swatter activity! Students go head to head in each round to earn points for their team by hitting the correct vocabulary term on the board with their swatters. You can provide them with the definition or a synonym as a prompt!
Learn More: Upper Elementary Snapshots
18. Word Speed
Word Speed is another competitive activity to help students remember their vocabulary lists. You can change up the tasks a bit and keep this game around all week long! Set a timer and see how many vocabulary terms the writer can record before the time runs out.
Learn More: Saddle Up for 2nd Grade
19. Beach Ball
Beach balls are a perfect accessory for teaching vocabulary to an active class. Have them toss a beach ball from classmate to classmate, and each student must define the term their hands land on or use the word in a sentence.
Learn More: Saddle Up for 2nd Grade
20. How Many Words?
This difficult vocabulary activity provides ample challenge for your more advanced learners. Task them with fitting as many of their vocabulary words as they can into a four-sentence story. Their goal is to use the words in context while still coming up with a silly or exciting tale to share with their peers!
Learn More: Kirsten's Kaboodle