Volcanoes are an important part of teaching earth science and getting students to understand the basics of tectonic plates, the composition of the earth, the role of molten lava, and the impact of volcanic eruptions on life. Here are 20 visual representations, volcano crafts, and other educational resources to help you, help your students understand the basics of volcanoes and have fun while doing so!
1. The Magic School Bus Blows Its Top
This classic children's book is a fun way to answer many students' basic questions about volcanoes and introduce some basic volcano vocabulary. You could use this book as a read-aloud for younger students, or use it in various ways as an extension project.
Learn more: Amazon
2. Cootie Catcher Volcano
In this activity students illustrate a "cootie catcher" with a volcano's various parts like hot magma, the magma chamber, and other distinct layers- learning some volcano vocabulary as they go. This would also make a good addition to geography lesson plans.
Learn more: Ms. Conner
3. Volcanic Eruption Demonstration
Using simple household supplies like baking soda, a baking tray, food coloring, and a few other materials, students can make their own volcano and watch its fizzy eruption in this hands-on volcano demonstration.
Learn more: Giggly
4. Pumpkin Volcano Craft
This variation on a hands-on volcano demonstration includes dish soap, food coloring, and some other household supplies, as well as a pumpkin! Reinforce volcano vocabulary as students make an "active volcano". Pro tip: use a baking tray or plastic cutting board for easy cleanup.
Learn more: Beyond the Playroom
5. Volcano Cake
Celebrate the end of the unit with a sweet activity dedicated to volcanoes. Ice three different-sized bundt cakes and stack them on top of each other to construct your own steep-sided volcano. Once you have iced the cakes, top them with melted icing for the fluid lava.
Learn more: So Yummy
6. Lava Cam
Learn about one of the world's famous volcanoes, Kīlauea, by observing the live volcano cam. The live footage is a great way to start a discussion about how lava flows, to pique students' interest in volcanoes, or to discuss the volcanologist career field.
Learn more: National Park Service
7. Volcano Earth Science Packet
This earth science packet is full of worksheets to teach students and provide comprehension checks on everything from types of volcanoes to types of eruptions and tectonic plates. Use this packet as homework to reinforce what students have learned in class.
Learn more: Homeschool Den
8. Rock Cycle Activity
Learn about the effects of previous eruptions on the earth in this rock cycle activity. This visual and interactive activity is a great format for students that are kinesthetic or experiential learners.
Learn more: Engaging Science Labs
9. Glitter Volcano
Students can learn about underwater volcanic eruptions with this simple volcano experiment using food coloring and a few jars. Students also have the opportunity to learn about convection currents as they explore how the lava escapes into the water.
Learn more: Living Well Mom
10. Printable Volcano Bundle
This comprehension skills packet includes worksheets on volcano types, volcanic material, blank volcano diagrams, and pictures for just coloring for fun. These various worksheets can help reinforce answers to essential questions or fill out lesson plans.
Learn more: Thought Co.
11. Tectonic Plate Oreos
Learn how tectonic plates contributes to different types of volcanoes with this sweet activity. Using Oreos broken into different-sized pieces, students learn about different plate movements.
Learn more: Sorting Sprinklers
12. Volcano Mini Books
This example of a volcano model shows how previous eruptions of hot magma from the magma chamber form new volcanoes. Students can complete this activity by folding it up and coloring it for fun to make a little study book.
Learn more: Homeschool Giveaways
13. Introduction to Volcanoes
This short movie is a great way to start a unit. It includes some stories about famous world volcanoes and their previous eruptions, discussions about various types of volcanoes, and footage of real volcanoes.
Learn more: Learn Bright
14. Volcano: The Dr. Bionics Show
This cartoon-style movie is a good choice for younger middle schoolers. It is short, to the point, and includes examples of volcano models in all different shapes. It also includes fun trivia. This would be a good form for students needing some review before going deeper.
Learn more: Peekaboo Kidz
15. Pompeii Volcano Eruption
This short video narrates one of the most famous volcanoes of all time-Pompeii. It does a good job of summarizing the cultural and scientific significance of the town. This would be a great opener to tie into a discussion about world history, or even in English class.
Learn more: Twig Science Reporter
16. Volcano Science Study Guide
This unique interactive note pack will help keep students engaged. The bundle includes an interactive wheel for important volcano vocabulary, including definitions and diagrams students can color. Additionally, it includes a lift-the-flap notes page, in which students can also color and write information using their own words underneath.
Learn more: Etsy
17. Earthquakes and Volcanoes
This textbook packet is full of information, vocabulary, and activity options. At the base level, it encourages students to think critically about tectonic plates, how they contribute to earthquakes and volcanoes, and to compare and contrast the two natural disasters. The text is fairly dense, so it's probably best for older students, or to use as supplemental material in chunks.
Learn more: National Geographic
18. Volcano Diagram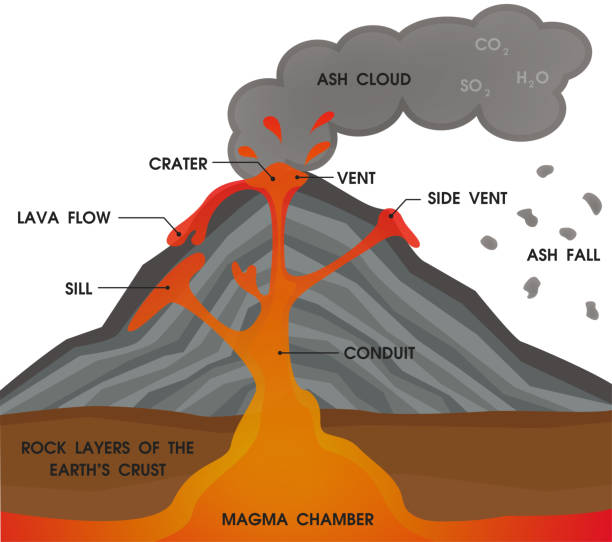 Here is another example of a blank volcano diagram. This would be great as a pre-assessment or to include in a quiz. Expand the assessment for older students by asking additional questions about each blank, or take away the word bank to make it harder.
Learn more: Education.com
19. NeoK12: Volcanoes
This website is full of teacher-vetted resources for teaching students about volcanoes. Resources include videos, games, worksheets, quizzes, and more. The website also includes a bank of presentations and pictures that can be used and modified for your own classroom.
Learn more: Neo K12
20. Museum of Natural History: Ology Home
This webpage about volcanoes produced by the American Museum of Natural History includes lots of information about famous volcanoes, how volcanoes are formed, and some interactive fields. This would be a wonderful resource for a teacher's sick day or a virtual learning day if paired with a worksheet or other aid.
Learn more: American Museum of Natural History