Many students would rather give their attention to TikTok than learn the cone formula for volume. And, I get it- sitting through boring classes is no fun at all! That's why it's so important to integrate hands-on and engaging activities into your math lessons.
Below are 20 of my favorite activities for learning about the volume of a cone. Some of these activities also include cylinders and spheres for bonus learning!
1. Paper Cones & Cylinders
The first step to understanding the formula of cone volume is an investigation of its shape. Your students can make cones using paper. They can also make a cylinder for comparison. How many cones do they think fit into a cylinder of equal height and radius?
Learn More: Mr. Codilla
2. Volume Comparison with Sand
This hands-on activity can demonstrate just how many cones fit into a cylinder. Your students can fill a cone with sand and pour it into a cylinder of equal height and base radius. They will then discover that 3 cones match the volume of 1 cylinder.
Learn More: Arvind Gupta
3. Volume Comparison with Kernel
You don't have to use sand for this demonstration. Popcorn kernels work too! This demonstration shows the relationship between cylinder volume and cone volume in the reverse.
Learn More: Mike Buboltz
4. Maze Activity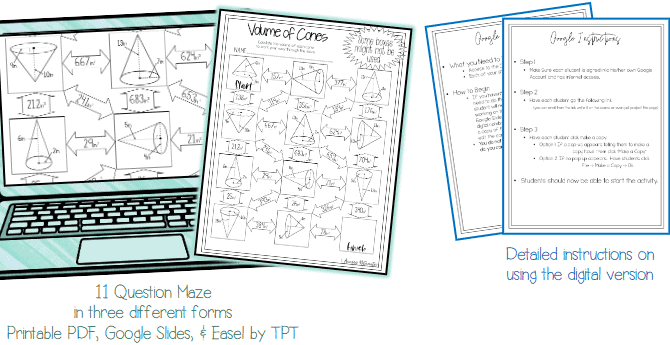 Your students can try using their volume-solving skills to complete this maze activity. There are 9 volumes of cones to be calculated using the height and base radius or diameter. If they answer correctly, they will steadily progress to the end of the maze!
Learn More: Teachers Pay Teachers
5. Riddle Activity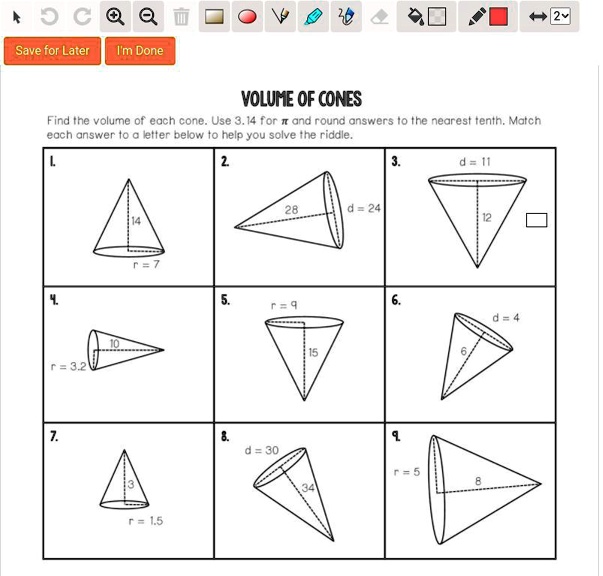 More often you'll come across riddles in English class, but here is a fun riddle activity for math. Where can you buy a ruler that is 3 feet long? Your students can solve for the volume of 12 cones to determine the riddle answer.
Learn More: Teachers Pay Teachers
6. Color-By-Number
Some might think that coloring activities are too "childish" for your middle schoolers, but coloring can provide them with a much-needed brain break. Your students can solve for cone volumes to determine the colors to use in this color-by-number activity.
Learn More: Teachers Pay Teachers
7. Volume of Cones Tic-Tac-Toe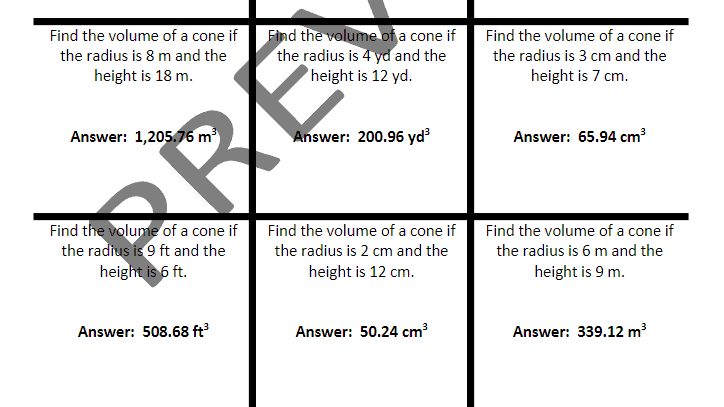 Competitive games, like Tic-Tac-Toe, can fuel some exciting learning practice! Before your students can put down their X or O, they can solve a volume of cones question. If their answer is incorrect, they cannot put down their mark.
Learn More: Teachers Pay Teachers
8. Online Practice Questions
Khan Academy is a great resource for various learning topics. This video explains the formula for cone volume and provides practice questions. You can also find lessons for the volume of cylinders, spheres, and other three-dimensional shapes.
Learn More: Khan Academy
9. Volume 3D
In this online game, your students will be tasked to solve the volumes of cones, cylinders, and spheres. This game is a good practice activity, especially for distance learning!
Learn More: Legends of Learning
10. Geometric Versus Slime
This online volume activity has a fun world-saving theme. Your students can use their knowledge of three-dimensional geometric shapes to beat the slimy monsters. For each round, they must select the correct formula and numbers to win.
Learn More: Legends of Learning
11. Rags to Riches
Similar to the previous online games, this one gets your students to solve for volumes of various three-dimensional shapes (cones, cylinders, spheres). Your students can earn some "money" and go from rags to riches as they continue to solve the questions correctly.
Learn More: Quia
12. Volume of 3D Figures Break Out
This is a fun online collection of activities with the goal of finding the code to "break out"! There are various styles of questions about the volume of cones, cylinders, and spheres. This includes questions in a quiz format, choosing the correct image, and more!
Learn More: Genially
13. Jeopardy
Jeopardy can be a hit review game for any topic! Each task card has a question that your students must answer correctly to win points. You can use this pre-made version that includes questions on volume concepts for cones, cylinders, and spheres, or create your own!
Learn More: Jeopardy Labs
14. Measure Real World Items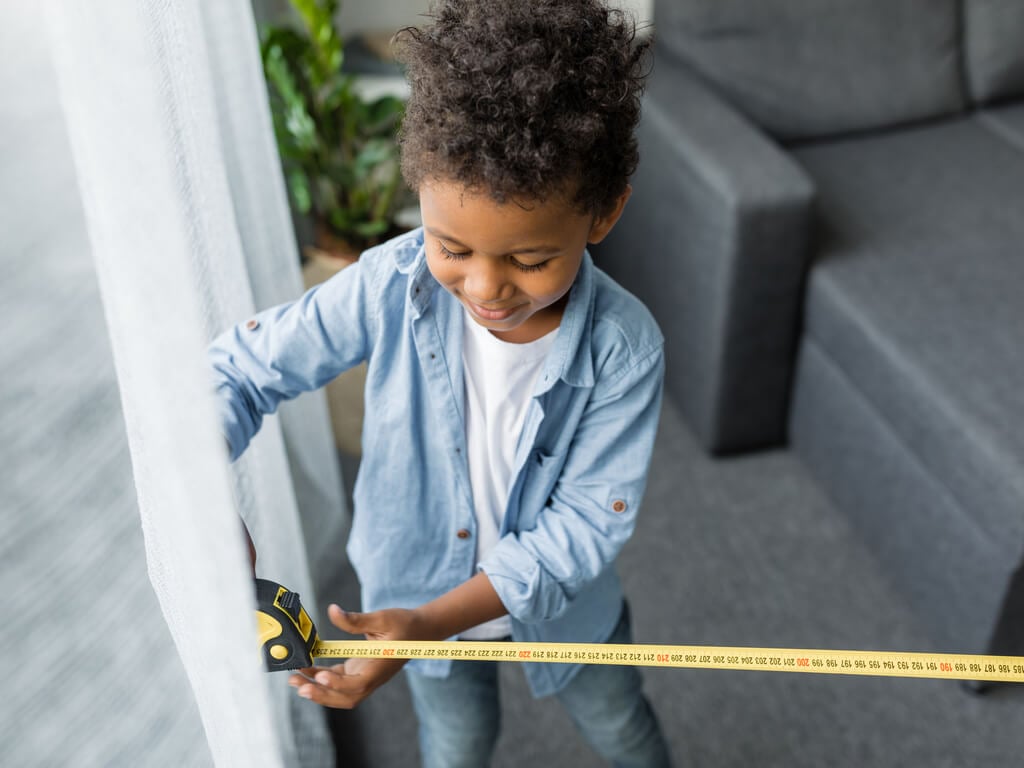 How about using this knowledge in the real world? Your students can walk around the school and search for items that are cone-shaped and report back to class. Your students can even try measuring the volume of the cones they find.
Learn More: 3P Learning
15. Real World Problem Solving Video
Sometimes, the most interesting problems to solve are those from the real world. Your students can watch and follow along with this video to solve a real-world problem about the height of a vase.
Learn More: LearnZillion
16. Cup vs. Cone of Ice Cream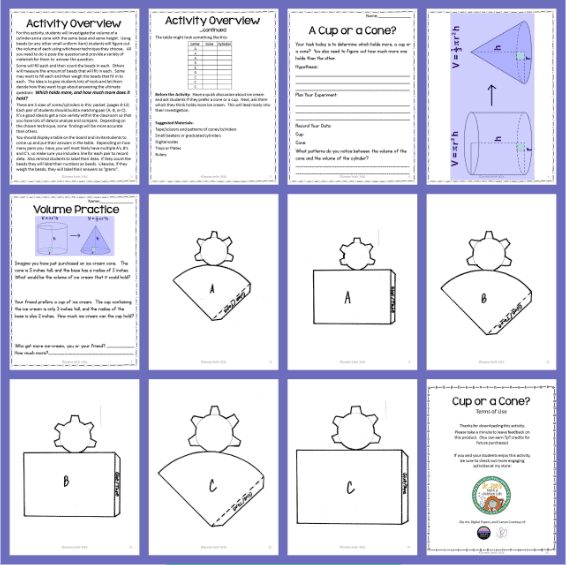 Would you rather have a cup or a cone of ice cream? I want whatever is going to give me the most ice cream! Your students can work through this ice cream-themed activity to learn the relationship between cone and cylinder volumes.
Learn More: Dr. Jans Math and Science Lab
17. Volume of Cones Digital Math Activities

These Google Slides are an activity bundle with pre-made digital activities for the volume of cones. It includes a Google Forms exit ticket to assess your students' skills after their activity practice.
Learn More: Teachers Pay Teachers
18. Interactive Notes
Your students don't have to take notes by simply jotting down formulas in a notebook. Instead, you can make partially filled interactive notes for them to complete. These are totally customizable so you can have your students write about whatever formulas and examples you want.
Learn More: Learning Made Radical
19. Foldable Notes & Examples
This can be another awesome resource for your students' notebooks. It includes 6 practice questions that use the cone volume formula in different ways. The example questions solve for measures of cone volume and height.
Learn More: Teachers Pay Teachers
20. Watch Instructional Videos
Our students' attention is not always focused during class time! That's why videos that provide a review of concepts and previous lessons can be helpful. Your students can watch this video as many times as they need to hammer down the cone volume formula.
Learn More: Math with Mr. J