Usually coinciding with Read Across America Day, Wacky Wednesday is celebrated in the first week of March and is a day when things go a little crazy in the classroom. Based on the idea from the beloved Dr. Seuss book, Wacky Wednesday, ideas from the classroom focus on things being out of place, or not quite right.
We have gathered a list of 26 of the wackiest activity ideas for your classroom including; games, fun writing activities, and super science experiments. Read on to learn more!
1. Change Everyone's Name, to Begin With 'W'
Start your Wacky Wednesday off by renaming all of your students! Have name tags ready for each child with their name now starting with a 'W'. Kids will find this hilarious and you could turn it into a game by using points or penalties if someone forgets to call another student by their new name!
2. Create Wacky Writing Paper
Create some wacky Writing paper for your students Wacky Wednesday fun writing activities. Students can use any colors they want and can draw their lines in whichever way they please. Not only will this challenge them when it comes to doing their writing, but it will also create a super eye-catching display.
3. Design a Wacky Bedroom
Put your student's creative skills to the test as they design a bedroom where nothing is where it should be. This free printable activity sheet is a super Wacky Wednesday activity for all ages. You could use printed images or cut-out pictures from a catalog to make this a cut-and-stick activity.
Learn More: Early Education Zone
4. Draw a Wacky Portrait
This free printable activity gets students to design and draw a wacky portrait of themselves. They could add silly glasses, wacky colors, and other fun items to their portraits.
Learn More: Teachers Pay Teachers
5. Wacky Hair Style
A wacky hair day is a fantastic way to celebrate Wacky Wednesday! Students can add hair bows, and hair ties and even use hair chalk to create their wacky designs. This is a perfect way to get everyone at home involved with Wacky Wednesday too. Students could also wear some wacky items of clothing to school that day to complete their looks.
Learn More: What Moms Love
6. Wacky Classroom
Before your students arrive on Wacky Wednesday, spend some time planting some wacky props around the classroom. This could be upside-down lamp shades, socks stuffed into your tissue box, upside-down posters or displays, or even funky knee-high socks on your table and chair legs. Don't tell your students and see what they notice as they are going about their regular routine in class!
Learn More: Ms. Stephanie's Preschool
7. Wacky Things Scavenger Hunt
Once a student has noticed the first wacky thing in your classroom, this is the perfect time to start a scavenger hunt! Using post-it notes your students can explore the classroom and place a post-it note on anything that looks a bit wacky!
Learn More: Fun in First OLP
8. Bake and Decorate a Wacky Cake
Baking and decorating a wacky cake on Wacky Wednesday is sure to go down as a treat with your students, This recipe only needs simple ingredients, and is super wacky as it doesn't even need eggs! Have fun letting your students go wild as they decorate their cakes to see which is the wackiest!
Learn More: The Takeout
9. Wacky Writing Activities
This free pack of fun writing activities is perfect to keep the learning in your class going on Wacky Wednesday. This differentiated activity has different prompts and paper options and is perfect for any elementary student.
Learn More: Teachers Pay Teachers
10. Dr. Seuss's Word Searches
A Dr. Seuss word search is a perfect finishing activity for students who finish their work quickly. They will have fun finding all the wacky words from their favorite Dr. Seuss books.
Learn More: Organized31
11. Read the Book
Spend some time reading the funny book written by Dr. Seuss! This video presents a reading of the entire book which is a perfect starting activity for your day.
Learn More: Miss Sofie's Story Time
12. Wacky Wednesday Word Making
This activity is perfect for younger students getting to grips with making words. Make two columns, one for real words and one for wacky words, and see what they can come up with.
Learn More: Early Education Zone
13. Yes, No, Stand Up
Play this wacky game to get your students laughing! Yes means stand up and no means sit down. After you have established this rule, as more confusing and tricky questions and watch the hilarity ensue. This fun and silly activity is the perfect game for circle time on Wacky Wednesday.
Learn More: ESL Kids Game
14. 3D Wacky Self-Portrait
These wacky 3D portraits are a super fun activity to do with your students on Wacky Wednesday. You could use folded or curled strips of paper for hair or mix it up by offering your students a range of different craft supplies to use for their portraits.
Learn More: Pinterest
15. Wacky Walk Game
This fun game brings fun to an outdoor walk on Wacky Wednesday! Take a pack of cards on your walk and whatever card you draw, your whole class must do the corresponding action! You could use this list or come up with your own ideas as a class.
Learn More: Play Party Plan
16. Paint a Wacky Hair Style
This cool activity is perfect for craft time in your class. Students can create some super wacky hairstyles by painting using forks or other utensils that you might have onto this free printable template. Talk about how the different utensils make different patterns as you use them.
Learn More: Glued to My Crafts Blog
17. Decorate Wacky Glasses
Making some wacky glasses is a great art activity for Wacky Wednesday. Use these free printable templates to create silly glasses and let your students decorate with wacky patterns, polka dots, or any other crazy designs.
Learn More: First Palette
18. Inside Out Sandwiches
These inside-out sandwiches are easy to make with just a slice of bread between two slices of cheese. Your students will find them hilarious- making them the perfect snack for Wacky Wednesday!
Learn More: Pinterest
19. Make Oobleck
Making oobleck is always a class favorite! This hands-on learning activity uses only corn starch, water, and some green food dye and is super easy to make. Paired with the book Bartholomew and the Oobleck, it's the perfect activity for a wacky day!
Learn More: Natural Beach Living
20. Wacky Calculator
This math challenge is easy to set up and is a great starter activity for your students. Set the scene with students by announcing that you think your calculator has gone a bit wacky and has been giving you the wrong answers. Then, create a list of calculations that are incorrect and get your students to correct your wacky calculator's mistakes!
21. Go Bananas With Some Wacky Dancing
This crazy song with wild dance moves is a great way to get your students moving! This activity is a great brain break or warm-up for a PE lesson.
Learn More: Scratch Garden
22. Make Green Eggs and Ham
Green eggs and ham are a Dr. Seuss staple. Have fun with your students as you recreate this weird and wonderful meal! This science experiment is a super activity for older students and, in analyzing the list of ingredients, you can discuss blending colors to get green coloring.
Learn More: Mombrite
23. Dissolving Fish Experiment
This super STEM experiment activity is a brilliant way to bring different curricular areas into your Wacky Wednesday schedule. All you will need are some gummy candy fish, some basic supplies that you can get from the grocery store, and Dr. Seuss's book, One Fish Two Fish Red Fish Blue Fish.
Learn More: Little Bins For Little Hands
24. Wacky Workout
This video has a great wacky workout where students can complete their usual warm-up movements, but in wacky ways, like going backward! This workout is a great activity to wake your students up between activities or to warm them up for a PE lesson.
Learn More: RoboTots
25. Dr. Seuss Shape Matching
This Dr. Seuss-themed educational activity is perfect for a math lesson with younger students on Wacky Wednesday. These free printable worksheets ask students to cut out the shapes, match them to the corresponding hat shape and then stick them down.
Learn More: Planes and Balloons
26. Wacky Snack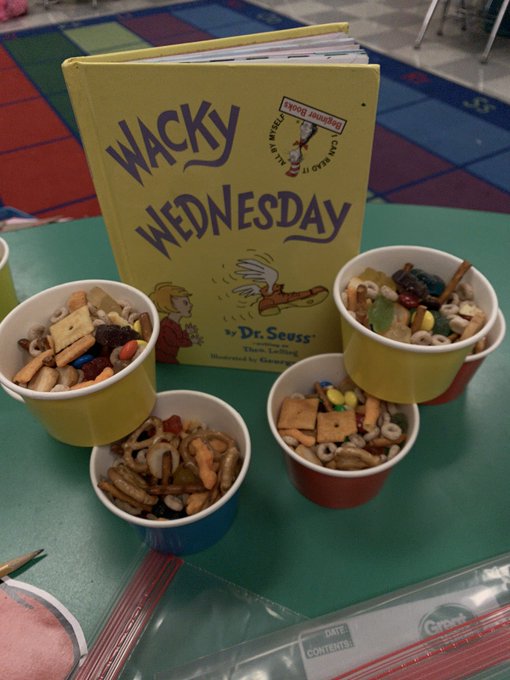 Wacky snacks are the perfect treat for Wacky Wednesday. Mix up some fruit, crackers, pretzels, and candies to create these crazy mixes! You could ask each student to bring in a multi-pack of their favorite snack and let your students make their own wacky mix.
Learn More: Twitter