Before you judge someone, walk a mile in their shoes! In other words, you should try not to criticize people before getting to know them and their personal experiences. This is a key practice for developing empathy.
Empathy skills can be an important part of social-emotional learning for your developing students. They can help improve interpersonal skills for cooperation and conflict resolution. Here are 20 wholesome activities for walking in someone else's shoes.
1. Empathy in a Shoe Box
Your students can literally walk in someone else's shoes. Write a personal scenario about someone for each box of shoes. Students can then put on the shoes, read the scenario, and provide insight into how they feel in the person's shoes.
Learn More: The Corner on Character
2. In My Shoes – Walk & Talk
This interview activity can be a great active listening practice. Everyone should remove their shoes and then wear someone else's. The wearer and owner of the pair can go on a walk, where the owner will answer questions about their life.
Learn More: Fun Retrospectives
3. A Step Forward or Backward
Your students can play a character that is described on provided situation cards. From a starting line, they can take a step forward (true) or backward (false) depending on whether a spoken statement holds true for their character.
Learn More: Creativity and Change
4. "A Mile in My Shoes" Exhibition
Your students can listen to the personal stories of individuals from around the globe while walking in their shoes at this exhibition. While this exhibition may not be traveling to your town, your students could create their own version, as an extracurricular activity, for their community to experience.
Learn More: Empathy Museum
5. Jenga X Walk in Someone Else's Shoes
You can combine this empathy activity with a game of Jenga to develop your student's motor skills and empathy. You can create character cards with life scenarios written on the backs. Before your students discuss the character's feelings, they must pull out a block from the Jenga tower.
Learn More: Mrs. Bell The Crafty Counselor
6. Printable Empathy Activity Bundle
This free resource provides multiple empathy activities. One activity involves presenting a scenario where your students can answer how they would feel if they were the subject and how someone else could help them.
Learn More: The Seed
7. Walk In My Sneakers Digital Activity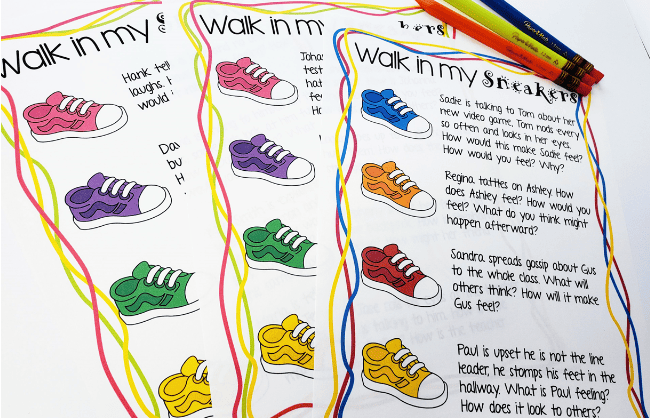 This pre-made, digital activity is similar to the last activity option. Scenarios are presented with follow-up questions about how your students would feel or what they would do in specific situations. These exercises can help students develop broader perspectives about other people's lives.
Learn More: Teachers Pay Teachers
8. Financial Budgeting Activity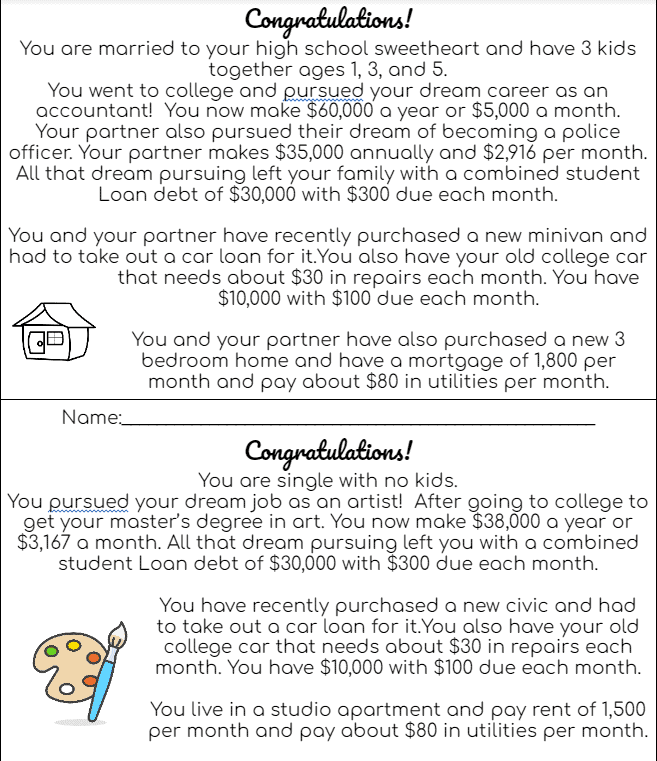 This interactive activity brings empathy into the world of money. Your students will receive life situation cards that will describe their careers, debt, and expenses. They can share their scenarios to compare their different financial experiences.
Learn More: Teachers Pay Teachers
9. Empathy Display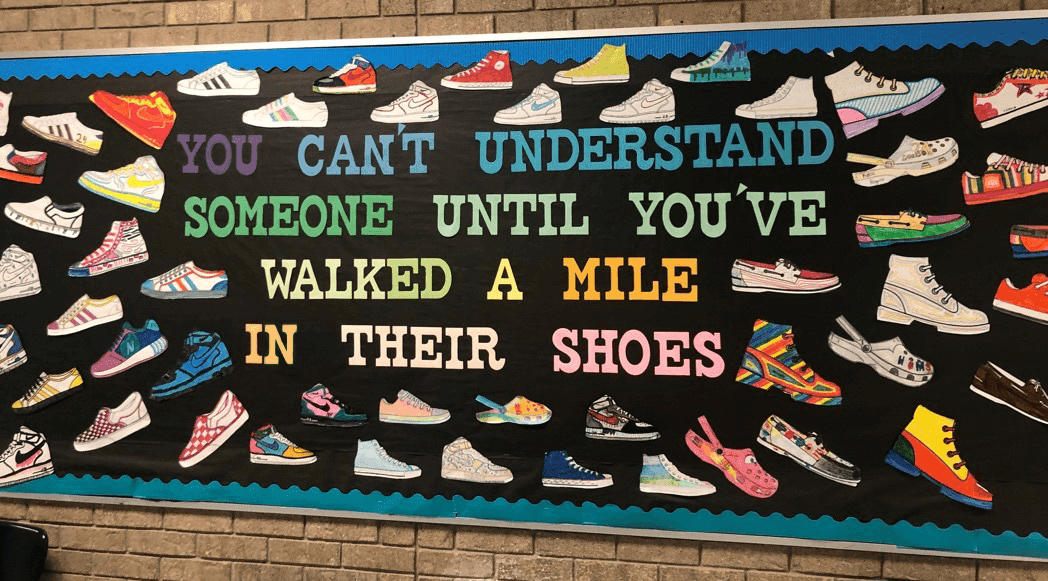 This shoe activity can be a great way for your kids to get to know one another. They can color their chosen shoe and write 10 personal facts about themselves to share with the class. These can then be showcased in the classroom!
Learn More: Teachers Pay Teachers
10. "A Mile in My Shoes" Art Activity
This beautiful, empathy-inspired artwork was created by a high school student. Your students can create their own unique versions of this art piece for a crafty, social-emotional learning activity.
Learn More: Embracing Our Differences
11. Read "Arnie and the New Kid"
This is a great children's book about practicing empathy and walking in someone else's shoes. It's about a new student who uses a wheelchair. Arnie has an accident and must use crutches; giving him insight into Philip's experience and an opportunity to practice empathy.
Learn More: Amazon
12. Emotional Journey of Stories
Your students can track their story characters' emotional journeys with this worksheet. This involves documenting their feelings and labeling emotions. This can give your students a better idea of what it's like to walk in a story character's shoes.
Learn More: Teacher in Exile
13. The Emotional Ups & Downs of the Plot
Here's an alternative worksheet that also tracks plot events from the story. These worksheets come in printable and digital versions. This worksheet enables learners to understand how a person's emotions may vary dependent on their circumstances or day-to-day experiences.
Learn More: Teacher in Exile
14. Read Memoirs or Biographies
The more we learn about a person's life and experiences, the more we can empathize with their individual perspectives. You can encourage your older students to choose a memoir or biography for their next reading to gain some in-depth knowledge about a specific person's life.
Learn More: Library Displays
15. Emotion Sort
If you're working with younger kids, perhaps an emotion-themed activity would be suitable for them to learn about the emotions that others may experience. This picture activity gets your students to sort emotions by analyzing facial expressions.
Learn More: Proud To Be Primary
16. Guess How I'm Feeling
This board game is an alternative version of the famous "Guess Who!", and can be played as a printable or digital activity. It can push your students to use their knowledge of emotions and facial expressions to match the characters to descriptions of feelings.
Learn More: Mylemarks
17. Empathy vs. Sympathy
I find that the words empathy and sympathy can often be confused with each other. This video is great to show your kids so that they're able to compare these two words and remind them that empathy isn't only about perspective-taking.
Learn More: RSA
18. Watch a Short Film
This 4-minute skit is about two boys swapping bodies to walk in each other's shoes. The end has a surprising twist that could capture your students' attention.
Learn More: Rob F
19. Watch a TEDx Talk
This TEDx talk centers around the idea that we must first take off our own shoes (dismantle our prejudice and personal circumstances) to walk a mile in someone else's shoes. Okieriete talks through this topic using his own personal experiences.
Learn More: TEDx Talks
20. Listen to "Walk a Mile in Another Man's Moccasins"
This is a lovely song that you can play for your students to teach them about the value of walking in another person's moccasins (shoes). If your students are musically inclined, perhaps they could try singing along!
Learn More: Initiatives of Change – India