When Summer temperatures hit, it's always great to get outdoors and cool off by having some fun with water. Water balloons are so versatile as there are so many ways to use them that are fun whilst still incorporating an educational or team-building element to your students' day.
We have gathered 24 awesome activities and games for kids that involve water balloons. Read on to find out more and remember to grab a bunch of water balloons next time you're at the store!
1. Water Balloon Math
This fun educational water balloon idea is a super way to liven up your next math lesson. Set up a bucket of water balloons with simple math equations on them. Students then have to burst their balloons with the equations in chalk circles with the correct answer.
Learn More: No Time for Flashcards
2. Water Balloon Painting
Create some fun and unique artwork with paint and water balloons. Get your students to dip the filled water balloons in paint and have some fun with different colors and patterns!
Learn More: Raising Dragons – Activities For Kids
3. Water Balloon Number Splat
This activity is perfect for younger students who are working on their number-recognizing skills. Fill up a bunch of water balloons and then write numbers on the balloons and on the ground. Get your students to splat the balloons on the corresponding number on the ground.
Learn More: Little Bins For Little Hands
4. Water Balloon Letter Smash
Fill up some water balloons and grab some sidewalk chalk for this fun letter recognition activity. Write the letters of the alphabet on the ground and then again in permanent marker on the balloons. Your students can then have fun matching the letters with the balloons!
Learn More: School Time Snippets
5. Water Balloon Scavenger Hunt
Put a new spin on your next water balloon fight with a scavenger hunt. Hide-filled water balloons in various places outdoors – differentiated either by color or with a symbol drawn in permanent marker. Kids can only use water balloons in their color or with their symbol on it so they will need to run around to find them during gameplay.
Learn More: Kid-Friendly Things To Do
6. Water Balloon Parachute STEM Activity
This fun water balloon challenge is a super STEM activity for older students. Students must design and build a parachute to slow the balloon landing when it's dropped from a height so that it doesn't burst.
Learn More: Invent
7. Fire Experiment
This experiment shows the effect of water as a conductor of heat. A balloon with air pops if exposed to the flame while a water balloon will burn as the water conducts heat; meaning that the balloon doesn't overheat or burst.
Learn More: Educational Videos by Mocomi Kids
8. Density Balloons Experiment
This cool and easy STEM activity is great when your class is investigating density. Fill small water balloons with either water, salt, or oil. Then, drop them into a large container of water and see what happens!
Learn More: 123 Homeschool 4 Me
9. Design a Helmet for a Water Balloon
Put your students' skills to the test with this whole class water balloon challenge. Students must design and make a helmet to stop their water balloon from bursting when thrown or dropped from a height. You could turn this activity into a game where at the end, the team with an intact balloon wins a prize.
Learn More: Curious Crew
10. Water Balloon Toss
This fun game is a great way to improve motor skills and hand-eye coordination in younger students. Using some cardboard and paint, create the balloon toss targets and then fill up some water balloons for the fun to begin!
Learn More: A Girl and A Glue Gun
11. Sight Word Water Balloons
This activity simply requires a pack of water balloons, a permanent marker to write the sight words, and some hula hoops. Students will pick up a balloon and must read the word on it before they throw it into one of the hula hoops on the ground.
Learn More: Royal Baloo
12. Water Balloon Pass Game
This fun water balloon game is wonderful for developing motor skills in younger students or for facilitating good teamwork with older students. Students need to throw the balloon from player to player, taking a step back each throw, and being careful not to drop or pop it.
Learn More: KHON2 News
13. Water Balloon Shape Matching Activity
This super fun and interactive activity is perfect for students who are covering 2-D shape recognition. Get your students outdoors to match the shapes drawn on the water balloons with the chalk shapes on the ground. They can throw the corresponding balloons onto their matching shapes. 
Learn More: Hands-On As We Grow
14. Water Balloon Yo-Yo
Make these cool water balloon yo-yos with your students! All they will need is a rubber band and a small, filled water balloon.
Learn More: Preschool Alphabet
15. Angry Birds Water Balloon Game
Students will love this exciting water balloon game. Fill water balloons and draw Angry Bird faces on them. Then, draw the pigs with chalk on the ground and let the kids do the rest; splatting the pigs with the Angry Birds!
Learn More: No Time for Flash Cards
16. DIY Tie Dye T-Shirts
These cool tie-dye t-shirts are a super simple activity to do with water balloons. Just add some tie dye to your water balloons, lay white t-shirts on the ground, and let your students create their own colorful designs!
Learn More: Kimspired DIY
17. Water Balloon Art
This project requires you to make a giant water balloon dartboard by placing push pins through the back of a painting canvas. Then, your students can throw water and paint-filled balloons on the canvas to pop on the pins- creating unique works of art!
Learn More: The Mc3
18. Water Balloon Volleyball
Sort your kids into teams and enjoy this fun water balloon volleyball game. Using a towel, students must get the water balloon over the net to the other team until one of the teams drops the balloon and it bursts.
Learn More: It's Always Autumn
19. Colorful Frozen Water Balloons
To make these colorful frozen balloons you'll simply need to add some food dye to the water inside the balloon and then leave it outside to freeze. Students will be able to see the patterns made in the ice as the water freezes.
Learn More: Cabin Life
20. Weigh The Water Balloons
For this fun math activity, you will need plenty of water balloons filled with different volumes of water. Let your students explore their weights by balancing them on scales with other non-standard units of measurement.
Learn More: Pinterest
21. Water Balloon Sensory Bin
Perfect for the littlest of learners or students with sensory needs, this sensory box of water balloons is a super easy way to bring some stimulating play into your classroom. Fill a box with water balloons filled to different levels and place some other fun toys among them.
Learn More: Simple Fun For Kids
22. Laminar Flow Balloon Experiment
This cool water balloon experiment has been all over TikTok so your students are sure to have seen it. Many people believe it to be fake, but it's actually a scientific phenomenon called laminar flow! Watch this video with your students and see if they can recreate it.
Learn More: Mystery Lab
23. Water Balloon Phonics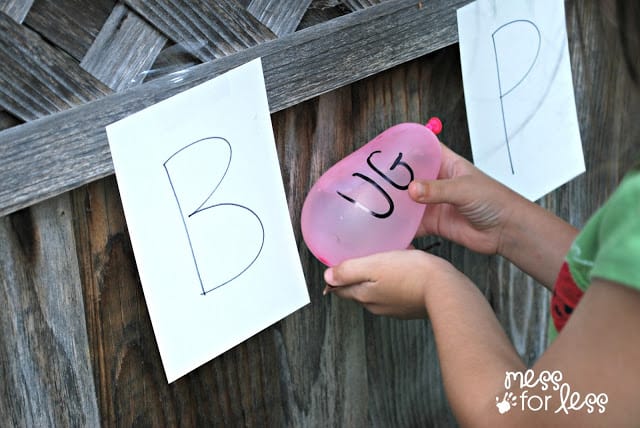 Grab a pack of water balloons and create this fun phonics game for your younger students to enjoy. Display your starting letters either on a wall or written in chalk on the ground. Students can then take a balloon with a letter pairing on it and splat the balloon on the letter that would come before the pairing.
Learn More: Mess For Less
24. Build a Water Balloon Launcher
This fun STEM activity is great for older, responsible students. Discuss how to make and design the launcher and then conduct an investigation into how effective the design was afterward. Talk about methods, how to make it a fair test, and any equipment you might need for the investigation.
Learn More: Frugal Fun 4 Boys