Watercolor painting is a super art activity to do with students of any age. As the colors are designed to blend, mistakes don't matter as they are easily hidden. Most students will find watercolors easier to get started with as they are not as bold and thick as other types of paint.
We have gathered a list of 23 fun ideas for your next watercolor projects. From new and abstract painting methods to cool STEM angles on these art activities, these ideas are sure to get your students excited!
1. Watercolor Planets
Paired with this fun space story, this fun art project is a super way to let your students explore watercolor paints by creating their own colorful planets! Add a black background with some white dots for stars to really make this art project stand out.
Learn More: Rainy Day Mum
2. Watercolor Pom Pom Splat
There is no paintbrush needed for this activity- your students can have fun with splatter painting instead! Students can dip pom poms into watercolors and then throw or drop them onto paper. The wet paint splats as the pom poms hit the surface- creating a cool effect that can be used to create a unique art hanging.
Learn More: Fun A Day
3. DIY Water and Oil STEM Project
This cool watercolor project is a super STEM activity. Your learners will see how oil and water interact with each other. Add some watercolor to boldly see the interactions and you can then create a print from an experiment using a piece of paper.
Learn More: Virtual Club
4. Watercolor Resistant Art
Use a white crayon to write a cute message on a piece of paper and then get your students to create a painting with lots of fantastic colors. As they paint, the crayon message will be revealed!
Learn More: Darcy and Brian
5. Alphabet Watercolor Paintings
Place some tape on a piece of paper in the shape of a letter of the alphabet for this fun activity. Students then cover the entire piece of paper in bright watercolors and then leave the painting to dry. Afterward, remove the tape to finish off this super-effective piece of artwork!
Learn More: Kiddy Charts
6. Watercolor Bookmark
These bookmarks are super simple to make and your students will love them. Students could carefully paint the patterns or use a white crayon before painting with watercolors if they want to create a more intricate design.
Learn More: Pinterest
7. Weaving a Watercolor
This cool watercolor art project is perfect for older students. Get your students to create bright watercolor paintings from a cool palette of colors. Once the painting has dried, cut it up and then follow the linked instructions to create this cool woven artwork.
Learn More: Kinder Art
8. Magic Salt and Watercolor Artwork
This fun watercolor technique using salt is a great way to introduce your students to a range of different artwork materials and approaches. Create the snowflake pattern using the white crayon-resistant method and then add salt to create a cool faded pattern.
Learn More: One Little Project
9. Watercolor Jellyfish
This funky art project is a wonderful watercolor project. Use a paintbrush to paint the jellyfish's body and then add a few drops of water before holding the painting up to create the tendrils. Add a few paint splatters and you're done!
Learn More: Instagram
10. Winter Tree Watercolor
Create this cool, Wintery wonderland using dark colors and salt. When the salt is sprinkled onto the paint, it will repel the pigment in the paint and create this cool effect!
Learn More: Happiness Is Homemade
11. Paper Towel Art
This paper towel painting is a super opportunity for your student to experiment with an assortment of colors and watch their watercolors mix! They can simply lay down a piece of paper towel and dot it in assorted colors.
Learn More: Happy Hooligans
12. Watercolor Flowers
These vibrant watercolor flowers are a super simple but really eye-catching project with beautiful colors for your students to make. To create these you simply need some watercolors and coffee filter papers.
Learn More: Fun At Home With Kids
13. Make Your Own Watercolors
Start off your fun art activity by letting your students create their own art materials! This tutorial shows students how they can make their own watercolors using water, cornstarch, and food coloring to paint with.
Learn More: SciShow Kids
14. Watercolor Self-Portraits
Watercolors are the perfect medium for creating bright self-portraits. Students can experiment with mixing colors to make their skin tone, hair, and chosen background as they create these wonderful works of art!
Learn More: Primarily Speaking
15. Watercolor Birthday Cakes
These birthday cards are a fantastic project to introduce your students to watercolors. Place two strips of tape on either side of the card and paint a stripe for every layer of the cake. Then, once the paint is dry you can remove the tape and draw on a few decorative elements!
Learn More: K Werner Design
16. Black Glue and Salt Watercolor Rainbow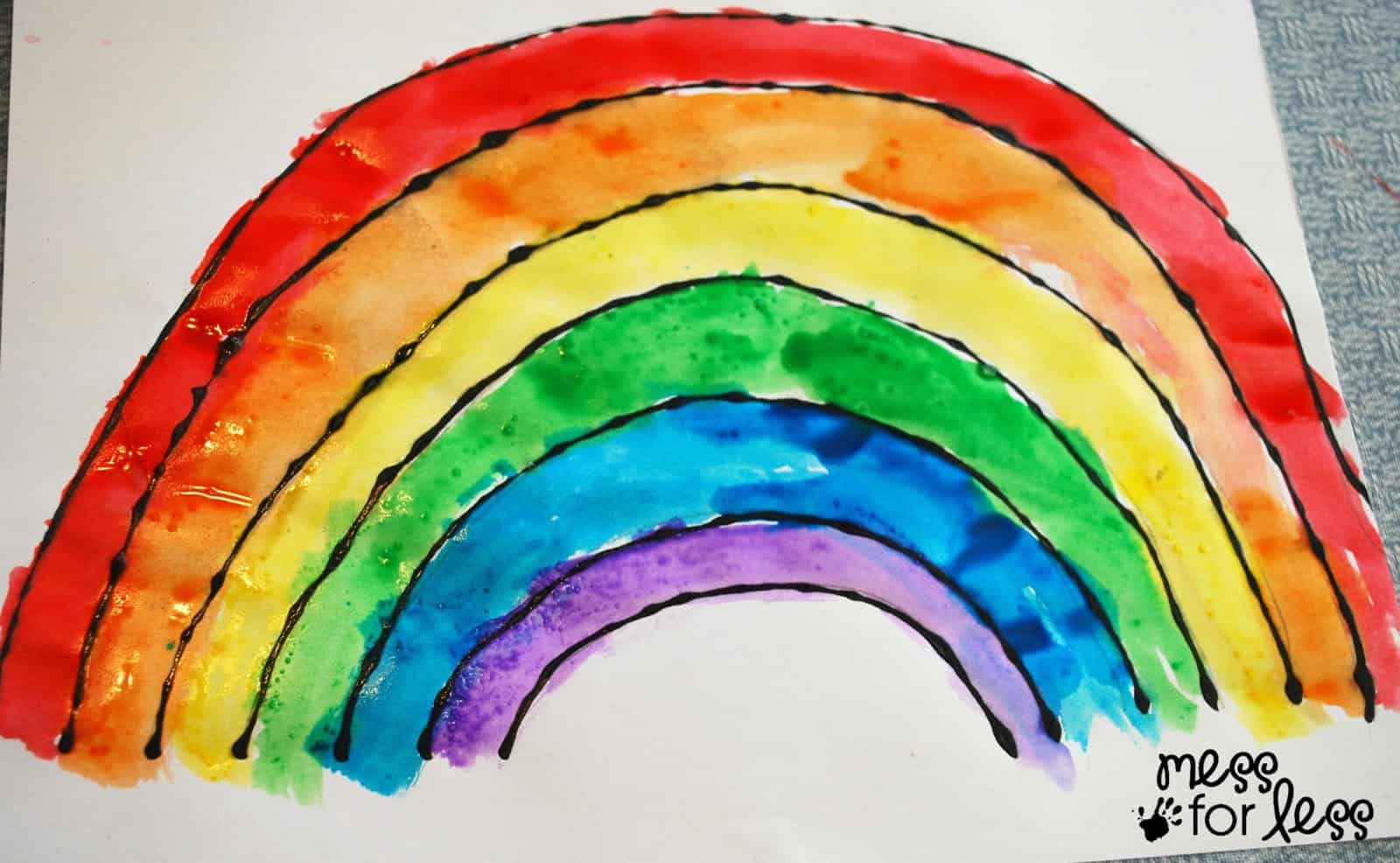 Add some black paint to glue for your students to create a rainbow outline. Then, let them add color to their designs by painting with bright watercolors. Add salt to create texture and a cool effect.
Learn More: Mess for Less
17. Overlapping Circle Paintings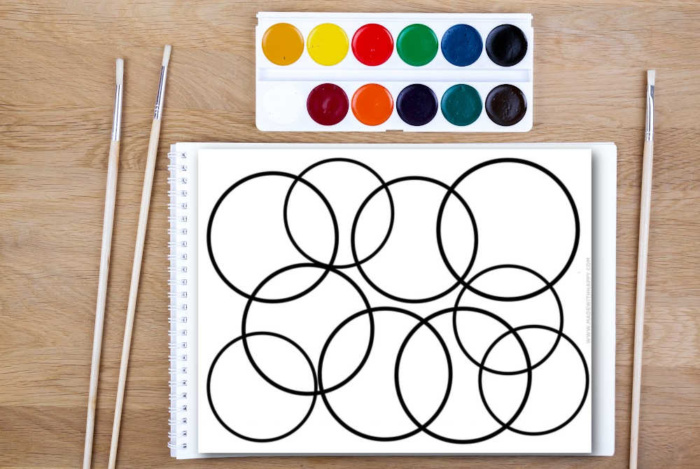 Explore the magic of color mixing with your students as they create these vibrant watercolor circles. Start with primary colors and let your students create different color combinations to see how many colors they can create! Ensure they use a clean brush each time to avoid unwanted mixes.
Learn More: Made With Happy
18. Straw Watercolor Painting
Your students will enjoy this fun painting activity creating cool paint splatters. This creative art idea is a wonderful way of painting without using a paintbrush. Students can simply drop some watercolor paint onto the page and then use a straw to blow the paint around.
Learn More: Creative Makes
19. Fish Eyes
This cool watercolor painting technique uses rubbing alcohol to create these cool bleached fish eyes. Students can paint a lovely watercolor picture and then once it has slightly dried, they can apply some rubbing alcohol using a q-tip.
Learn More: Fun Littles
20. Skyline Silhouette Art
This beautiful landscape painting is super simple to achieve with your students. Students can create their colored sky using watercolors on a piece of white paper. Then, while it dries they can cut out skyscrapers from some black paper. Once the painting is fully dry, stick the black paper on top.
Learn More: Happy Hooligans
21. Watercolor House STEM Project
These cool watercolor houses are super fun to make. Use the free net template to build the house and then use a dropper to drip different watercolors onto the house. Your students will love to watch the different colors mix and create new colors.
Learn More: Left Brain Craft Brain
22. Paint With Bubbles
Painting with bubbles is a super fun activity for any age. Use a straw to build up the bubbles in the paint and then scoop some bubbles onto the paper. They will leave a unique and eye-catching pattern as they pop.
Learn More: Boom Bubble Boom
23. Earth Day Watercolor Craft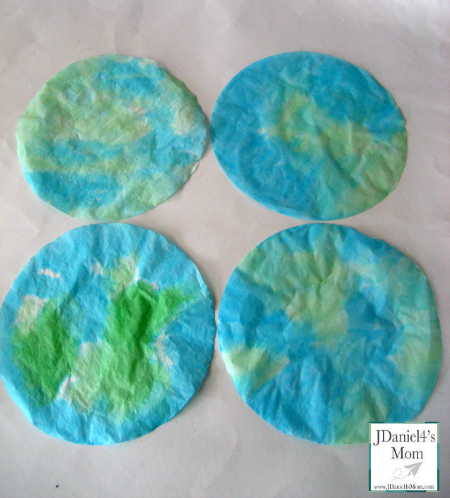 This Earth Day craft only requires blue and green watercolors and some coffee filter papers. Use droppers to add color to the filter paper to create these versions of Earth! See how accurately your students can make their pieces.
Learn More: JDaniel 4s Mom