Looking for a fun and refreshing way to engage your students in the classroom? Watermelons can be a unique way to immerse your students in various lessons. In this blog, we've compiled 22 watermelon activity ideas that are sure to teach, engage, and excite your students. From watermelon art and poetry to watermelon math and science experiments, there's something for everyone on this list. Grab a slice of watermelon and let's get started!
1. Watermelon Fractions
By using paper watermelon slices, kids can see and feel the different parts that make up the whole watermelon. This hands-on activity is a fun and engaging way to help students understand fractions and develop their math skills.
Learn More: Happy Tot Shelf
2. Watermelon Painting
Painting a watermelon is an appropriate activity for preschoolers and makes a great Summer craft idea to help your students practice their motor skills, express themselves creatively, and produce a beautiful craft worth hanging on the fridge at home. All you'll need is some paper, paint, and creativity!
Learn More: Grade Onederful
3. Watermelon Volcano
See your students' faces light up when you let them know you'll be creating a volcano. This fun watermelon activity is best used in science lessons to teach learners all about different chemical reactions. You'll need a watermelon, baking soda, vinegar, dish soap, and food coloring.
Learn More: Little Bins for Little Hands
4. Watermelon Seed Growing
Teach your students all about the watermelon life cycle by helping them turn small black seeds into sprouting seedlings in a cup. This can be part of a series of Summer activities where you practice sprouting different fruits and vegetables.
Learn More: CaliKim29 Garden & Home DIY
5. Origami Watermelon
Watermelon origami is a playful learning activity for kids that helps develop their fine motor skills, concentration, and creativity. Following the instructions to create an origami watermelon requires attention to detail and the ability to focus on a task; both of which are important skills for academic and personal success.
Learn More: Krokotak
6. Watermelon Memory Cards Activity
This watermelon memory card game helps students improve their memory, cognitive skills, and socialization skills. Playing this game involves matching cards with pictures of different watermelons. By having to remember where each card is located, kids can develop their memory and concentration skills.
Learn More: The Purple Pumpkin Blog
7. Watermelon Story Sequencing
Are you teaching your students about the watermelon life cycle? This watermelon story sequencing activity may be a good option to use to exercise your student's comprehension of what you taught them during this lesson and is suitable for students in 2nd grade and 3rd grade.
Learn More: The Mail Box
8. Watermelon Shapes Fun
What better way is there to learn about the different shapes than to be able to chop the watermelon into shapes and then EAT them? Develop your student's motor muscles while they learn to comprehend the different shapes. All you'll need are cookie-cutter shapes and finely sliced watermelon.
Learn More: Capitol City Dean
9. Watermelon Slime Science
Looking for fun activities for your students this Summer? Why not try this watermelon slime science activity where your students will have the chance to create their very own watermelon slime decorated with watermelon seeds? It's sure to be a hit in the classroom!
Learn More: Giggles Galore
10. Watermelon Garden
By learning about the planting process, students can develop an understanding of science, ecology, and agriculture. They can also learn about the different types of soil, climate conditions, and the importance of water and sunlight in growing plants.
Learn More: Farm Fresh To You
11. Watermelon Measuring Practice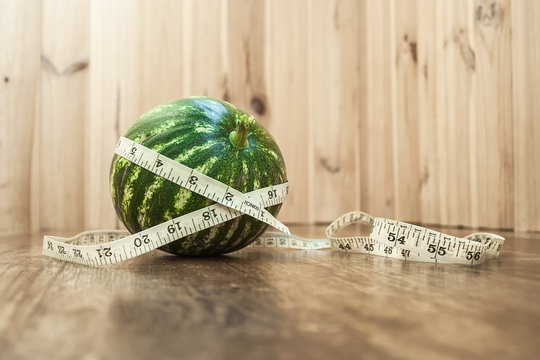 Using measuring tape or string and watermelon is a fun and engaging way for students to practice their measuring skills. By measuring the circumference, diameter, and weight of a watermelon, students can learn how to use measuring tools accurately and effectively.
Learn More: Education World
12. Watermelon Bingo
Watermelon bingo is a fun and educational activity that can help students develop their listening, concentration, and socialization skills. By playing this game, students will learn to recognize different watermelon-related items, such as seeds, rinds, and slices, and therefore develop their vocabulary and cognitive abilities.
Learn More: Vanah Lynn
13. Watermelon Card Craft
Making a hand-crafted watermelon card is a fun and educational activity for students that can help develop their creativity, fine motor skills, and socialization. By creating their own watermelon cards, students can express their artistic abilities and practice their cutting, folding, and coloring skills.
Learn More: The Best Ideas for Kids
14. Paper Fan Watermelon
By using simple materials like paper plates, scissors, glue, and paint, students can create their own unique watermelon fans that can help keep them cool during hot days. This activity also promotes the use of recycled materials which can help students develop an understanding of sustainability and environmental awareness.
Learn More: The Kindergarten Connection
15. Watermelon Paper Plate Craft
Making a paper-plate watermelon craft is a fun and engaging way to develop a range of skills and knowledge in an enjoyable and interactive manner that can help students develop their creativity, fine motor skills, and knowledge of arts and crafts.
Learn More: Happy Hooligans
16. Watermelon Color Experiment
The experiment involves removing the color from a watermelon using bleach- a must-try for anyone curious about the science of color! Your students will be surprised by the results, and it's an excellent way for them to learn more about the fascinating world of science.
Learn More: Incredible Science
17. Seed Spitting: Measure The Distance
This interactive activity can help students practice their estimation and measuring skills by spitting watermelon seeds and measuring the distance they travel. It's a simple and engaging way to teach students about measurement while also having fun.
Learn More: Stemsational
18. Watermelon Mosaic Art
Making a paper mosaic watermelon craft involves cutting and gluing paper in a mosaic pattern, which can help students develop their fine motor skills, hand-eye coordination, and creativity. Additionally, creating a watermelon design can teach students about shapes, colors, and patterns.
Learn More: Quian Learnings
19. Handprint Watermelon
This artwork involves your students using their hands and fingers to paint a watermelon design, which can help them develop their fine motor skills, hand-eye coordination, and creativity. It can also teach children about colors, shapes, and patterns, and promote the use of imagination and self-expression.
Learn More: Crystal and Comp
20. Watermelon Book Mark
Help your students to create their very own semi-circle watermelon bookmarks using only colored paper, black markers, scissors, and some glue! This craft is one that they can keep and use for years to come. They can also learn about shapes and fractions as they create.
Learn More: Recreation Craft
21. Watermelon Radical Scavenging Activity
Hosting a watermelon scavenger hunt for your students can be a fun and engaging activity that encourages teamwork and problem-solving. To start, you can hide small watermelon-shaped items around your classroom or outside area and provide clues for the students to find them.
Learn More: Ultimate Camp Resource
22. Watermelon Juice Making
Making watermelon juice can be a fun and educational experience for students that engages their senses and promotes healthy eating habits. By cutting and blending the watermelon, students can learn about the anatomy and structure of fruit and the different nutrients and vitamins it provides.
Learn More: Kid-Friendly Things To Do