Explore a treasure trove of creative ideas for decorating your classroom door! Each of our engaging themes is designed to captivate students' imaginations, foster a sense of belonging, and ignite a passion for learning. Each concept not only showcases your students' names but also brings to life the magic of learning; transforming your door into an inspiring gateway to knowledge.
1. Welcome to the Jungle
Step into the heart of learning with this verdant classroom door. Covered in a lush, green jungle, each student's name adorns a leaf; making them an essential part of this thriving ecosystem.
Learn More: Pinterest
2. Classroom of Heroes
Prepare to enter a realm where everyone has the potential to be extraordinary. Transform your door into a vibrant superhero cityscape. The buildings, emblazoned with the names of your students, set the stage for a heroic academic year where everyone can rise to meet a new challenge!
Learn More: Teach Starter
3. All Aboard the Learning Express
All aboard! This classroom door resembles a cheerful train- each carriage bearing a student's name. The design signifies the exciting expedition of learning- with each new station, a new discovery can be made.
Learn More: Pinterest
4. Under the Sea
Dive into a world of learning with this ocean-themed door. Showcasing a captivating underwater landscape, the door teems with marine life cutouts; each one bearing a student's name.
Learn More: Pinterest
5. Unlocking Potential
Every student holds the key to their own success. This door displays an assortment of colorful keys; each showcasing an inspiring quote that serves as a visual reminder that the classroom is a place for growing potential!
Learn More: Pinterest
6. Out of this World
Set the stage for a galactic journey of learning with a door that's adorned with a vibrant galaxy; each twinkling star bearing a student's name. This décor serves as a constant reminder that education has no boundaries and that the sky is not the limit, but only the beginning!
Learn More: Pinterest
7. On the Road to Success
This door design transforms a somewhat boring door into a bustling highway with cars labeled with each student's name. What a fun way to show students that they're each on their unique route to success- learning at their own pace.
Learn More: Pinterest
8. Baking Up Good Grades
Welcome to the classroom bakery where good grades are the year's specialty! This door features a tempting display of cupcakes; each adorned with a student's name.
Learn More: Pinterest
9. Learning is an Adventure
Embark on the quest for knowledge with this map-themed door. A sprawling map reminds your students that every lesson is a new adventure, and each day brings us closer to our destination!
Learn More: Pinterest
10. Classroom of Champions
Welcome to a classroom where everyone's a winner! This sports-themed door, decorated with various sports balls, signifies the spirit of teamwork, perseverance, and the pursuit of excellence – vital elements in both the sporting and learning spheres!
Learn More: We Are Teachers
11. Gearing Up for Success
Ready for some mechanical magic? This gear-themed door is perfect for keeping spirits high in the classroom. Each cogwheel reminds learners that everyone plays a crucial role in keeping the class functioning smoothly.
Learn More: Teachers Pay Teachers
12. Growing Minds
Step into a blooming garden of knowledge as you pass through this stunning door. It features a beautiful garden with vibrant flowers that are labeled with each student's name. It reminds students that, like flowers, their minds can grow in new ways every day!
Learn More: Pinterest
13. Lighting Up Our Minds
The door has been transformed into a majestic lighthouse to guide new voyages of discovery! This creative idea illuminates the fact that education lights up minds; helping students to navigate the vast sea of knowledge.
Learn More: Holy Redeemer School Per Shore
14. Soaring to New Heights
Turn your classroom door into an exciting airplane-themed landscape! It sends a message to the students that the sky's the limit when it comes to their learning potential.
Learn More: Pinterest
15. Colorful Minds
Make a splash with this paint-themed door! Each student's name decorates a vibrant splash of paint; creating a beautiful piece on and showcasing the diverse and colorful minds who make up your class.
Learn More: Pinterest
16. Building Knowledge
Constructing knowledge brick by brick! Proudly display each of your student's names on a brick in this construction-themed door; symbolizing how each new piece of information helps to build their knowledge base.
Learn More: Pinterest
17. Making Great Strides
March forward in the journey of learning with this shoe-themed door! Each all-star shoe reminds learners that any step taken contributes to making big strides in their academic journey as a whole!
Learn More: Pinterest
18. We're 'Pawsitive' About Reading
Remind your littles of how awesome they are with a fun, pet-themed door. Have each student pick a character that'll encourage them to adopt a 'pawsitive' mindset as they enter the classroom each day!
Learn More: Teachers Paradise
19. Hop into Learning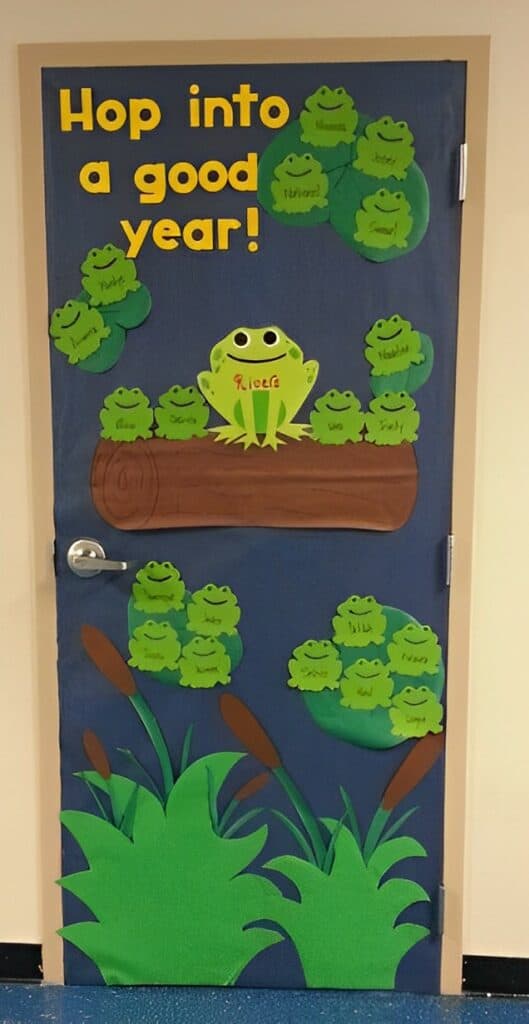 Leap into the world of education with this frog-themed door. Each student's name is written on a lily pad and prompts them to consider how learning can help them take the necessary leaps to achieve their goals.
Learn More: Pinterest
20. Learning is Sweet
Who said learning couldn't be sweet? This candy-themed door features each student's name on a piece of candy.
Learn More: Hative
21. Surfing into a New Year
Catch the wave of knowledge with this surf-themed door. This bright display is certain to encourage your students to adopt the idea that learning can be an exciting ride- with each new wave bringing in new information and experiences.
Learn More: Pinterest
22. Swinging into a New Year
Monkey around and learn with this fun door. Each student's name embellishes a banana and the overall image helps to foster a fun learning space!
Learn More: Pinterest
23. Caught in the Web of Learning
Get caught in the vast web of knowledge with this spider web-themed door. Much like a spider web, the images symbolize how learning connects learners and various pieces of information.
Learn More: Pinterest
24. Pop into Learning
Who's ready for a poppin' good time? This popcorn-themed door features each student's name on a popcorn kernel and cues the thought that learning can be as enjoyable as watching popcorn pop.
Learn More: Buzzfeed
25. Paddling Through The Pages
Promote active engagement in your classroom with this sailing-themed door. It displays important reminders for students to come out of their shells and be sure of themselves!
Learn More: Pinterest
26. We're a Bright Bunch
Encourage your kiddos to adopt a positive approach to learning with this bright and cheery sunflower door! Have your students write their name on a sunflower to position beside the entrance.
Learn More: Andrew Rachel Ashmore
27. Piece of the Puzzle
Remind each student that they're an integral piece of the classroom with this jigsaw puzzle door design. Without them, the classroom, wouldn't be complete!
Learn More: Pinterest
28. A Smooth Sail
This nautical-themed door represents the learning voyage that your pupils are about to depart on. The sails, depicting students' names, underscore the vital force that each one brings to navigating new knowledge.
Learn More: Pinterest
29. Buzz into Learning
This door, cloaked with a vibrant bee hive, stirs a hum of exhilaration in the classroom! It's perfect if you're looking to portray the collective strength required in keeping the classroom abuzz with fun learning.
Learn More: Fun365 Oriental Trading
30. Blasting Off into Learning
This rocket-themed door is all you need to launch your learners on an exciting and educational expedition. They'll soar to new heights each time they enter the classroom!
Learn More: We Are Teachers
31. Cooking Up a Great Year
Spark those learning flames with this kitchen-themed door! By displaying the key ingredients required for success in the classroom, your students will have a clear idea of exactly what's expected of them.
Learn More: Pinterest
32. Scooping Up Knowledge
This ice cream-themed door sets a refreshingly cool tone for learning. Get your kiddos involved in designing the door by having them decorate delicious ice cream cones made of colorful cardstock.
Learn More: Creative Shapes Etc.
33. Learning Takes You Places
Elevate the zeal for exploration with a door adorned with hot air balloons. With each balloon bearing a student's name, every time they enter the class, they'll be reminded that learning can take them to great places!
Learn More: Pinterest
34. We're on a Roll
A sushi-themed entrance is all you need to inspire your students to roll with the punches! With each sushi roll depicting a student's name, the door is sure to evoke a sense of fun and make everyone feel included.
Learn More: Pinterest
35. Be a Reading Bug
Foster a love for reading with this ladybug-themed door. Engage your kiddos in a crafty endeavor where they get to decorate a ladybug however they'd like!
Learn More: Schoolgirl Style
36. Reading Gives You Wings
This butterfly-themed door symbolizes the transformative power of reading. Each butterfly, displaying a student's name, represents how books give wings to our imagination!
Learn More: Teacher Nyla
37. Owl Always Love Reading
A door decked with owls, each adorned with a student's name, promotes a deep-rooted love for reading. The owl, symbolizing wisdom, encourages learners to appreciate the wealth of knowledge that reading endows.
Learn More: Elementary Nest
38. Books are Treasures
A treasure-themed door will help you remind your students that they are all greatly valued. Include a treasure chest in your design and use shiny cupcake liners as coins that display each child's name.
Learn More: Pinterest
39. Diving Deep
This scuba diver-themed door reveals a vibrant seascape- one where each creature has been named after a student. The door represents students' potential to dive deep into the ocean of knowledge!
Learn More: Pinterest
40. A Blooming Bunch
As your students enter your garden of knowledge, they'll be reminded to keep going to keep growing. Before you assemble your door décor, engage your learners in a crafting session where they can design and adorn a unique flower that displays their name.
Learn More: Pinterest
41. Harvesting Knowledge
This farm-themed door prompts students to recognize that they're a vital element in the classroom! Each fruit and vegetable is marked with a student's name to signify their unique role in all classroom endeavors.
Learn More: First Grade Wizards
42. Planting Seeds of Love
Promote a classroom atmosphere of friendship and care by adorning your door with seeds of love! Using black cardstock, you can cut seed shapes and write each learner's name on one before printing a large sunflower to bring everything together.
Learn More: Supply Me
43. Building a Love of Learning
This construction-themed door stands as a testament to each student's role in building an enduring love for reading. Bricks with learners' photos symbolize the individual contributions that lead to a strong foundation of knowledge in the classroom.
Learn More: Pinterest
44. Stacking Up the Books
As your learners step into this bibliophilic doorway, they'll be encouraged to develop a love of reading. Each spine of a book can be adorned with their names to make them truly feel like they're part of the classroom clan!
Learn More: Plymouth Rock Teachers
45. Riding the Reading Rollercoaster
This colorful doorway welcomes students to an exhilarating theme park of learning! Every time they enter the classroom, they'll feel as though they're about to set off on a fun adventure.
Learn More: Pinterest
46. Soaring To New Heights
This kite-themed door symbolizes this very essence of learning! Each student is reminded that only they have the ability to elevate to great heights by applying themselves in class.
Learn More: Pinterest
47. Catching the Learning Bug
This insect-themed door is sure to ignite a passion for learning in even the most reluctant of students. With each student's name carefully written on an insect, they are reminded of the contagious nature of learning.
Learn More: Pinterest
48. We are all Instruments
Rally your learners to march to the beat of their own drum! Featuring a host of musical instruments, learners are reminded that they will all need to work together to create a beautiful symphony in the classroom.
Learn More: Pinterest
49. Traveling Through Learning
Step right up and take a look at this captivating door that'll make you want to pack your bags and hit the road. A travel-themed door is the perfect representation of the exciting learning journey that lies ahead!
Learn More: Teacher Nyla
50. Driving Through The Year
Buckle up and get ready to hit the road to academic success with this road-inspired door. The unique design will have your students feeling like they're embarking on an epic journey each time they enter the classroom!
Learn More: Pinterest