They are the gentle giants of the deep seas, the fierce hunters of the arctic, and the largest animals on the planet! For these reasons and more, the whale's presence on this earth captivates children. This short list of activities about the humpback whale, blue whale, killer whale, and the rest of the cetacean species will transfix your students. Incorporate them as part of an oceanography theme, mammal review, or arctic animal lessons throughout the year!
1. Whale Stories
Help children establish background knowledge about whales by selecting a few books from this list! From nonfiction texts to teaching tales, children will love learning about these fascinating creatures in whole groups or exploring the beautiful photos and illustrations during independent reading.
Learn more: Craft, Play, Learn
2. Anchor Chart
After your introduction to whales, co-create some anchor charts with your students! Start with a KWL chart (Know, Want to Know, Learned) that the class can revisit throughout your unit. Then, as children's knowledge grows, add to a "can-have-are-eat-look" chart to define important facts!
Learn more: Proud to be Primary
3. Wild Whale Facts
Children will be mesmerized by the facts in this video by BBC Earth Kids. For instance, did you know that a blue whale's tongue weighs as much as an elephant's? Or, do you know the best places to go for blue whale sightings? Watch and learn!
Learn more: BBC Earth Kids
4. Types of Whales
These beautifully-illustrated cards include 12 species of whales for children to learn; like a gray, pilot, and beluga whales. Print a few copies to use to play Go Fish or Concentration, and students will have a great time building their vocabulary while enjoying a simple game!
Learn more: Trillium Montessori
5. Whale Labeling
After your students' introduction to whales, assess their understanding by making use of this labeling activity. Students will exhibit their knowledge of the body parts of a whale by cutting and pasting terms to label a picture. The resource also includes a completed diagram as a key!
Learn more: Free Homeschool Deals
6. All About Whales
This no-prep set of whale printables will provide tons of facts about whales for your students. They will learn interesting tidbits like the difference between a baleen whale and a toothed whale, learn about humpback whale songs, explore whale environments, and much more!
Learn more: 123 Homeschool 4 Me
7. Measurement Activities
When children begin learning about blue whales, they often become preoccupied with their large size! As the largest animals on earth, blue whales have been known to grow up to 108 feet long. Challenge your students to measure out the massive lengths of whale features with rulers or yardsticks!
Learn more: Preschool Powol Packets
8. Blubber Experiment
This is one of those classic, fun whale activities that children will remember for years to come! Children often wonder how creatures stay warm in freezing temperatures. Teach them about blubber and its insulating properties as they test different materials that keep their hands warm in ice.
Learn more: Little Bins for Little Hands
9. Underwater Sound Activity
As children are learning about the mysteries of whale vocalizations, try this interesting activity exploring how sound travels underwater. Children will listen to sounds traveling through the air, then again through water; which will help them learn more about how humpback whale singers can be heard from miles away in the sea!
Learn more: Still Playing School
10. Whale Sensory Bin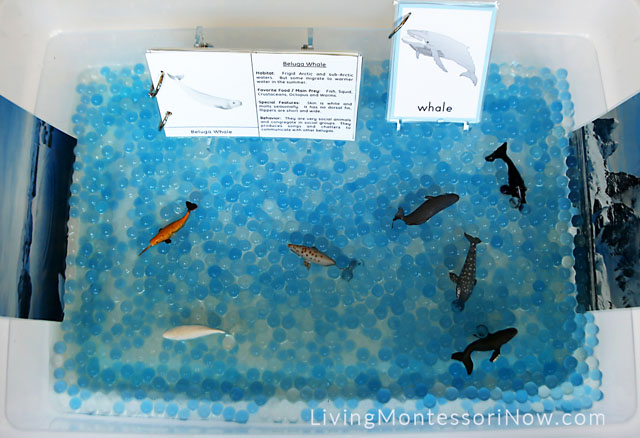 Bring these amazing marine mammals to live in this small world play/sensory exploration bin. Add in miniatures of a gray whale, sperm whale, blue whale, or whatever you might have, and incorporate other add-ins like ice, blue and clear glass stones, etc. Use the aforementioned cards for a fun matching activity with your figurines!
Learn more: Living Montessori Now
11. Paper Plate Whale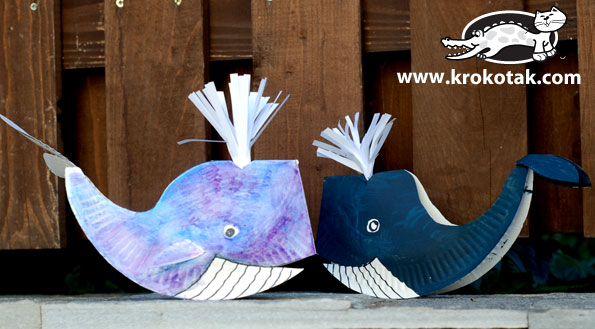 All you need is a paper plate, scissors, and drawing materials to make this cool whale craft! Use the printable template to make cut lines on a paper plate. Then, cut and assemble the whale! Fun whale activities like this will pique students' interest and add some artsy elements to your classroom study!
Learn more: Krokotak
12. Suncatchers
This simple art project celebrates cetacean species with silhouettes of these amazing sea mammals! Students will paint coffee filters with watercolor paints in cool ocean colors, and then add their ocean animals of choice cut out of black paper. Let children hang them up in inconspicuous places, and then play "whale sighting" as a scavenger hunt!
Learn more: A Little Pinch of Perfect
13. Collaborative Art
Directed drawings are a hit in any elementary classroom! Add some more art to your fun whale activities and have your class work on a directed drawing of beluga whales. Speak about the importance of visual observation for the scientists who measure whale presence in an area as you make realistic drawings with chalk and black paper.
Learn more: Proud to be Primary
14. Humpback Whale Puppets
Making these adorable whale puppets with your class is easy as 1-2-3! Simply print the template and use it to cut out the pieces of the humpback whale body from the appropriately-colored construction paper, then attach them to a paper sack. Put on a performance with a humpback whale singing activity when you're done!
Learn more: Simple Everyday Mom
15. Songs of Humpback Whales
Add some under-the-sea ambiance to your classroom atmosphere by playing these humpback whale singers in the background during independent work. As students listen to ocean noises and the songs of a band of humpback whale companions, encourage them to make auditory and visual observations over 10-minute periods and challenge them to share what they noticed.
Learn more: Relax Night and Day – Beautiful Nature and Sounds
16. Whale Reports
To round out your whale study, help children create these 3D blue whales to share marine mammal facts. Children make the craft, add a speech bubble with facts they have learned about whales, then create a Chatterpix to add an oral language element to the project.
Learn more: Amy Lemons