The Beijing Winter 2022 Olympic games are over, but the next Winter games, which will be held in Paris, will be here before we know it! Get ready for the 2024 Olympic events with some inspiring Winter theme activities we have listed below. Whether you're looking for fun games for kids, simple preschool activities, or classroom visuals, this blog has you covered. Read on for thirty-five activity ideas to celebrate the Winter Olympics in your classroom.
1. Gold, Silver, and Bronze Sensory Bins
It's always the perfect time for a sensory bin! Turn your next sensory bin station into a magical world of gold, silver, and bronze. Use beaded Mardi Gras necklaces, shiny stars, measuring cups, pipe cleaners, or whatever else you can find for those little hands to grab.
Learn More: Stir The Wonder
2. Handprint Medals
For these cute medals, you will need modeling clay, ribbon, acrylic paint, and foam paintbrushes. Have students imprint their hands onto the mold in the morning, and then move on to another activity while you wait for the mold to set. In the afternoon, your medals will be ready to paint!
Learn More: Parenting Chaos
3. Lego Olympic Rings
Do you have a ton of colorful Legos in your home? If so, try making these Olympic rings! What a great alternative to the typical Lego build. Your preschooler will marvel at how their rectangles can be pieced together to create rings.
Learn More: Little Bins For Little Hands
4. Read About the History
Classroom teachers are always looking for a new book for storytime. Try out Wilma Unlimited by Kathleen Krull. Kids are constantly stating they are "the fastest" at something, so have them learn how Wilma Rudolph trained to be the fastest woman in the world.
Learn More: Scholastic
5. Patriotic Jello Cups
These Jello cups are the perfect treat to add to your Olympic-themed party. First, make red and blue Jello. Then add some vanilla pudding in between. Top it off with a dab of whipped cream and some red, white, and blue sprinkles.
Learn More: Little Cooks Reading Books
6. DIY Cardboard Skis
Are you looking for an indoor activity that uses items you already have? Make these skis with a cardboard box, duct tape, and two large soda bottles. You'll cut a hole out of the bottles for your feet, and then get skiing! Watch the video for detailed instructions.
Learn More: PlayTivities
7. Floor Hockey
A friendly game of floor hockey is always a good time! The lesson plan at the link below is a bit involved for preschool, but your little ones can still have tons of fun playing this great indoor game. Give them sticks and a ball and instruct them to push the ball into the net to score.
Learn More: Brittany R. Blaushild
8. Make a Flipbook
Preschoolers will enjoy adding their artwork to this cute flip book. If you have multiple adults in your preschool classroom, this is a great hands-on project that will require teacher help. Students can draw on the yellow, orange, and green pages and you can help them write on the red and blue pages to complete the book.
Learn More: Education To The Core
9. Color the Mystery Picture
Students will learn how to use a legend and color based on the code with this Olympic-themed mystery picture. Each square shown here requires its own color crayon. Once they are filled in appropriately, a secret picture will appear!
Learn More: Education To The Core
10. Stream It
Do you want to watch figure skating competitions, alpine skiing, or freestyle skiing? Stream the games on NBC. The network has the schedule up ahead of time, so pick an event that your students want to see, and then plan a lesson around that sport.
Learn More: NBC
11. Design a Wheaties Box
Have students pick which athlete they believe will win the gold medal in the sport of their choice. Then, create a Wheaties box cover highlighting that athlete. Inform students that this is what happens in real life; the winners will be shown on the box.
Learn More: Not So Wimpy Teacher
12. Opening Ceremony
Students can research the country of their choice and then create their flag. For preschoolers, you'll want to provide them with links to short videos of various countries since they have a low reading level and virtually no research skills.
Learn More: Not So Wimpy Teacher
13. Water Bead Olympic Rings
These water bead rings make for a great collective project. Assign each student a color. Once they have made their colored ring, have them join theirs with those of their classmates to create the full Olympic symbol.
Learn More: The Educator's Spin On It
14. Make an Obstacle Course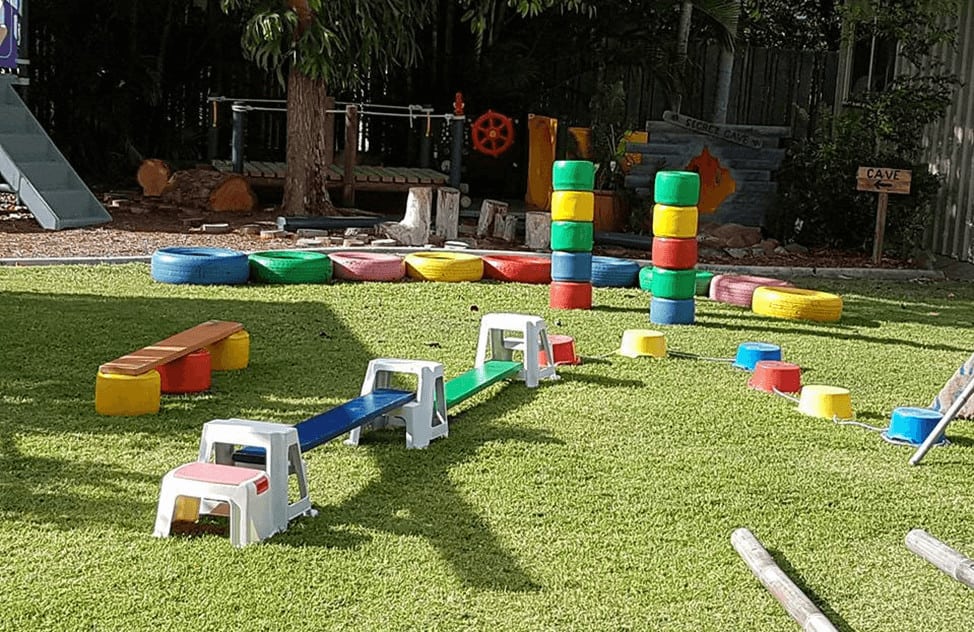 Kids love moving their bodies, and being active is what the Olympics are all about! So grab some Olympic-colored rings and place them on the ground. Have students tip-toe into each one, bunny hop, or bear crawl from one end of the rings to the other.
Learn More: The Educator's Spin On It
15. Work on Addition
I love this hands-on way to do the math. Have piles of numbers and medals set out in bowls? Then instruct students to decide how many gold, silver, or bronze medals have been acquired based on what they grabbed out of the bowl.
Learn More: Living Montessori Now
16. Keep a Tally
Encourage students to keep track of how the games are going for their country. Start every day with a tally of how many gold, silver, or bronze medals your country has won. Be sure to tell them which sports won the aforementioned medals.
Learn More: Living Montessori Now
17. Color Sorting
Pom-poms are wonderful for color recognition. Place the colors of the rings in a bowl and instruct students to match the pom-pom color with the ring. Looking to bring it up a notch? Add in tongs to work on gross motor skills.
Learn More: Kids Activities Blog
18. Create Ring Art Work
Whether you use a canvas or plain cardstock, this art activity is sure to be a hit. Have at least five different cardboard tubes, one for each color ring. Place paint in something small, like the lid of a bottle. Students will dip their tubes into the paint and begin making their circles!
Learn More: Happy Hooligans
19. Traveling Teddies
Are your preschoolers wishing they can bring their teddy to school? Allow them to for a traveling teddy day! Have preschoolers decide where they want their teddy to go by laying out a giant map of the world. Give them the flag of whatever country they choose.
Learn More: Sun Hats And Wellie Boots
20. Practice Yoga
Are you needing new ideas for center activities? Tape various yoga poses around the room and have students visit each one. Rename the poses so that they are Winter Olympics themed. For example, this warrior pose can actually be a snowboarder!
Learn More: Kids Yoga Stories
21. Make a Torch
Some prep is needed for this craft. After you cut out yellow and orange construction paper, have students glue it to two large popsicle sticks. Once finished, have students participate in an Olympic torch relay race where they pass their torch off!
Learn More: Fireflies and Mud Pies
22. Olive Leaf Crown
Lots and lots of green construction paper will need to be pre-cut for this craft, but the crowns will be so adorable! After making the crowns, gather your students together for an Olympic picture. Have them hold the torches they made in item number 21!
Learn More: DLTK-Kids
23. Ski or Snow Boarding Craft
If you're someone who sews, you likely have little bits of fabric laying around. Put those to use with these skiers! Have your students create the snowboarder of their choice using toilet paper rolls and popsicle sticks. Decorate the paper rolls with your fabric scraps.
Learn More: IVNS
24. Candy Jars
If you have candy jars in your home or classroom, take them to the next level this Winter season. These DIY jars are super cute, and will make showing off your candy stash even more fun! Be sure to find candy that matches the colors of the rings.
Learn More: Tip Junkie
25. Word Search
Literacy activities at the preschool level can be hard to find. A simple word search with just a couple of words in it, like this one, will help with letter and word recognition. Students will start to associate the words listed here with the Winter season.
Learn More: Lesson Plans
26. Make Dessert
Cut the shape out yourself, or purchase an Olympic ring cookie cutter. Layered with graham crackers, and various nuts, and topped with chocolate, this decadent dessert is the perfect addition to hosting an Olympic-themed party.
Learn More: The Kitchn
27. Bobsled Car Racing
Save those empty wrapping paper rolls for this super fun, super fast, racing activity! Students will learn about physics as they notice how the pitch of the race track changes the speed of the cars. Tape on country flags for an added flare.
Learn More: Make And Takes
28. Pipe Cleaner Skiers
Start out by having students finger-paint a wintery background. Once it is dry, use pipe cleaners to create the skier's body. Glue the popsicle stick at the end once the feet are in position. Lastly, place all the beautiful artwork together to showcase the various skills in your classroom community!
Learn More: Pinterest
29. Go Sledding
Have your kids gather all their Lego men for this sensory activity. Place upside-down bowls on a cookie sheet and then cover everything with shaving cream. Use the lids of soda bottles to create the sled and then let your kids get messy!
Learn More: How We Learn
30. Coloring
Sometimes preschoolers don't need or want, an elaborate craft idea. Simply trying to color in the lines often offers the perfect brain break. Check out the Olympic-themed coloring pages they have in this printable pack and let students choose their art.
Learn More: Activity Village
31. Learn the Facts
Are you looking to teach students some interesting trivia about the Olympic games? There are ten interesting facts, coupled with pictures, at the link below. I would print them out and then create ten stations around the room for students to visit and learn.
Learn More: National Geographic Kids
32. Play Ice Hockey
Freeze a 9-inch pie pan for this fun game! Your toddler will marvel at watching how the hockey puck slides over the sheet of ice you've created for them. The hockey sticks shown here are easy to make with popsicle sticks.
Learn More: Toddler Approved
33. Make Bracelets
Take bracelet making to the next level with this letter bead activity. Students will love learning how to spell the name of their country, or whatever else they decide, on their bracelets. They'll work their hand-eye coordination as they try to thread the beads.
Learn More: No Time for Flash Cards
34. Paint Rocks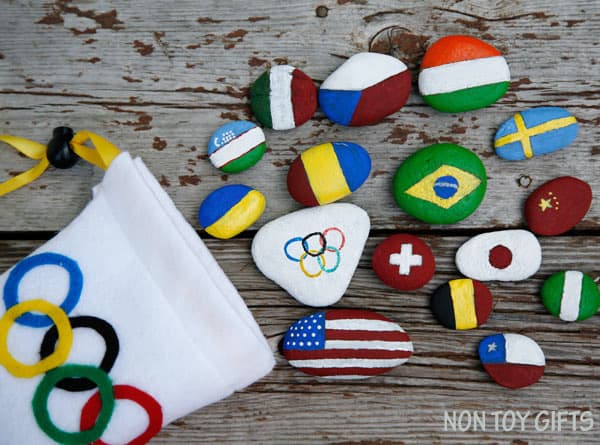 Get the whole class into the Olympic spirit by painting rocks! Have students pick a country flag or sport to color. These will make a beautiful display in your outdoor garden if you have one. Waterproof acrylic paint will be best for this.
Learn More: Non-Toy Gifts
35. Fruit Loop Ring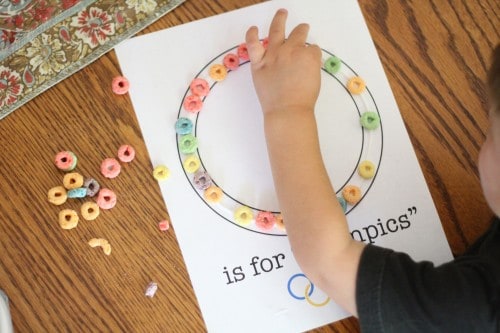 It takes some serious fine motor skills to line the Fruit Loops up so perfectly! Your students will love that they get a tasty treat after completing their ring! Turn it into a counting activity by seeing who used the most Fruit Loops to complete their ring.
Learn More: I Can Teach My Child