Word problems are an excellent way to develop critical thinking skills and reading fluency. While students may find them trickier than traditional math questions, they can benefit from using manipulatives, counting on number lines, writing out equations, and drawing pictures to visualize their thinking.
This set includes addition, subtraction, multiplication, division, countin27g, and comparing numbers using realistic, kid-friendly scenarios. Why not pair them with math journals, reinforce the concepts with printable worksheets or incorporate them into a daily math practice?
1. Jane has 9 dolls and her friend Amy has 5 dolls. How many more dolls does Jane have than Amy?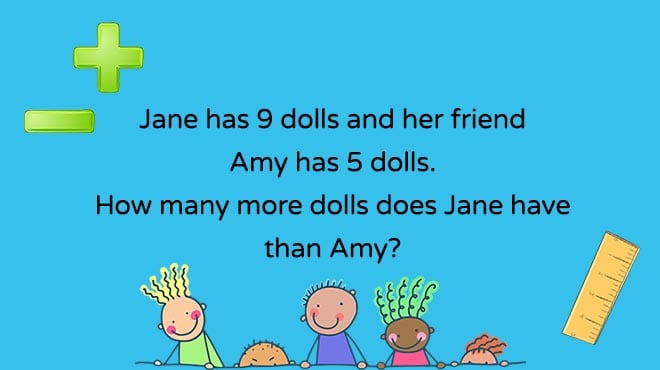 2. 3 birds were sitting on a branch. 6 more birds joined them. How many birds are now on the branch?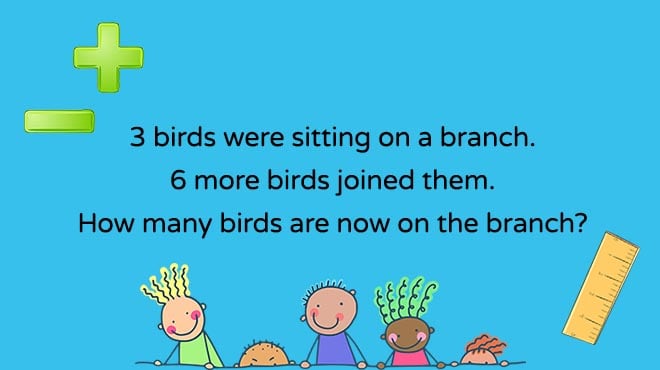 3. Emily had 9 cupcakes and ate 4 of them. How many cupcakes does she have left?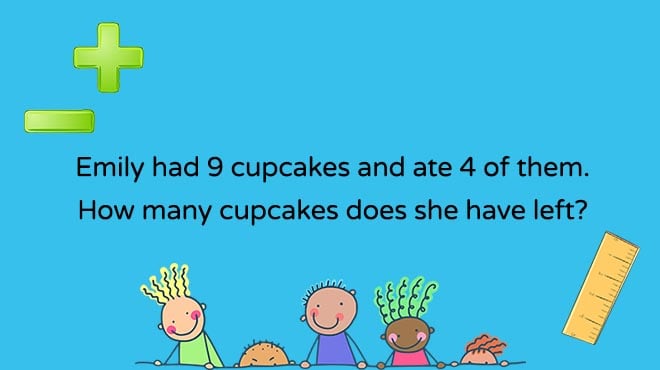 4. John has 7 stamps in his collection. How many more stamps does he need to have 12?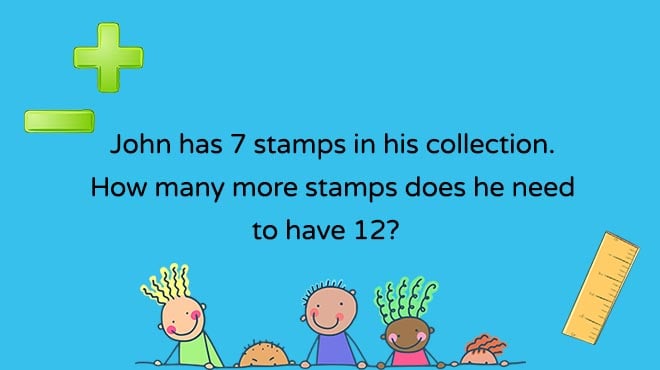 5. A cow has 4 legs. How many legs do 4 cows have?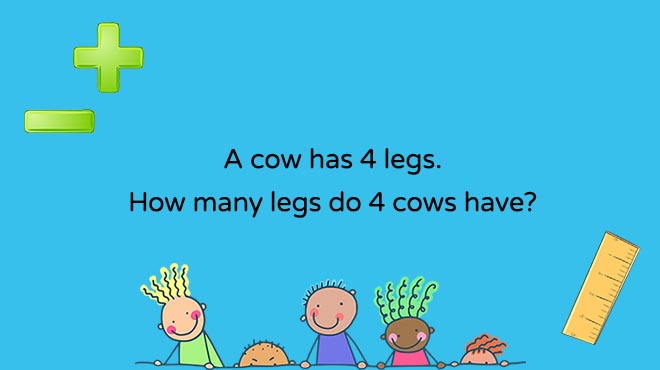 6. Brad has 9 red apples. His dad gives him 4 more. Then he eats 2 of them. How many red apples does he have left?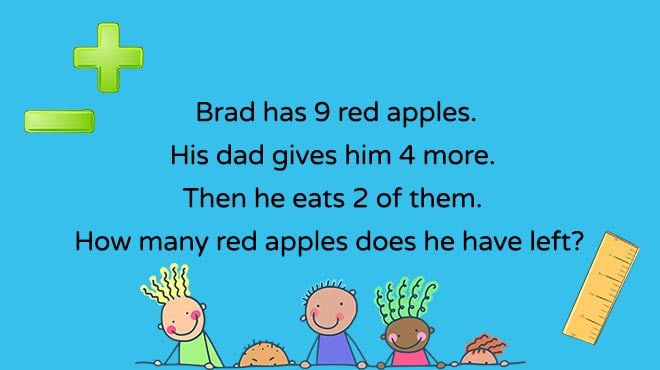 7. Amy had 14 pennies and found 5 more. Then she gave 3 pennies to Paul. How many pennies does she have left?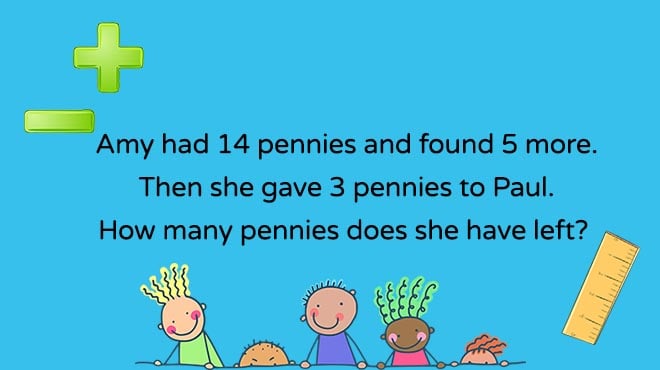 8. Sandra bought bubble gum for 12 cents and 3 pieces of candy for 6 cents each. How much money did she spend in all?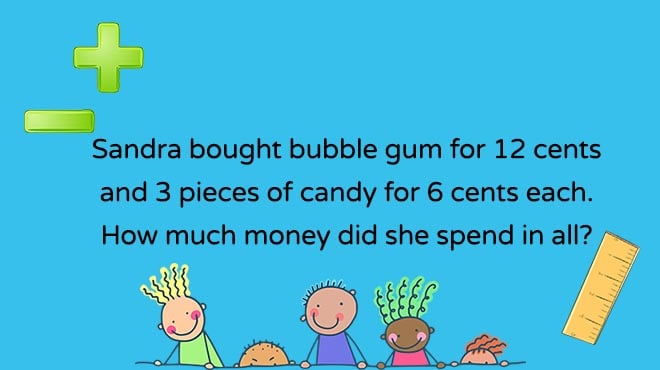 9. Andy had $13. He spent $4 on a toy truck and $3 on a bag of marbles. How much money does he have left?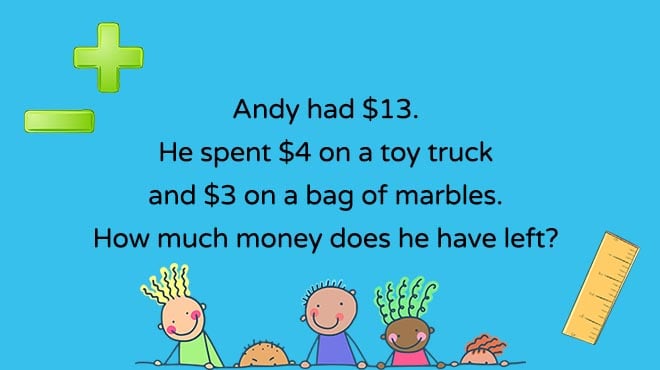 10. Jane saw 10 ladybugs and 3 ants in the park. How many fewer ants than ladybugs did she see?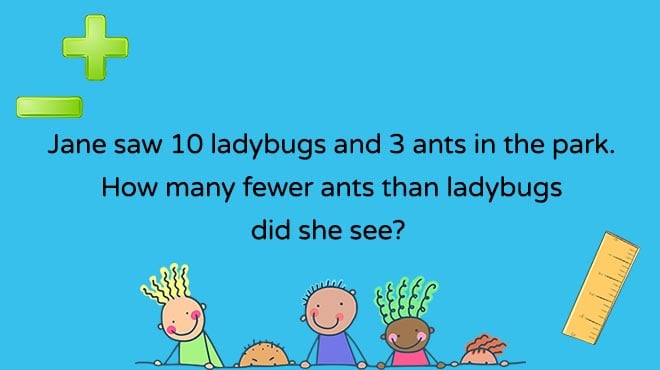 11. Jacob saw 2 goats and 3 chickens on the farm. How many animal legs did he see?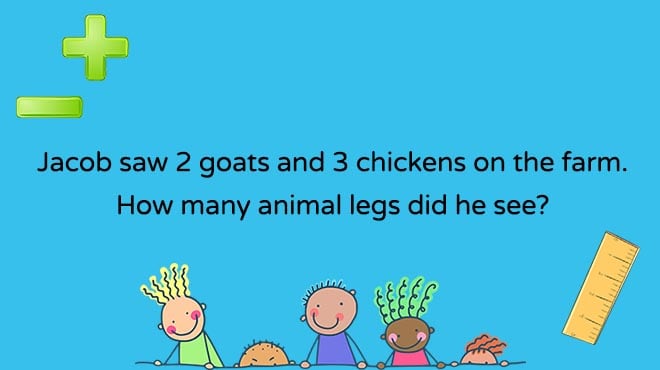 12. Tina has 12 friends. She can only invite 7 friends to her birthday party. How many friends can't come to her party?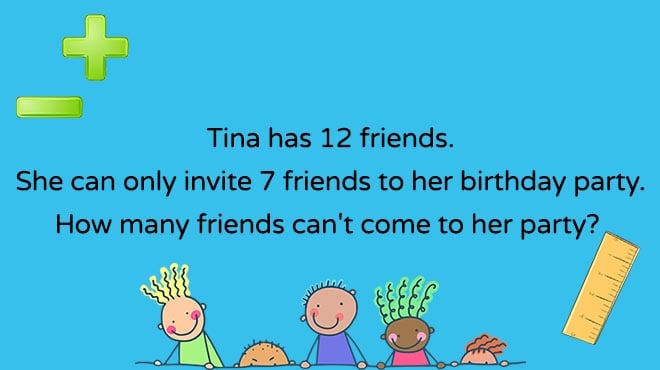 13. Andrew read 11 pages of his book on Monday, 5 on Wednesday, and 7 on Friday. How many pages did he read in all?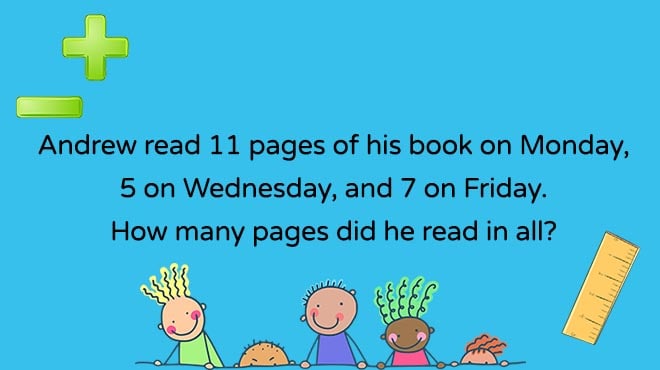 14. Stacy bought 2 pizzas. Each pizza has 6 slices. How many total slices of pizza are there?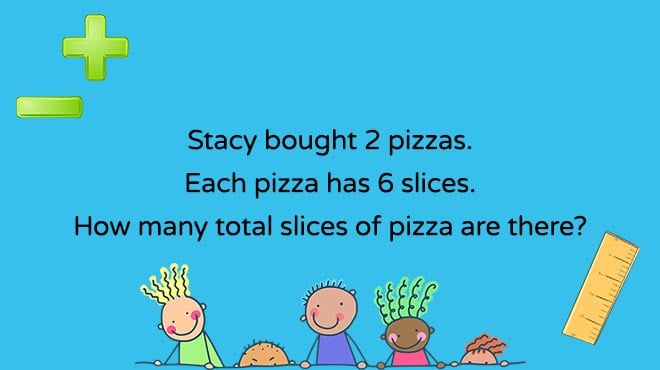 15. John watched three movies per day for 7 days. How many movies did he watch in all?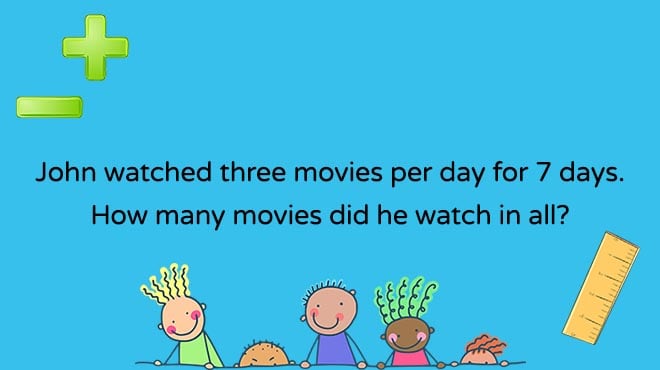 16. There were 14 owls on a branch. 5 owls flew away. How many owls are still on the branch?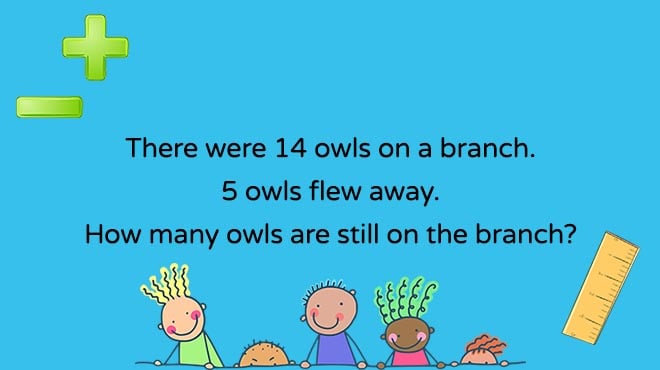 17. Peter and Jen ate 10 cookies. If Jane ate 4 cookies, how many cookies did Peter eat?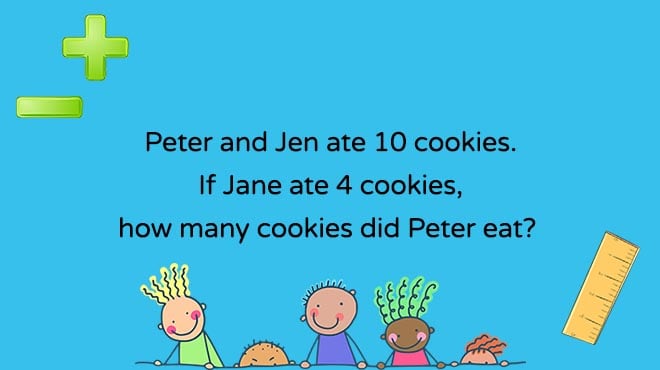 18. Dan has 13 marbles. His friend Steve has 6 marbles. How many more marbles does Dan have than his friend?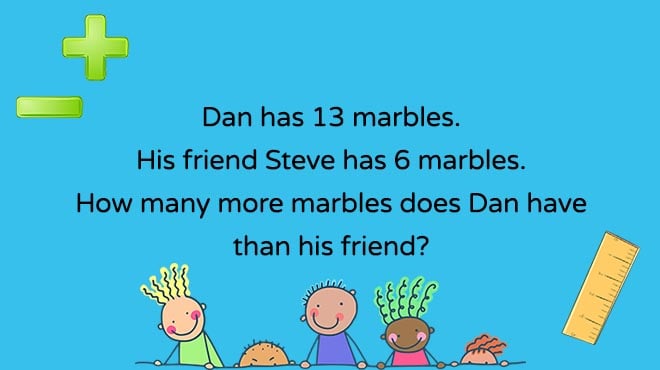 19. There are 13 spiders in a web. 6 more spiders crawl into the web. How many spiders are on the web altogether?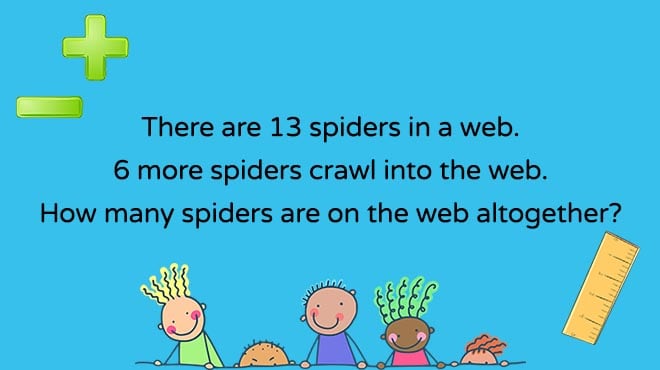 20. There were 3 dogs playing with a stick. Some more dogs came to play with the stick, too. Now there are 10 dogs playing with the stick. How many more dogs came to play with the stick?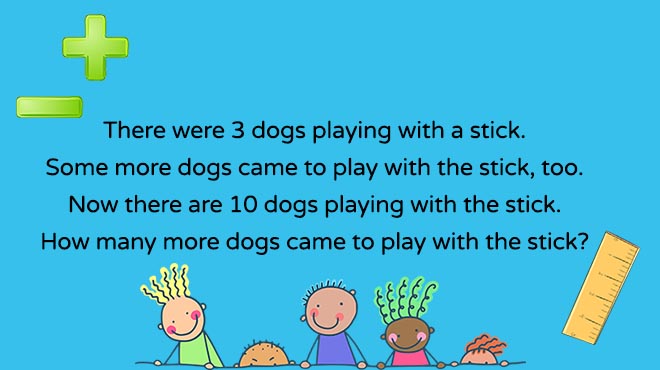 21. Ted had 9 cats. 4 of his cats ran away. How many cats does he have left?
22. Andy had some crayons. His friend gave him 8 more crayons. Now he has 16 crayons. How many crayons did he have before?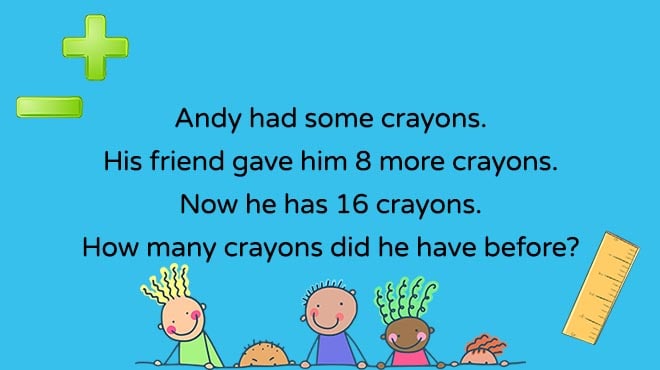 23. Claire is 7 years older than her sister. Her sister is 2 years old. How old is Claire?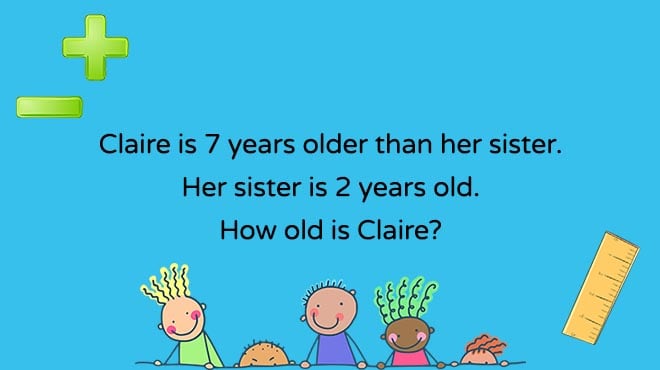 24. Adam walked 8 blocks to school. Robert walked 3 blocks to school. How many more blocks did Adam walk?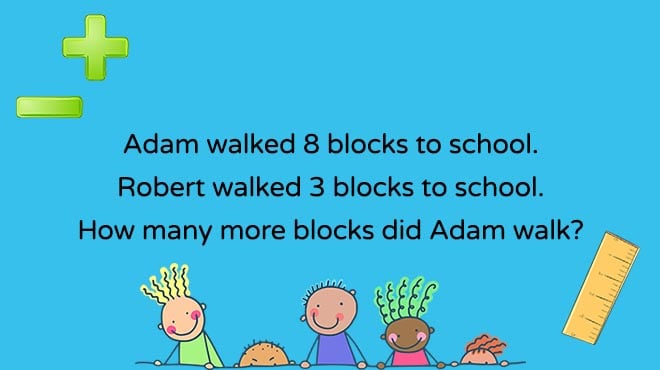 25. Paul had some shirts. His mother bought him 7 more shirts. Now he has 15 shirts. How many shirts did his mother buy?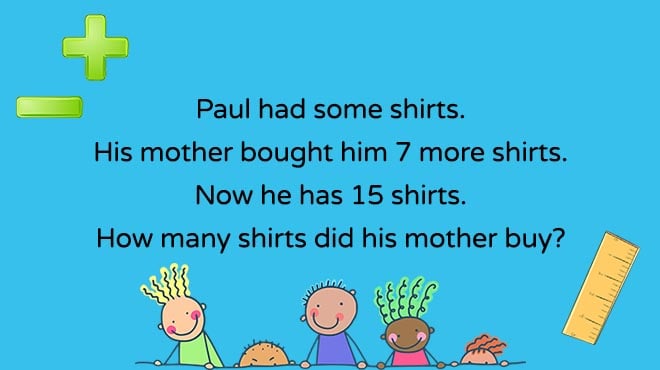 26. Susan made 8 cards for her friends. Linda made 5 more cards than Susan. How many cards did Linda make?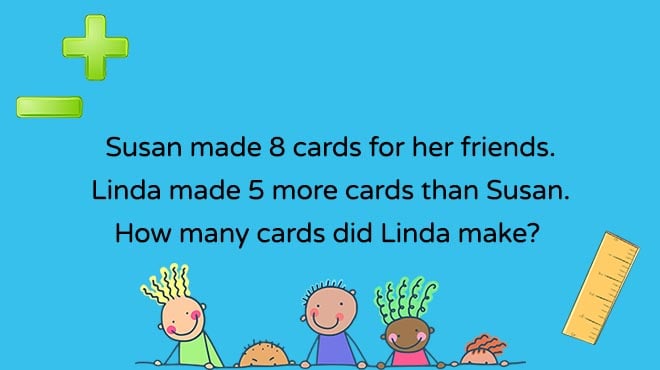 27. Andy made 5 sandwiches with two slices of cheese each. How many slices of cheese did he use altogether?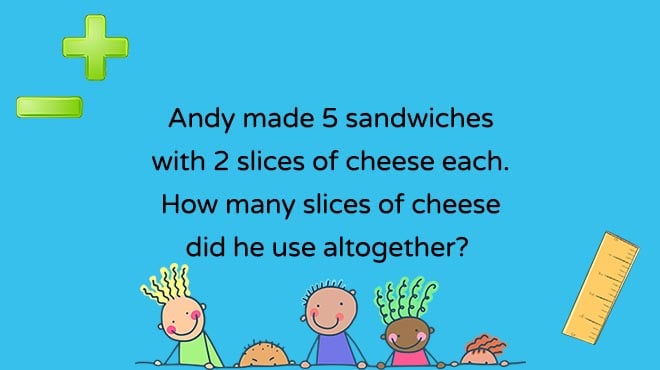 28. Ava brought 6 dresses to sell at the thrift store. Anna brought 12 dresses to sell. How many more dresses did Anna bring?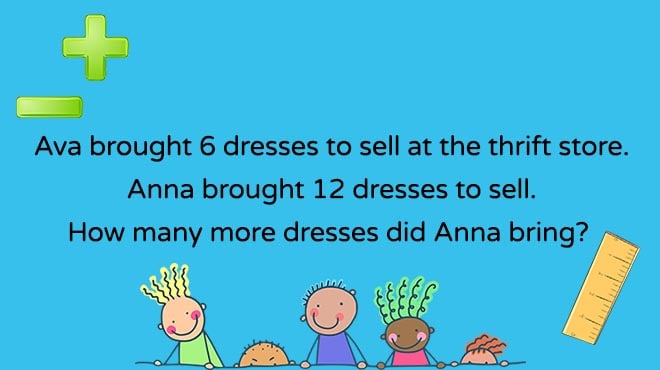 29. How many nickels do you need to make 30 cents?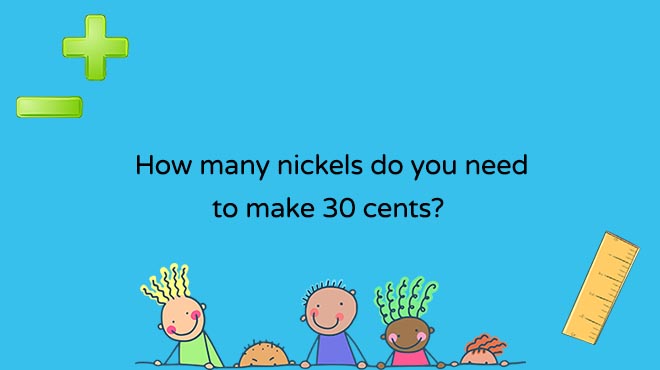 30. Sandy counted the wings of 7 birds. How many wings did she count in all?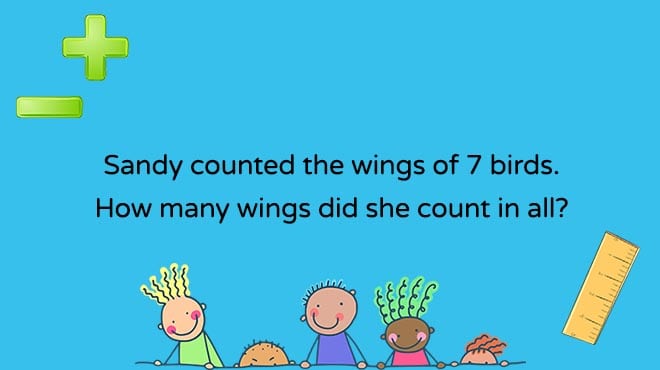 31. How many corners are on 3 squares?
32. Today is Tuesday and Sam's birthday is in 6 days. What day is Sam's birthday on?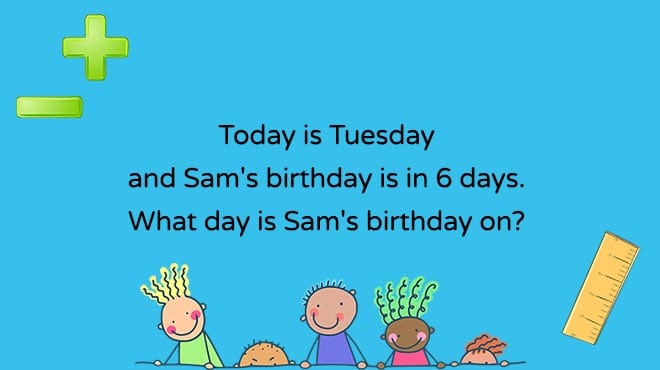 33. Sandy saw 3 cats and 4 dogs at the park. How many legs did she see?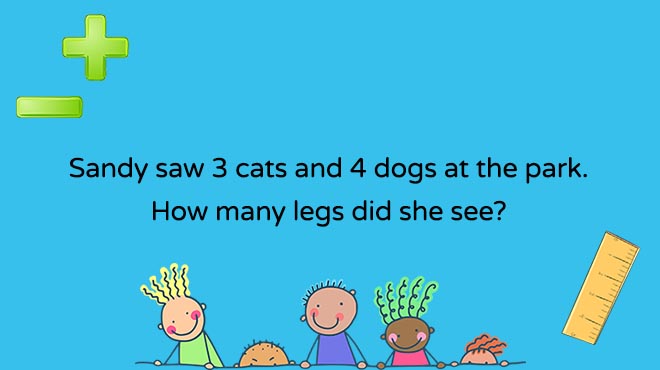 34. Alex saw 5 horses at the farm. How many ears did he see?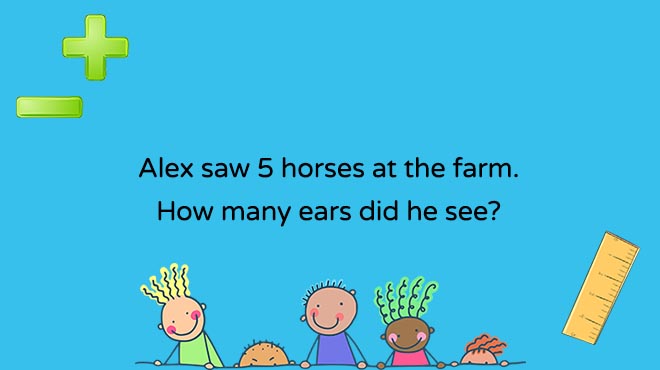 35. Jane and Emily have to share 18 dolls. How many dolls will each of them get?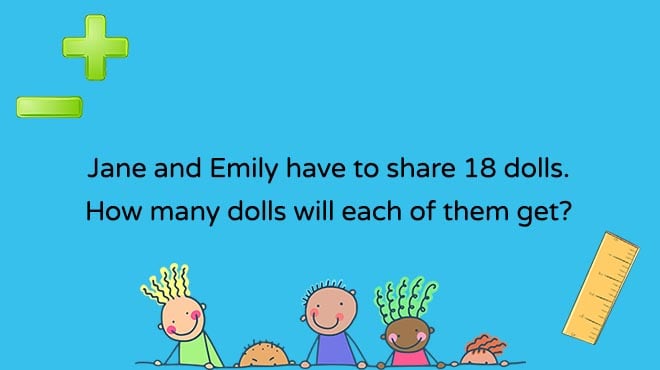 36. Steven counted 6 flowers with 3 petals each. How many petals did he count in all?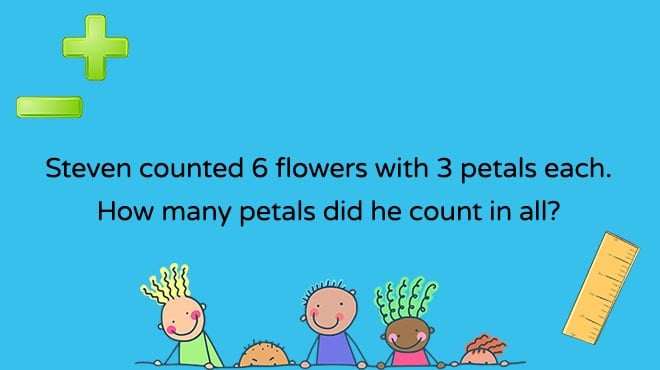 37. I have 4 nickels, 2 dimes, and 3 pennies. How much money do I have altogether?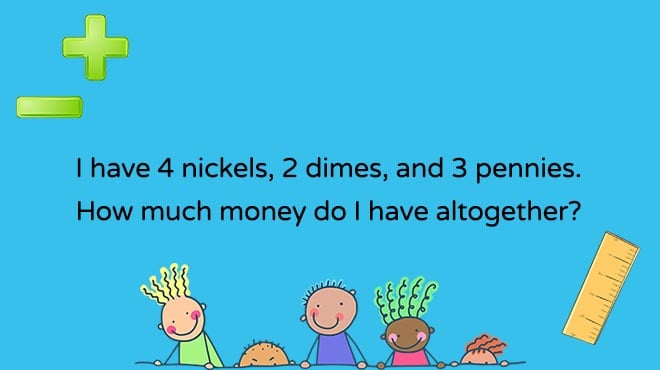 38. There were 12 cupcakes at the school party. 8 of them were chocolate and the rest were vanilla. How many were vanilla?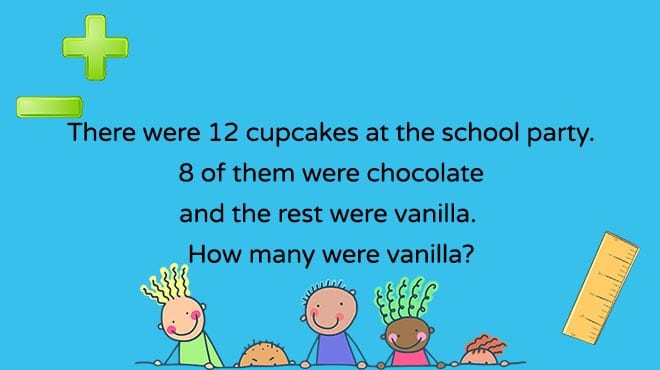 39. Jane plants 3 trees. Tom plants 5 trees. Beth plants 4 trees. How many trees did they plant in all?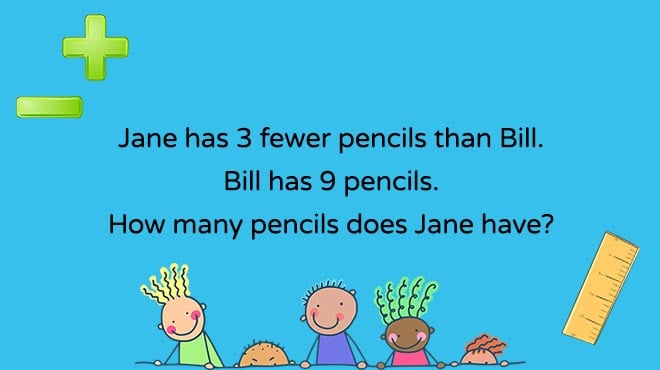 40. Tim made 11 sandcastles. Sara made 4 sandcastles. How many more sandcastles did Tim make than Sara?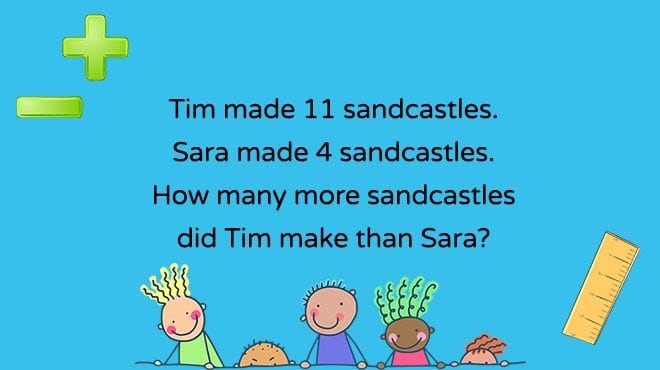 41. A soccer ball costs $20. Jack has $13 dollars. How much more money does he need?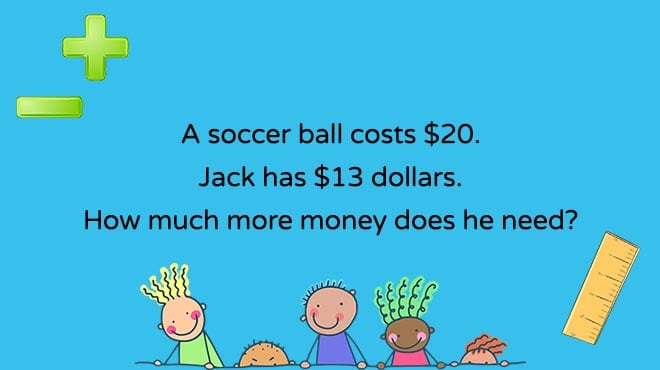 42. Andy collected 12 seashells and gave 5 away. How many seashells does he have now?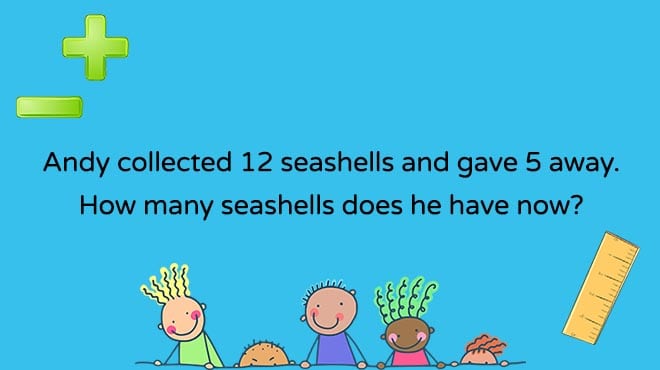 43. Gabe has 8 books. Nick has 4 books. How many fewer books does Gabe have than Nico?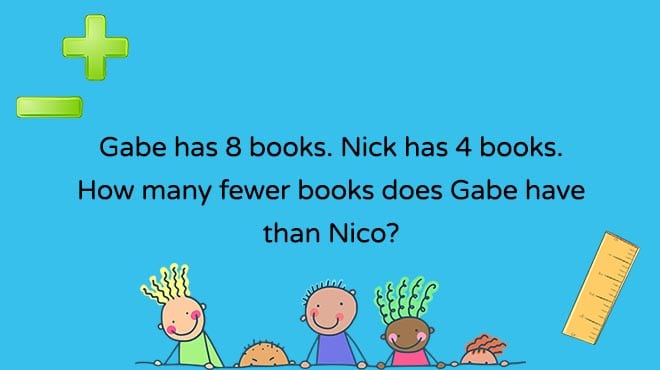 44. Jane has 3 fewer pencils than Bill. Bill has 9 pencils. How many pencils does Jane have?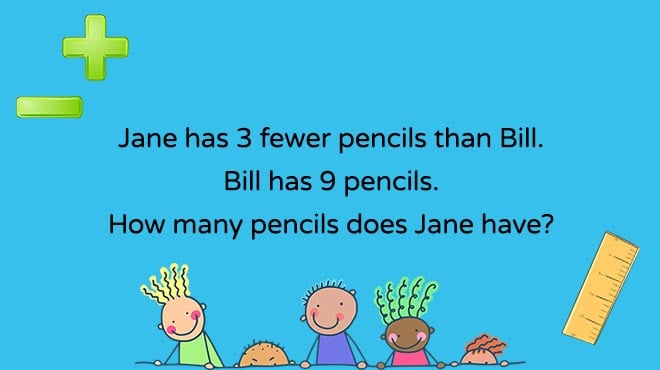 45. Ken has 12 toy trucks. Five of them are yellow and the rest are red. How many are red?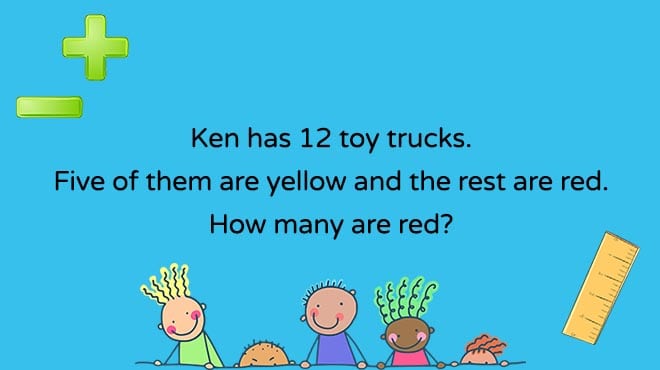 46. Henry had 15 gumballs. He gave 2 to Suzy, 7 to Stacy, and 3 to his sister. How many gumballs does he have left?
47. Mary had 9 ice cream cones. Nancy gave her 2 more cones. Then, 4 cones melted away. How many ice cream cones does she have now?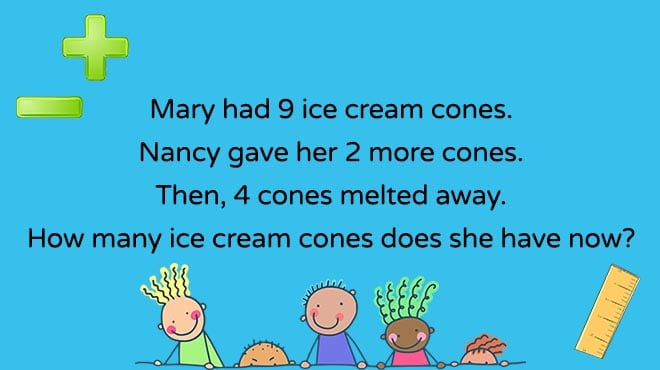 48. 17 children were playing outside. 5 boys and 3 girls left to go home. How many children were still playing in the park?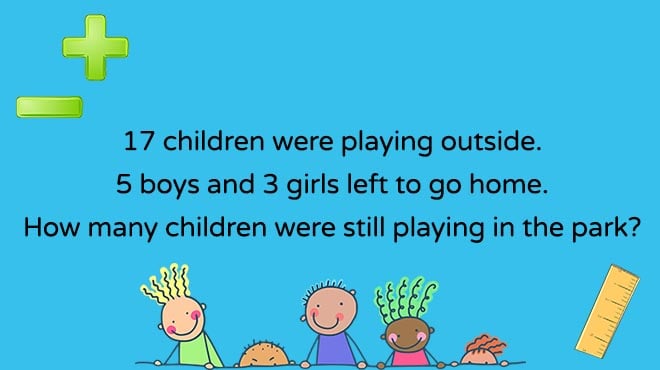 49. Sam has to walk 12 blocks to get to the corner store. He walked 4 blocks, took a break, and then walked 3 more blocks. How many more blocks does he still have to walk?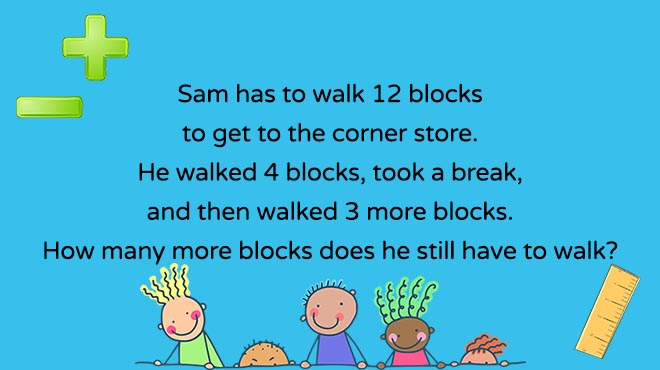 50. Paul has 4 boxes. There are 5 pencils in each box. How many pencils are there altogether?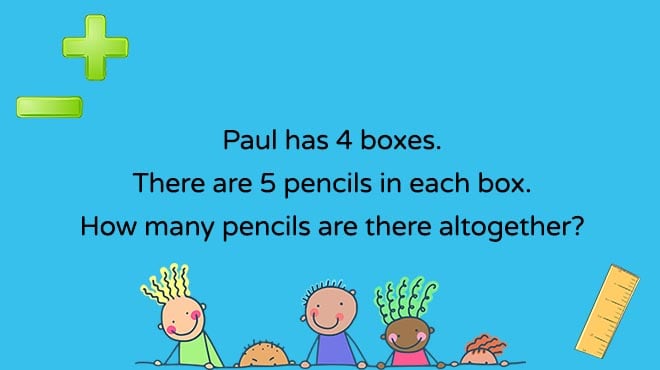 51. You have to split 12 carrots among 4 rabbits. How many carrots will each rabbit get?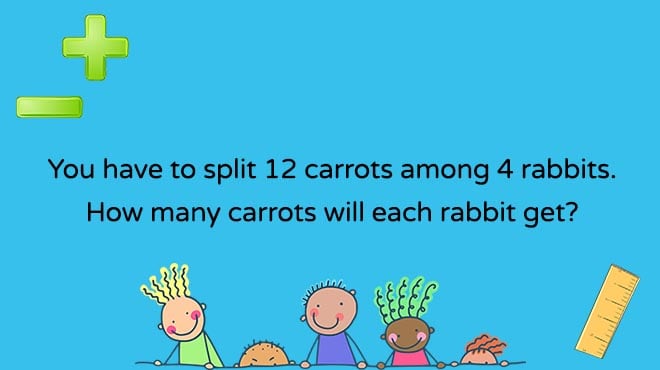 52. Rita used 10 cups of flour and 3 fewer cups of sugar than flour to bake a cake. How many cups did Rita use in all?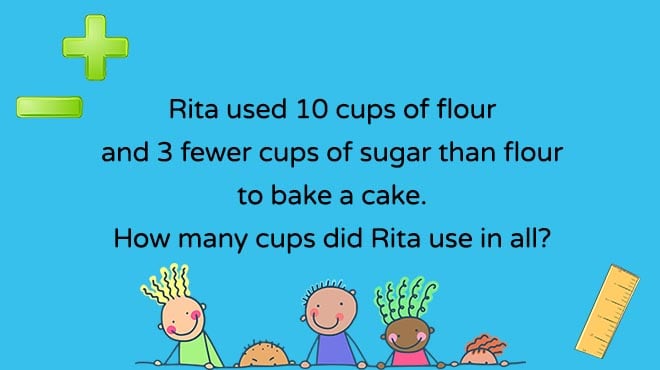 53. James, Stacy, and Bill went to the movies. They paid $15 for three tickets. How much did each ticket cost?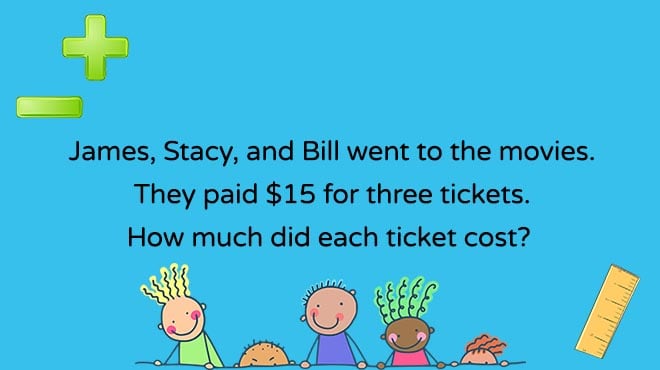 54. Jim had 12 bananas. He ate 4 of them. Then his friend gave him 7 more. How many bananas does he have now?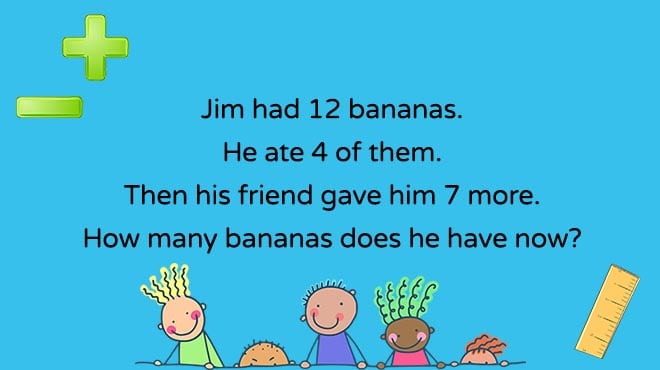 55. Emily had 18 sprinkles on her ice cream cone. She ate 8 sprinkles, then 5 more, then 4 more. How many sprinkles does she have left?