These real-life word problems include multi-step solutions, two and three-digit numbers, and give students plenty of opportunities to plan, solve and check their work. They cover core numeracy skills including addition, subtraction, division, multiplication, comparing, skip counting, and identifying even and odd numbers.
They are an excellent way to strengthen mental math muscles, develop visualization strategies, and practice core problem-solving skills.
1. Henry's toy shop made 15 dolls, 25 toy cars, and 7 kites. How many toys did Henry's toy shop make in all?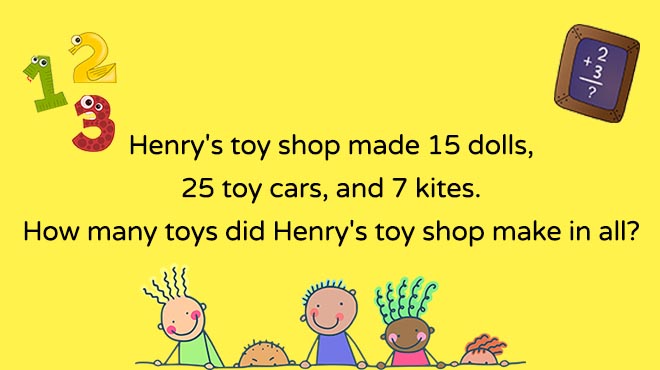 2. A farmer had 33 cows. 12 of them ran away. Then, 9 of them returned. How many cows does the farmer have now?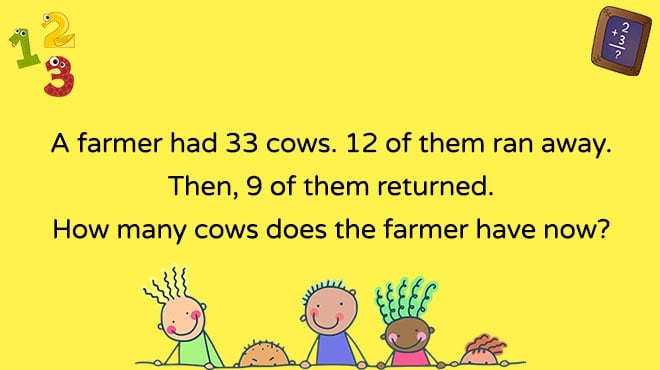 3. There are 27 players on the Rainbow Team and 35 players on the Unicorn Team. How many more players are on the Unicorn Team than on the Rainbow Team?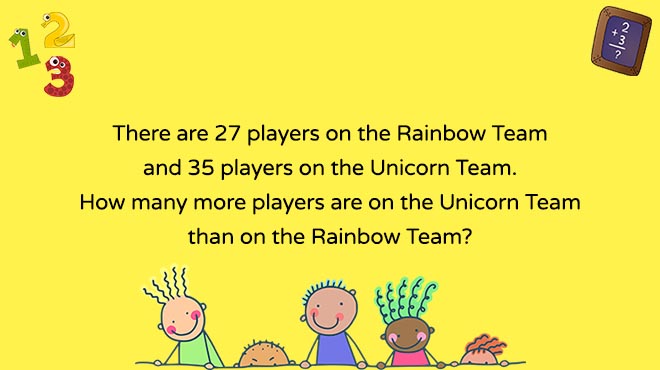 4. Andy is saving up money to buy a bike that costs $42. He has already saved $18. How much more money does he need to buy the bike?
5. Cindy is a baker. She baked 12 cakes on Monday, 15 cakes on Wednesday, and 9 cakes on Friday. How many cakes did she bake during the week?
6. Emily had 23 pencils. She lost some and now only has 8 left. How many pencils did she lose?
7. Today is June 7 and Karen's birthday is on June 29. How many more days are left until her birthday?
8. Kim picked 24 tulips and her friend picked 17 tulips. How many more tulips did Kim pick?
9. Your friend gave you 8 crayons and now you have 42. How many crayons did you have before?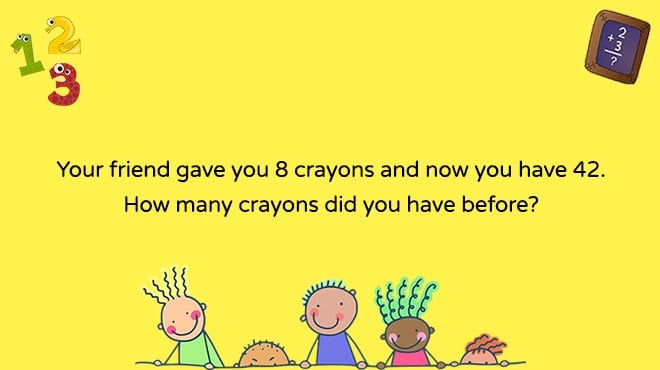 10. 13 friends went on a biking trip with two-wheeled bikes. How many wheels were there in all?
11. Jane received 39 presenters for her birthday. 15 of them were from her family and the rest were from her friends. How many presents did she receive from her friends? 
12. How many sides are on 6 triangles?
13. You baked 4 cakes with 8 slices each. How many slices of cake do you have?
14. Jim has 6 quarters, 7 dimes, 4 quarters, and 8 pennies. How much money does he have altogether?
15. Sandra read 32 pages of her book at school and read some more pages at home. If she read 74 pages altogether, how many did she read at home?
16. A grocer packed 3 boxes of 5 bananas and 6 boxes of 4 apples. How much fruit did he pack in all?
17. Lisa has 7 dolls. Jessica has twice as many dolls as Lisa. How many dolls do they have altogether?
18. You have 36 candies to share with 4 friends. How many candies will each friend get?
19. John baked 34 cookies but 9 of them were burned. How many cookies did he have left to eat?
20. Stacy saw 17 ladybugs, 9 ants, 3 bees, and 12 caterpillars in the park. How many insects did she see in all?
21. Mary is allowed to invite 30 guests to her birthday party. She invited 15 classmates and 9 family members. How many more guests can she invite?
22. Sam ate 14 cupcakes. James ate 9. Paul ate 5 more cupcakes than James. How many cupcakes did they eat in all? 
23. Ms. Smith's class ate 52 slices of pizza during the class party. Now there are 15 slices left. How many slices did they eat?
24. Jake had 37 t-shirts. He gave 12 shirts away. How many shirts does he have left?
25. There were 38 ducks swimming in a pond. 7 more ducks joined them. Then, 9 ducks flew away. How many ducks were left in the pond?
26. Lacy read 47 pages of her book. Sam read 32 pages of his book. How many more pages did Lacy read than Sam?
27. Jane saw 7 chickens, 6 cows, 2 horses, and 5 goats on the farm. How many legs did she see in all?
28. Peter had $28. He bought a backpack for $7 and a pencil for $2. Then his mother gave him $5. How much money does he have now?
29. Janet completed a bird puzzle with 142 pieces and a dog puzzle with 234 pieces. How many fewer pieces did the bird puzzle have than the dog puzzle?
30. There was a bag full of candy. Sam ate 12 candies and Bill ate 7 candies. Now there are 52 cadies left in the bag. How many candies were in the bag before Sam and Bill ate some?
31. Jenny bought a doll for $7.88. Paula bought a doll for $3.25. How much more money did Jenny spend on her doll?
32. Bob has 27 blue shirts. He has some white shirts. He has 42 shirts altogether. How many white shirts does he have?
33. John is making potato salad for a school picnic. There will be 17 parents, 23 students, and 5 teachers. 9 of them don't like potato salad. How many people do like potato salad? 
34. Carol's family loves to travel. They travel 53 days out of the year. How many days do they stay at home?
35. Jessica has a project due on May 25. She started the project 12 days before the due date. On what date did she start the project?
36. Jason caught 34 butterflies. Emily caught 17 butterflies. Cassandra caught 54 butterflies. How many more butterflies did Cassandra catch than Jason?
37. There are 78 toy cars on a shelf. 45 of them are red. How many are not red?
38. Amanda sorted 32 books into 4 equal groups. How many books were in each group?
39. A hot dog costs $3. Jason has $36. How many hot dogs can he buy?
40. Stella bought 9 t-shirts. Each t-shirt cost $2. How much money did she spend in all?
41. 7 students wanted to count their fingers. How many fingers did they count in all?
42. Jonathan drinks 2 sodas each day. How many sodas does he drink in two weeks?
43. There are 9 birds in 5 cages. How many birds are there in all?
44. Mandy went to the store 8 times to buy candy. She bought 3 pieces of candy each time. How many pieces of candy did she buy in all?
45. Steve baked 8 pies on Monday, 12 pies on Wednesday, and 6 pies on Friday. Did he bake an even or odd number of pies?
46. Macy's class planted 14 trees in 3 rows. How many trees did they plant in all?
47. Tom had 5 rows of 7 stamps each in his album. He gave 12 stamps to his friend. How many stamps does he have left?
48. Anna has 3 quarters, 5 nickels, and 2 pennies. She wants to buy a toy that costs $1.25. Does she have enough money?
49. Stephanie wants to buy as many dolls as she can. She has $125 dollars. Each doll costs $5. How many dolls can she buy?
50. There are 13 sheep, 8 horses, and 6 goats on a farm. How many ears do they have in all?
51. Some cookies were in the oven. Andy took out 24. Now there are 32 left. How many cookies were in the oven?
52. Peter has to walk 780 steps to get to school. He walked 208 steps, then took a break, and walked another 321 steps. How many steps does he still have to walk?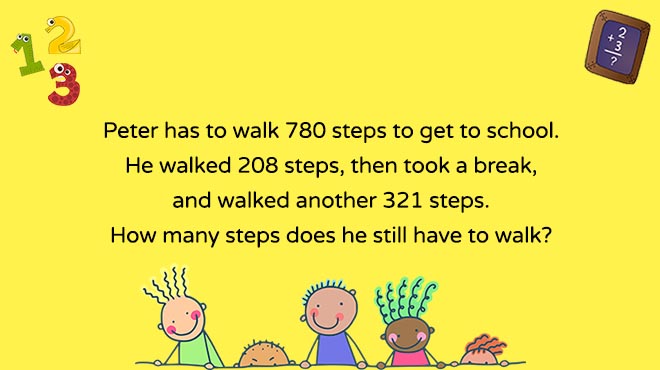 53. Jim had $42. He bought a kite for $7, a soccer ball for $8, and 3 marbles for $2 each. How much money does he have left? 
54. Patrick collected 152 seashells. Steven collected 345 seashells but lost 51 of them. How many more seashells does Steven have than Peter?
55. Carl walked 3 km on Monday, 14 km on Thursday, and 23 km on Saturday. How many kilometers did he walk in all?