Why not add some colorful manipulatives to make 3rd grade learning more concrete, review the core numeracy skills with worksheets, or incorporate them into a daily math lesson to build problem-solving fluency?
These multi-step word problems incorporate addition, subtraction, multiplication, and division as well as time, money, and fractions. Since they involve more than one step, students should be encouraged to express their thinking with pictures and words to help plan, solve and check each problem.
1. Jennifer picked 72 cherries and Kim picked 45 cherries. They used 24 cherries to make pies for their school bake sale. How many cherries do they have left?
2. Kim had 19 candies and then she bought 23 more candies. She wants to share them between herself and 6 friends. How many candies will each friend get? 
3. Andrew has 147 marbles. 35 marbles are orange and 52 are purple. The rest of the marbles are yellow. How many yellow marbles are there?
4. Sandra and her friend, Brenda went shopping. They each bought 10 new dolls. Sandra returned 3 of her new dolls to the store. How many dolls do Sandra and Brenda still have? 
5. Lauren has 600 pencils. She wants to place them in 10 equal groups. How many pencils will be in each group?
6. Stanley and Eddy each bought 12 slices of pizza. For dinner, they each ate 2 slices. How many slices do they have now?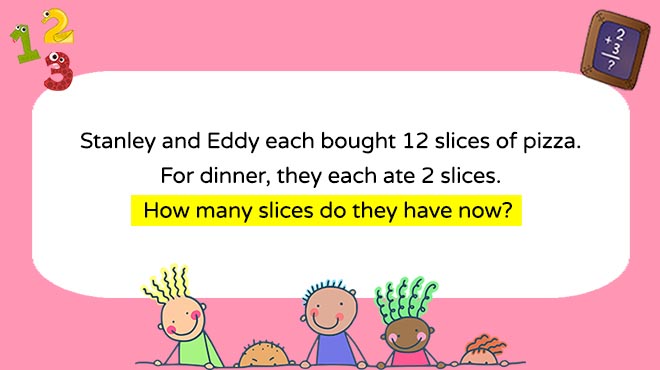 7. Jim planted 30 rows of 15 tulips. 137 of them are yellow and the rest are red. How many red tulips are there? 
8. Megan has 8 quarters, 4 dimes, and 7 nickels for bus fare. If a bus ticket costs $1.15 how much money will she have left? 
9. Sam has 63 stamps from Asia, 59 stamps from Europe, and 162 stamps from Africa in his collection. How many more stamps does he have from Africa than Asia and Europe combined?
10. Angie used 3 red ornaments, 5 blue ornaments, and 7 green ornaments to decorate a Christmas tree. She had 12 ornaments left. How many ornaments did she have to begin with?
11. Jenny and her friends bought 3 boxes of cupcakes. There were 16 cupcakes in each case. James ate 3 cupcakes, Stewart ate 5 cupcakes and Kim ate 13 cupcakes. How many cupcakes were left?
12. Tom finished a 354 piece jigsaw puzzle and Stella finished a 567 piece jigsaw puzzle. How many fewer pieces did Tom's puzzle have?
13. Stephanie has $217 and Derek has $138 to spend. They spend some money and now they have $112 left. How much money did they spend?
14. Cassandra ran 15 miles each day for 8 days. Then she ran 12 miles each day for two weeks. How many miles did she run in all?
15. Andy's pencil case weighs 32 grams. His notebook weighs 45 grams more than his pencil case. What is the total weight of his pencil case and notebook?
16. Daniel bought 4 packs of chewing gum. There are 9 pieces of gum in each pack. He wanted to share the gum evenly with 3 people. How many pieces of gum will each person get?
17. Jen climbed 48 steps up to a diving board. She climbed down 23 steps to talk to a friend. Then she climbed 12 steps to get to the top. How many steps does the diving board have?
18. There are 78 balls on the playground. 22 are soccer balls and 18 are basketballs. The rest are tennis balls. How many tennis balls are there?
19. Tommy made 63 cookies for the bake sale. Lindsay made 35 cookies. They sold 22 cookies altogether. How many cookies do they have left?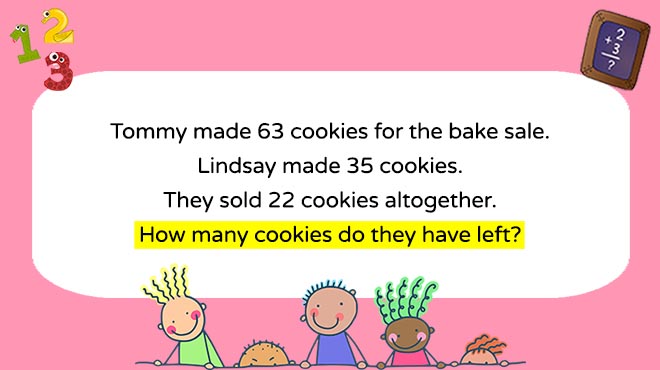 20. Adam found 235 pennies on the playground. He spent 98 pennies. Then he found 123 more. How many pennies does he have now?
21. Lisa saw 86 animals at the zoo. She was 54 monkeys, 17 parrots, and some elephants. How many elephants did she see?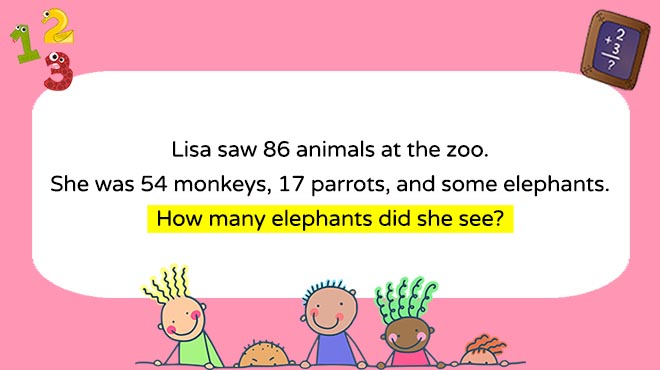 22. Julia has a crayon collection of 156 crayons. She gave some to her friend Emily. Now she has 72 crayons left. How many crayons did she give Emily?
23. Sandy had $225 to buy bracelets. The store was selling 2 packs of bracelets for $5. How many packs can Sandy afford to buy?
24. Brandon earned $12 an hour mowing the lawn and $15 an hour babysitting. He worked 20 hours mowing the lawn and 18 hours babysitting. How much money did he earn in total?
25. Gavin bought 14 pencils. He had $48 before he bought the pencils. After he bought the pencils, he had $20 left. How much did each pencil cost? 
26. Tina won 160 teddy bears at the carnival. She gave 8 to each of her friends. Then she had 32 left. How many friends did she give teddy bears to?
27. Billy sold half of his trading cards and then he bought 132 more. Now he has 325 trading cards. How many did he have to start with?
28. Lacy's school is going on a field trip. There are 24 kids in each class. There are 8 classes. If 30 kids can fit on a bus, how many buses will they need for their field trip?
29. Stephanie had 5 dozen cupcakes. She gave 27 cupcakes to her friend. How many cupcakes did she have left?
30. Angela has 1345 stickers. Dan has 845 stickers. How many more stickers does Angela have than Dan?
31. Ms. Smith went grocery shopping. Her groceries cost $82.96. She had coupons worth $22.50. If she paid the clerk $90 for her groceries, how much change would she get?
32. Serena had $77. Then she bought movie tickets for 8 friends for $4 each. Now she wants to buy popsicles that cost $3 each. How many popsicles can she buy?
33. Sam had $34. Then he received $19 for his birthday. How much money does he need if he wants to buy a bike that costs $98?
34. Miranda bought 4 necklaces that cost $13 each. Then she gave $16 to her little brother. She started with $105. How much money does she have now?
35. Anthony earns $15 every week he does chores. He does chores for 6 weeks. Now he wants to buy a gaming console for $114. How much more money does he need?
36. How many sides do 3 triangles, 8 squares and 4 rectangles have?
37. Emily saw some chickens on the farm. She counted 56 wings in total. How many chickens did she see?
38. Ben picked 18 berries. Zane picked 6 times as many berries as Ben. How many berries did Zane pick?
39. Gavin bought 70 apples. He bought twice as many apples as Tim. How many apples did Tim buy?
40. Anita planted 10 rows of carrots with 7 carrots in each row. How many carrots did she plant?
41. A dozen donuts cost $5.50. How much do 7 dozen donuts cost?
42. Jennifer made 23 cups of potato salad for the school picnic. At the end of the picnic, there were 4 and a quarter cups of potato salad left. How many cups of potato salad were eaten?
43. Emily wants to buy a jar of marbles that costs $5.30. She has 7 quarters, 5 dimes, and 3 nickels to spend. How much change will she get back?
44. Use the fewest bills and coins to make $25.33. 
45. Mary spent $325 on decorations for her birthday party. She spent $123 on food. How much more money did she spend on decorations than food?
46. There are 74 students in third grade. 23 are in Ms. Smith's class, 19 are in Ms. Park's class and the rest are in Ms. Anderson's class. How many more students are in Ms. Anderson's class than in Ms. Smith's class?
47. How many days are there in 4 full weeks?
48. Rob is 3 years older than his friend Andy. Andy is twice as old as Rob's brother. How old is Rob?
49. Sandy can bake 36 cookies in 30 minutes. How many cookies can she bake in 8 hours?
50. Mandy is reading a book with 313 pages in it. She read 54 pages on Saturday. Then she read 72 more pages on Monday afternoon. How many pages does Mandy have left to read?
51. There are 35 students in Stanley's class. ⅕ of them bike to school. How many students don't bike to school? 
52. There are 250 animals in a zoo. ⅗ of them are herbivores. How many animals are herbivores? 
53. Danny is reading a book with 120 pages. He has already read ⅓ of it. How many more pages does he have left to read?
54. Jen had $36 to spend. She spent a ¼ on candies and ⅓ on stickers. How much money does she have left?
55. Sam brought 80 cupcakes to school. His class ate ¼ of them and Ms. Smith's class ate ⅕ of them. How many cupcakes were eaten in all?