Yarn is a fantastic resource for activities in the classroom. It's low-cost and is so versatile in its uses which explains how popular yarn crafts are with teachers. Not only that, but yarn crafts can require a bit of concentration which can be very calming for students.
Here is a list of my favorite yarn crafts and activities for your elementary classroom. There are activities in this list to suit every grade, from fine motor skill activities up to intricate art projects.
1. Shoelace Tying Practice
Laces are the bug-bear of any teacher of younger students. The line of students asking for help to tie their laces can seem never-ending. This activity is easy to set up and is a worthwhile way for younger students to fill their time between lessons as they practice tying their shoelaces.
Learn more: Chalk Academy
2. Yarn Wrapped Snowflake 
This easy activity just requires some card cut-outs and some grey, silver, or white yarn. These cute yarn-wrapped snowflakes make cute winter decorations for your classroom or for students to take home.
Learn more: What Can We Do With Paper and Glue
All this activity requires is a very long piece of yarn. This smart yarn activity will get students working together as a team and listening to each other as they help someone untangle the massive web of yarn they have made.
Learn more: Teaching Ideas
4. Match the Rhyme Pegboard 
This activity is easy to set up with two lists of rhyming words on a corkboard with some drawing pins. Students can then use yarn to link the rhyming words to one another. Take this activity up a notch too with older students and challenge them to create lists of rhyming words for one another.
Learn more: No Time for Flashcards
5. Elephant String and Yarn Art
This is one of the most visually stunning yarn activities and is perfect for older, more responsible students. Using drawing pins or a hammer and nails, students can create an outline of an animal and then use yarn to connect and fill in the spaces between the nails.
Learn more: A Crafted Passion
6. String of Stalactites Science Activity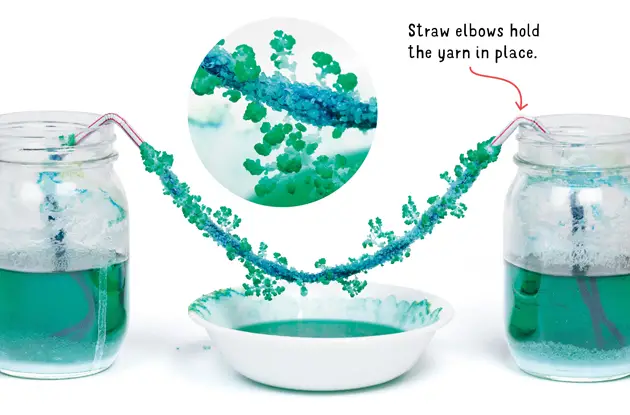 This simple science activity uses ingredients you can get from the grocery store and is great to use up any longer scrap yarn piece. Set this experiment up somewhere it won't be touched and let your students check it every day for growing stalactites.
Learn more: Easy Science Craft for Kids